We make this burger in the mountains outside of Denver. It's the perfect end to a day of hiking, biking or working outside (or frankly, a day of doing nothing, too). If you can make it with fresh elk meat, definitely do it, but it's just as good with beef too.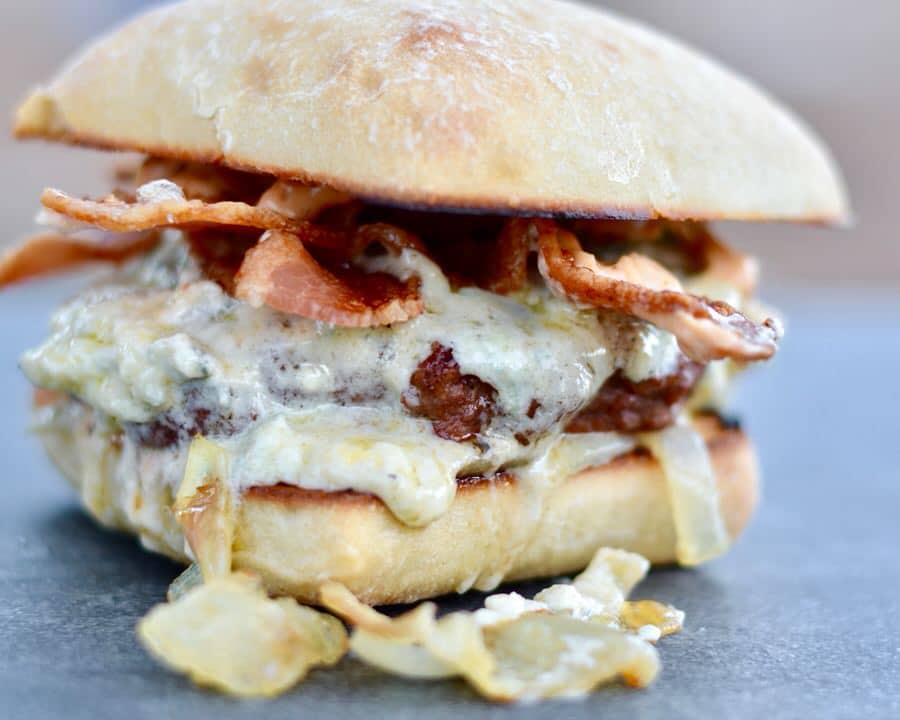 Kids keep us from ever sitting at dinner time, right?
Do you know that scene from A Christmas Story where the mom is making dinner and is constantly asked for something else as soon as she sits down to eat? Ralphie is describing how his mother hasn't had a hot dinner in years.
As a kid watching this movie I thought it was funny, but now as an adult with kids, its rings painfully true on so many levels.
When we are eating dinner and I am asked for what feels like the twentieth time for more milk, or more ketchup, or cleaning up spilled milk or even more ketchup, my mind often goes back to this scene. I use to relate to Ralphie or his little brother but all the sudden, now I find myself relating to the frazzled mother. How in the world did that happen?!?!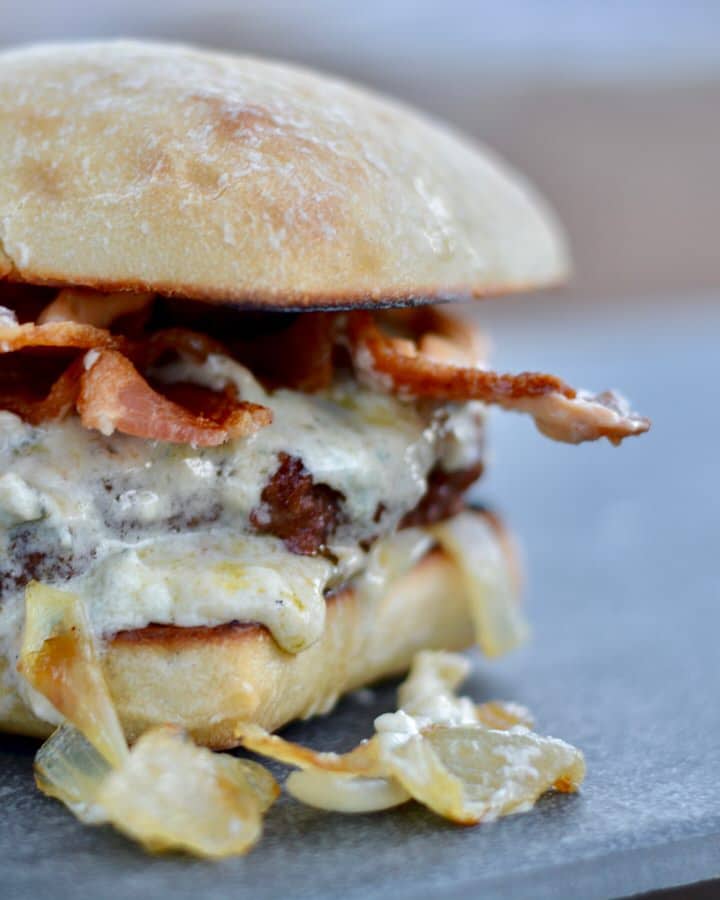 So, it's Date Night to the rescue!
A few years back we instituted a weekly date night at home, because going out to eat happens next to never for us.
We do have a few Date Night rules:
1. Kids must be in bed!
2. Dinner must be delicious! No cold leftovers.
This burger is one of our favorite date night meals
This burger is AMAZING! We don't eat it because it's simple and cheap, we eat it because even as I am thinking about it my mouth is watering.
Usually I have substitutions you can make if you don't have certain ingredients, that is not allowed here. Every part is essential.
Never Miss a Recipe! Sign up for my Newsletter to see new recipes first!
Let's talk about amazing ingredients
Ciabatta Bun –Make sure to toast it for those crisp edges.

Chipotle Mayo – Can be found next to regular mayo in the store. Sir Kensington's is our favorite but if looking for a more affordable option Just Mayo has a good one.

Bacon – Enough said.

Cambozola Cheese – It can be found in the specialty cheese section of your store. It's not cheap but trust me it MAKES this burger. And this is date night, splurge a little! Also don't skimp on this, you want a big fat slice melted on there.

Meat – We like to use elk because we have a whole deep freezer full of it, but if not, beef is king. Turkey burgers have their place in life but that place is not here.

Onions – Now make sure to caramelize those babies, it takes time but is oh so worth it.
You're welcome. What's that? You haven't thanked me? Don't worry, you will.
Love this Burger Recipe? Try these other awesome grilled recipes!
If you decide to give this recipe a try, be sure to snap a photo to share, tagging @theovenlight and #theovenlight on Instagram or Facebook!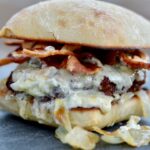 Print Recipe
The Mountain Burger
So delicious and a truly special burger recipe!
Ingredients
1

lb

ground beef

or elk if you happen to have some

4

ciabatta rolls

4

thick-slices of bacon

cooked

1

large wedge of Cambazola cheese

usually found in the specialty cheese section

1

jar of chipotle mayonnaise

found next to regular mayo at the store

1

large yellow onion

caramelized
Instructions
Separate ground beef into 4 equal-sized pieces for 1/4 pound patties. Shape into patties and add a little salt, pepper and whatever other seasonings you like in your burger. Set aside.

Cook bacon – in the oven is easiest for clean-up. Just line a baking sheet with foil, and lay slices on top. Place in 400 degree oven for about 20 minutes or until it reaches desired crispness, drain on paper towel. Set aside.

While bacon's in the oven, thinly slice yellow onions and caramelize on the stovetop. To caramelize onions, put them in a skillet on low heat and stir occasionally until onions turn a deep golden brown.

Slice 4 thick slices of Cambazola cheese. Set aside.

Cook patty's on the grill or on a griddle. About 2 minutes before patties are done, add slices of Cambazola cheese and allow to melt.

Slice and toast ciabatta buns on a griddle or in the oven. Set aside.

Assemble! Chipotle mayo on both buns, caramelized onions on bottom bun. Top with cheese covered patty, bacon and top bun. Enjoy!