When was the last time you made falafel? When was the last time you ENJOYED falafel? The answer is now! This falafel recipe makes a perfect lunch or a light dinner. Great recipe to whip up for your vegetarian guests, but delicious enough for everyone!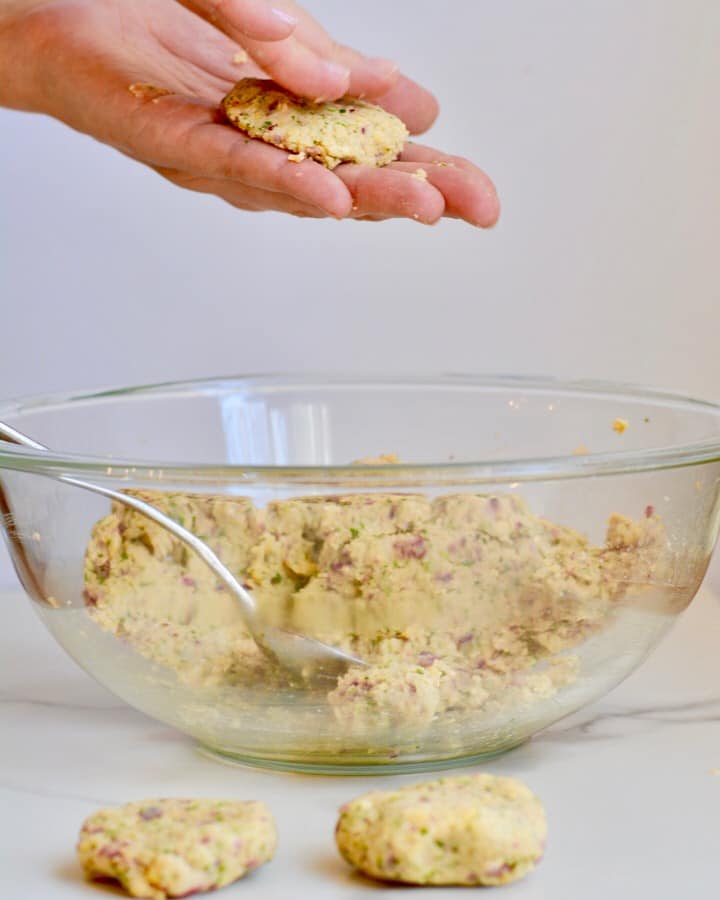 How to make falafel
Seriously, throwing this falafel recipe together couldn't be easier. Just put all your ingredients into your food processor and process until finely chopped. Then scoop into balls. I like to use this scoop (same one I use for cookies) to keep everything nice and uniform. And I love the grip on this scoop! So comfy! Read below for more specific instructions.
In a food processor, add all ingredients. Pulse until finely chopped, scraping down sides a few times until finely chopped.

Scoop into cookie-sized balls or about 2 tablespoons each. Flatten slightly in the palm of your hands to form a "puck".
Heat 2 tablespoons of olive oil in a non-stick skillet on medium heat for 3 minutes.

Add falafel to skillet, careful not to crowd so you have enough room to flip.
Cook on each side for 3-4 minutes until browned. Add olive oil when you flip if the pan gets dry.

When lightly browned on each side and warmed through, remove from pan and rest on a paper towel-lined plate to remove excess oil.

Enjoy warm in a pita or allow to cool and add to your favorite salad.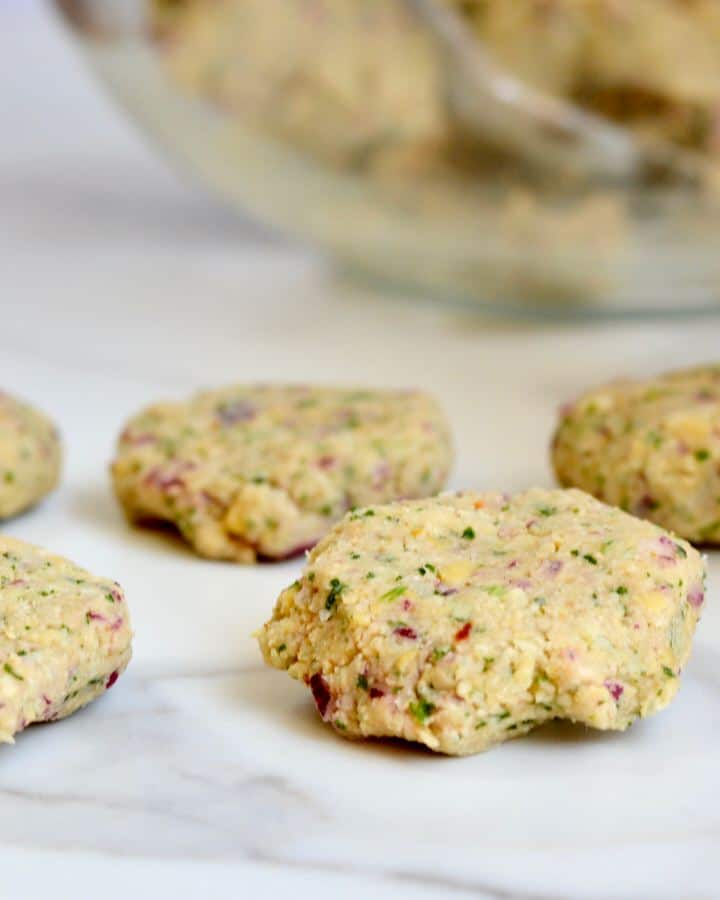 Simple ingredients for falafel
Garbanzo Beans — this gives the falafel that delicious creaminess and protein.

Garlic — a flavor kick and a health kick in one tiny ingredient.

Red Onion — use more or less to taste.

Lemon Juice — to life and balance the flavor.
Fresh Parsley — another way to pack a major health punch in one tiny ingredient.

Bread Crumbs — or gluten free bread crumbs.

Cumin, Red Pepper Flakes and Salt — flavor, flavor, flavor!
Falafel is full of good protein
Falafels fulfills all the lunch requirements; filling but not heavy, protein to fill me up and last me until dinner, and something new and exciting to take me out of my mundane lunch trend.
The best thing of all is it lets me enjoy salad which is quite a feat in itself since I usually avoid salad, on principle. This particular salad is one of my go-to's with avocado, tomato, red onion on a bed of spinach with whatever dressing I have on hand.
Now when I make this for dinner, it needs to be a little more filling so I serve it in a pita pocket with tzatziki, or with a side of naan.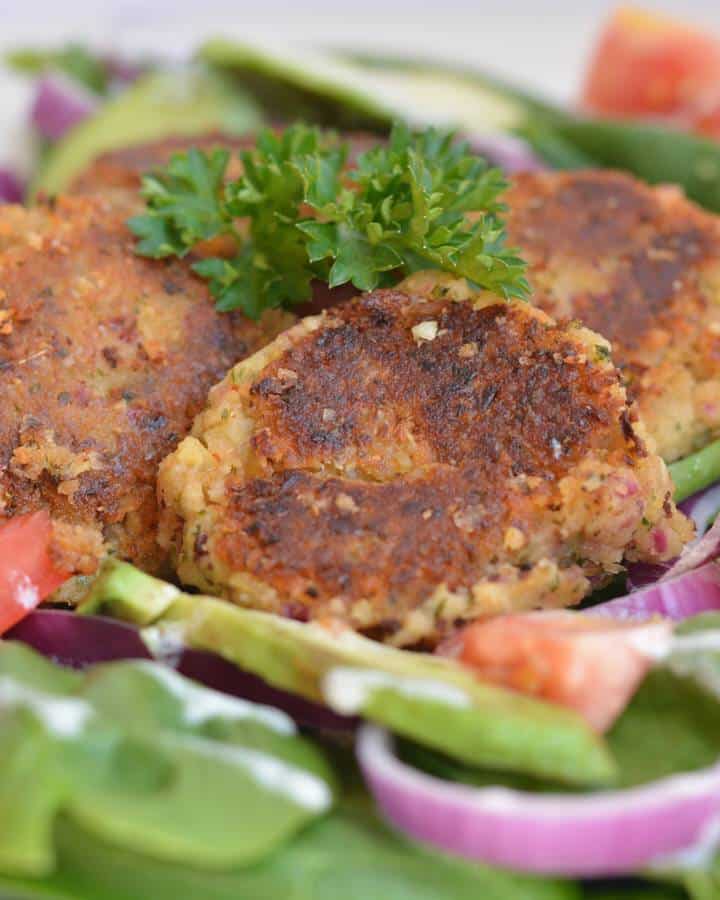 Keep lunch interesting this week with falafel
Now my husband can eat the same thing for lunch everyday for years. YEARS! Once he finds something that he enjoys, he sticks with it. I cannot do this. I may like it for a day or two but by day three, I am over it.
Last week I made this curry chicken salad on romaine with slivered almonds, and I made enough for a week so that way I didn't have to think about it, it was already ready.
Way to go me! Meal prep! By day two I couldn't eat it. Its not that it wasn't good, I have just found with lunch, in particular, I need to have a rotating schedule, otherwise I am burned out and I end up eating a bowl of cereal with some cookies and chips. Not my most shining moment.
So now this little beauty has made it into the rotation. And it will make it into yours too!
More vegetarian meals
Mediterranean Vegetable Pie — Filled with vegetables, mediterranean spices and cheese.
Greek Pizza — Made simply on naan or pita bread and topped with hummus and delicious Greek toppings.
Broccoli Potato Soup — Creamy without the actual cream.
Italian Stuffed Peppers — tomatoes, feta and basil warmed inside a red pepper for a fantastic Italian appetizer.