These gluten free pork noodle bowls have become our absolute favorite meal! I've been making this at least once a week. The cool rice noodles provide the perfect base to pickled cucumber and carrots, and pork that becomes crisp and melts in your mouth like bacon. All topped with salty peanuts, cilantro and a delicious lime sauce.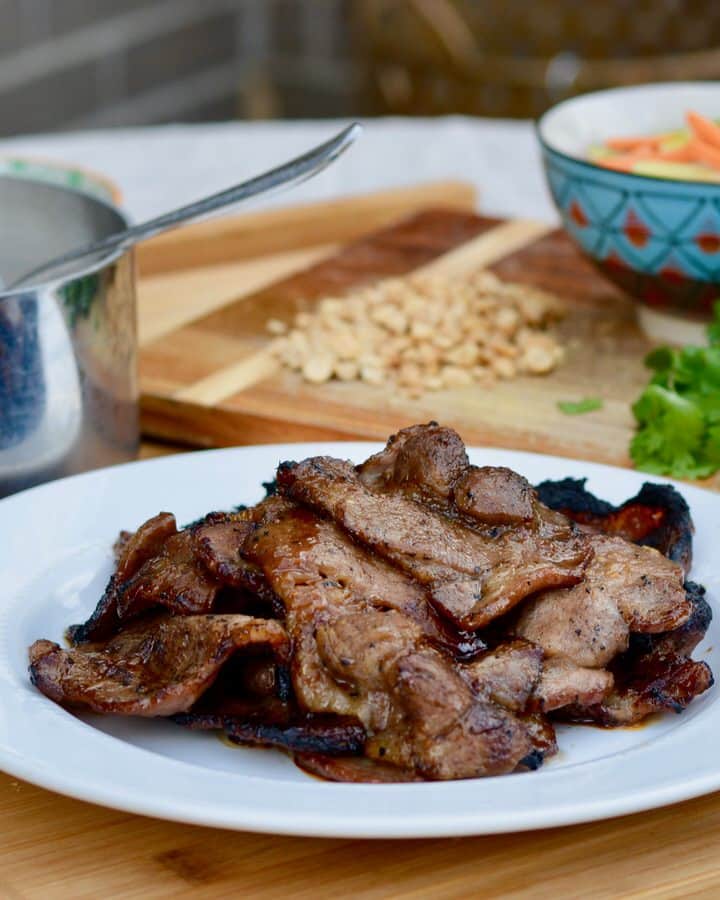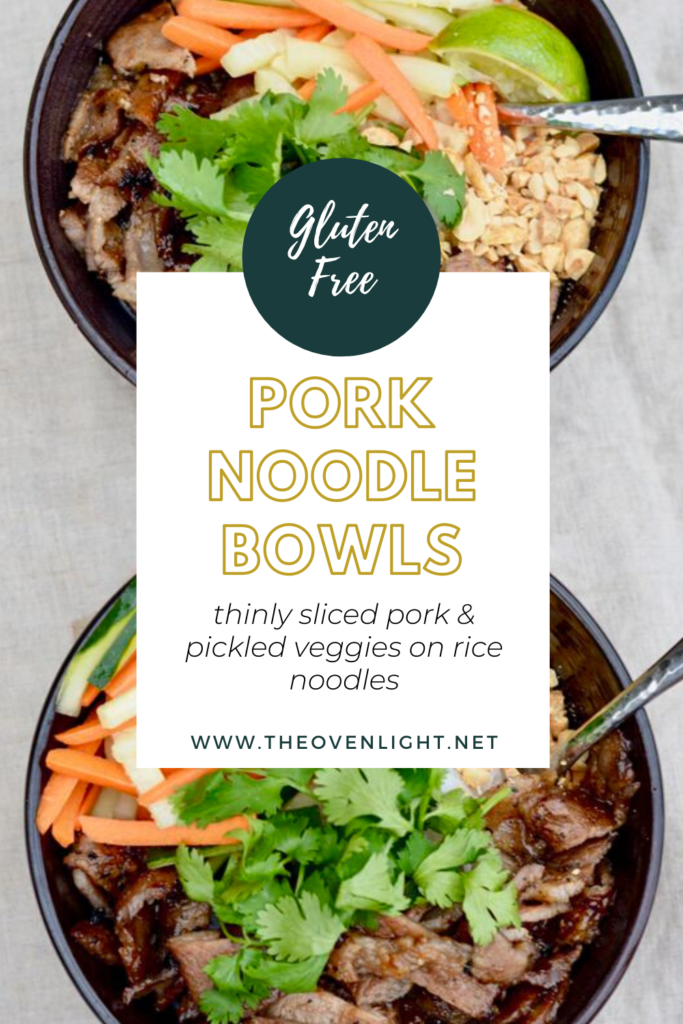 On trying something new...
I've made this recipe many times for family and friends and you know what they usually say after this meal? "I should try more new recipes!" This is so true for all of us. There's nothing like a simple, delicious meal that's out of your regular routine to give life a little spice, right?
That's why I love this recipe, because it's different, but approachable and simple. While I would love to master French cooking techniques and bake pastries like a pro, the reality of my life leads me to make-ahead, simple recipes that taste delicious and are healthy. Because that's where most of us live our daily lives, right?
So I would encourage you to just try. New recipes can be simple and you never know, you might find your new favorite!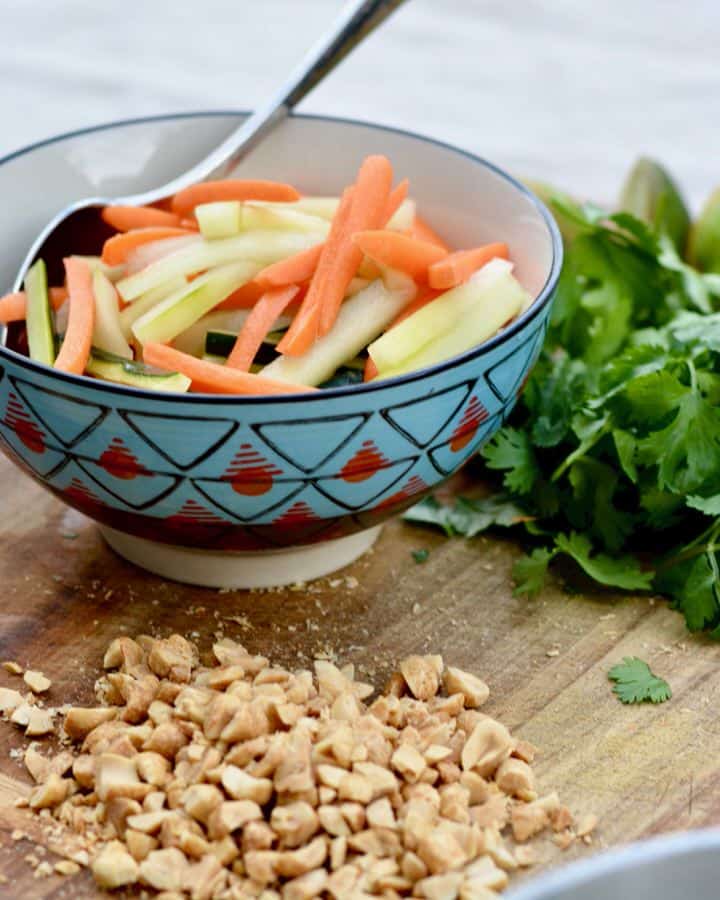 Pork Noodle Bowl Ingredients:
Thinly Sliced Pork Shoulder: I go to the Asian market down the street to buy this cut of pork. However, you should be able to ask your butcher to thinly slice a pork shoulder for you.
Brown Sugar: It might seem like the marinade has a LOT of brown sugar, but this is what gives the pork that caramelized sweet flavor. SO GOOD!
Fish Sauce: I'm picky about my fish sauce and I now only use Thai Kitchen Premium Fish Sauce. It gives the best umami flavor without overwhelming you with fish-y smell or flavor.
Soy Sauce: This is the only place you'll find any gluten in this recipe, so I use gluten free soy sauce!
Cucumber & Carrots: These buddies make a delicious pickled topping to your pork bowls. Trust me, simple and delicious.
Rice Vinegar: Be sure not to purchase the "seasoned" rice vinegar, it just means they've already added sugar.
Fresh Lime Juice: You'll definitely want fresh for this recipe!
Sambal Oelek: This is basically an Asian red chili sauce. I really like this one, which can be found at your local grocery store in the Asian aisle.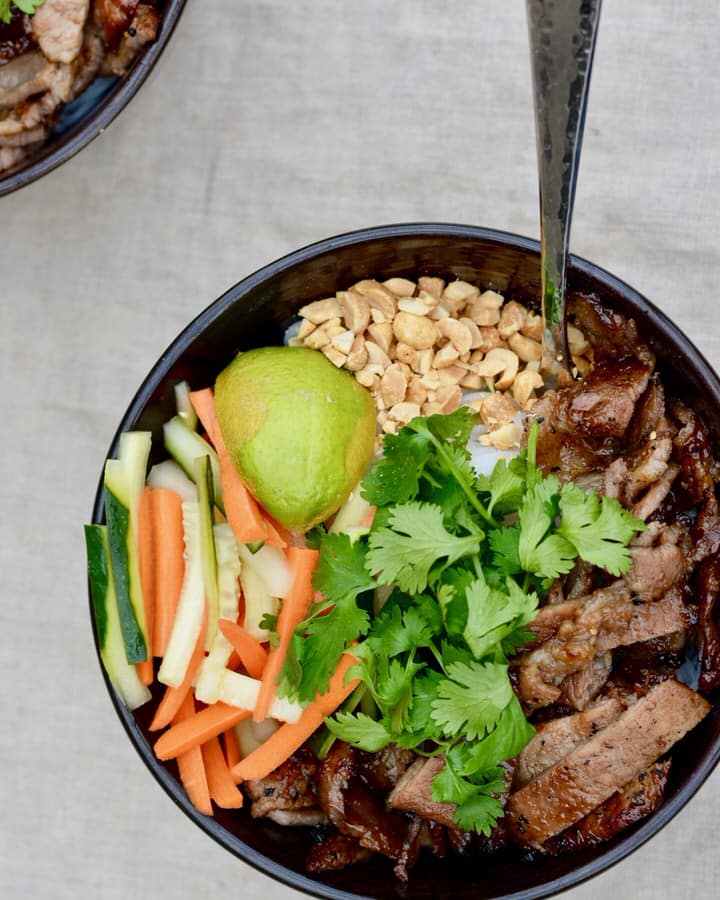 To make these noodle bowls, simply...
Mix your marinade and pour over pork in a zip-top bag. Place in the refrigerator for at least an hour or up to overnight.
Thinly slice the cucumber and carrots into 2" pieces. Boil water, add sugar and rice vinegar and pour over cucumbers and carrots. Place in refrigerator for at least an hour or overnight. (These are still delicious days later, they'll just get more pickled!)
Make the sauce by dissolving sugar into hot water and add the fish sauce, lime juice and Sambal Oelek. This can also be made ahead of time, up to 3 days in advance, and stored in the refrigerator.
Grill or pan fry the pork until cooked through and the outside is a little bit crisp and caramelized. I cook on a low heat since the meat is so thin and it gets cooked quick! Once done, remove and allow to cool for a few minutes. Then slice in long 1" wide pieces.
Cook the noodles according to package directions. Be sure to rinse in cold water so the noodles stop cooking and don't get mushy.
Build your bowls! Now you can build your bowls with a generous helping of rice noodles, topped with plenty of pork and pickled veggies. Top with lots of cilantro, chopped peanuts and a few spoonfuls of sauce.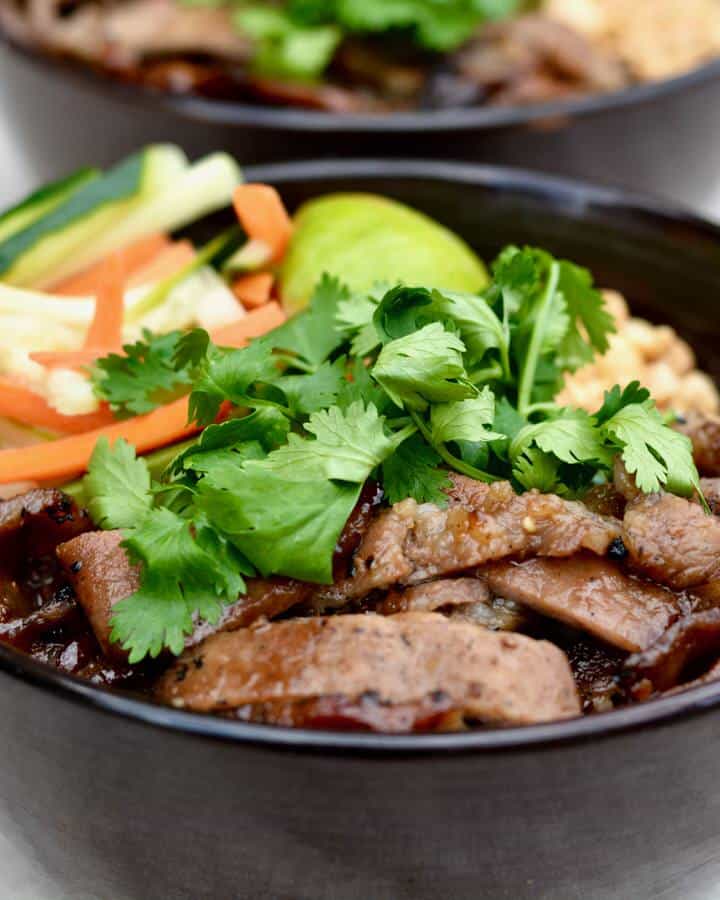 Love these make ahead pork noodle bowls? Try these other make ahead meals!