This Fall Grain Free Granola recipe is full of delicious and protein packed ingredients. Combined with a bit of coconut oil and honey and it becomes the perfect afternoon snack or yogurt topping. I love that you can use any nuts or seeds you have on hand, so I can always make up a batch! The hint of cinnamon along with the pumpkin seeds makes this our favorite fall granola.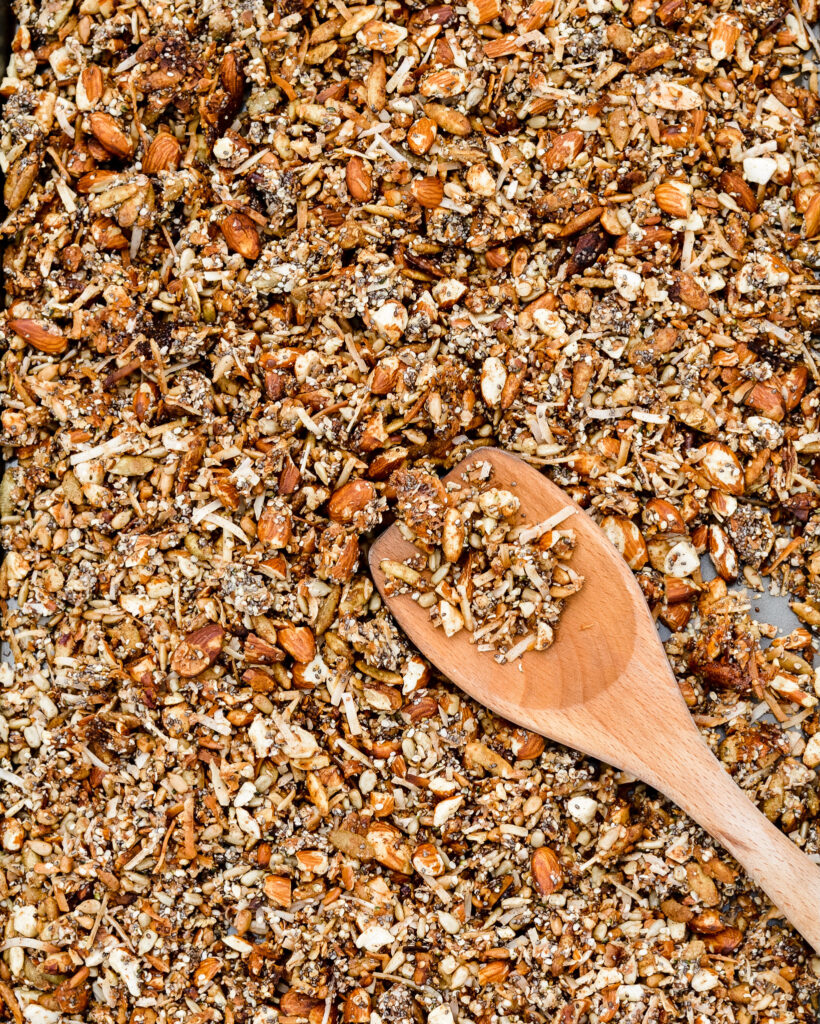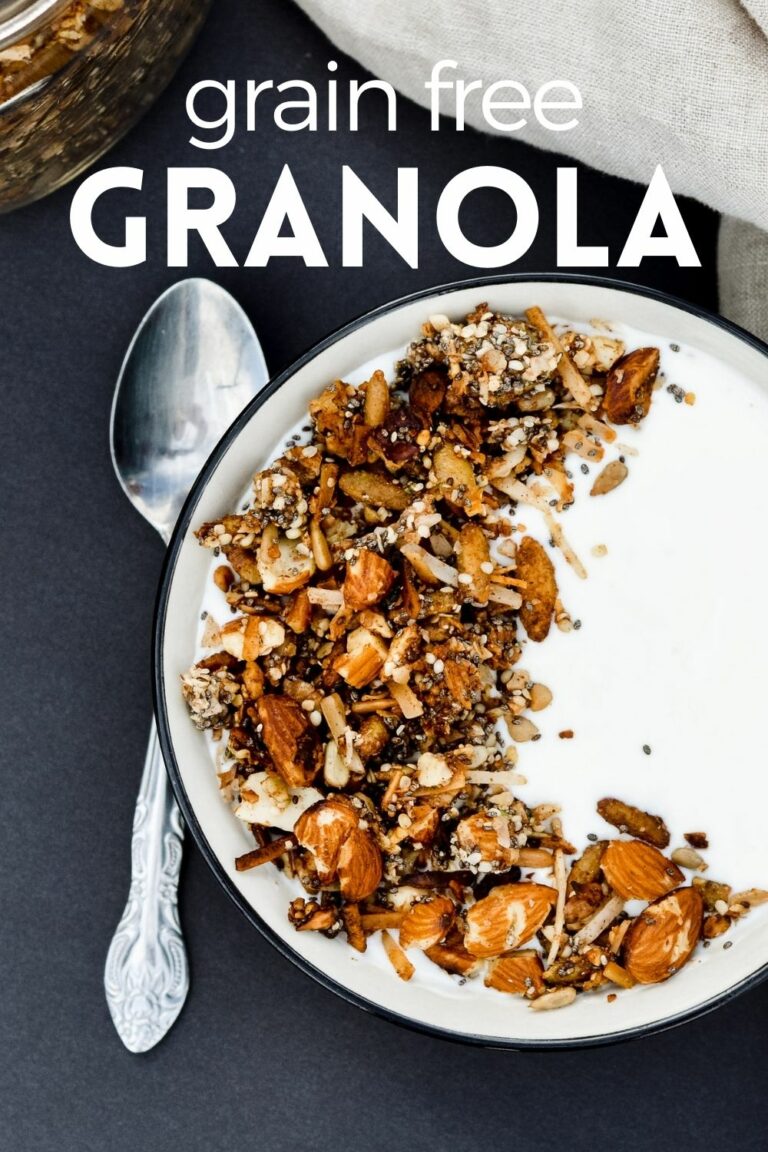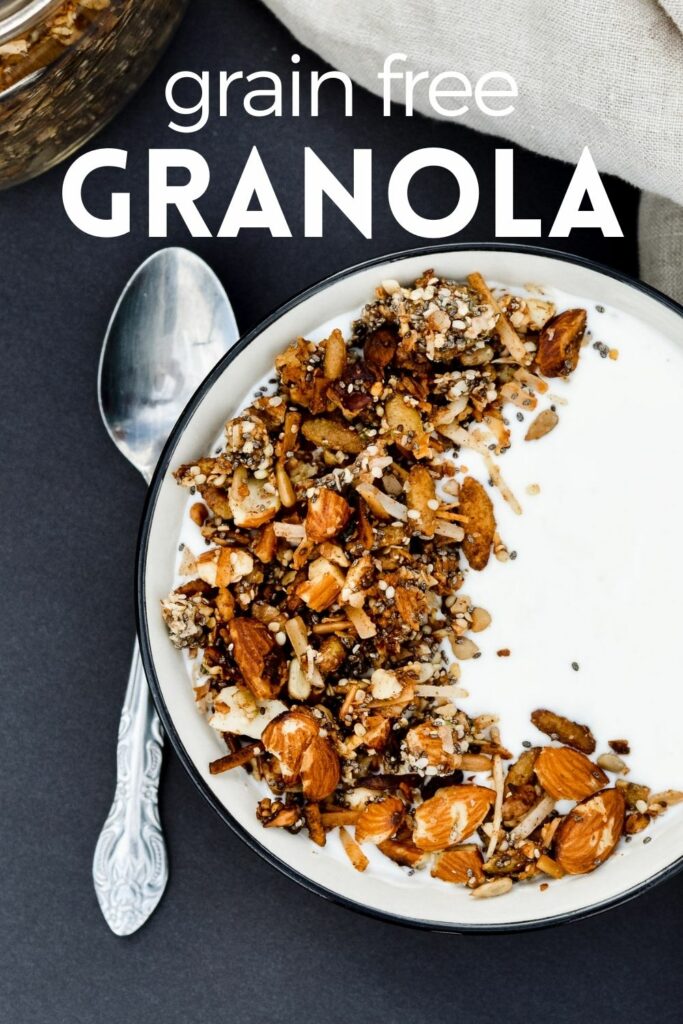 Grain Free Granola Ingredients:
To make this grain free granola recipe, you'll need the following ingredients:
Almonds: Give them a rough chop.

Shredded Coconut: Definitely one of my favorite ways to sweeten just about any recipe!

Pumpkin Seeds (or Pepitas): I used pumpkin spiced seeds from Trader Joe's to give it that great "Fall" flavor I love!

Sunflower Seeds: Packed with B complex vitamins.

Chia Seeds: This is where the protein starts coming in. Chia seeds have 4.7 grams of protein in 1 oz!

Hemp Seeds: Hemp seeds are considered a complete protein, meaning they provide all the essential amino acids.

Coconut Oil: My favorite way to bind and add a bit of moisture without the unhealthy fat.

Cinnamon: Get that delicious Fall flavor going!

Vanilla Extract: This will amp up the flavor of those delicious nuts and seeds.

Honey: Just a touch of sweetness, plus it helps create those great granola clusters!

Salt: Just be sure not to add any salt if you're using any salted nuts.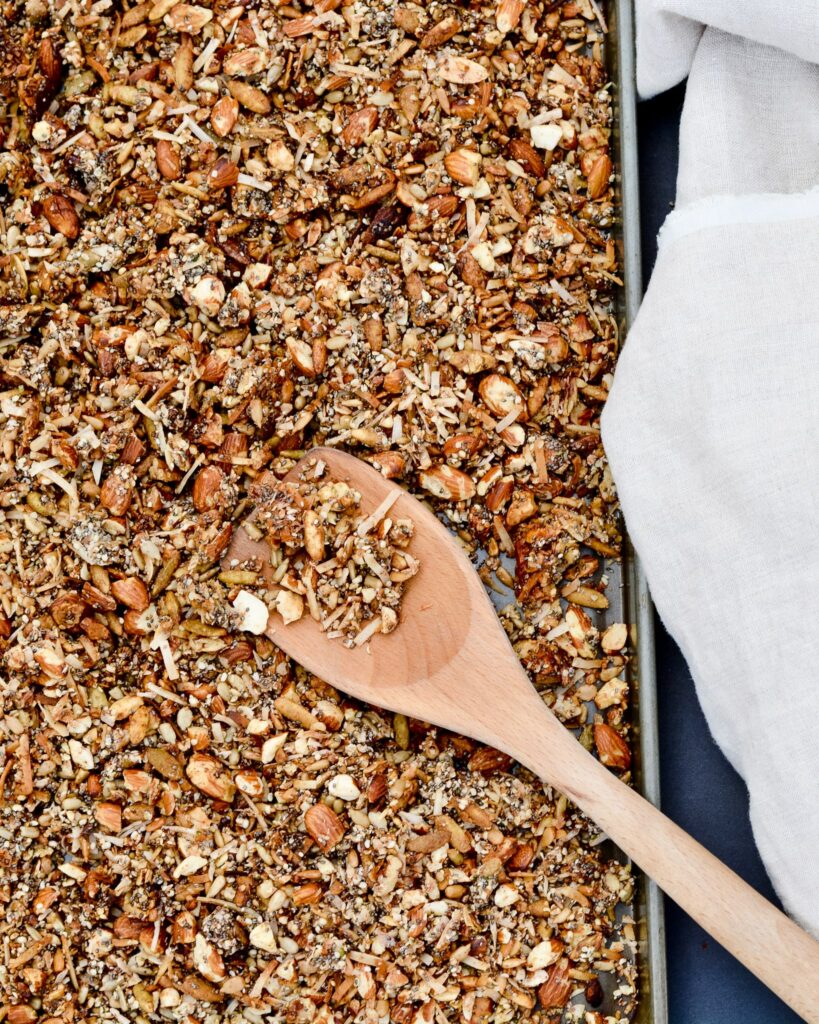 How to make Grain Free Granola
To make this Grain Free Granola Recipe, simply...
Combine all ingredients in a large bowl and give it a really good stir, so that all nuts and seeds are covered in the coconut oil, honey and vanilla.
Bake in a 350°F oven for 20 minutes. Give it a quick stir halfway through.
Allow to cool. Then store in an airtight container for up to one month at room temperature.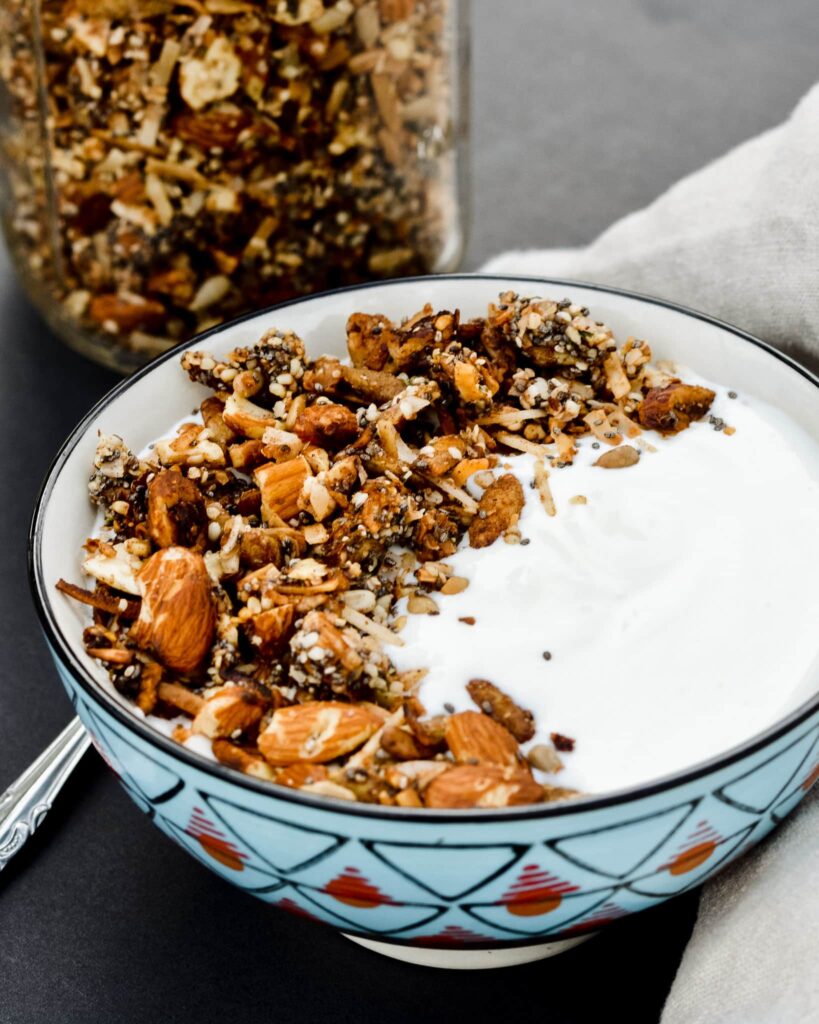 The best ways to use granola
We love this grain free granola by the handful, but we also love to create these simple combinations for the ultimate granola munch-fest.
Slice a bananas in half length-wise. Top with peanut or almond butter, granola and cinnamon. Add fruit and coconut flakes if you're feelin' fancy. Use any of our delicious granola recipes.
Layer with your favorite yogurt and top with fresh fruit, like this recipe.
Make Granola Chocolate Bark and top it off with your favorite granola and some dried fruit. Makes a great low-sugar snack and makes a beautiful gift!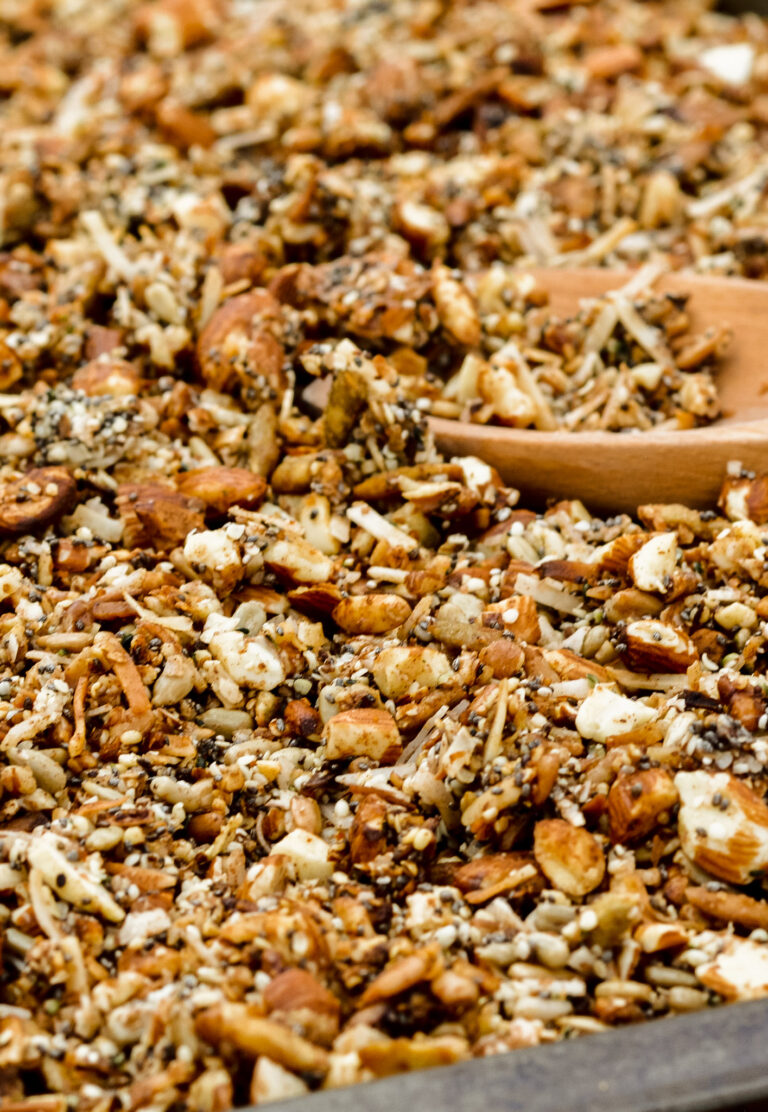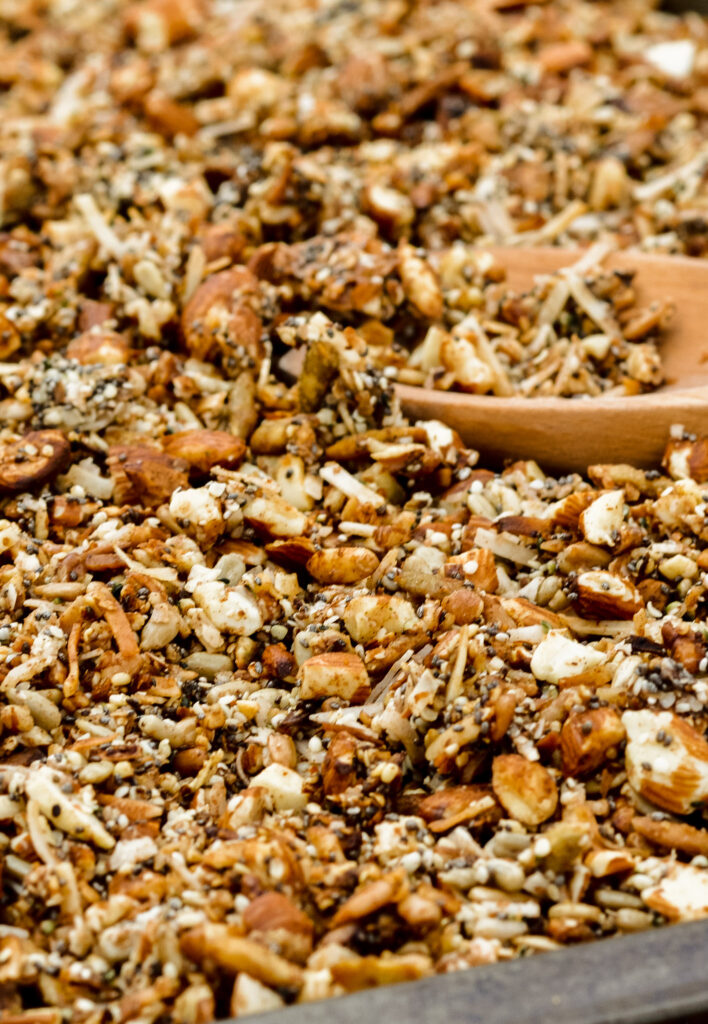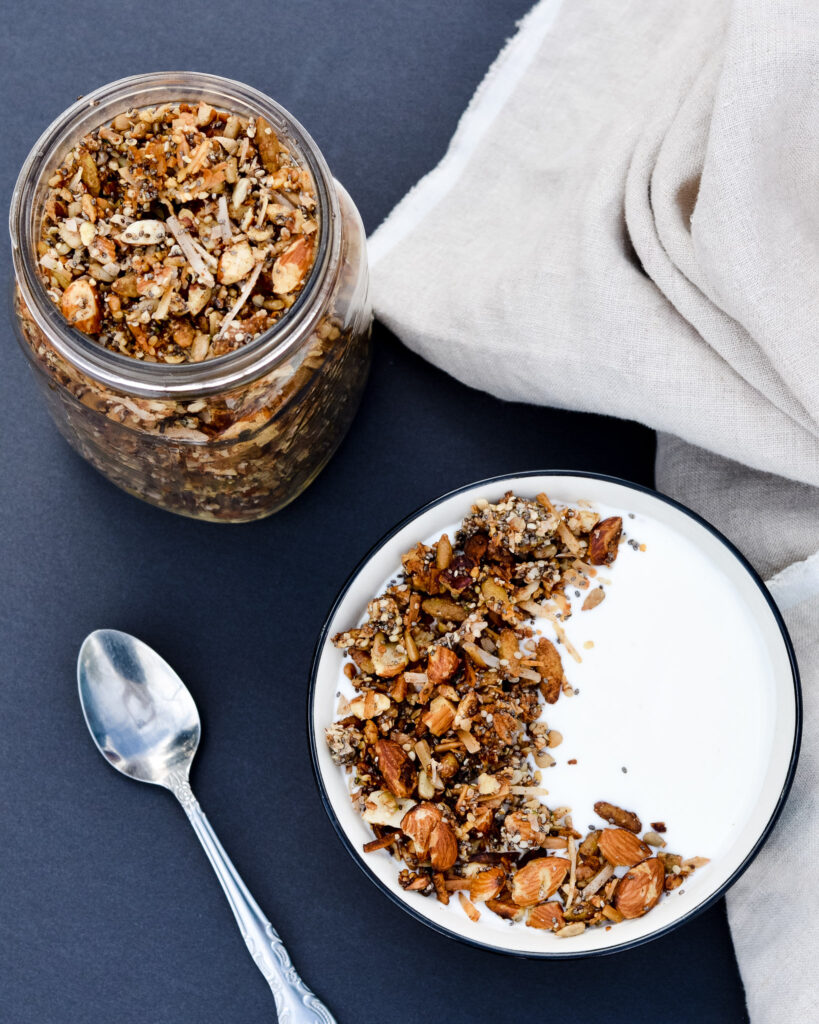 Love this grain free granola recipe? Try these other delicious and simple granola recipes!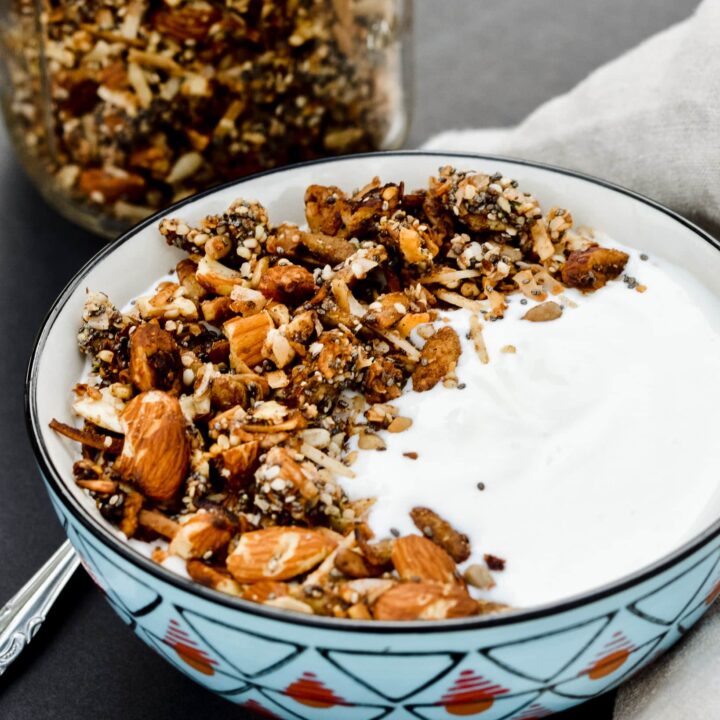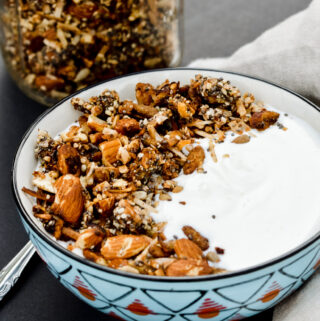 Grain Free Granola
Deliciously healthy snack
PRINT RECIPE
PIN RECIPE
Ingredients
1

C

Almonds

chopped

1

C

Shredded Coconut

½

C

Pumpkin Seed

½

C

Sunflower Seed

⅓

C

Chia Seeds

⅓

C

Hemp

ground or seeds

3

tablespoon

Coconut oil

melted

1

teaspoon

Cinnamon

1

teaspoon

Vanilla Extract

3

tablespoon

Honey

¼

teaspoon

Salt
Instructions
Combine all ingredients in a large mixing bowl

Bake at 350° for 20 minutes, stirring once halfway through

Remove from oven and allow to cool before transferring to an airtight container
Notes
Granola will keep in an airtight container for 1 month. Feel free to substitute any other nuts and seeds you prefer as long as you keep the same ratio. Enjoy!