The flavorful combination of buffalo and blue cheese are perfectly paired in this simple weeknight recipe!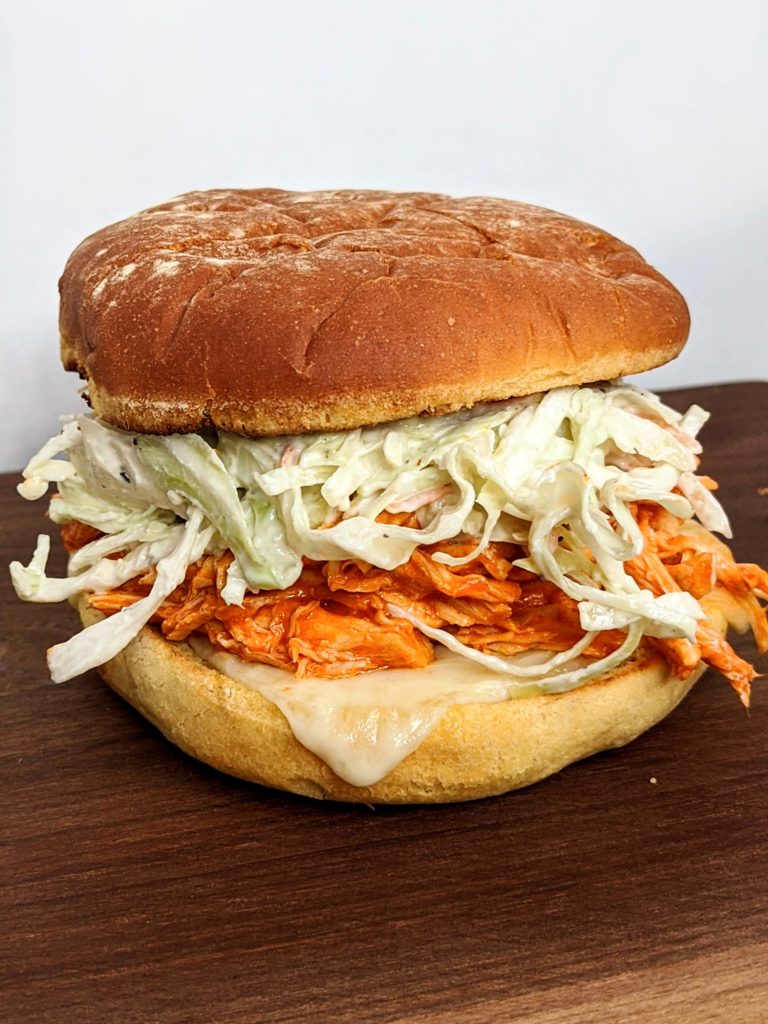 Ingredients for Blue Cheese Dressing
We love blue cheese dressing around here, and while the stuff in a bottle is ok in a pinch, we found that homemade is FAR better. Check our our popular Blue Cheese Dressing and Dip recipe!
Here's the super quick recipe too!
1 ⅓ cups good mayonnaise - Full or low fat (not olive oil)
¾ cups sour cream
½  teaspoon dry mustard
½  teaspoon garlic powder
½  teaspoon black pepper
¼ teaspoon salt
2 tsp Worcestershire sauce
4-5 oz crumbled blue cheese
Instructions
In a medium bowl, combine all ingredients. Give it a good stir. Seriously, that's it!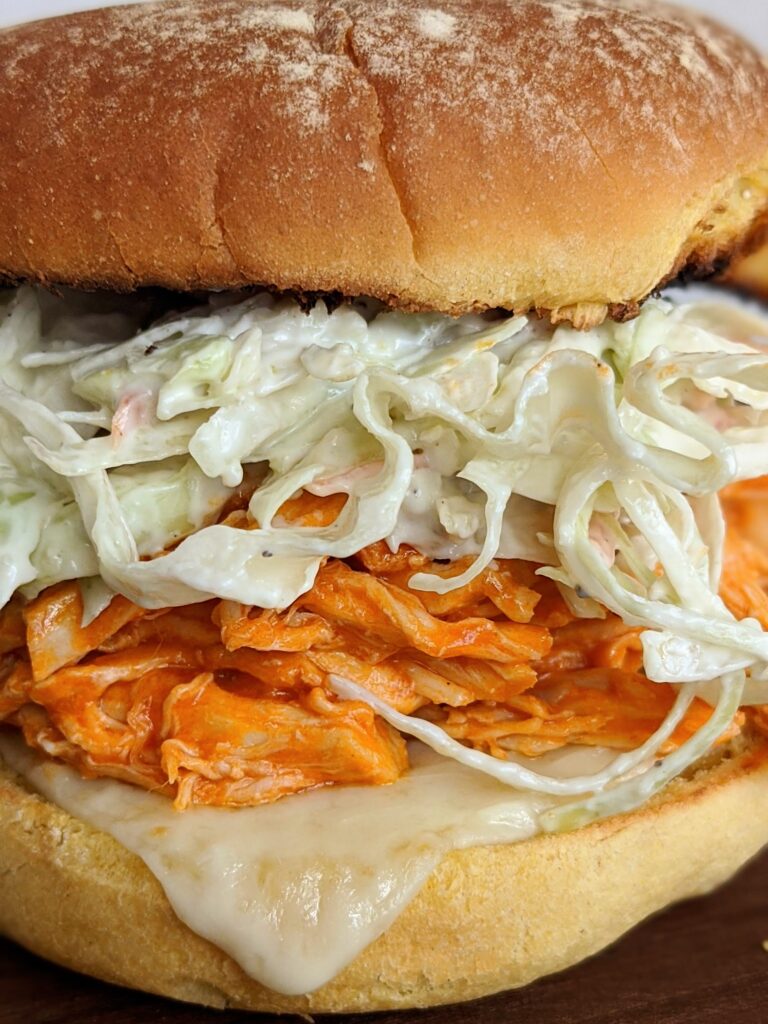 Instructions for Buffalo Chicken
First, let's make the pulled buffalo chicken. Place 2-3 large chicken breasts in a slow cooker (I've used this one for 5+ years and love it!) and cover with buffalo sauce, about ½ cup. I prefer the flavor of Sweet Baby Ray's Buffalo Sauce.

Cook on low for 2-3 hours. Chicken cooks quickly, so check it, using an instant read thermometer, to be sure the center has reached 165°F.

Once chicken is finished, remove from the slow cooker and place on a clean work surface (cookie sheet or cutting board works best). Shred chicken using two forks.

Remove and save sauce from the slow cooker. Return chicken back into the slow cooker and add the remaining buffalo sauce (about ½ cup) and add some of the cooking liquid until all the meat is juicy. Feel free to add extra buffalo sauce if you like things spicy!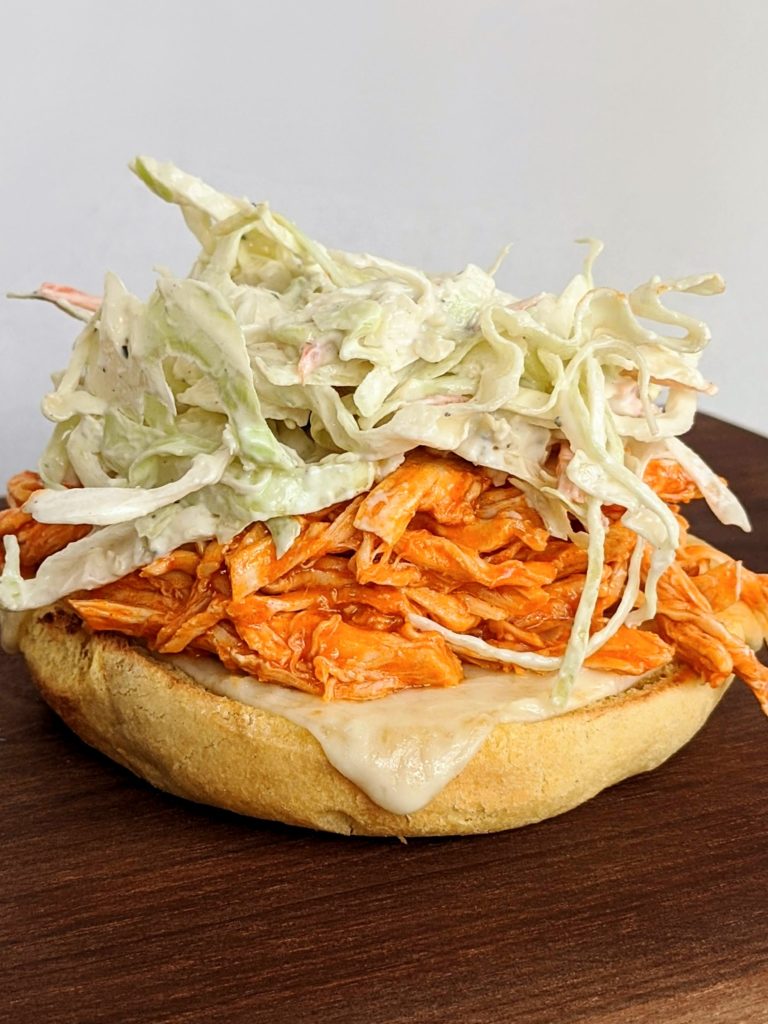 Instructions for Blue Cheese Slaw
In a separate large bowl, pour the coleslaw mix. Add the blue cheese dressing and mix until well combined. Add more as needed. (But keep in mind the coleslaw will shrink and get wet while it sits, so I like to just add ⅓C and then add more later right before making burgers. Otherwise it can get a bit soggy.)

Time to assemble the burgers! Turn on your broiler to high. Open all your buns onto a cookie sheet and place 1 slice of mozzarella on top of one side of each bun. Toast in the oven until cheese is melted and the buns are toasted.

Add chicken and slaw to burgers. This is where you can add more buffalo sauce and blue cheese for individual tastes.

Enjoy! I like to serve these with Seasoned French Fries or keep it light with a salad. Both are excuses for more blue cheese dressing, right?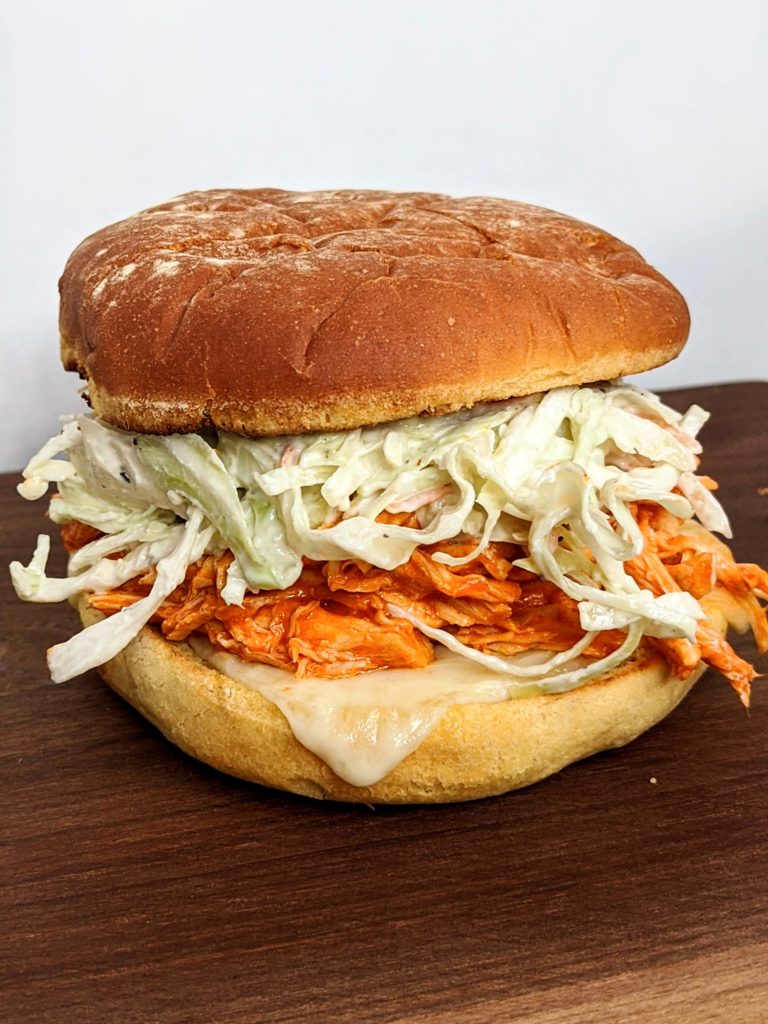 Make Ahead
Because we're busy moms, we're always looking for recipes like this that make our work in the kitchen quicker, cut down on dishes to clean, and increase the amount of time we get to spend with our family. That's what it's all about, AM I RIGHT???

This recipe is a total breeze to throw together and is great for game night, family movie night or just sit outside and enjoy the night night. Give it a try and let us know what you think!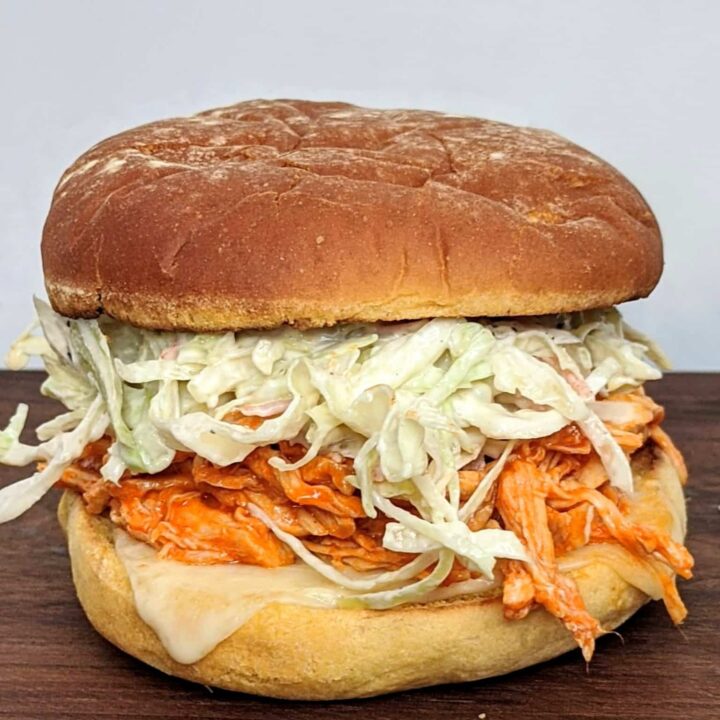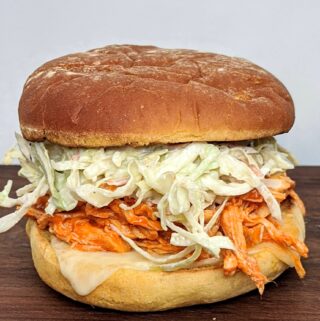 Buffalo Chicken and Blue Cheese Slaw Burger
Make ahead weeknight meal with flavorful, spicy buffalo sauce and a simple blue cheese slaw on top. Great combination with minimal effort!
PRINT RECIPE
PIN RECIPE
Ingredients
2-3

chicken breasts

1.5-2 pounds

1

cup

buffalo sauce

we prefer Sweet Baby Ray's

6

slices

mozzarella cheese

6

cups

coleslaw

pre-made works great!

1

recipe blue cheese dressing see recipe here

6

potato hamburger buns
Instructions
For the Chicken
Place chicken breasts in slow cooker and add ½ C buffalo sauce. Cook on low for 2-3 hours until center of each breast has reached 165°F.

When chicken is cooked, remove and shred with 2 forks.

Pour out most of liquid in slow cooker, reserving 1 cup.

Place shredded chicken back into slow cooker and add ½ C buffalo sauce and add cooking juices until all the chicken is juicy.
For the Blue Cheese Slaw
Combine 6 cups (about ½ a large bag) of coleslaw with ⅓ cup of blue cheese dressing and mix to combine. Feel free to add more dressing to taste.
Build your Burgers
Open up hamburger buns and place center side up on a baking sheet. Place 1 slice of mozzarella on one side of each pair of buns. Toast in the oven until cheese has melted and buns are slightly toasted. Remove from oven.

On top of the bottom of the bun, pile warm buffalo chicken. Top it off with blue cheese cole slaw.

I like to add a little extra buffalo sauce for some extra heat. Feel free to add sauces to taste!