We created this blue cheese dressing recipe so you don't have to buy all those crazy ingredients in the blue cheese dressing found on the shelf. Only whole, fresh ingredients in this recipe. Plus, there's a really simple way to cut the fat in half. You'll love this dip with chips (my favorite, I admit), veggies (if you must), fries (my husband's favorite), or atop a wedge salad (everyone's favorite).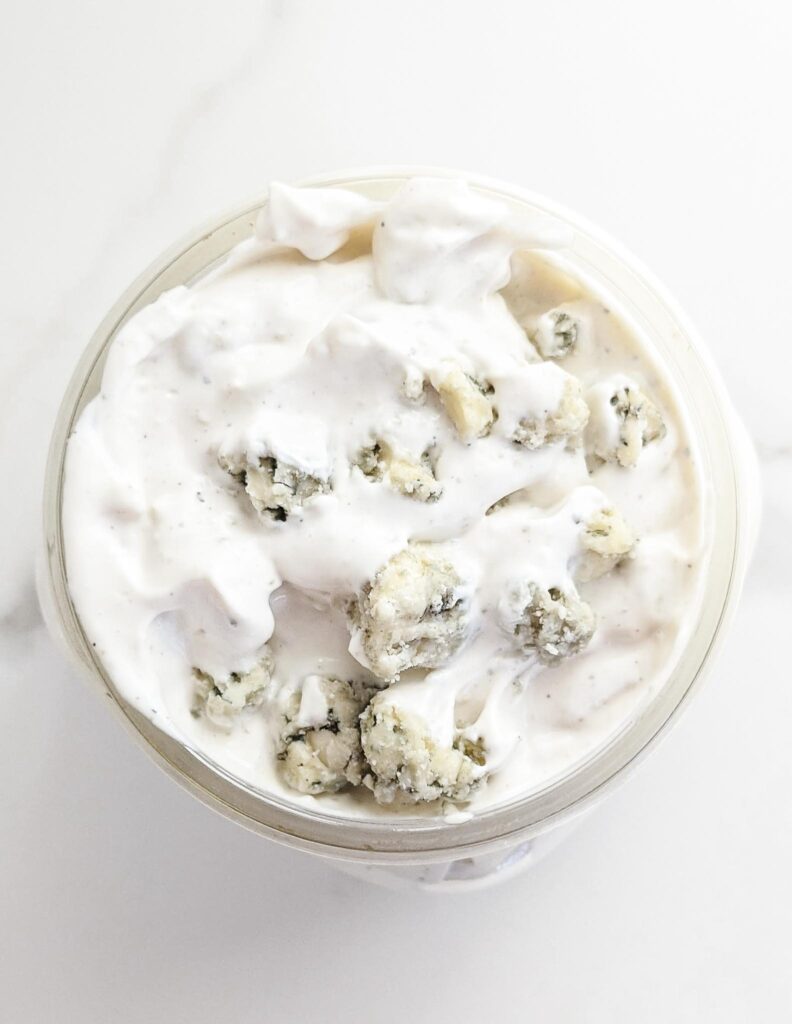 All the good Ways to use Blue Cheese Dressing
This delicious blue cheese dressing would be delicious as a...
Veggie Dip - Yes, even your vegetables will love this blue cheese. Make a platter with my all-time favorites: carrots, broccoli and cherry tomatoes!
Dressing - Classically, blue cheese dressing is used as well, a salad dressing. And this amped up version is absolute perfection on a wedge salad, or any hearty salad. Personal tip: Put blue cheese dressing and balsamic vinegar together on a salad. It will blow your mind. I discovered this combination when I worked as a server at an Italian restaurant a long time ago, and it's still my favorite way to eat a regular ol' salad!
French Fry & Chip Dip - You may have already discovered to glory of dipping french fries into blue cheese dressing, but have you tried chips? My preference is classic ridge cut potato chips, because they hold more dip (which is the real goal). Hans' (my hubs) favorite french fries to dip are these Perfectly Seasoned Baked Fries.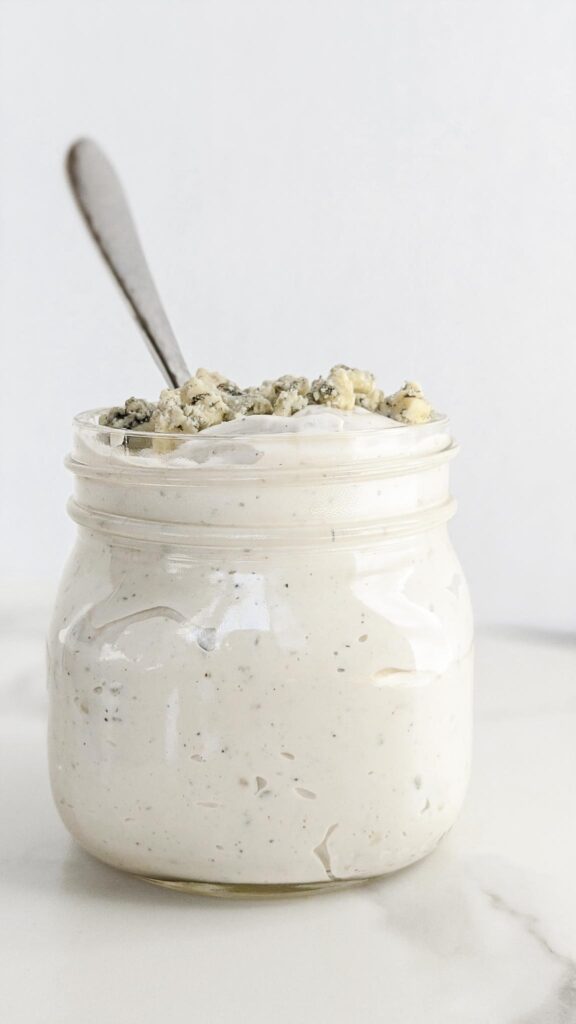 Ingredients for this outstanding blue cheese dressing recipe
Mayonnaise - make sure you get regular mayo. Fat free is also ok, just don't get the olive oil kind, it makes the dressing VERY watery after refrigerated.
Sour Cream - Again, regular or low fat is ok. My favorite brand is Daisy, it has the perfect texture, thickness and tangy flavor. If you're wanting to make this dairy-free, try it with plant based sour cream. It's not bad! (Imagine I said that in a high voice that only kind of convinced you though.)
Dry Mustard - Lends the perfect "tang" to this blue cheese dressing recipe. I love using this spice in all sorts of recipes. If you need some convincing to purchase this rarely-used spice, check out this article on more ways to use dry mustard.
Garlic Powder - I could pour garlic powder on just about everything, and this dressing is no exception.
Worcestershire Sauce - Here's the secret ingredient. Worcestershire adds that perfect salty, savory, almost umami flavor that really sets this dressing apart. I promise you'll love it! Rachel likes it with double the Worcestershire, I like to keep it as the recipe says. Taste and find your Worcestershire-y (say that 10 times fast) balance.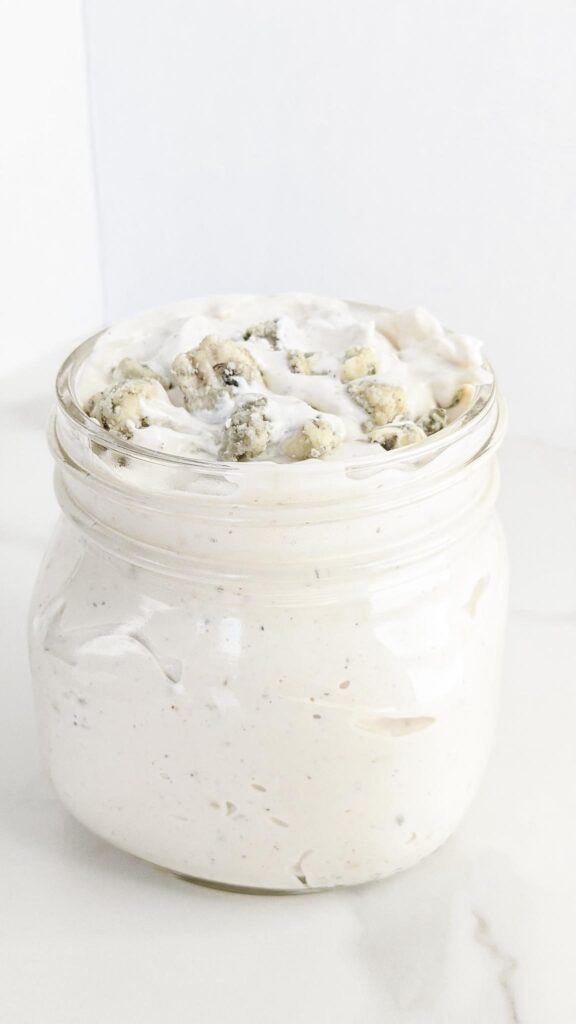 To make this homemade blue cheese dressing/dip, simply
Combine all ingredients in a medium bowl and mix and . . . . . you're done! Yup, that was easy. Measuring and stirring took me maybe 5 minutes.

Store in a large airtight container, like a Ball jar, in the refrigerator for up to 1 month.
Recipe variations:
It's easy to adjust this recipe to your tastes and preferences, here's a few ideas:
Lower Calories - use low fat mayonnaise and low fat sour cream. This will cut your calories by more than half, and it will still taste great!

Spicier - If you like a little spice to your creamy dressings, try adding a few dashes of Tobasco or Buffalo Sauce. This would be a delicious and refreshing way to use as a dip alongside veggies.

More Worcestershire-y - If you love the flavor of Worcestershire, you can increase up to 2 Tbsp. That will make that flavor really come through.
Dairy Free - replace the sour cream with a plant based sour cream. It will slightly change the flavor, but not by too much, and it'll be easier on the digestion.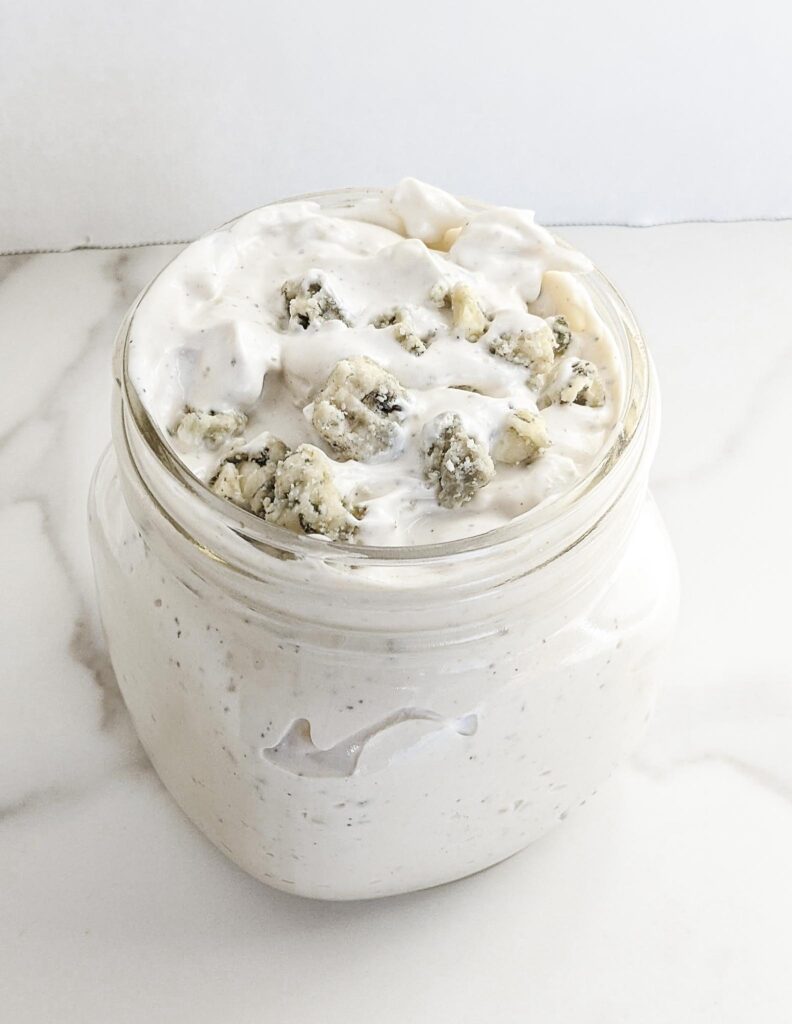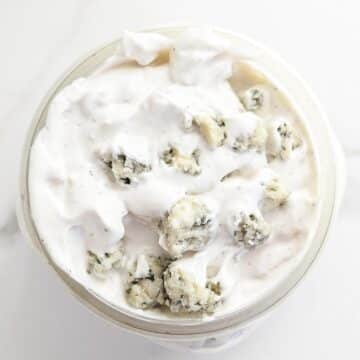 Homemade Blue Cheese Dressing and Dip
The BEST blue cheese dressing ever!
Print
Pin
Rate
Ingredients
1 ⅓

C

good mayonnaise

Full or low fat (not olive oil)

¾

C

sour cream

½

teaspoon

dry mustard

½

teaspoon

garlic powder

½

teaspoon

black pepper

¼

teaspoon

salt

2

teaspoon

Worcestershire sauce

4-5

oz

crumbled blue cheese
Instructions
In a medium bowl, combine all ingredients. Give it a good stir. Seriously, that's it!