Rachel created this recipe after eating a giant biscuit cinnamon roll at a popular place here in Denver. She also very wisely made this a super quick version of the recipe as well as amazingly flaky so you don't have to spend hours in the kitchen, waiting for dough to rise. That way you can wake with a cinnamon roll craving and be eating these within the hour!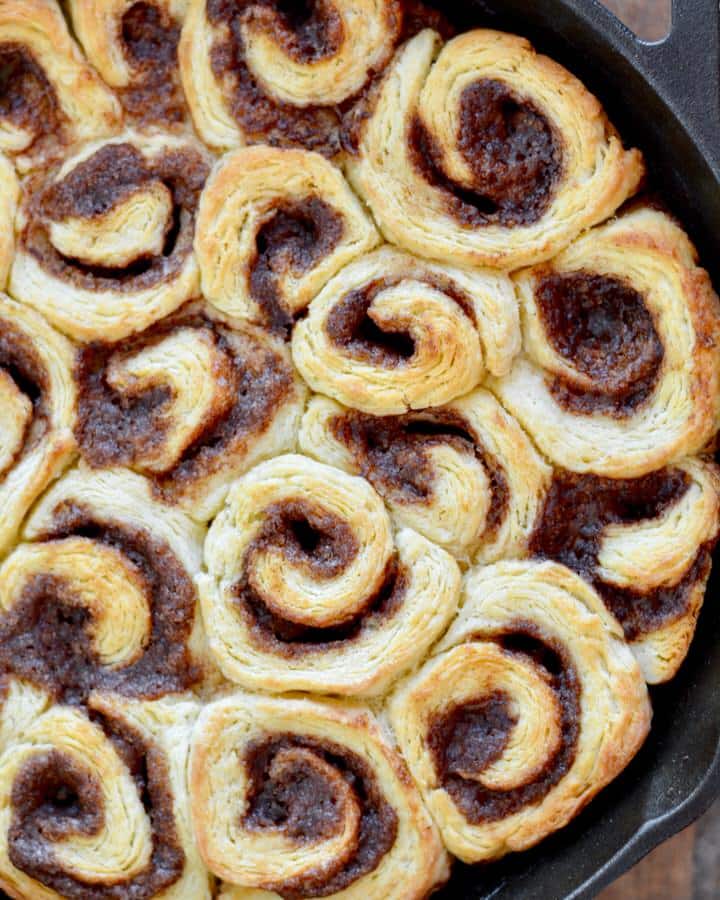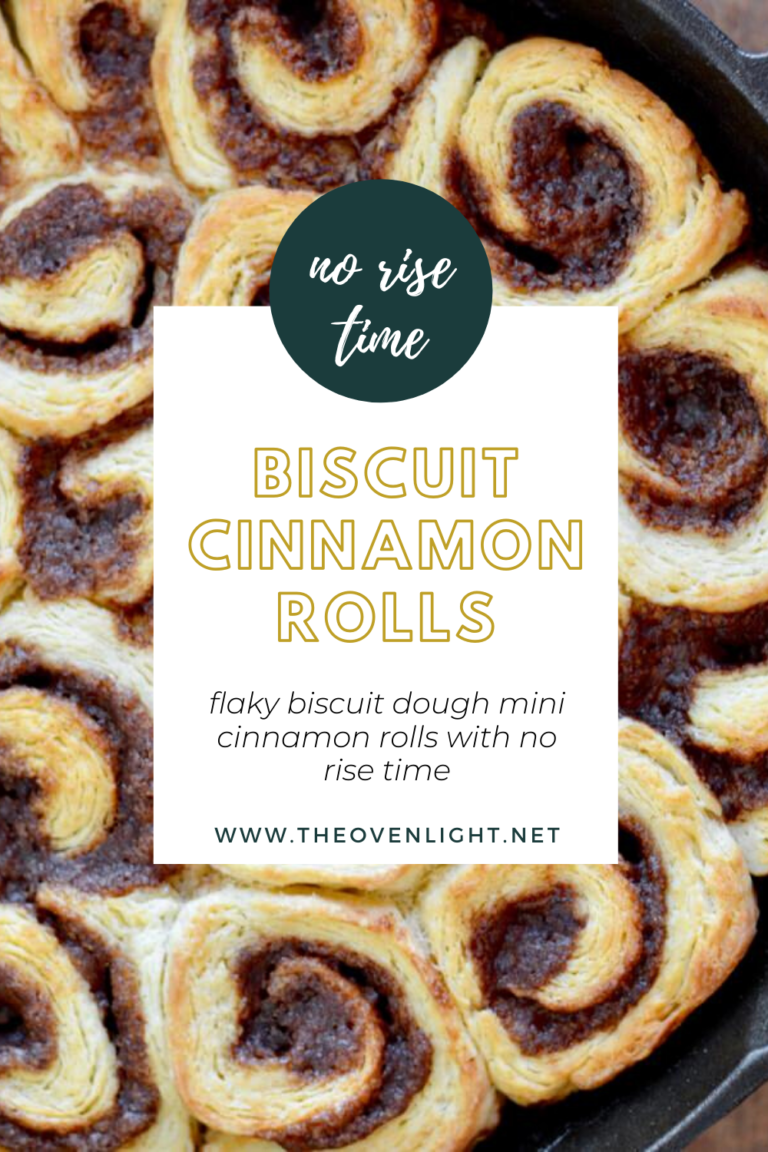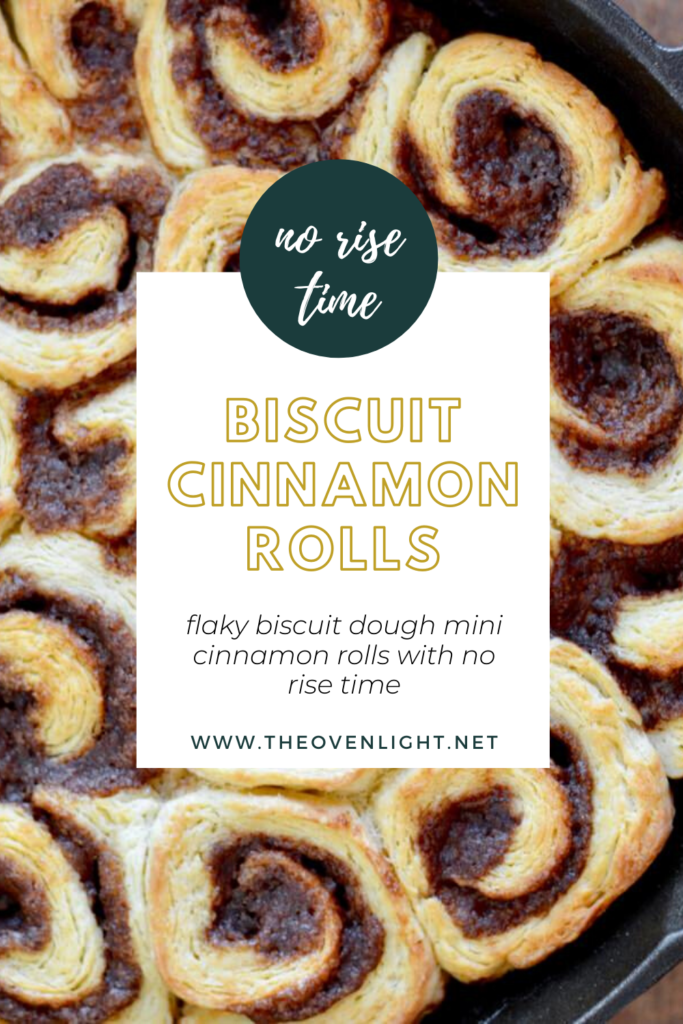 Biscuits for Cinnamon Rolls
The texture of these delicious treats are closer to a biscuit with a buttery, flaky, pull-apart roll. And the sugary filling is not overly sweet, but provides the perfect soft center.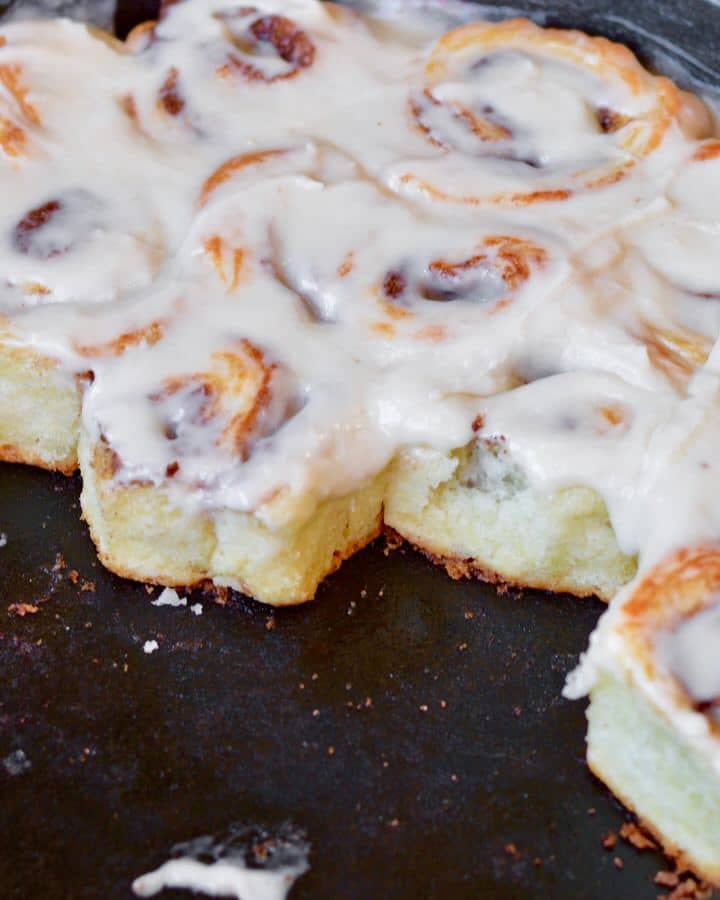 Baking in a cast iron skillet
This cast iron skillet is my most used and versatile kitchen tool. I use my skillet for everything from giant cookies to blackened chicken. I fry my egg in it every morning and use it to bake bread or cakes later. My new favorite way to use it is to bake a whole chicken stuffed with onion and covered in herby butter. YUM!
I digress. The reason I love using a cast iron is the way it conducts heat. So even, so hot, and creates the perfect crisp skin on my chicken or fish.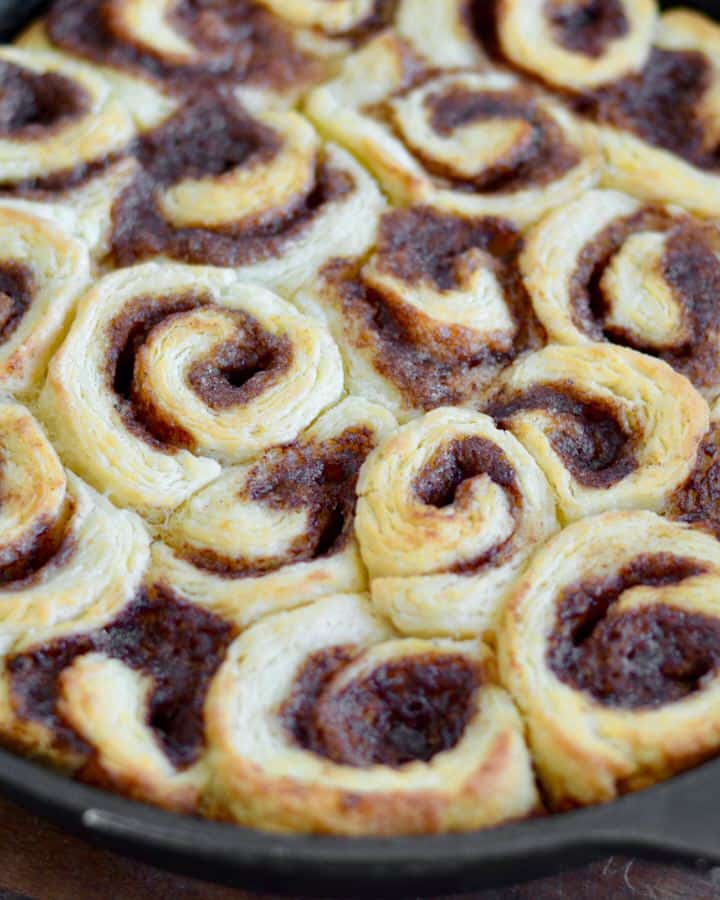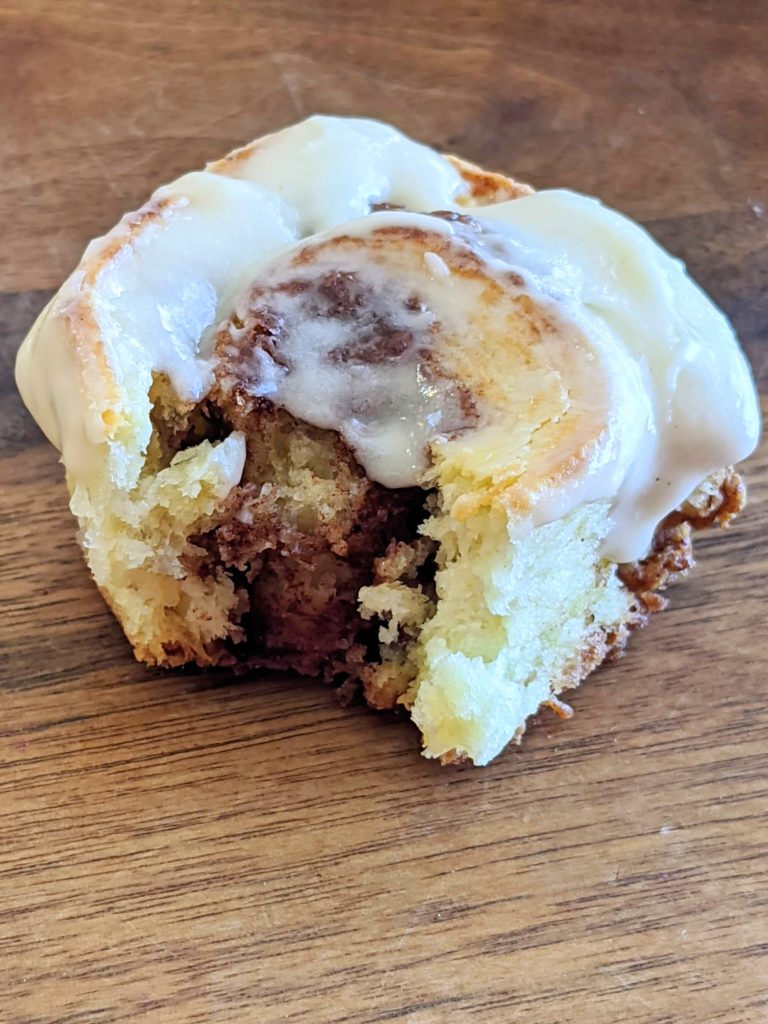 To make these biscuit cinnamon rolls, simply...
Blast off that oven to 425°F.
Make the topping by combining butter, sugar and cinnamon in a small bowl. Set that bad boy aside.
In the bowl of a food processor, combine flour, baking powder, salt and sugar. Give it a quick mix. Then add butter and pulse until combined looks like wet sand.
Pour the flour mixture into a medium bowl and add milk. Combine with a spatula.
Turn out dough onto a floured work surface and roll into a 7"x11" rectangle.
Fold dough into thirds width-wise, turn 90 degrees and roll out again to 7"x11". Fold and repeat this process at least 5 times. This is where you get those beautiful buttery biscuit layers.
Cut dough in half and then roll into a 6"x12" rectangle. Spread half the topping over the dough.
Roll dough length-wise into a log. Using a very sharp knife, trim the ends and then cut into 1" sections. Repeat with the other dough.
Place dough rounds into a greased 12" cast iron skillet or round cake pan.
Cover with foil and bake for 25 minutes on the center rack.
Remove the foil and bake another 5 minutes until the biscuit cinnamon rolls are lightly browned.
While the rolls are baking, whisk together the frosting in a small bowl. Once rolls are slightly cooled, spread frosting evenly over rolls.
Enjoy warm or cool, or upside down or for breakfast, lunch and dinner. However you eat them, we promise you'll love them!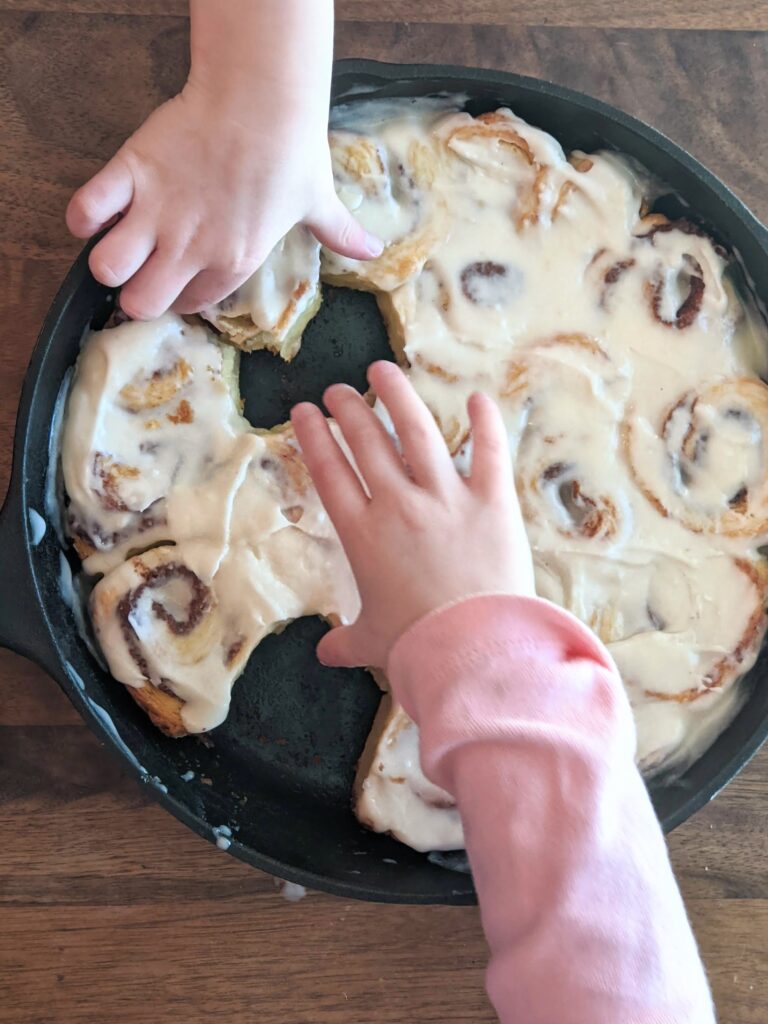 Love this biscuit cinnamon rolls recipe? Try these other delicious breakfast recipes!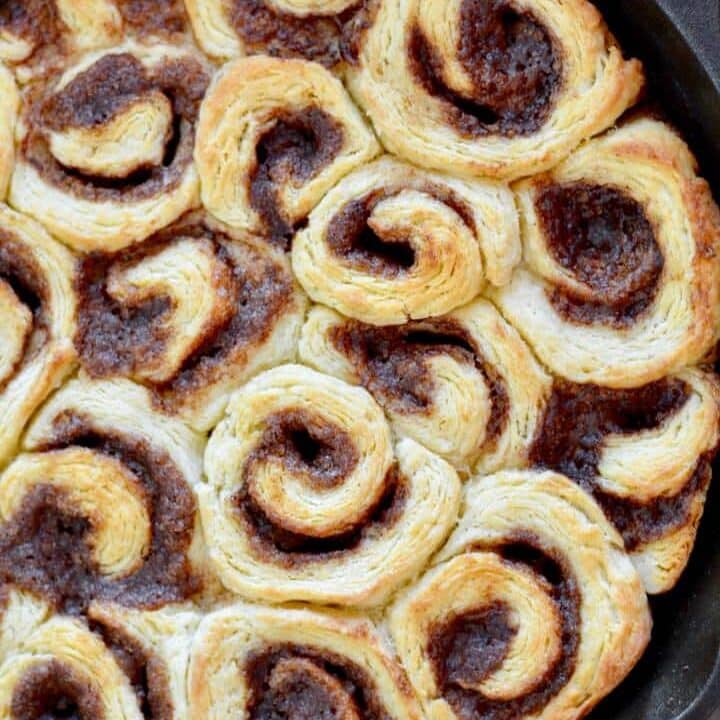 Ingredients
Rolls
2

C

Flour

1

tablespoon

Baking Powder

1

teaspoon

Salt

1

tablespoon

Sugar

½

C

Butter cold and cubed

¾

C

Milk
Filling
4

tablespoon

Butter melted

½

C

Sugar

2

tablespoon

Cinnamon
Frosting
2

C

Powdered Sugar

1

teaspoon

Vanilla

3

tablespoon

Butter melted

4

tablespoon

Heavy Cream
Instructions
For the filling
In a medium bowl, whisk together melted butter, cinnamon, and sugar. Set aside.
For the rolls
In a food processor pulse to combine flour, baking powder, salt, and sugar.

Add in cubed butter and process about 8 seconds until mixture resembles wet sand.

Pour flour mixture into a mixing bowl. Add milk and stir with spatula.

Turn out onto a floured work surface and roll out into a 7x11 square.

Fold dough into thirds width wise.

Turn 90 degrees and roll out again.

Repeat this laminating process 5 or so times (the more you fold the more flaky layers are achieved)

Cut dough in half. Roll out 1 piece of dough into a rectangle about 6"x12".

Using half the filling, spoon and spread over dough making sure to get all the way to the edge.

Roll dough lengthwise into a log. Using a sharp knife, slice log in 1 inch sections. Repeat using the rest of the dough.

Butter cast iron skillet or pan and arrange cinnamon rolls. I am able to fit all the rolls into one 12 inch cast iron skillet.

Cover with foil and bake for 25 minutes on center rack.

Remove foil and bake for an additional 5 minutes or until rolls are nicely browned.

While rolls are baking make the frosting by whisking together all ingredients

Remove rolls from oven and allow to cool for 5 minutes before frosting

Cinnamon Rolls are best fresh out of the oven but will stay fresh for 2 days in an air tight container
Notes
* if splitting dough into 2 pans you will need to adjust your bake time. Mine cooked at 18 minutes uncovered and came out perfect