I know, I know, seems like an odd combination, but oh my goodness! The creamy swiss cheese melts together with the sweet blackberry jam, spicy jalapeño and savory bacon, all perfectly warmed between two slices of sourdough bread. It can take your grilled cheese to places you never thought possible!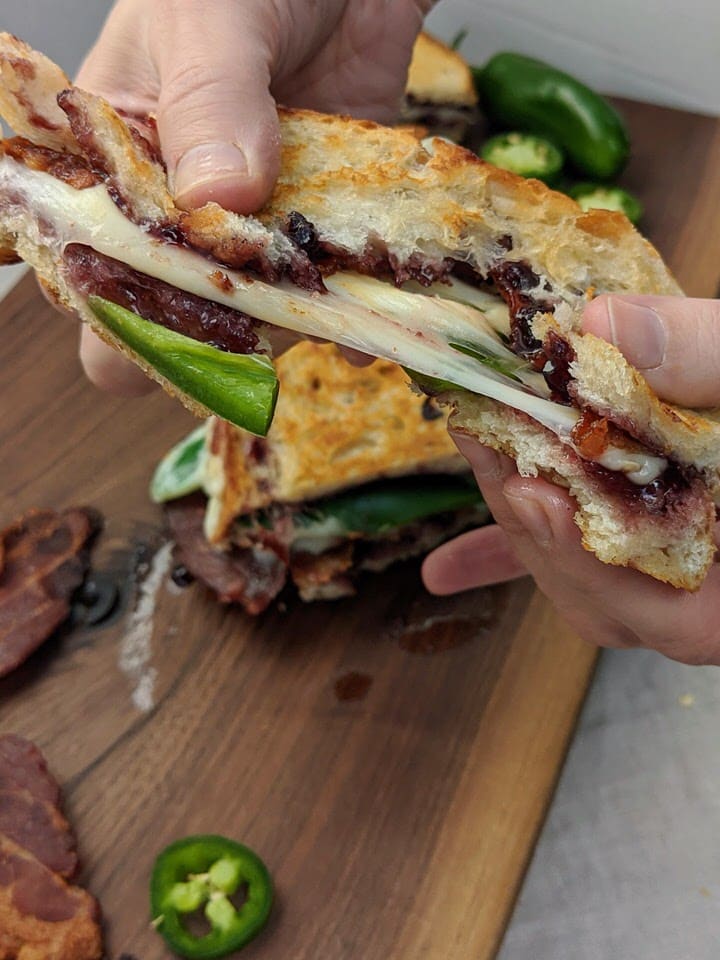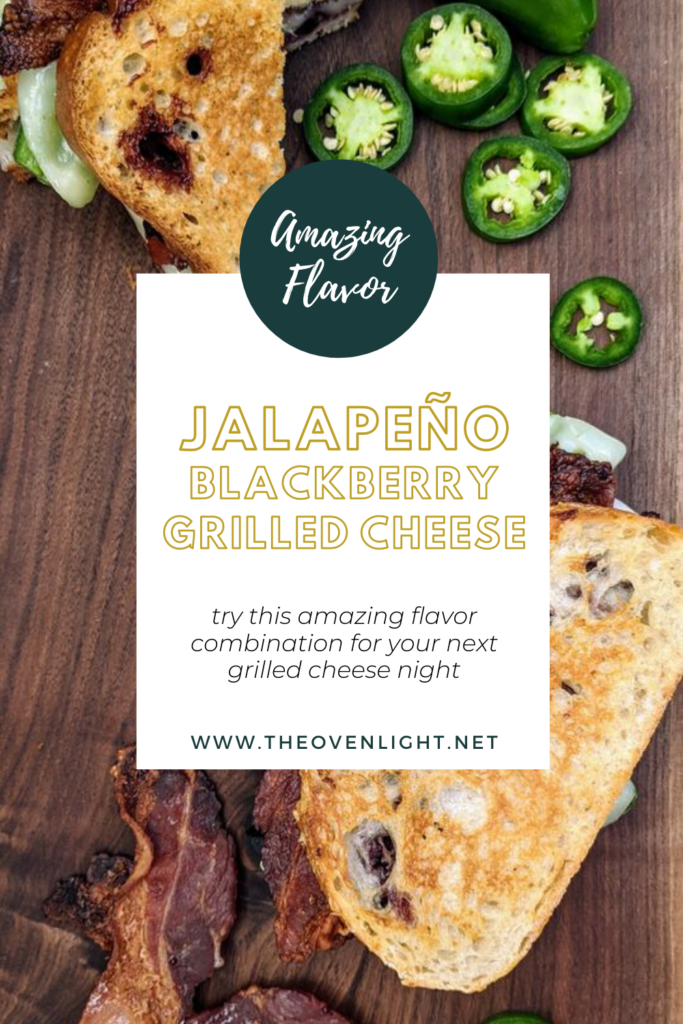 To make this Jalapeño Grilled Cheese, simply...
Preheat the oven to 400°F. Line a cookie sheet with aluminum foil. Place raw bacon on top of foil and bake for 12-15 minutes until desired crispness. Set aside. (Baking bacon is by far the easiest way to bacon heaven without the mess!)
Slice up the jalapeño. Rachel likes big, thick slices, but I prefer thinly cut with seeds removed to minimize the spice. Slice it how you like it. Set aside.
Slice the sourdough bread into moderately thick slices. Spread a good amount (2 Tbsp+) of blackberry jam on each slice. The jam has a subtle flavor, so it's best to really slather it on both pieces of bread, plus it seals in all the fillings.
Build each sandwich with bacon, cheese and jalapeño on the blackberry-laden sourdough bread.
Preheat a skillet or electric griddle to medium/high heat (about 325°F). Place sandwiches buttered side down and toast until a medium golden brown. While cooking, add a good amount of butter to the top side of the bread.
Flip and cook the other side until a beautifully crisp and light brown. If the bread is toasting too quickly before the cheese melts, lower the temperature and allow the cheese to fully melt.
Slice on the diagonal for that optimal first bite. And enjoy!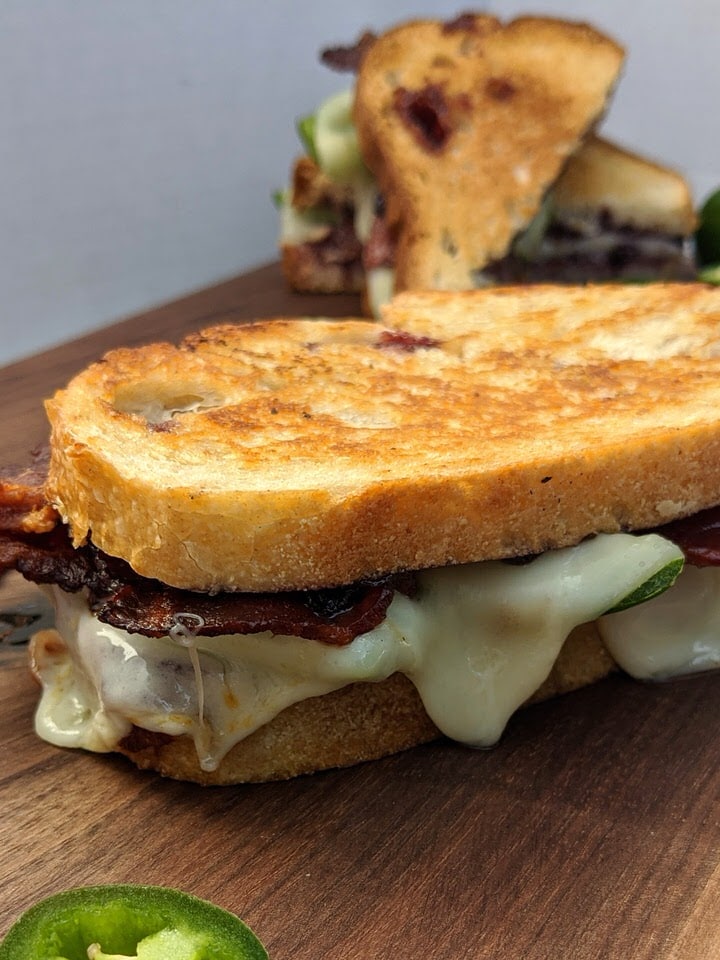 Grilled Cheese Sandwich in the Summer?
I know it sounds crazy, but the flavors of this grilled cheese really lend themselves to the perfect outdoor summer meal. You could even substitute the blackberry jam for fresh, mashed blackberries! Pair it with a simple summer salad and an iced tea and you've got yourself an outstanding outdoor dinner!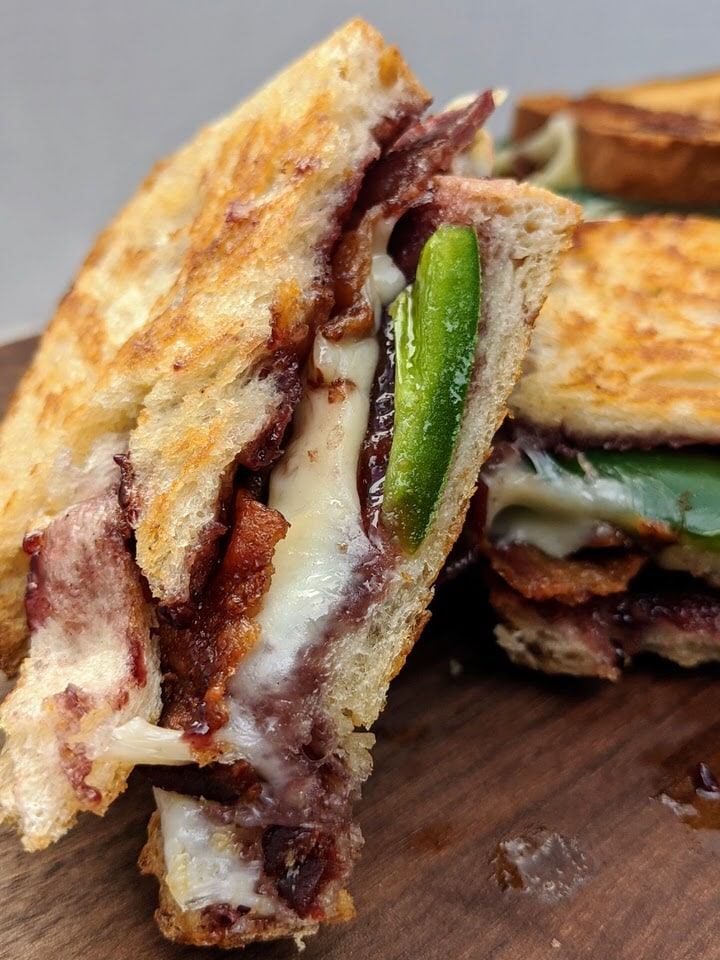 Can I make this with a different cheese?
Absolutely! We've made this with goat brie cheese and it was amazing. It would still taste great with any other smooth and subtle cheese. You just don't want the cheese to take over the flavor, since you want the other flavors to really come through. Cheddar would compete, but Swiss, Monterey jack, brie or other similar cheese would be awesome!
Can I make this gluten free?
You betcha! I (Amy) have to eat gluten free, so I put it on my favorite thick sliced white GF bread (Udi's), and it was still super delicious. It's hard to replace the flavor of sourdough, but the flavors in the sandwich are so incredible that the bread isn't that important.
Can I make this lactose or dairy free?
Sure! I (Amy) am also lactose intolerant. I can still eat cheese from sheep, goats and nuts. So for this sandwich, I used goat brie cheese (which melts into an amazing sweet, nutty flavor), but it would also be great with Daiya's white cheese (which I use for other recipes), since it melts nicely.
Love this Jalapeño Blackberry Grilled Cheese Sandwich recipe? Try these other jalapeño-filled recipes!