The sweet taste of summer really shines through in this twist on a traditional Tom Collins with the addition of Pineapple. Since pineapple is naturally so sweet, you can leave out the simple syrup—really making this recipe streamlined and quick to mix up! Now you have the perfect accessory to that 4pm-kids-are-happy-in-the-blow-up-pool-so-I-can-sit-ouside-in-peace-for-2-minutes-drink!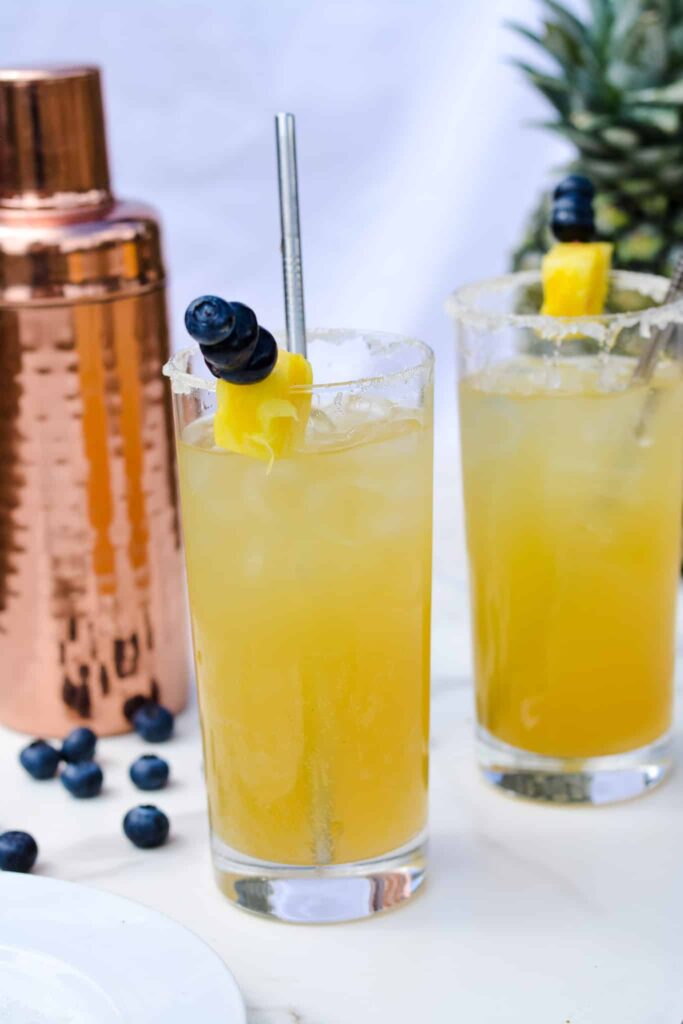 Sign up for our FREE 7 Day Simple Meal Plan!

Make a Pineapple Tom Collins with these simple ingredients…
London Dry Gin – You can use your favorite gin, but this is a classic and doesn't have too many botanicals so that the pineapple remains the star.
Pineapple Juice – I picked up a small glass container of pure organic pineapple juice at Whole Foods, but I've also seen it at the good 'ole grocery store too. It's incredibly delicious all by itself too.
HEALTH BENEFITS of pineapple juice—rich in nutrients like Manganese, may reduce inflammation, boost your immunity, help digestion, promote heart health and fight certain types of cancer. Nice!
Seltzer Water – I prefer seltzer water over tonic water for just about any mixed drink because it has no sugar. But you can use whatever plain sparkly beverage you have on hand.
Toppings – I love to dip the top of the glass in pineapple juice and the roll in sugar. Put a big slice of pineapple along the edge and stick a toothpick in it with a few large blueberries for color.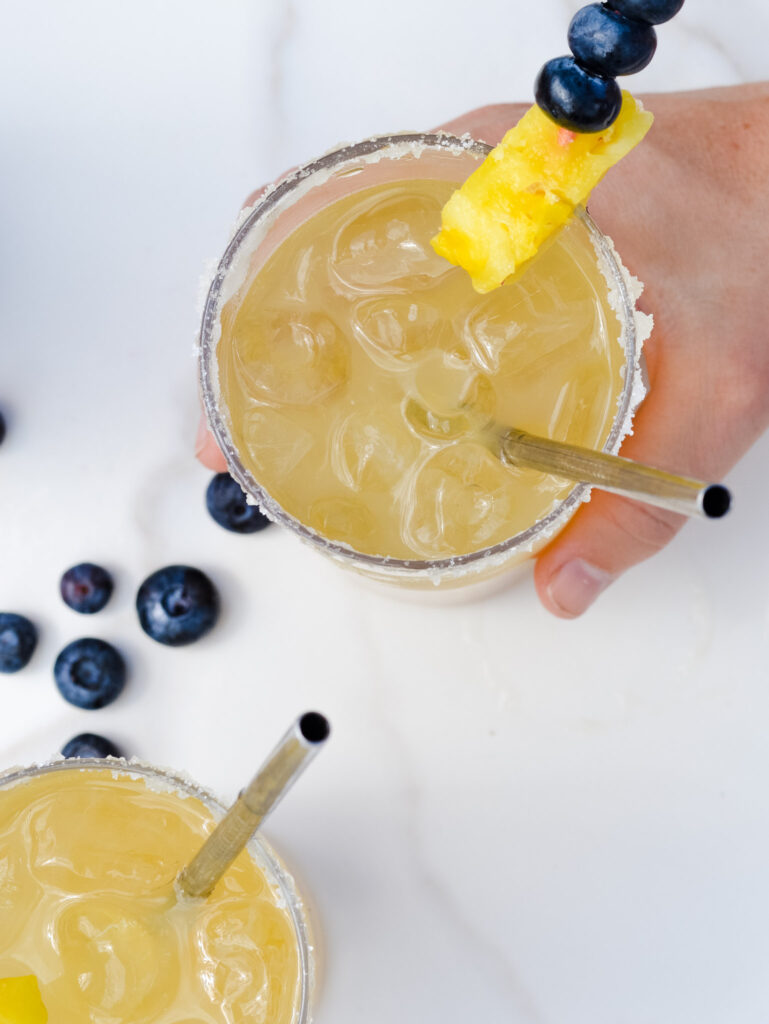 To make this Pineapple Tom Collins, simply…
Grab a few glasses and lightly dip the tops of the glass in pineapple juice and then roll in white sugar. This step is optional but really makes this drink feel sitting-by-the-beach special.
COMBINE the London Dry Gin with Pineapple Juice. You can either use a shaker or just pour over LOTS of ice.
POUR seltzer water until the glass is full or until you reach the desired sweet-ginny ratio. I like the Gin to be more of a whisper, where Rachel prefers if that's the main taste coming through. You can adjust to your own taste.
FINALLY, top off with a slice of fresh pineapple and some blueberries, or whatever fruit you have on hand.
ENJOY! Like, put your kids in front of a new movie and put your feet up outside. Like, right now. Or ask your husband to take the kids to the park so you can read a book without being interrupted with questions like, "Mom, what gets slime out of a rug? Asking for a friend." Or "Mom, why isn't the toilet flushing?"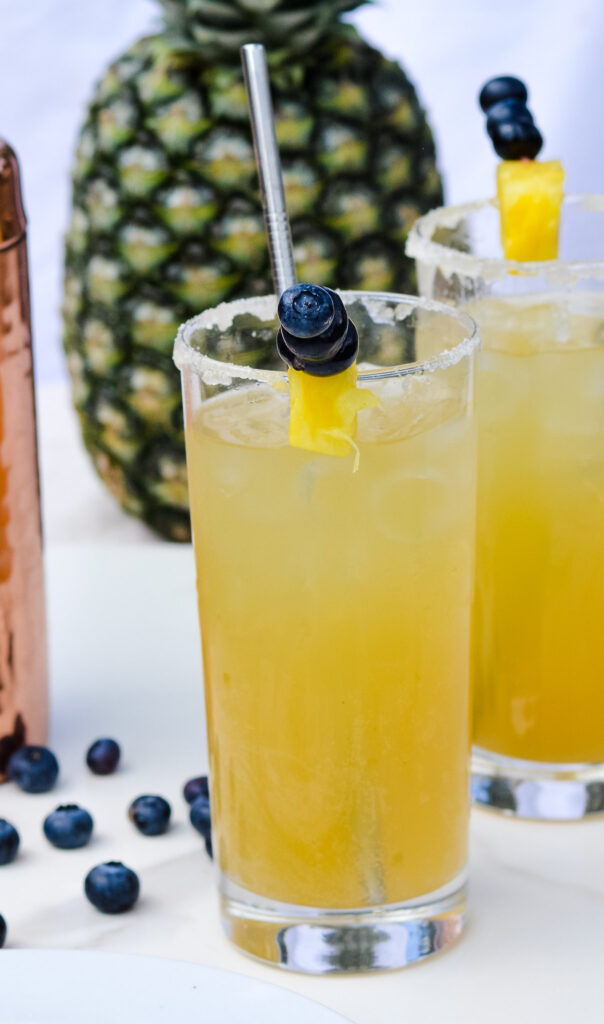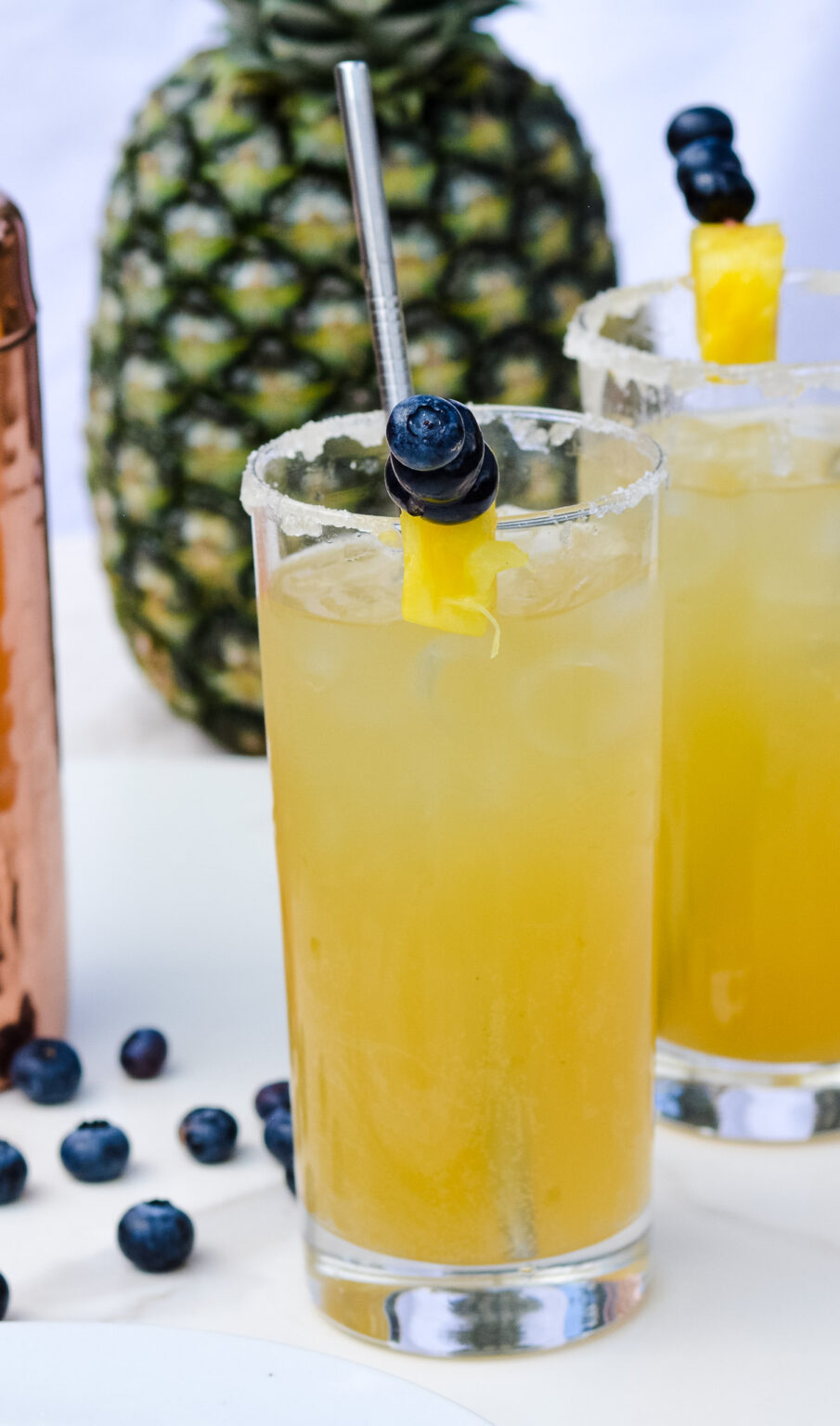 Love this Pineapple Tom Collins recipe? Try some of our other refreshing drinks!