The sweet taste of summer really shines through in this twist on a traditional Tom Collins with the addition of Pineapple. Since pineapple is naturally so sweet, you can leave out the simple syrup—really making this recipe streamlined and quick to mix up! Now you have the perfect accessory to that 4pm-kids-are-happy-in-the-blow-up-pool-so-I-can-sit-ouside-in-peace-for-2-minutes-drink!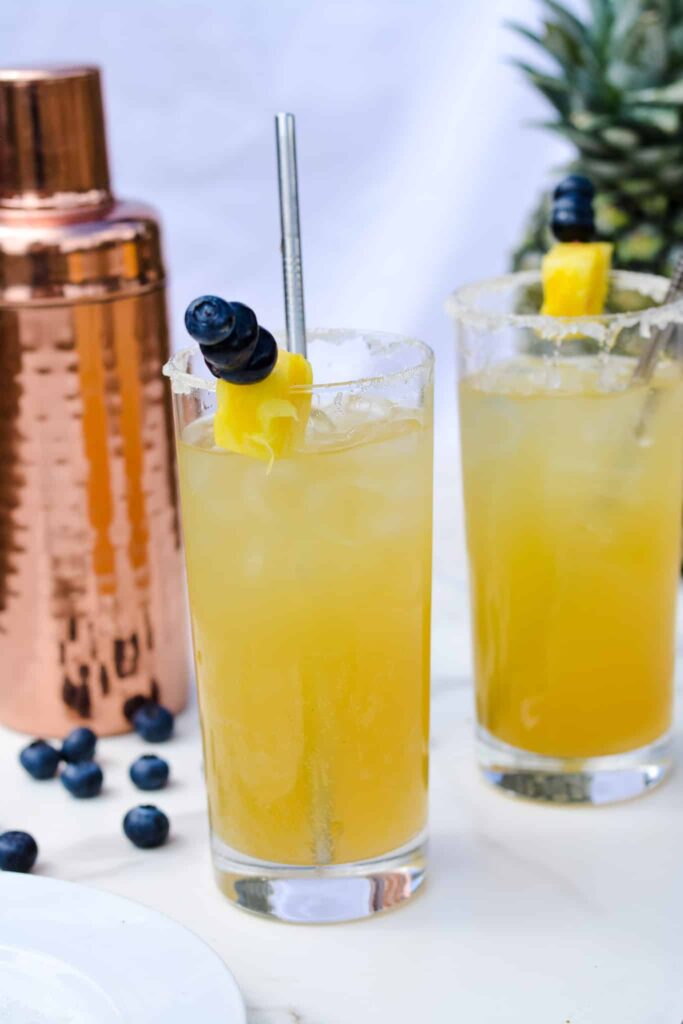 Pineapple Tom Collins ingredients
London Dry Gin - You can use your favorite gin, but this is a classic and doesn't have too many botanicals so that the pineapple remains the star.
Pineapple Juice - I picked up a small glass container of pure organic pineapple juice at Whole Foods, but I've also seen it at the good 'ole grocery store too. It's incredibly delicious all by itself too.
HEALTH BENEFITS of pineapple juice—rich in nutrients like Manganese, may reduce inflammation, boost your immunity, help digestion, promote heart health and fight certain types of cancer. Nice!
Seltzer Water - I prefer seltzer water over tonic water for just about any mixed drink because it has no sugar. But you can use whatever plain sparkly beverage you have on hand.
Toppings - I love to dip the top of the glass in pineapple juice and the roll in sugar. Put a big slice of pineapple along the edge and stick a toothpick in it with a few large blueberries for color.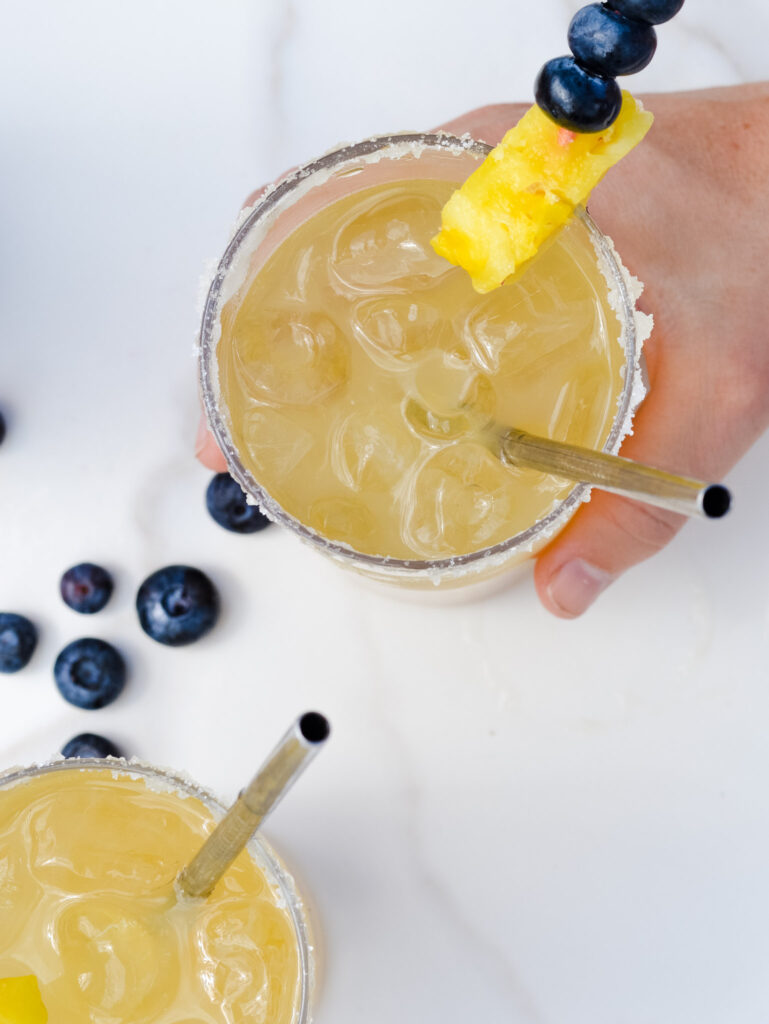 How to make a pineapple Tom Collins
Grab a few glasses and lightly dip the tops of the glass in pineapple juice and then roll in white sugar. This step is optional but really makes this drink feel sitting-by-the-beach special.
Combine the London Dry Gin with Pineapple Juice in either a shaker or simply pour over LOTS of ice.
Pour seltzer water until the glass is full or until you reach the desired sweet to gin ratio. I like the gin to be more of a whisper, where Rachel prefers if that's the main taste coming through. You can adjust to your own taste.
Top off this refreshing summer beverage with a slice of fresh pineapple and some blueberries, or whatever fruit you have on hand.
ENJOY! Like, put your kids in front of a new movie and put your feet up outside. Like, right now. Or ask your husband to take the kids to the park so you can read a book without being interrupted with questions like, "Mom, what gets slime out of a rug? Asking for a friend." Or "Mom, why isn't the toilet flushing?"
Why is it called a Tom Collins?
There is quite the history behind the Tom Collins drink and why it came to be known by this name. The most popular story is that the drink was created by a mixologist named John Collins in the mid 1800's and the drink was originally called a John Collins. It was updated in the late 1800's to the name Tom Collins with the use of Old Tom Gin, rather than Holland Gin.
If you're fascinated by the history behind mixed drinks, you can read more about the history of the Tom Collins or check out this book with 100 old and new recipes and brief stories behind them. (This would make an excellent Father's Day gift!).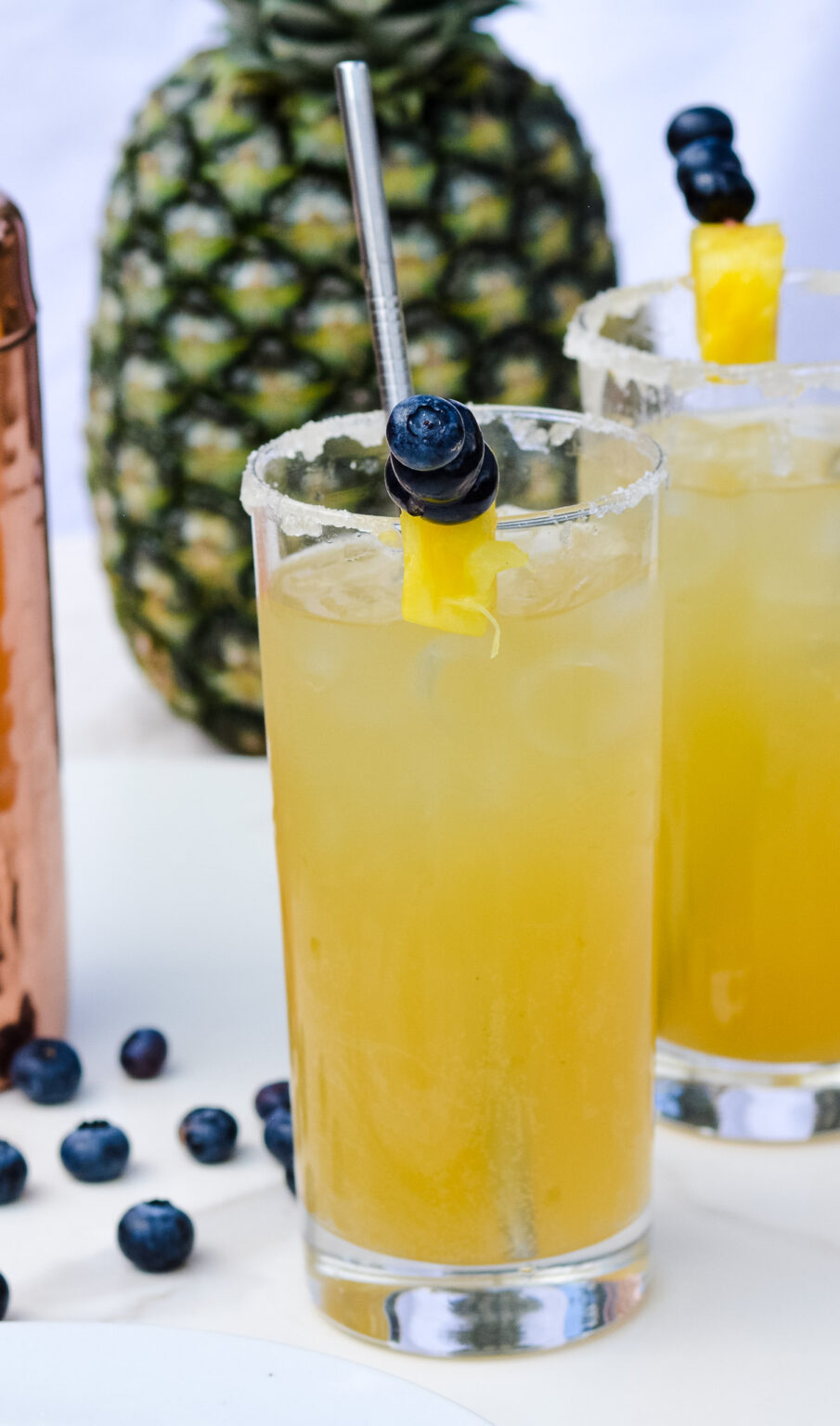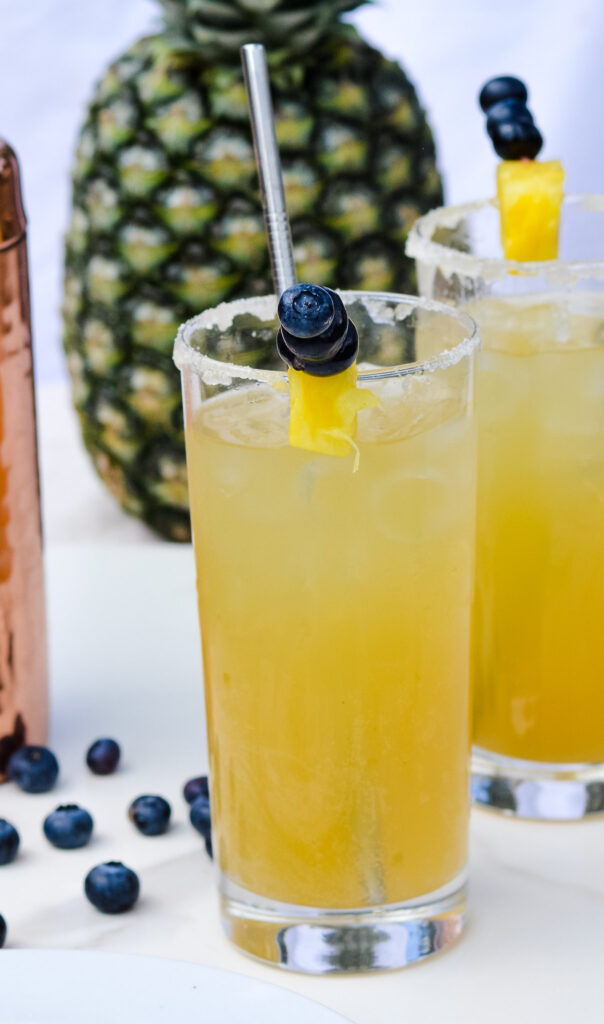 Recipe Modification Ideas
Make this Pineapple Tom Collins to your preferred amounts or try one of these fun ways to change it up!
Use whiskey instead of gin. Made this way it is sometimes called a "Whiskey Collins" or a "John Collins".
If you don't have pineapple juice, this would taste delicious with guava nectar, passion fruit juice or a pineapple mango juice. Really, the pineapple juice can be swapped with your favorite tropical juice for another delicious take on this simple cocktail.
Make this drink for a crowd
I've done the math for you. If you're preparing this cocktail for a crowd, here are the measurements for 10 servings. Easily multiply from there!
2 ½ cups Pineapple Juice
1 ¼ cups London Dry Gin
5 cups seltzer water
More party tips:
Serve drinks with metal straws (with a color tab on top so no one loses track of which drink is theirs). Use highball glasses for a classic Tom Collins look. Prepare a tray of fresh pineapple slices on long bamboo toothpicks for a complete serve-yourself Tom Collins party cocktail. Having your party outside? Use these plastic highball glasses for easy cleanup and no glass in the grass.
If you need more easy cocktails for yourself or a crowd, we've got lots of Drink Recipes for winter, spring, summer or fall!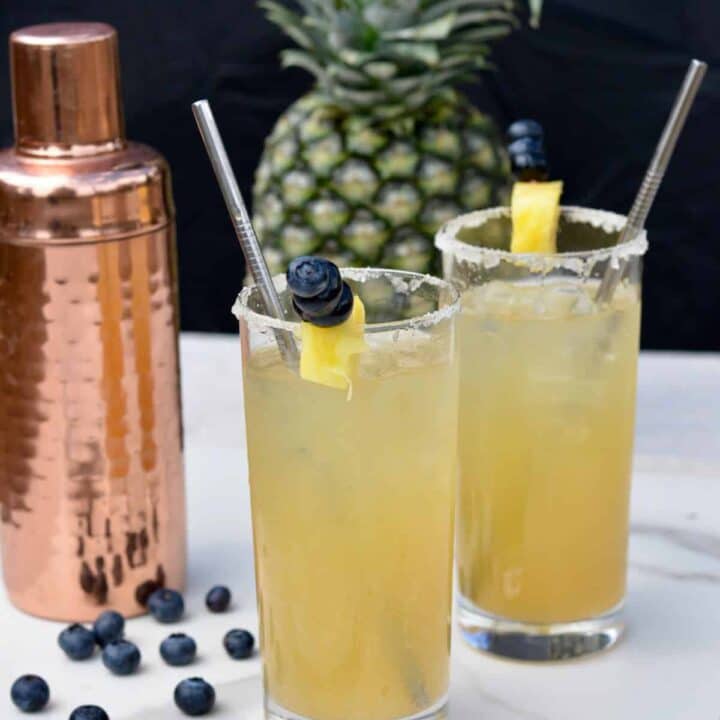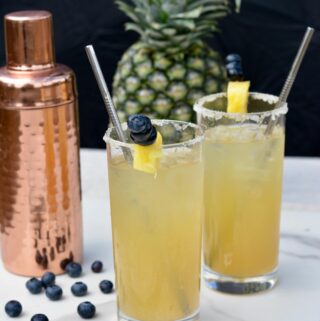 Pineapple Tom Collins
deliciously sweet, perfect summer drink
PRINT RECIPE
PIN RECIPE
Ingredients
¼

C

pineapple juice

2

tablespoon

London Dry Gin

or any gin you have

½

C

seltzer water

more or less to taste
Instructions
I like to give the rim a little sugar by dipping in pineapple juice and then in white sugar.

In a shaker filled with ice, pour gin and pineapple juice. Mix it up, pour over glass with lots of ice and fill with seltzer water.

Make as many as you want! So refreshing and delicious!