Looking for a surprising and delicious new flavor combination? Look no further than the unexpected pairing of guava and gin in this lemonade cocktail. The sweet and tangy taste of guava perfectly complements the herby flavor of gin, creating a unique and refreshing cocktail that is sure to impress.
Best of all, you only need three ingredients for this easy drink recipe, just like our Pineapple Tom Collins. We'll walk you through everything you need to know to mix the perfect summertime cocktail, including how to customize it to your taste. So grab your shaker and let's get started!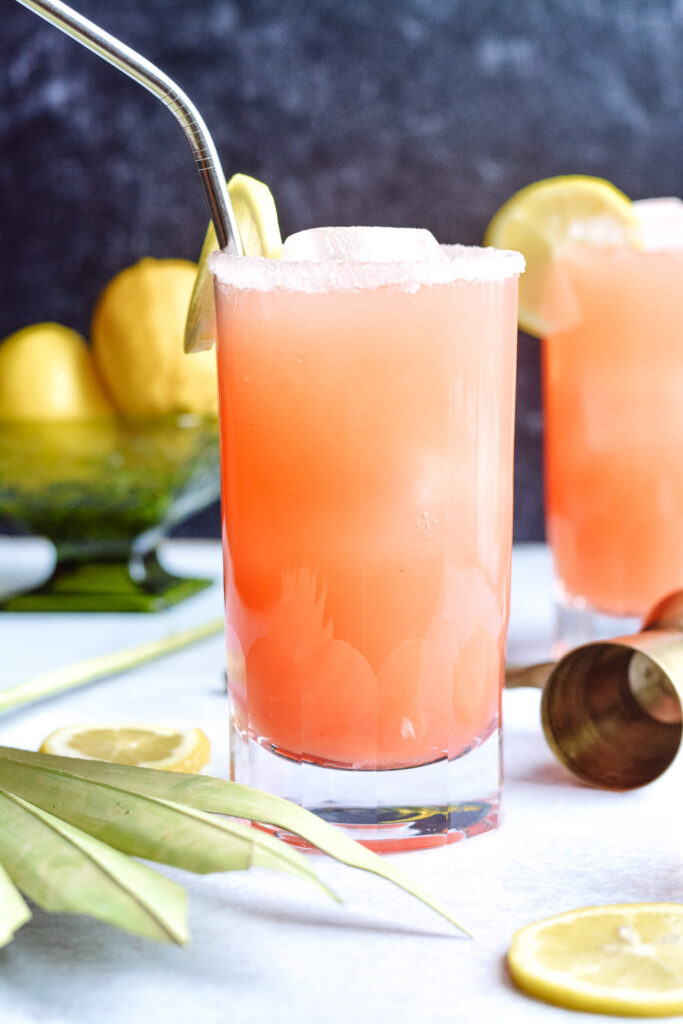 The Ingredients You'll Need
To create the perfect guava and gin cocktail, you'll need just three ingredients: guava juice, gin, and lemonade. It's important to use quality ingredients as they will greatly affect the taste of your cocktail.
When selecting your gin, opt for a London Dry or Classic Gin that has a higher juniper content, as this will pair well with the guava. For the guava juice, look for an unsweetened, 100% juice option.
The lemonade will provide a tangy balance to the sweetness of the guava. Once you have your ingredients, you're ready to mix up a refreshing and unexpected cocktail that will impress your tastebuds (and other people, if you care about that).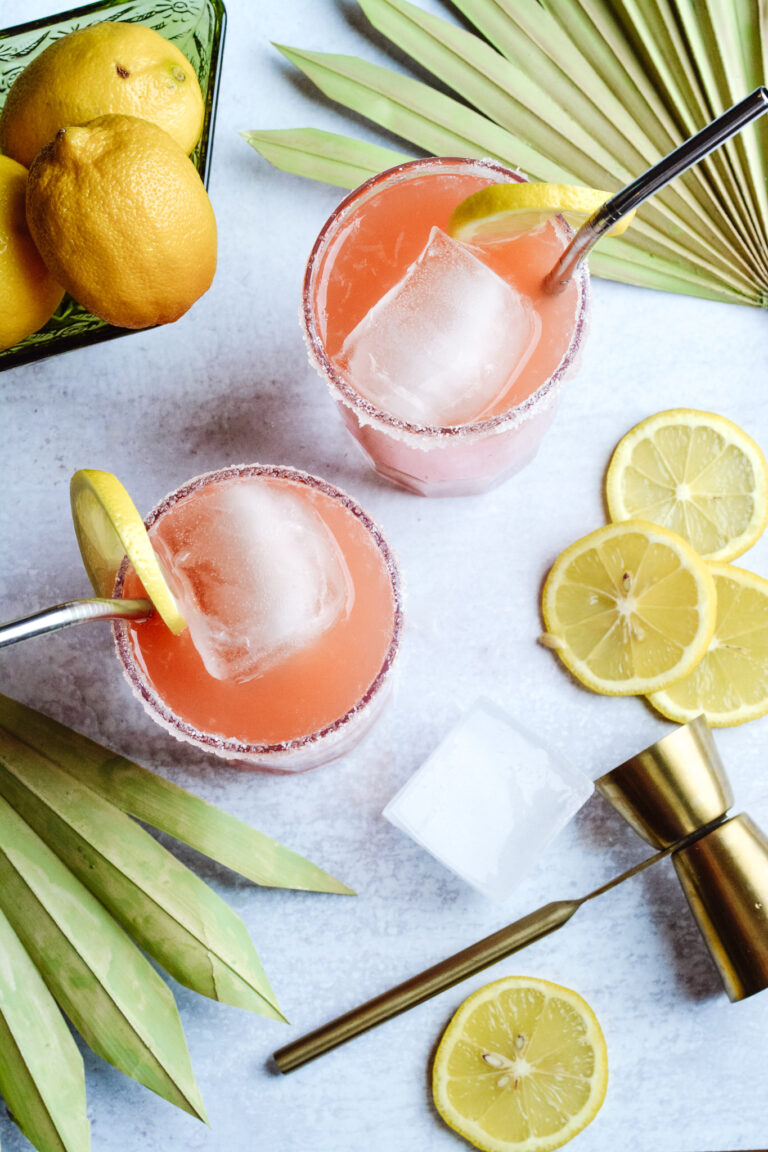 Jump to:
How to Mix the Perfect Gin and Guava Lemonade Cocktail
Begin by filling a cocktail shaker with ice. Add three ounces of gin, six ounce of guava juice, and six ounces of lemonade. Shake well for about 10-15 seconds to thoroughly mix the ingredients and chill the liquid.
Alternately, simply add to a tall glass and stir if you don't have a cocktail shaker.
Next, strain the cocktail into a glass over ice. A simple highball or Collins glass will work well. You can garnish the cocktail with a twist of lemon or a sprig of mint, but this is entirely optional.
With just three ingredients, this cocktail is easy to make, and the flavors are nicely balanced. However, you can adjust the recipe to suit your personal preferences.
If you like your cocktails on the sweeter side, add a little simple syrup or agave nectar when you shake the ingredients. Or, if you prefer a boozier drink, increase the gin content to your liking.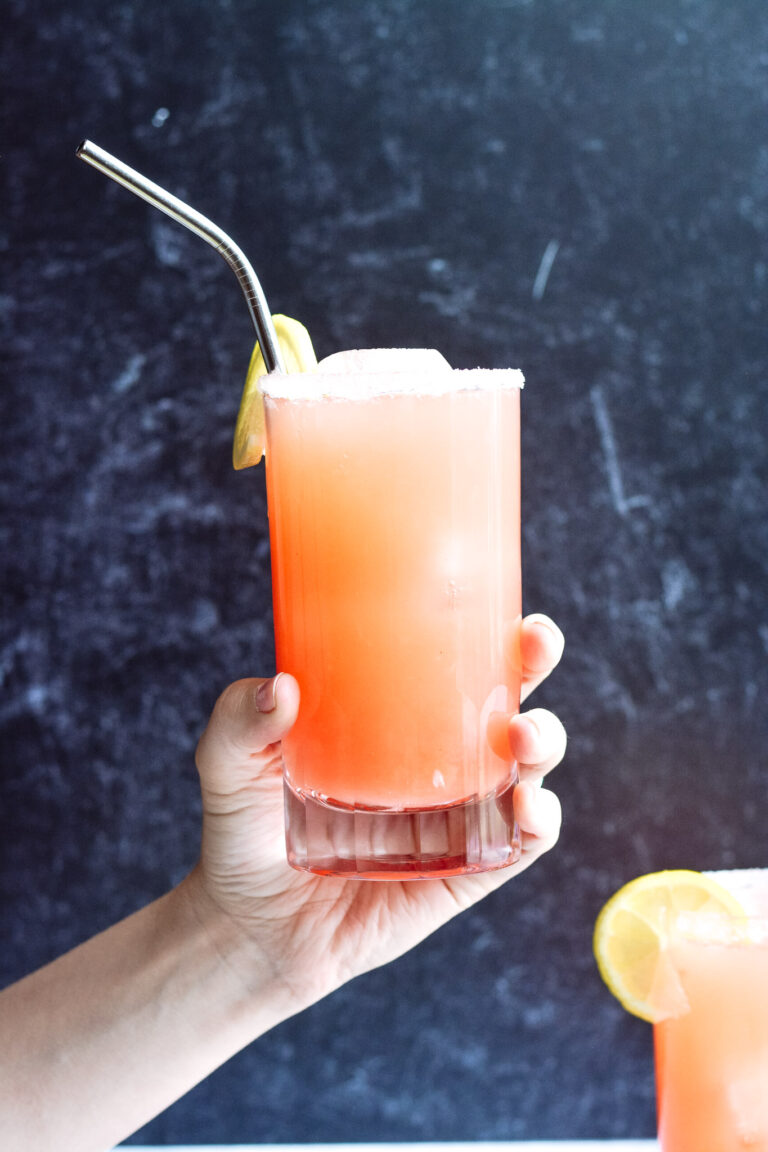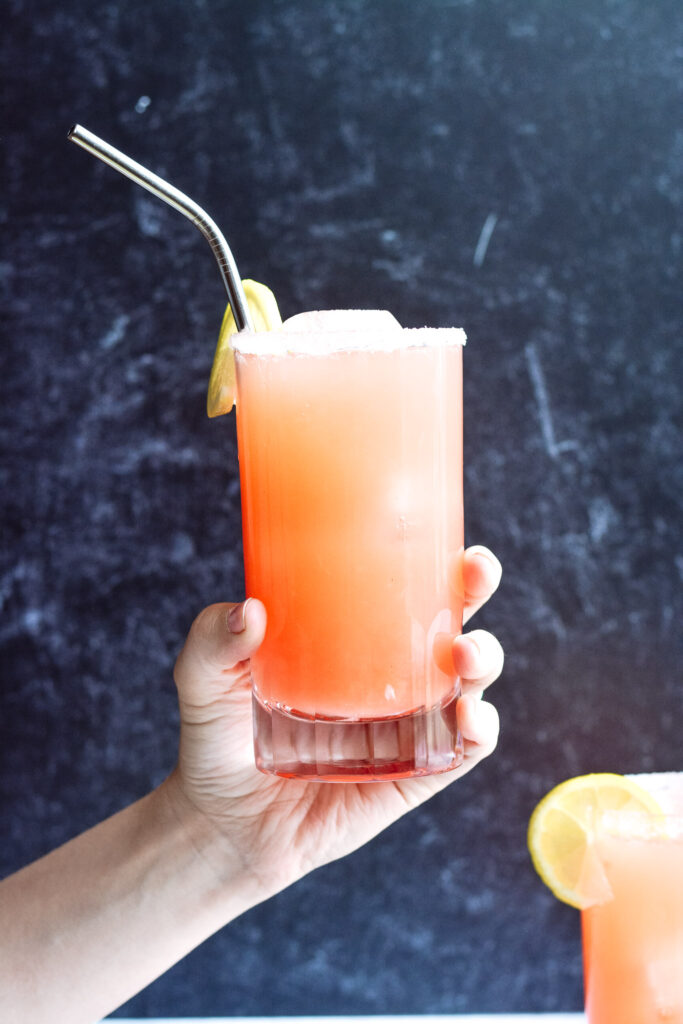 Customize Your Cocktail
Now that you know how to mix up a basic guava and gin lemonade cocktail, you can get creative. There are many ways to customize this drink to suit different occasions and moods.
You could add a splash of bubbly soda water for a fizzy twist, or swap out the gin for tequila or rum for a tropical vibe. You could also experiment with different garnishes, such as fresh fruit slices or edible flowers.
Whether you stick to the classic recipe or put your own spin on this unexpected pairing, the guava and gin cocktail is a refreshing and delightful drink that will surprise and delight you.
Ready to explore more cocktails and mocktails? Check out our drinks recipes here!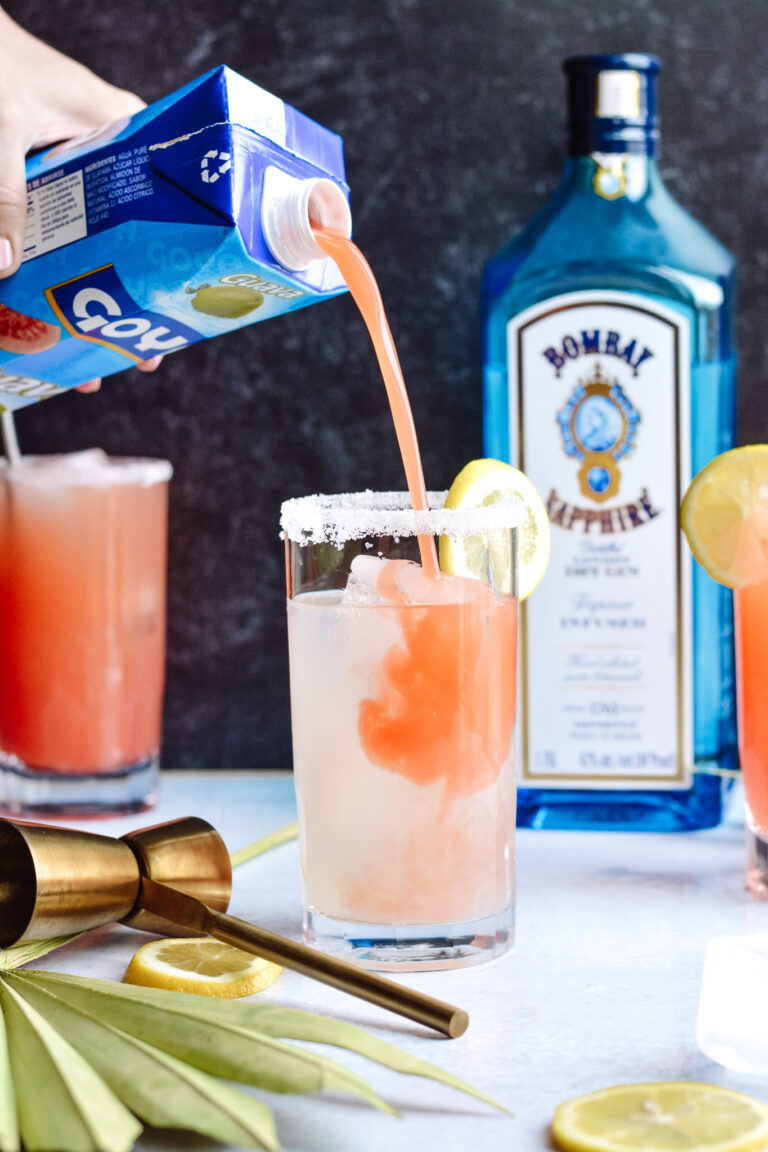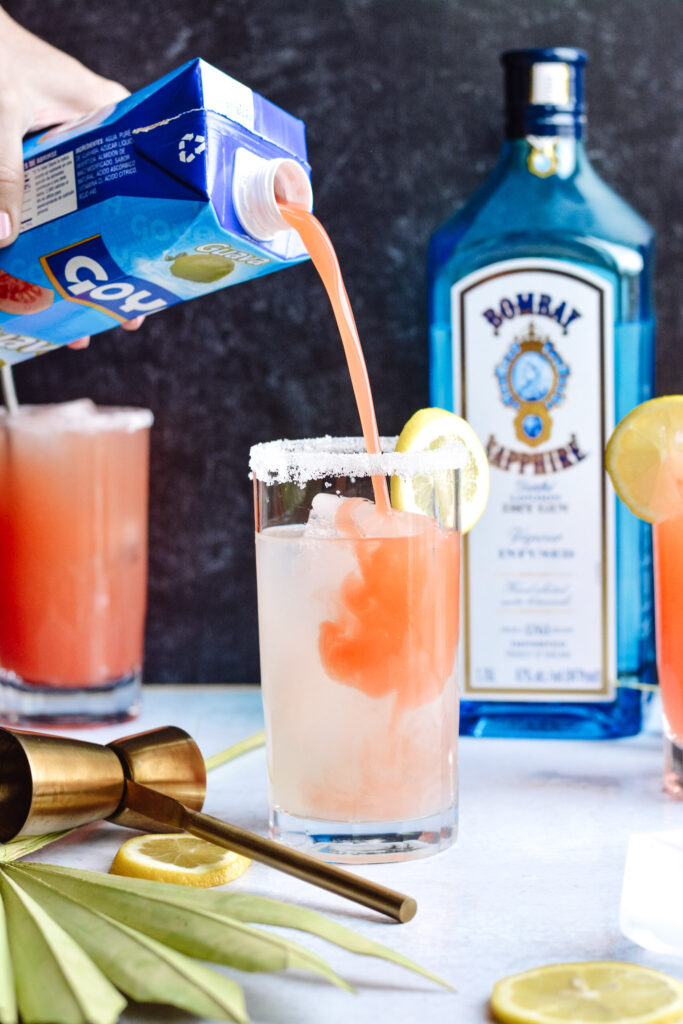 Guava Mocktail
It's easy to turn this gin and guava lemonade cocktail into a delicious mocktail. Use the guava and lemonade per the recipe, but then top it off with sparkling water and ice.
Guava and gin may seem like an unexpected pairing, but their flavors blend together beautifully to create a delicious and refreshing cocktail. The simplicity of this three-ingredient recipe allows for endless customization and experimentation.
Don't be afraid to mix things up and try different variations. And while you're at it, expand your guava cocktail repertoire with margaritas and cosmos. As we raise our glasses, let's toast to the unexpected duo that exceeded our cocktail expectations. Cheers!
This cocktail was inspired by our many other drink recipes, like our Black Cherry Whiskey Sour, Vodka Lime Seltzer and Mango Mojito Mocktail.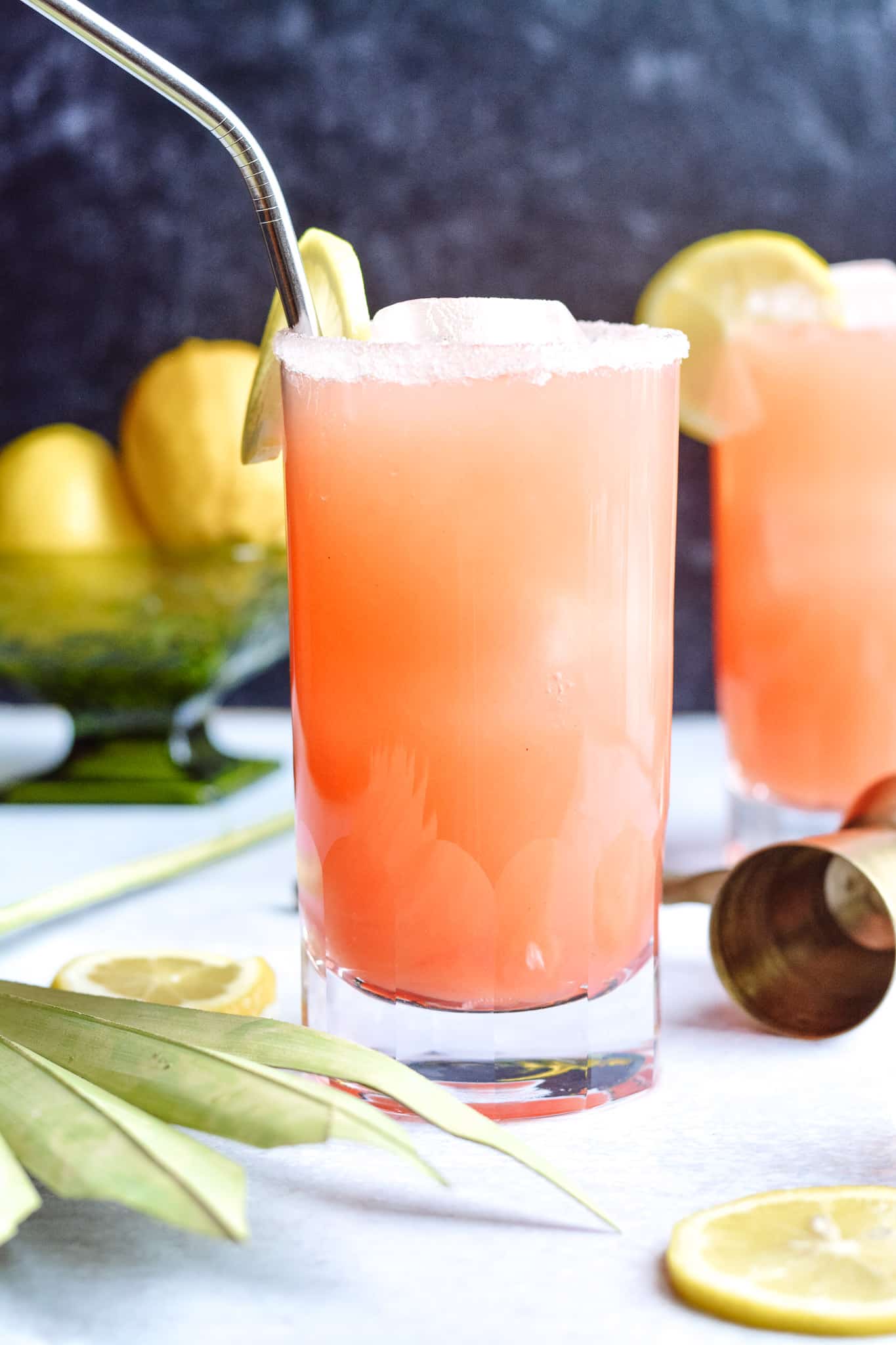 Gin and Guava Lemonade Cocktail
This refreshing cocktail will have you transported to a summer evening in no time.
Print
Pin
Rate
Ingredients
3

ounces

gin

-

⅓ cup

6

ounces

guava juice

-

⅔ cup

6

ounces

lemonade

-

⅔ cup

ice

lemon wedge

-

optional
Instructions
In a tall cocktail glass pour in gin, guava juice, and lemonade.

Give a quick stir and add ice.

Garnish with a lemon wedge.
Notes
3 ounces gin 
6 ounces lemonade.
6 ounces guava juice.
Stir , fill with ice, and garnish with a lemon.
Nutrition
Calories:
239
kcal
|
Carbohydrates:
58
g
|
Protein:
2
g
|
Fat:
1
g
|
Saturated Fat:
0.2
g
|
Polyunsaturated Fat:
0.1
g
|
Monounsaturated Fat:
0.1
g
|
Sodium:
29
mg
|
Potassium:
530
mg
|
Fiber:
3
g
|
Sugar:
41
g
|
Vitamin C:
47
mg
|
Calcium:
14
mg
|
Iron:
1
mg