Perfect bubbles and a touch of vodka and lime make this "Vodka Tonic with a twist" our go-to for a quick late-afternoon drink. We love to drink this Vodka Lime Seltzer outside while we BBQ or while watching the kids run around like crazy in the forest. Plus, with just 4 natural ingredients and about 4 minutes, this drink the perfect way to start a truly relaxing evening.
Sign up for our FREE 7 Day Simple Meal Plan!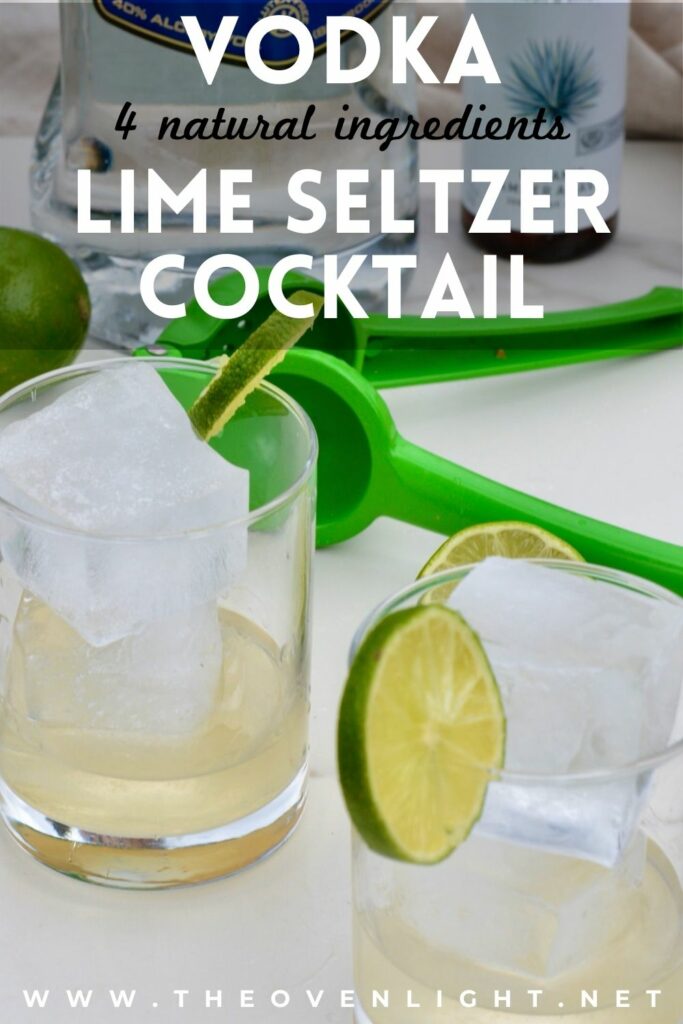 Tell me all about this Vodka Lime Seltzer
How is it different – The popular name for a similar drink is a Vodka Tonic. However, that cocktail is made with sugary (typically high-fructose corn syrup) tonic water. We much prefer this drink with zero sugar and zero calorie seltzer water and adding a bit of all-natural agave for the perfect tart/sweet combo.

Flavor – The great thing about this recipe is it can totally be made to your tastes. Start with your favorite brand of Vodka. We like to use a local brand made here in Golden, CO called Vanjak. It's delicious and pure. Their vodka is corn-based and gluten free. Fresh limes add the perfect amount of tart flavor. You can substitute with lime juice in a jar (or those cute squeeze bottles), but the taste won't be as fresh. Last, we LOVE our local Boulder, CO Madhava for their all-natural organic agave to add a perfect sweetness without the refined sugar!

Difficulty Level – Super super simple. Literally not sure if any recipe could be easier. It'll take about 4 minutes to pull the ingredients from the cupboard and give it a quick measure and stir.
Vodka Tonic Ingredient substitutions
Are you out of something, but still want to achieve a similar flavor? No problem!
Vodka Substitute – Aquevitt, Tequila or White Rum are close options that'll give you a different flavor, but still delicious!
Lime Substitute – Limes are fairly important to a Lime Seltzer, but there's no reason why you can't make a Lemon Seltzer, an Orange Seltzer or even a Pineapple Seltzer! But you'll need some sort of citrus juice to make it something close to the original recipe.
Seltzer Water – This is an easy one. Any sparkling water or flavored sparkling water will do.
Agave Syrup – The great thing about sugar is that you can use almost any variation for the same effect. For this recipe, honey, maple syrup or other liquid sugar will work best. But in a pinch, you can use granulated white sugar to make a simple syrup.
Got any other great drink recipes? I'm so glad you asked! These are some of our most popular drink recipes. Cocktails and Mocktails included!
Need more inspiration for a relaxing evening? Scroll through these delicious and easy recipes.
Love this 3 Ingredient Vodka Lime Seltzer Recipe? Try these other amazing drink recipes!