When you've hit that 2pm slump and you're craving an amazing coffee pick-me-up-off-the-floor drink, but you don't want to wake the kids from their nap (because they're FINALLY quiet), and you don't want to spend the extra money or take in tons of calories, this simple Espresso Double Shot Starbucks Copycat recipe comes to the rescue. Grab yourself a moment of ahhhh, and make the most of your precious time to yourself.
Only 3 Ingredients to make Espresso Double Shot
Espresso - pretty obvious, right? Pull 2 shots for a Tall, 3 for a Grande, and 5 for a Venti. If you're looking for truly amazing espresso beans, I'd suggest finding a local roaster. My favorite here in Denver is Novo Coffee. Back in California, it's hard to beat Blue Bottle. Both offer online ordering. (See below for suggestions if you do not own an espresso machine.)
Simple Syrup - This is the one we use. But you can also make your own really easily! You'll want 2 tablespoons for a Tall, 3 tablespoons for a Grande, and 4 tablespoons for a Venti.
Cream or Milk of Choice - Adding heavy cream is what really sends this refreshing icy drink over the edge. But we've made it with almond milk (for Amy since she's lactose intolerant) and it's still SUPER delicious! You can add as much cream as you prefer, but for a true Starbucks experience, add 2 tablespoons for a tall, 3 tablespoons for a grande and 4 tablespoons for a venti.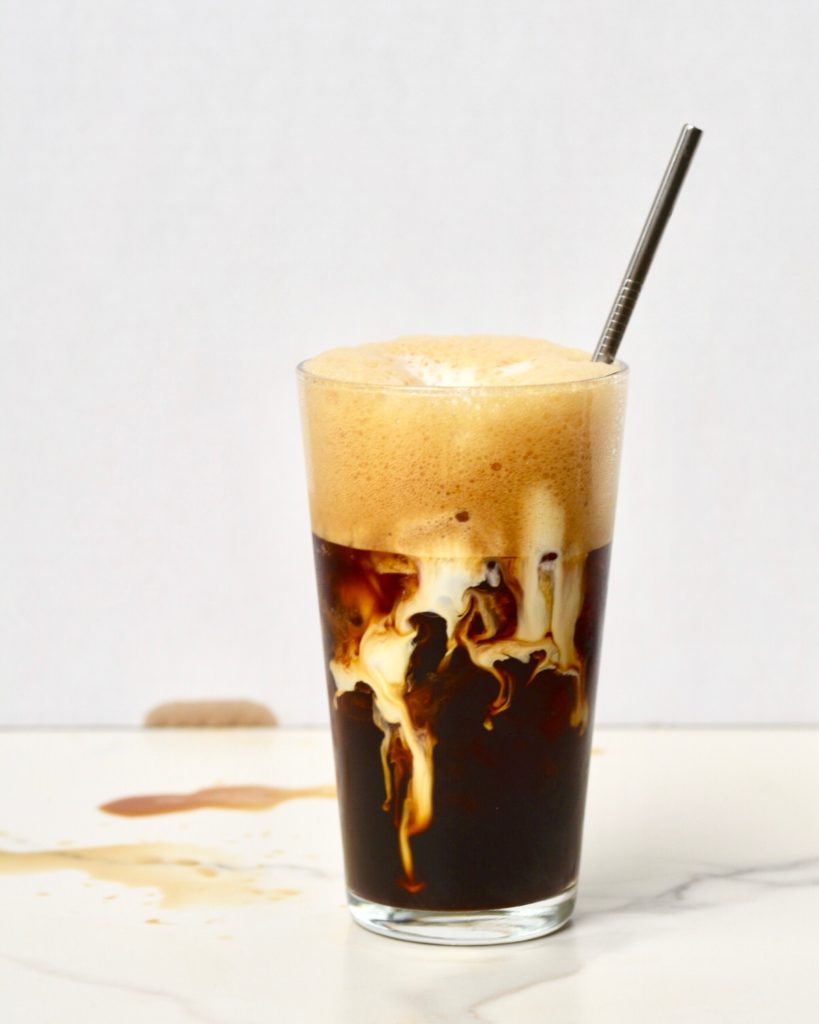 How to make an Iced Double Shot Espresso
First, PULL espresso shots. Set aside. Fill a cocktail shaker to the brim with ice. We have one just like this copper one and we love it. If you don't have a cocktail shaker, feel free to use any container with a tight fitting lid. (Those little tupperware containers work like a charm!)
POUR espresso shots over the ice.
ADD simple syrup. (See above for measurements or the recipe below.)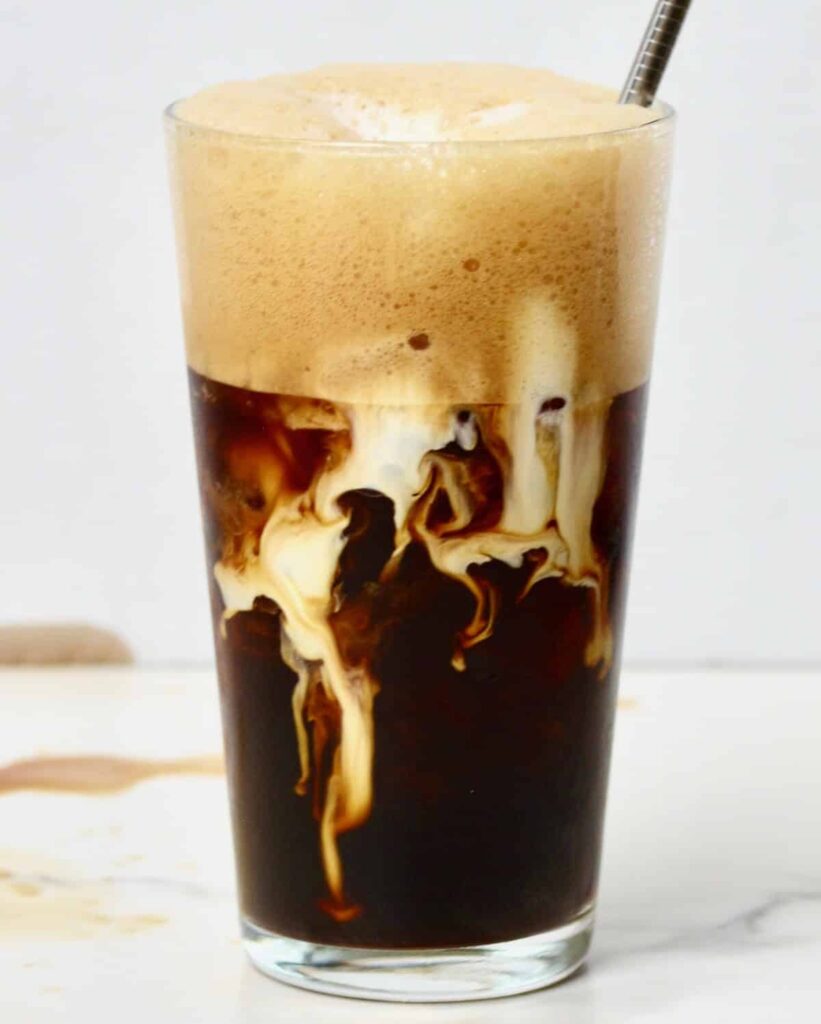 Now it's time to SHAKE it like you mean it. Shake vigorously for about 30 seconds to get lots of that amazing foam. I like to use this moment to work out my morning frustrations—like, if I have to bend over one more time to pick up a lego my dog chewed up, I won't be able to get back up—kind of frustrations. Anyone else?
After you've got lots of shaken creamy foam, strain out the ice and POUR espresso mixture into a tall glass. Oooh, we're so close!
ADD cream. Heavy cream is the ultimate treat, but the flavor is still really good with low-fat milk or a good milk alternative, like almond or coconut. Watch as the cream slowly makes beautiful streaks down through the espresso (it's mesmerizing and part of the relaxation experience).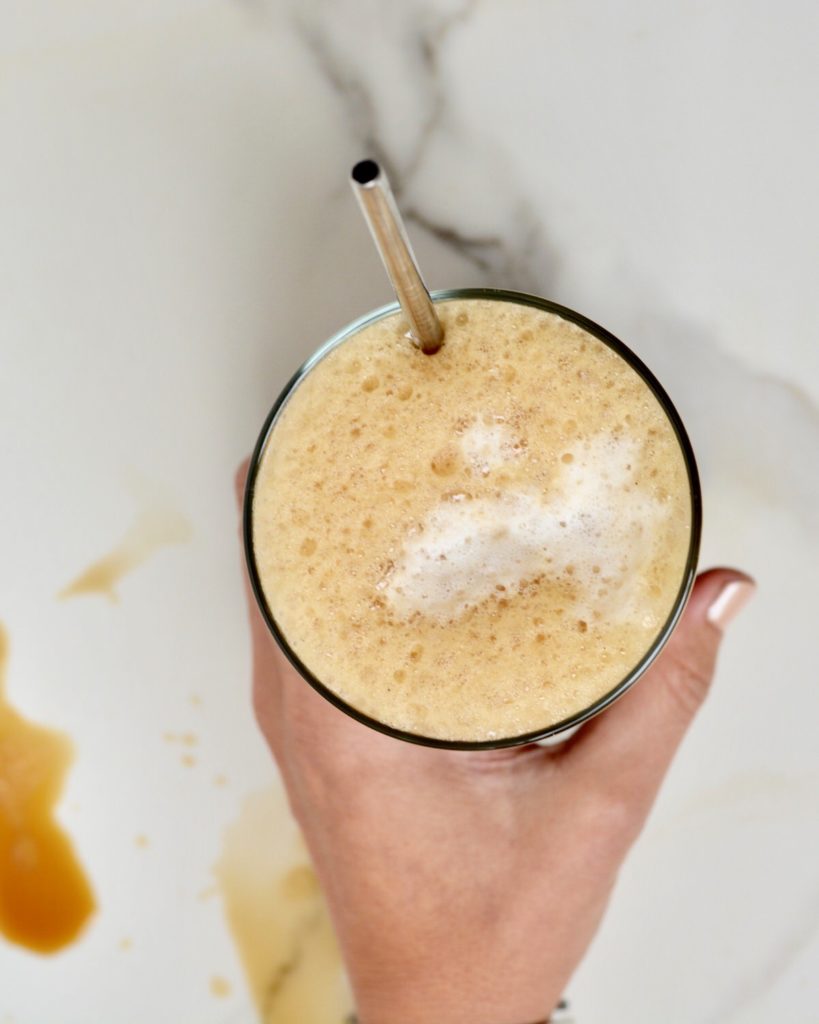 Don't have an espresso machine? No problem!
If you do not have an espresso maker, there are lots of other ways to achieve a similar drink. You can check out this article with 3 ideas on how to make espresso at home without an espresso machine, or check out our linked list below with great alternatives that won't break the bank and are also great space-savers.
How to get espresso without a machine:
If you're in the market for an amazing espresso machine without the hassle of pulling shots, cleaning and steaming, try a pod espresso system.
Why I love the Nespresso Inissia
After TONS of research, we decided to purchase the Nespresso Original Inissia with Aeroccino. Hans, my husband, wanted to have espresso whenever he wanted, and I wanted to be able to make lattes and fun Starbucks-type drinks.
But we wanted to save money, and the newest models by Nespresso are only compatible with Nespresso brand pods...which are quite pricey.
So, we got this older model because you can purchase pods made by other brands like Lavazza, Williams Sonoma and even Trader Joe's!
It's a HUGE money saver for us, since my husband and I both love coffee drinks and espresso. Plus, the aeroccino works really well! It makes fantastic foam, no matter what milk you use. I even use it to make hot chocolate.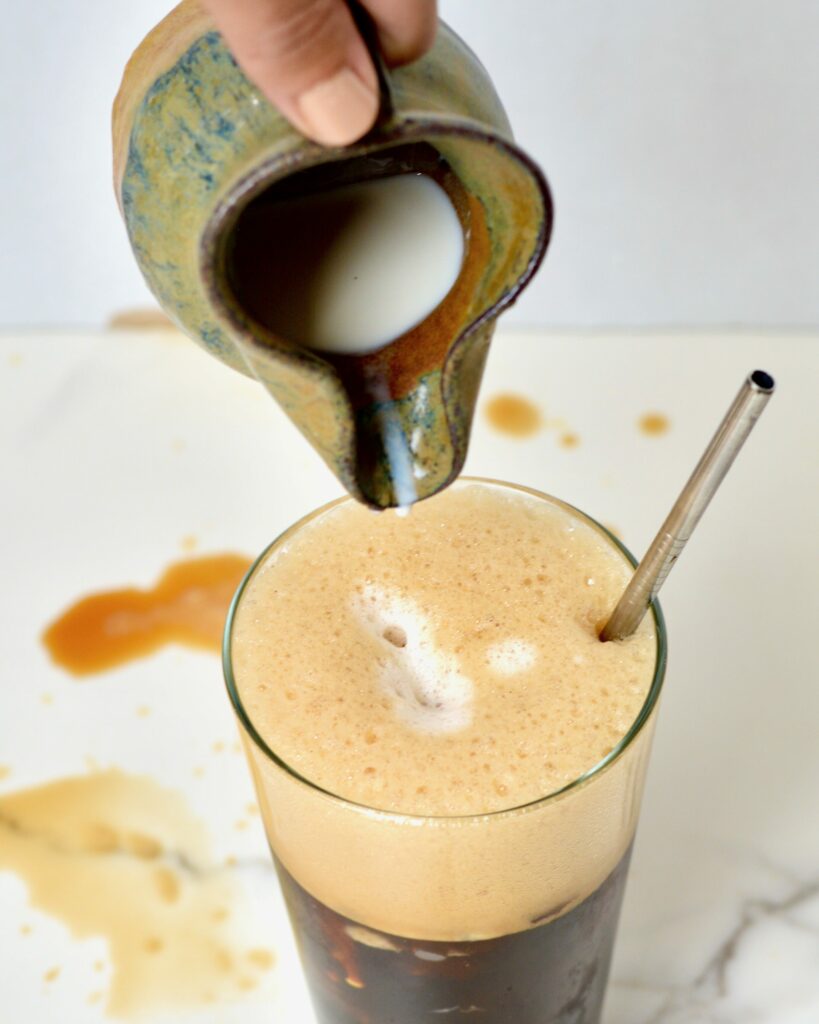 Bring the coffee shop home
So simple, right!? Now you can bring your favorite coffee shop right into your living room. I love enjoying such a wonderful coffee drink on my back porch or my living room couch. Especially during these days of "safer at home" mandates.
Not only do you save time and gas, but you've saved yourself a little bundle of cash too. Now what will you do with all these savings, hmm? Personally, I like to imagine I'm saving it all up for days and days of sipping coffee in Tuscany, with a blissful absence of chewed up legos.
If you love espresso flavor, try the Espresso Dark Chocolate Chip Cookies or the Espresso Chocolate Chip Muffins!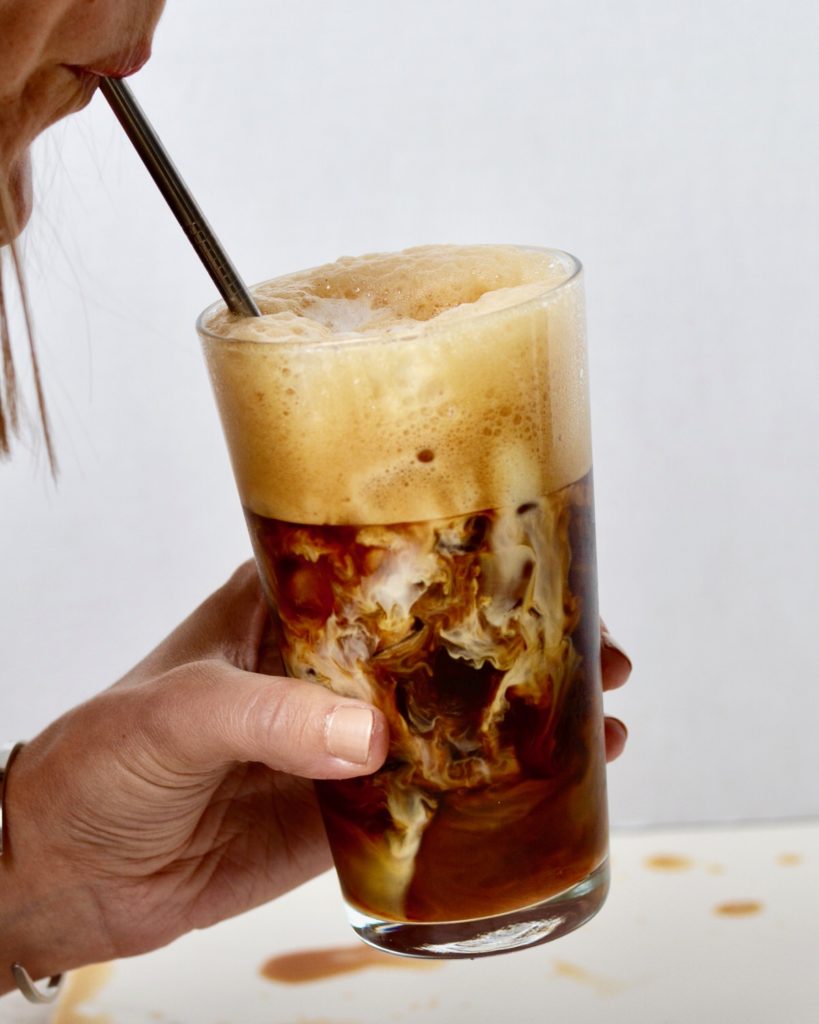 Recipe Modifications
Do you love to modify your Starbucks order? Of course you do, it's part of the fun! So at home, there are plenty of fun ways to make this recipe especially for yourself. Here are some of our favorite modifications:
Sprinkle cinnamon or sugar on top of the foam. Partly to make it pretty and partly to flavor that beautiful shaken foam.
Add any of your favorite flavors, like Vanilla or Hazelnut, again by replacing the simple syrup 1:1 and adding more to taste.
Try using blonde espresso for a lighter flavor. Blonde espresso is simply espresso beans that are roasted to the lighter end of the color scale. Still delicious coffee flavor, just lighter.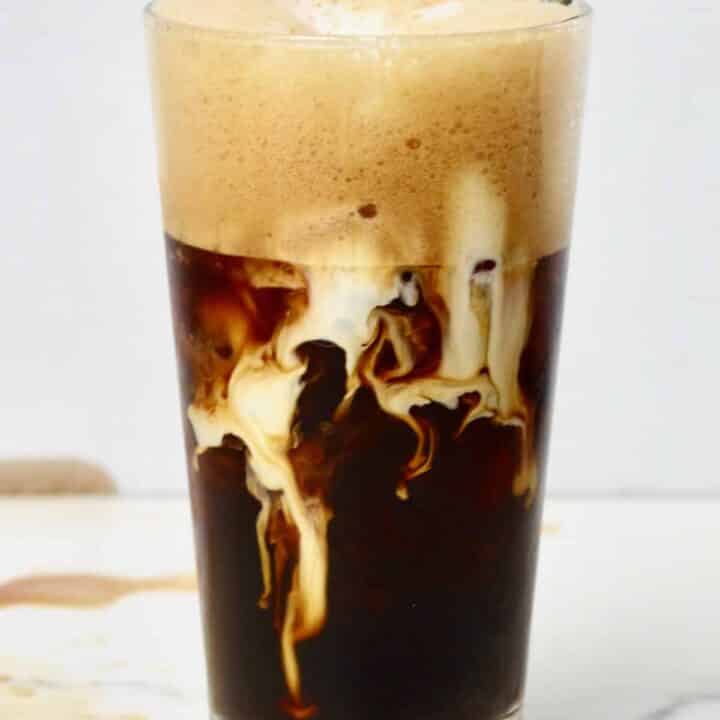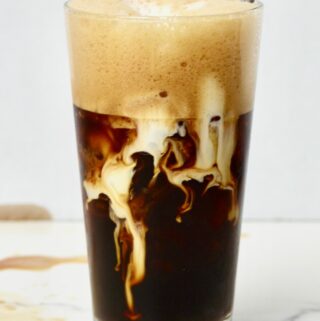 Espresso Double Shot Over Ice—Starbucks Copycat
Skip the line, make this simple recipe at home!
Print
Pin
Rate
Ingredients
Tall Measurements
2

tablespoon

Simple Syrup

2

shots

espresso

-

about 3 ounces

2

tablespoon

heavy cream

-

or milk of choice
Grande Measurements
3

tablespoon

Simple Syrup

3

shots

espresso

-

about 4 ½ ounces

3

tablespoon

heavy cream

-

or milk of choice
Venti Measurements
5

tablespoon

Simple Syrup

5

shots

espresso

-

about 6 ounces

5

tablespoon

heavy cream

-

or milk of choice
Instructions
In a martini shaker or reusable cup with lid place ice up to the rim.

Pour simple syrup and espresso over ice.

Place lid on container and shake vigorously (the longer you shake the more foam you will get).

Pour into glass and top with milk.
Notes
The trick with this recipe is that it calls for less syrup and more espresso than a standard 16 oz beverage, which makes it a little sweeter and foam-ier for maximum espresso mmmm-ing.