When you've hit that 2pm slump and you're craving an amazing coffee pick-me-up-off-the-floor drink, but you don't want to wake the kids from their nap (because they're FINALLY quiet), and you don't want to spend the extra money or take in tons of calories, this simple Espresso Double Shot Starbucks Copycat recipe comes to the rescue. Grab yourself a moment of ahhhh, and make the most of your precious time to yourself.
Sign up for our FREE 7 Day Simple Meal Plan!

Only 3 Ingredients to make this Espresso Double Shot
Espresso – pretty obvious, right? Pull 2 shots for a Tall, 3 for a Grande, and 5 for a Venti. If you're looking for truly amazing espresso beans, I'd suggest finding a local roaster. My favorite here in Denver is Novo Coffee. Back in California, it's hard to beat Blue Bottle. Both offer online ordering. (See below for suggestions if you do not own an espresso machine.)
Simple Syrup – this is the one we use. But you can also make your own really easily! You'll want 2 Tbsp for a Tall, 3 Tbsp for a Grande, and 4 Tbsp for a Venti.
Cream or Milk of Choice – Adding heavy cream is what really sends this refreshing icy drink over the edge. But we've made it with almond milk (for Amy since she's lactose intolerant) and it's still SUPER delicious! You can add as much cream as you prefer, but for a true Starbucks experience, add on ounce for a tall, then add one tablespoon more for each size up.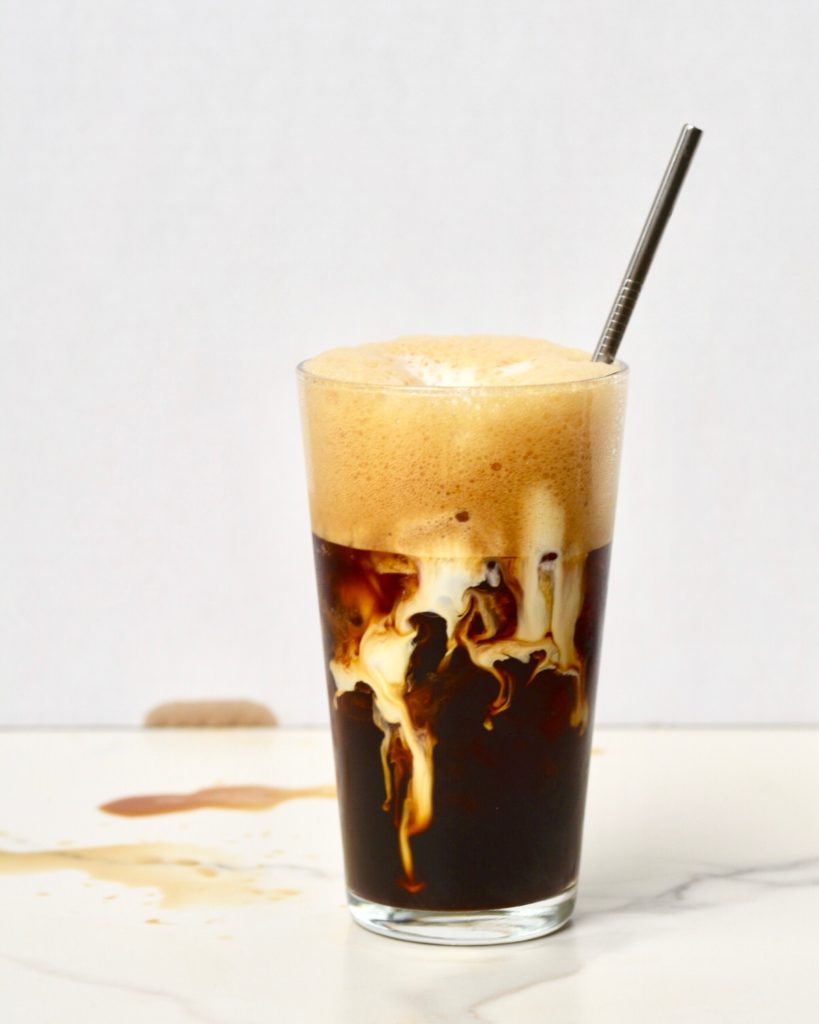 To Make this Iced Double Shot Espresso, simply…
First, PULL however many shots you want (we like LOTS). Fill a cocktail shaker to the brim with ice. We have one just like this copper one and we love it. If you don't have a cocktail shaker, feel free to use any container with a tight fitting lid. (Those little tupperware containers work like a charm!)
POUR your shots over the ice.
ADD the correct amount of simple syrup for the size you want. (See above for measurements or the recipe below.)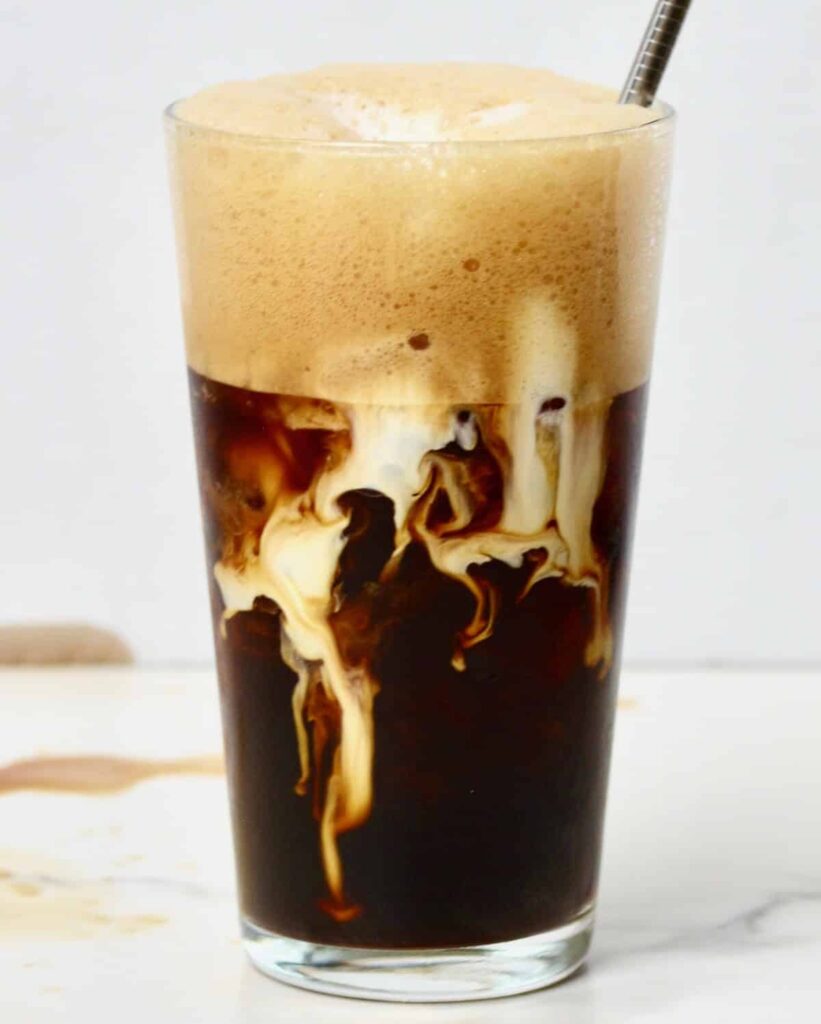 Now it's time to SHAKE it like you mean it. Shake vigorously for about 30 seconds to get lots of that amazing foam. I like to use this moment to work out my morning frustrations—like, if I have to bend over one more time to pick up a lego my dog chewed up, I won't be able to get back up—kind of frustrations. Anyone else?
After you've got lots of shaken creamy foam, strain out the ice and POUR your espresso into a tall glass. Oooh, we're so close!
ADD however much cream or milk you'd like. Heavy cream is the ultimate treat, but the flavor is still really good with low-fat or a good milk alternative, like almond or coconut. Watch as the cream slowly makes beautiful streaks down through the espresso (it's mesmerizing and part of the relaxation experience).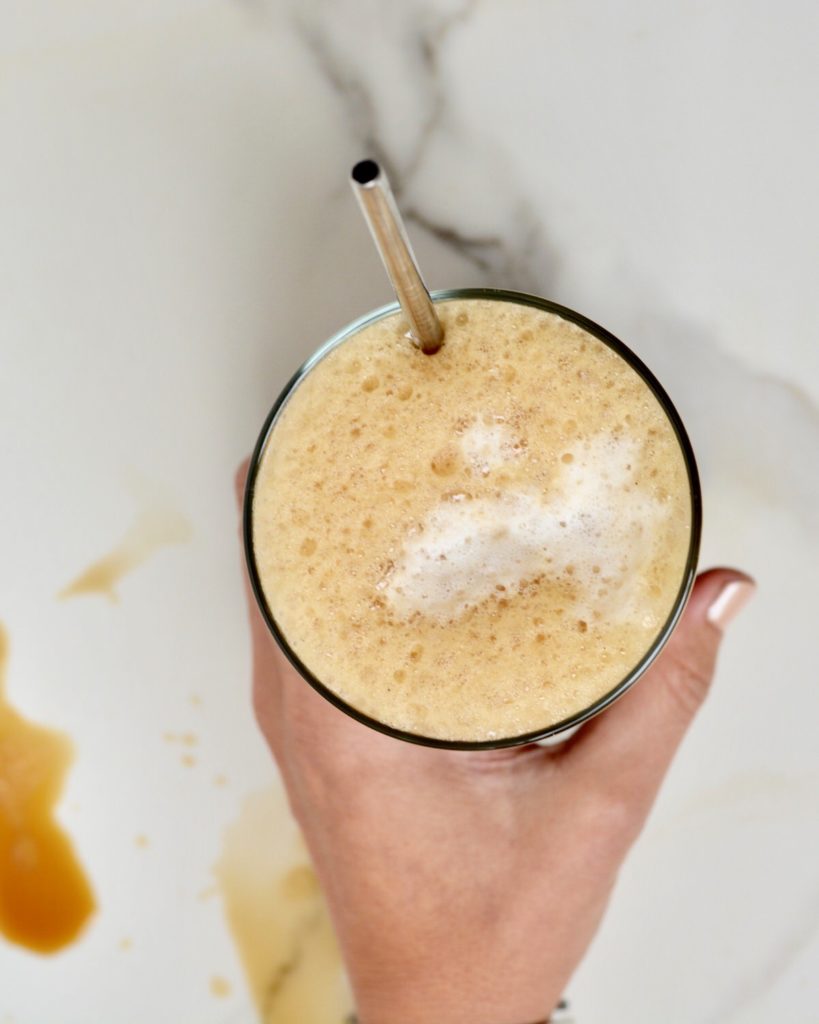 Don't have an espresso machine? No problem!
If you do not have an espresso maker, there are lots of other ways to achieve a similar drink. You can check out this article with 3 ideas on how to make espresso at home without an espresso machine, or check out our linked list below with great alternatives that won't break the bank and are also great space-savers.
How to get espresso without a machine: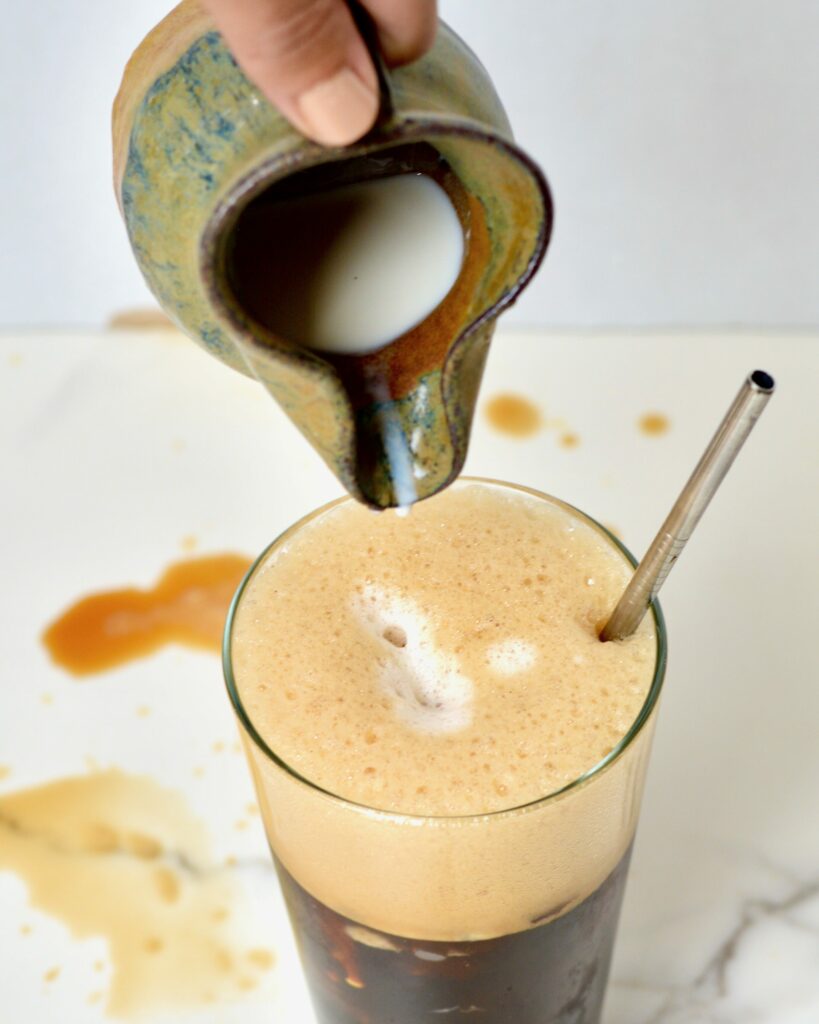 Bring the coffee shop home
So simple, right!? Now you can bring your favorite coffee shop right into your living room. I love enjoying such a wonderful coffee drink on my back porch or my living room couch. Especially during these days of "safer at home" mandates.
Not only do you save time and gas, but you've saved yourself a little bundle of cash too. Now what will you do with all these savings, hmm? Personally, I like to imagine I'm saving it all up for days and days of sipping coffee in Tuscany, with a blissful absence of chewed up legos.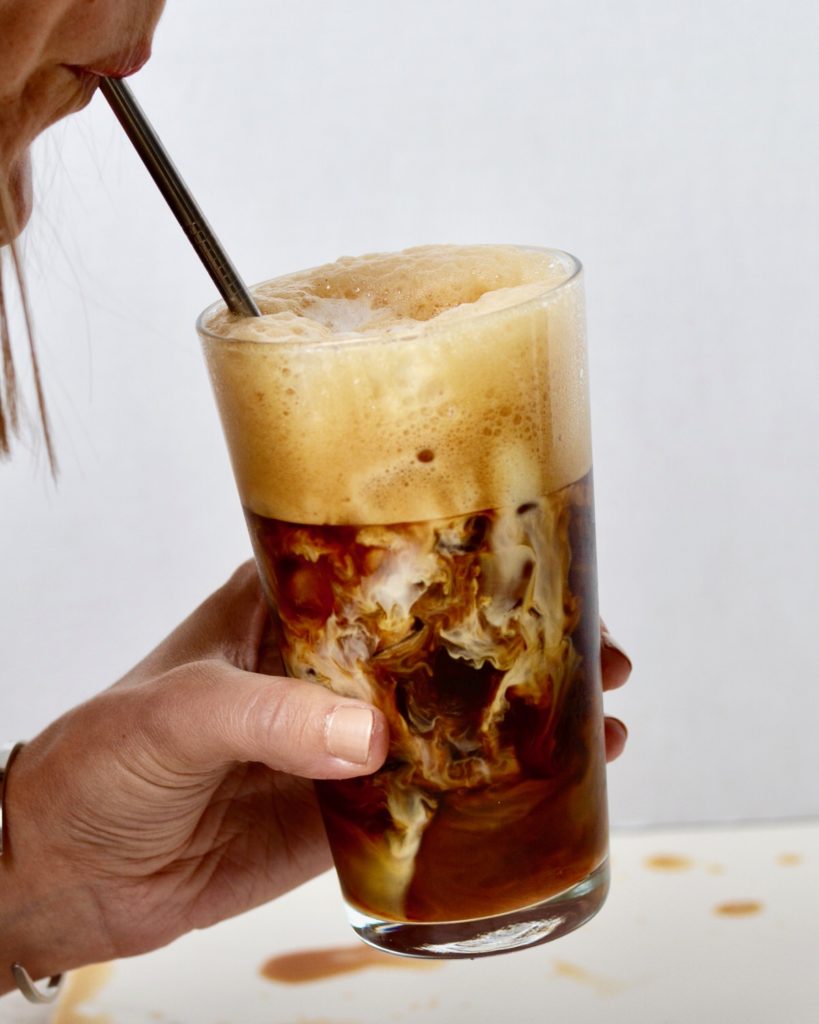 Love this Starbucks Copycat recipe? Try these other yummy coffee and treat recipes.