If you're looking for that special winter drink, you've found it. The simple addition of Bailey's Irish Cream in our delicious mocha recipe amps it up to ultimate mouth cosiness. It gives me that socks-on-my-feet-in-front-of-a-fire-with-a-good-book-while-kids-are-asleep feeling.
Baileys Mocha Ingredients...
Baileys - regular Baileys is, obviously, amazing. But for Amy and her sensitive little tummy they make a Dairy Free Baileys! Let me say that again, DAIRY FREE BAILEYS!!! I found it on the Target website, but they may carry it at your local liquor store too.
Espresso/Strong Coffee - If you have an espresso machine, pull two shots per serving. If you don't, go ahead and brew some really strong coffee and use that instead! We've tried it both ways and they're both great. The espresso flavor gives a stronger coffee flavor, but truly, it's great either way.
Chocolate Sauce - We like the Torani's because of the flavor and the short list of ingredients. It's also gluten free and dairy free. But any thick chocolate sauce will do.
Half and Half - If you need a dairy free substitute for half and half, coconut cream is our go-to. It has the same consistency and the coconut flavor is mild enough you hardly taste it. But you can also use whatever you have on hand. We've made it with oat milk and almond milk and it still tastes great!
To make a Baileys Mocha, simply...
Ok, this recipe is seriously simple. HEAT the milk and half and half (or dairy free substitutes) in a saucepan (or microwave if you prefer) until steaming but not boiling. Add the rest of the ingredients and STIR. Done!
Can this be made dairy free?
Absolutely. You'll see the substitution suggestions above in the ingredients list, but Baileys makes a dairy free version of their Irish Cream and it's great! You can substitute almond or oat milk, or coconut cream for a thicker consistency, instead of half and half. Still totally delicious!
Can this Baileys Irish Cream Mocha be made in large quantities for a party?
You bet. Wether its a party or just a really great Saturday night at home while the kids sleep, this drink can be made in bulk.
In a crockpot (or a stockpot on the stovetop), turn on high and add all ingredients and stir. Below I've done the math for you for 10 servings. You can multiply from there:
2 ½ Cups Baileys Irish Cream (or dairy free version)
⅔ Cup Mocha Sauce
2 ½ Cups Espresso or Strong Coffee
2 ½ Cups Half and Half (or milk substitute)
Give it a stir every 15 minutes while warming up. It takes about an hour to get fully hot. Once hot, reduce heat to low. If using a stockpot, heat on medium until steaming, not boiling, then turn to low and keep warm until ready to serve.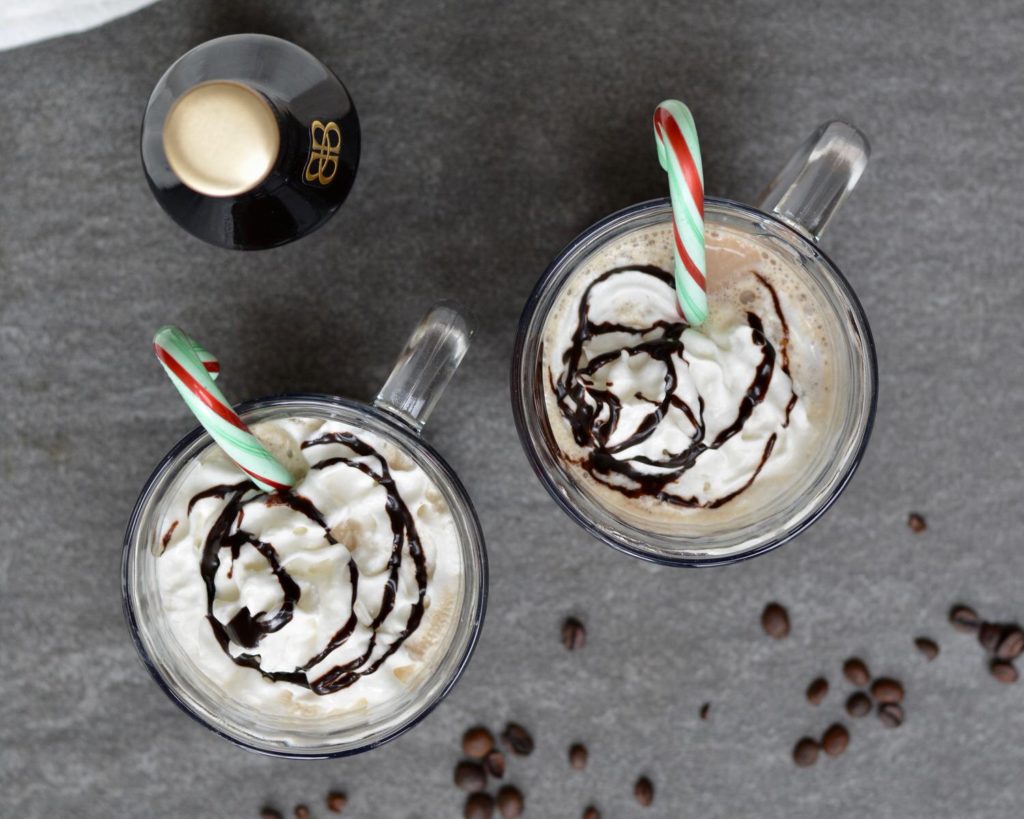 More Espresso Drinks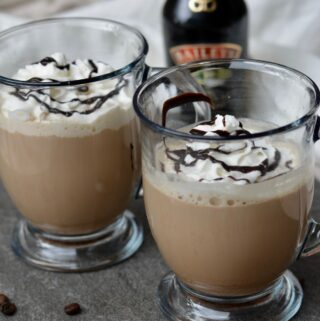 Ingredients
2

oz

Baileys Irish Cream

equal to 2 shots or ¼ cup

1

tablespoon

mocha sauce *

more to taste

2

oz

espresso

or very strong coffee (¼ cup)

2

oz

half and half

or milk of choice (¼ cup)
Optional Topping
whip cream

optional

drizzle of mocha sauce
Instructions
Hot Mocha
Heat milk and half and half (or milk substitutes) in a saucepan or microwave until steaming, not boiling. Add all other ingredients. Stir.

Top with whip cream and a drizzle of chocolate sauce. Enjoy!
Iced Mocha
Combine all ingredients in a cup (or container with a lid). Stir or shake it up.

Add cocktail ice cube (or whatever cubes you have).

Top with whip cream. Enjoy!
Notes
*Any thick chocolate sauce will do.
**2 fluid ounces is equal to ¼ cup.