We like our caffeine coming quick and now we like it coming dirty. This Dirty Iced Chai is a big hit on flavor and caffeine. And once you fall in love with this drink, you'll be so glad it can be made decaf for your late afternoon cravings too! Just 3 simple ingredients and you're ready to go. We love this iced chai paired with a gluten free Apple Muffin or Banana Bread.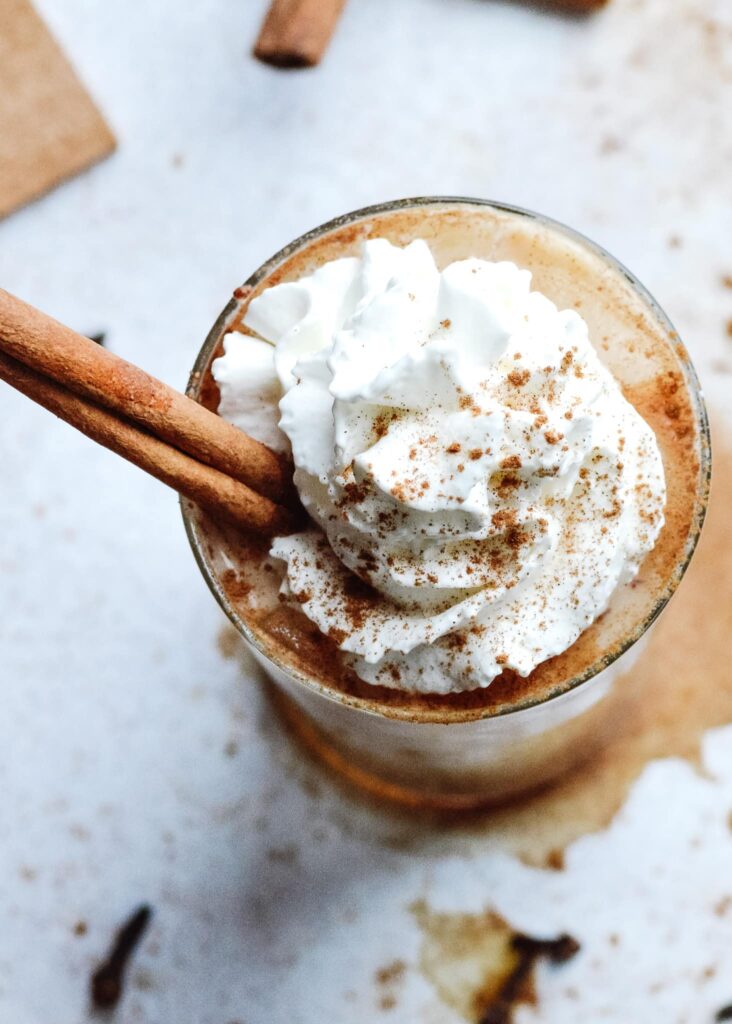 What is a dirty chai?
The word "dirty" before chai is referring to the addition of espresso! A chai tea latte WITH a shot of espresso. It's as simple as that. You can even order this at Starbucks and they should know what it is.
How to make espresso without an espresso machine
If you do not have an espresso maker, there are lots of other ways to achieve a similar drink. You can check out this article with 3 ideas on how to make espresso at home without an espresso machine, or check out our linked list below with great alternatives that won't break the bank and are also great space-savers.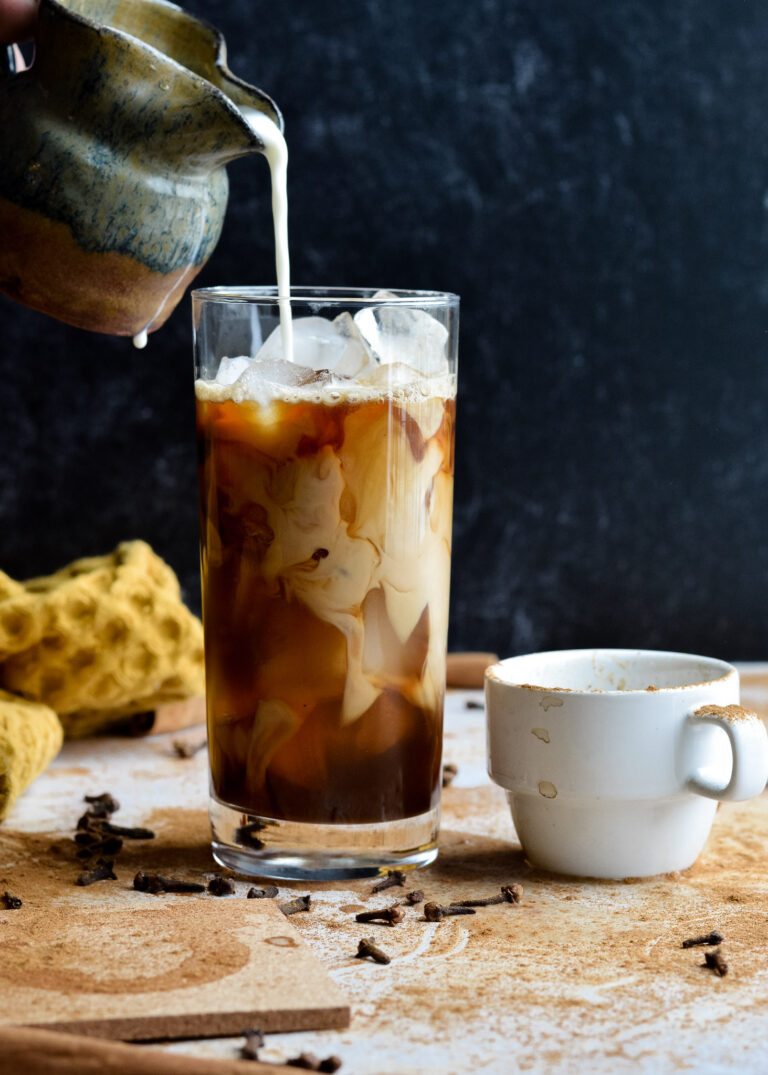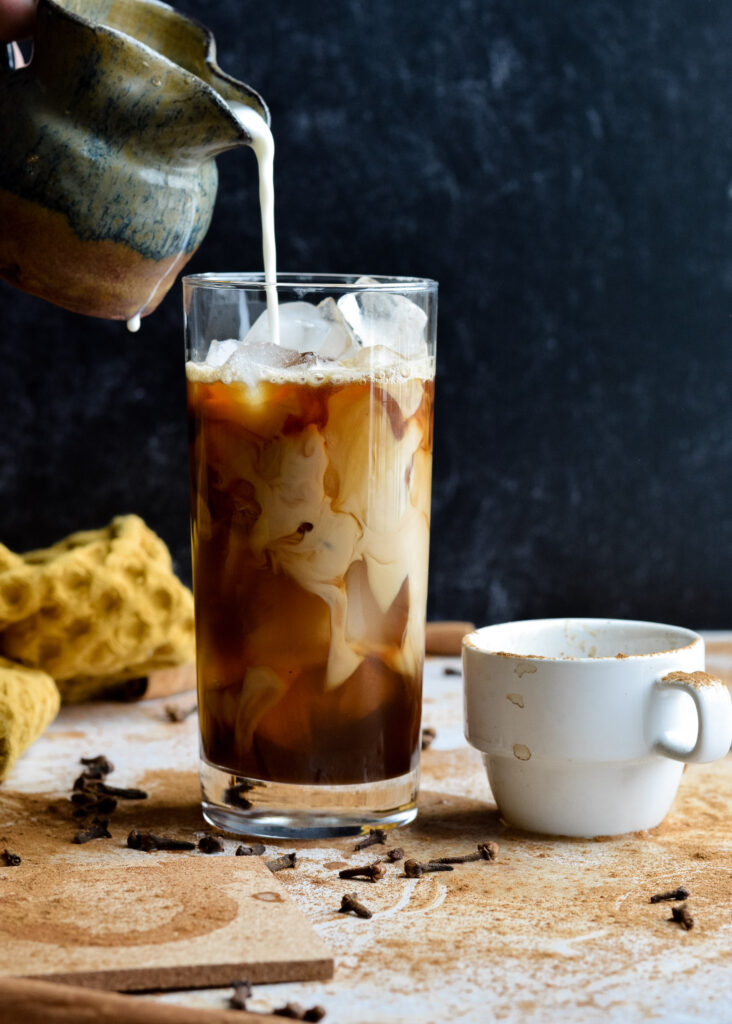 Does Chai have Caffeine?
Yes! However, it's much lower than a standard cup of coffee. A regular 8 ounce cup of drip coffee has about 150 milligrams of caffeine. In 8 ounces of chai mix, there is 61+ milligrams of caffeine. Tazo does not elaborate on that elusive + after the 61 though.
So if you're sensitive to caffeine, either try the decaffeinated Tazo mix, or add a shot of decaffeinated espresso.
Why I love the Nespresso Inissia
After TONS of research, we decided to purchase the Nespresso Original Inissia with Aeroccino. Hans, my husband, wanted to have espresso whenever he wanted, and I wanted to be able to make lattes and fun Starbucks-type drinks.
But we wanted to save money, and the newest models by Nespresso are only compatible with Nespresso brand pods...which are quite pricey.
So, we got this older model because you can purchase pods made by other brands like Lavazza, Williams Sonoma and even Trader Joe's!
It's a HUGE money saver for us, since my husband and I both love coffee drinks and espresso. Plus, the aeroccino works really well! It makes fantastic foam, no matter what milk you use. I even use it to make hot chocolate.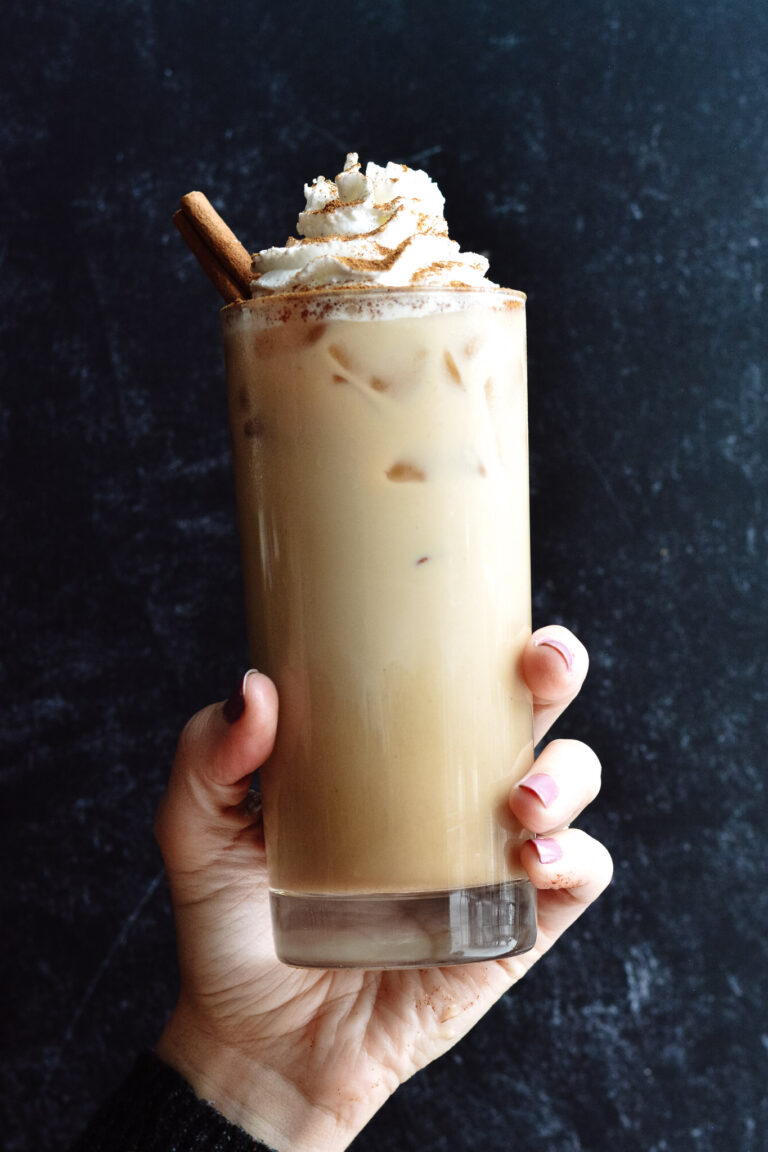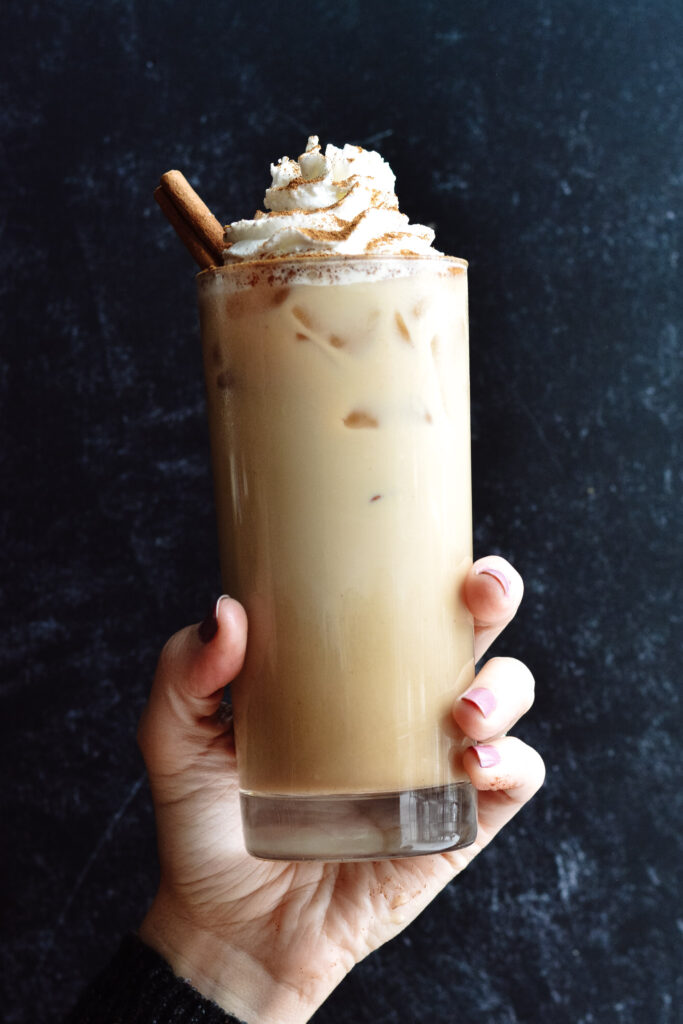 3 Ingredients to make a dirty chai latte
This chai latte only requires 3 ingredients:
CHAI MIX - We LOVE the Tazo chai mix that comes in a box. You'll find it in the tea/coffee aisle at the grocery store.
ESPRESSO - Read above for all the different ways to get espresso if you don't have a machine. If you do, simply pull a short or long shot.
MILK - We love this iced coffee drink with whole milk, but for Amy (lactose intolerant), she makes it with Oatley oat milk and it's amazing! Still rich and delicious, but lower in calories and lactose intolerant friendly.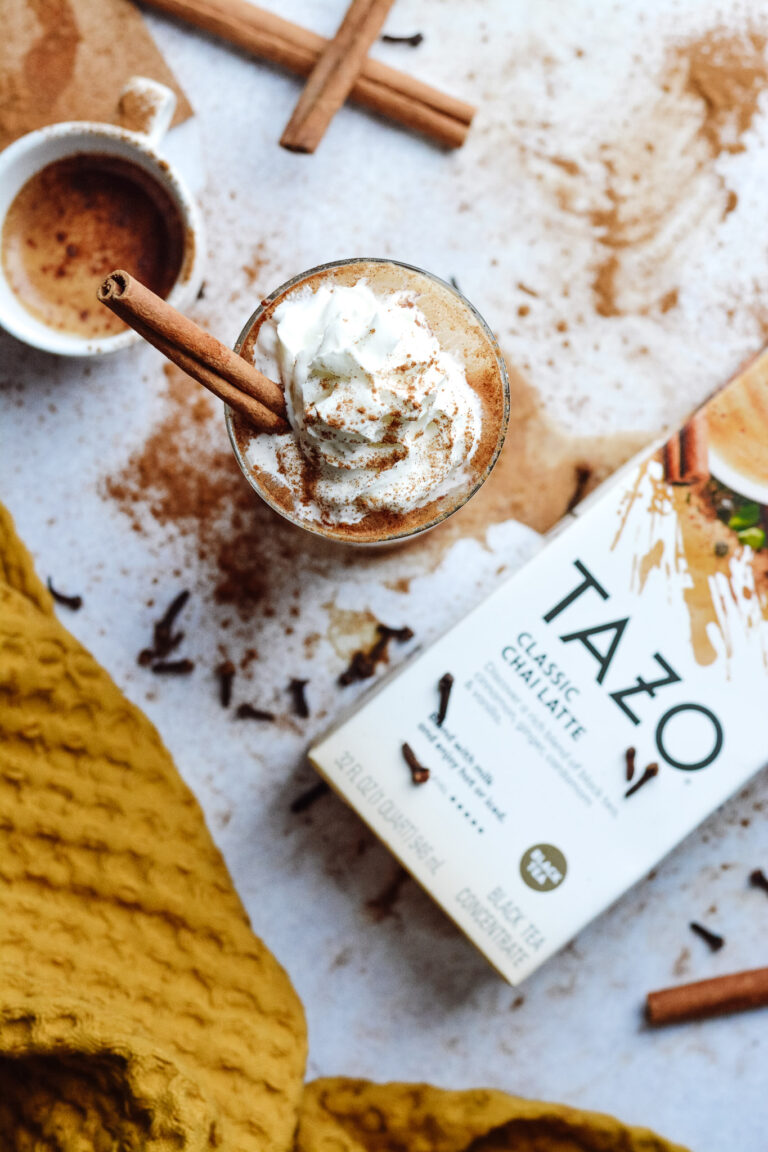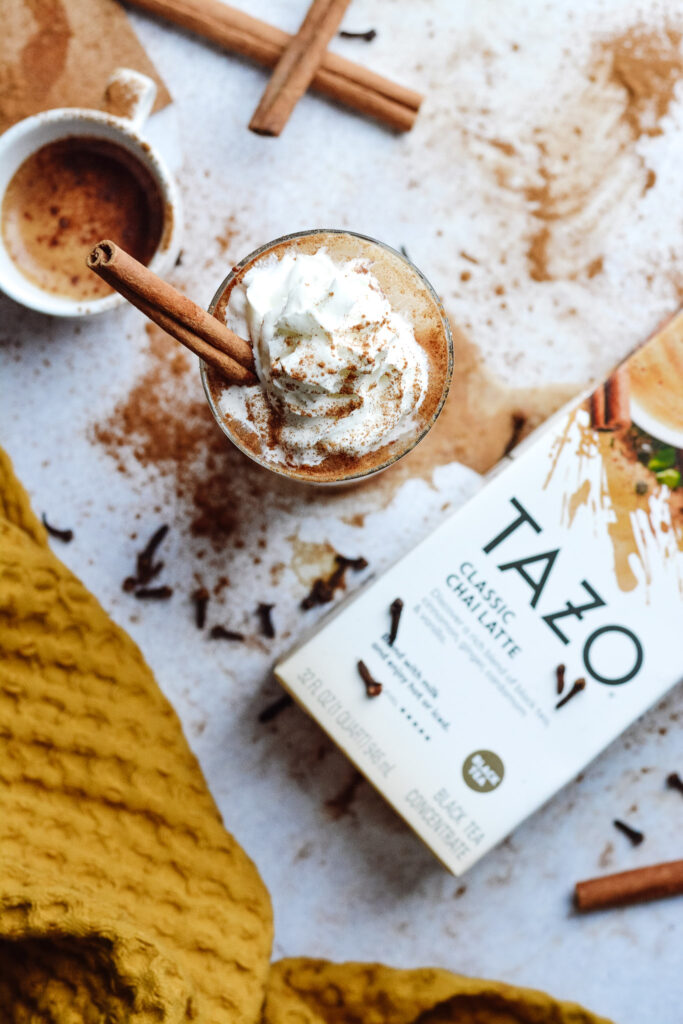 How to make a dirty chai latte at home
The great thing about this iced drink is that it's easy to size up or down. Simply pour over ice equal parts chai mix and milk in a tall glass, then add a shot (or two) of espresso. Give it a quick stir and enjoy! Feel free to top it off with whip cream and cinnamon.
Can I make this dirty chai hot?
You betcha! The ingredients and quantities stay the same. Simply heat the milk and chai mix and add a hot shot of espresso. Top with whip cream, cinnamon and curl up by the fire.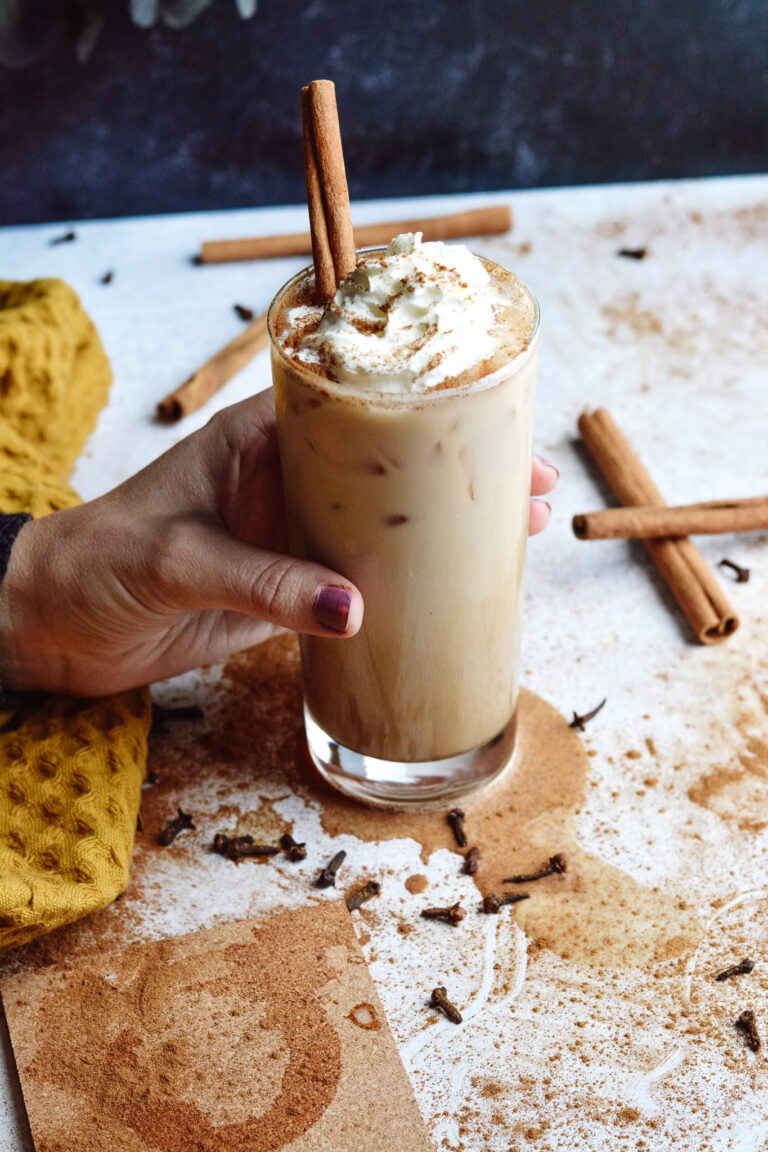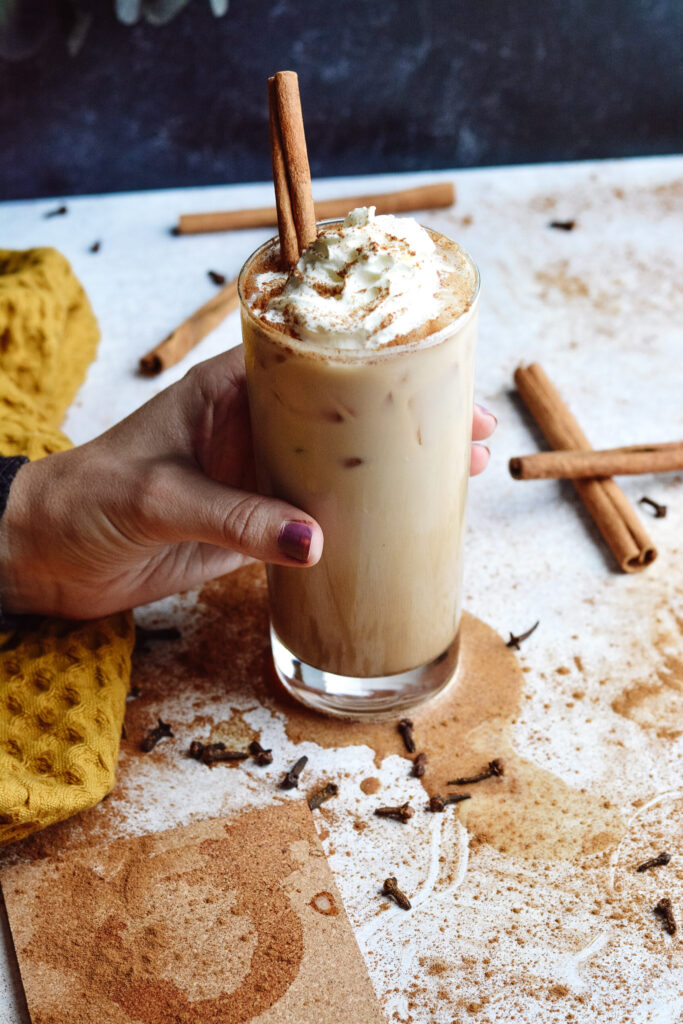 How to make homemade chai mix
Yes! We made a version of our own spices at home. It was not quite as delicious as the Tazo Chai Latte Mix, but we totally get wanting this now and not wanting to the run to the store. Here is a spice mix you can make at home to get similar flavors.
1 tablespoon ground cinnamon
2 teaspoons ground ginger
1 teaspoon ground cardamom
½ teaspoon ground black pepper (reduce if you don't love spice)
⅛ teaspoon ground nutmeg
⅛ teaspoon ground cloves
1 tablespoon sugar (or liquid sweetener, such as agave)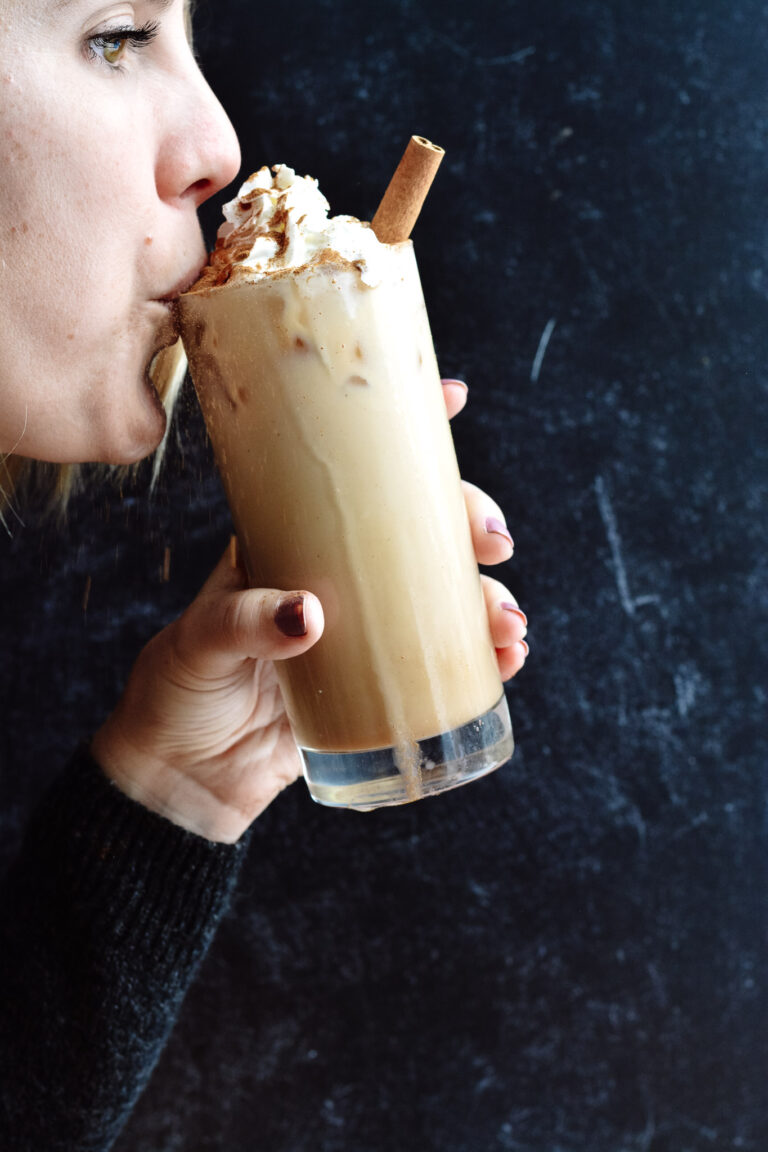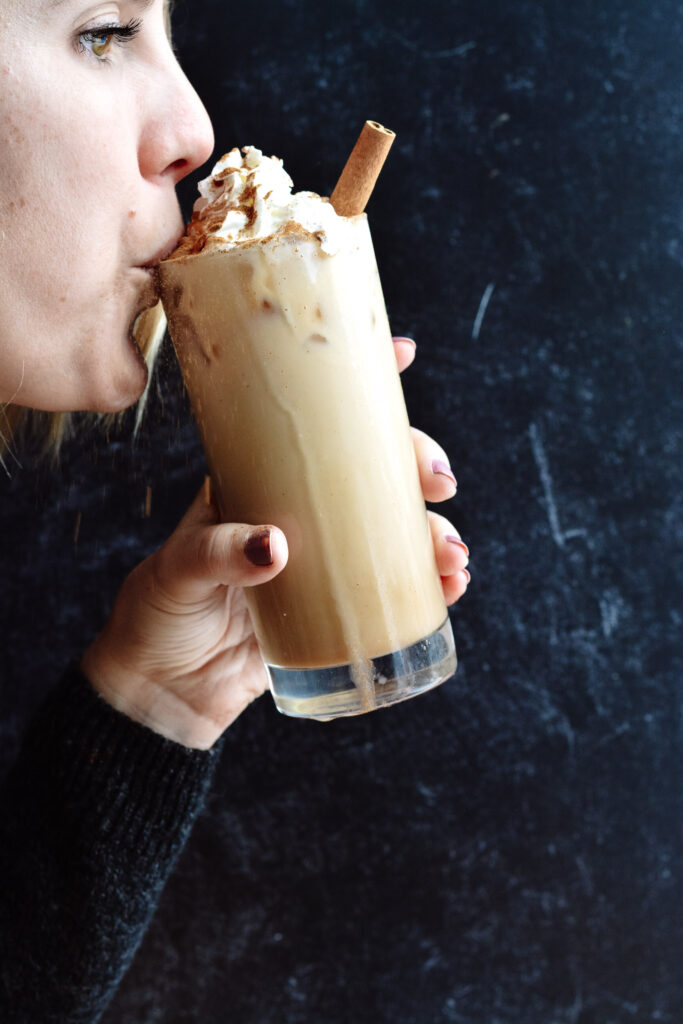 Can I make a Dirty Iced Chai Latte Decaffeinated?
Yes! In fact, Amy doesn't love caffeine like Rachel, so we made it both ways. Tazo sells a decaf chai mix that's completely amazing. And we pulled a decaf shot from our Nespresso machine. Easy!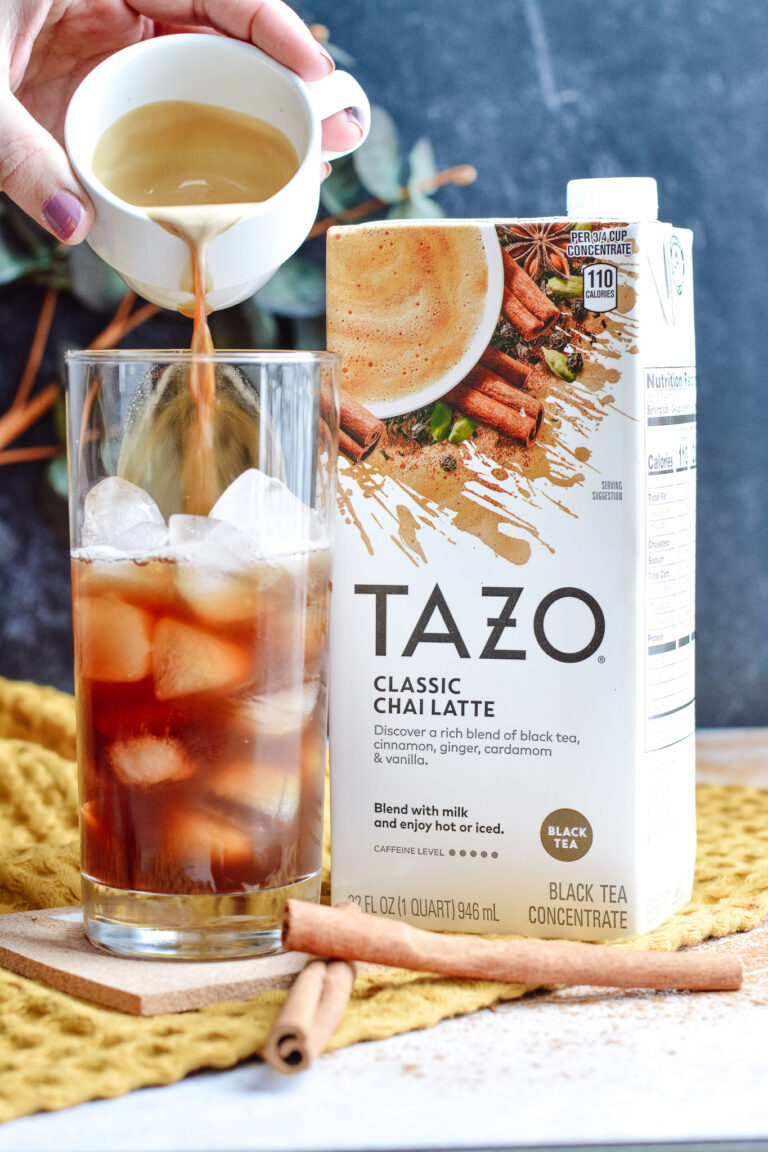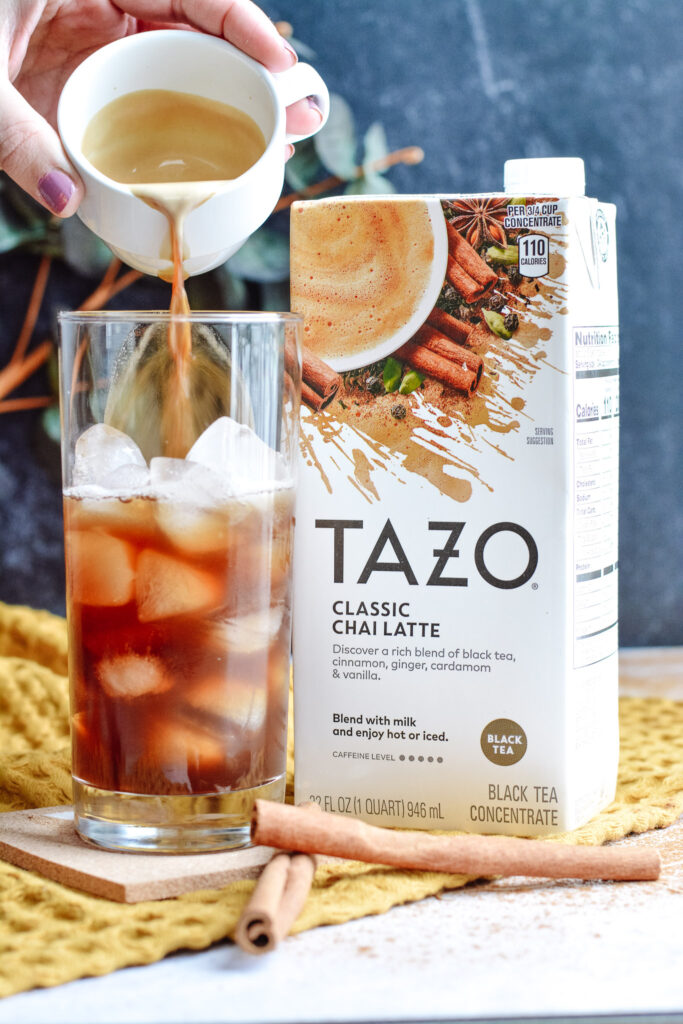 Love to make coffee drinks at home? Check out these other delicious coffee drinks!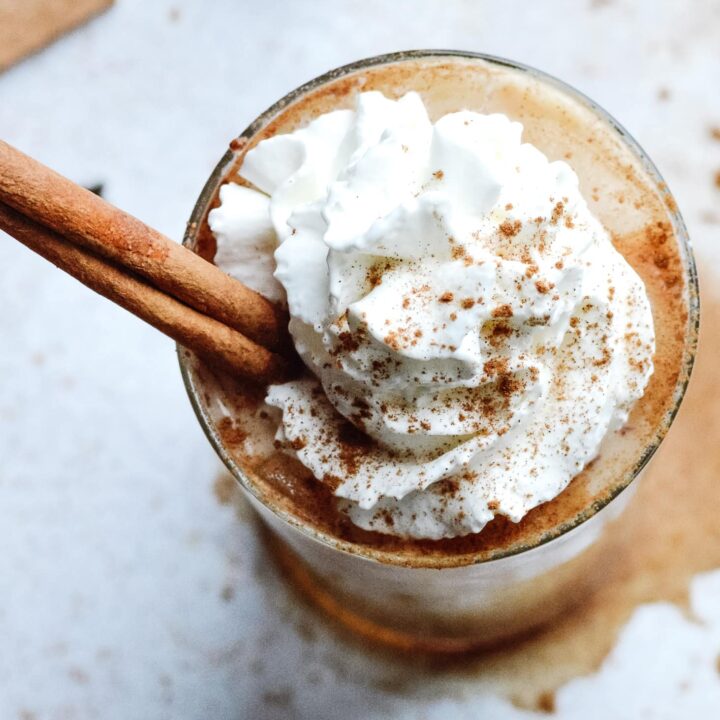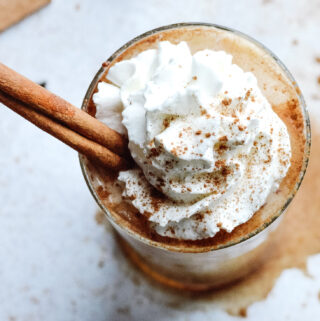 Dirty Iced Chai Latte
Delicious chai tea with the added boost of espresso. Delicious and dirty.
Print
Pin
Rate
Ingredients
Size: Tall
¾

cup

chai mix

-

such as Tazo

¾

cup

whole milk

-

or milk of choice

1

short shot

espresso

-

more to taste
Size: Grande
1

cup

chai mix

-

such as Tazo

1

cup

whole milk

-

or milk of choice

1

long shot

espresso

-

more to taste
Size: Venti
1 ¼

cups

chai mix

-

such as Tazo

1 ¼

cups

whole milk

-

or milk of choice

2

shots

espresso

-

more to taste
Instructions
In a tall glass, add ice. Pour chai mix and milk. Add espresso and stir.

Top it off with whip cream and cinnamon. Enjoy!
Notes
The calculated nutrition does not include the chai mix concentrate.
Nutrition
Serving:
12
oz
|
Calories:
346
kcal
|
Carbohydrates:
56
g
|
Protein:
10
g
|
Fat:
14
g
|
Saturated Fat:
8
g
|
Polyunsaturated Fat:
1
g
|
Monounsaturated Fat:
2
g
|
Cholesterol:
18
mg
|
Sodium:
114
mg
|
Potassium:
724
mg
|
Fiber:
10
g
|
Sugar:
14
g
|
Vitamin A:
473
IU
|
Vitamin C:
16
mg
|
Calcium:
669
mg
|
Iron:
13
mg