I know you can go to the store and buy those doughy Parmesan Crescent Rolls in a tube, but you're missing out on the true flakiness and amazing flavor that can come from a homemade Parmesan Crescent Roll—I guarantee you won't be sorry AND you may never reach for those little tubes again.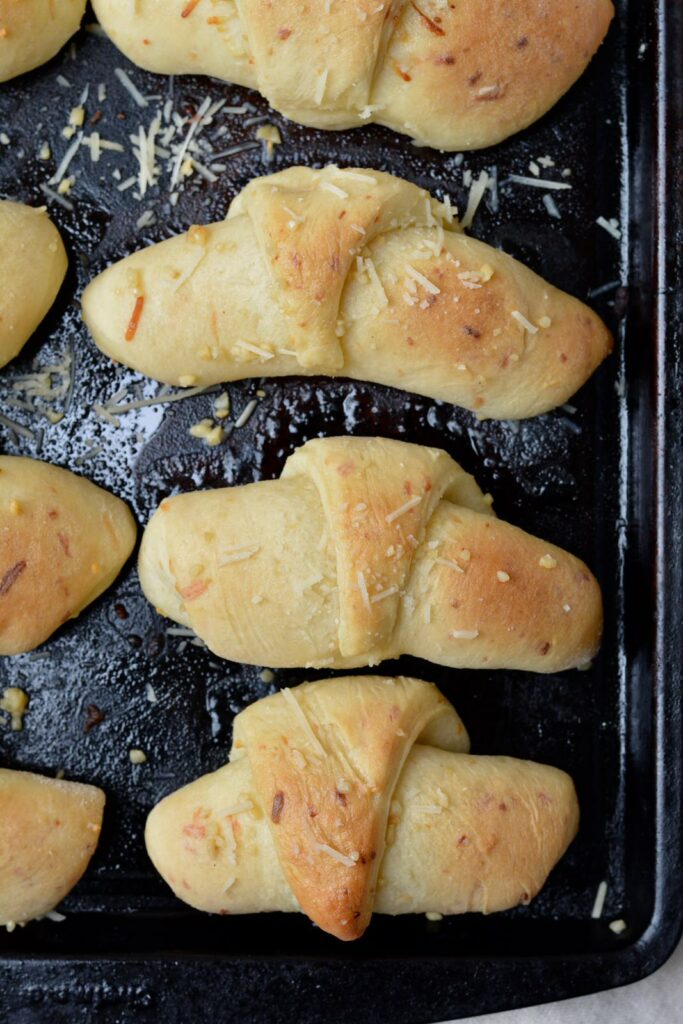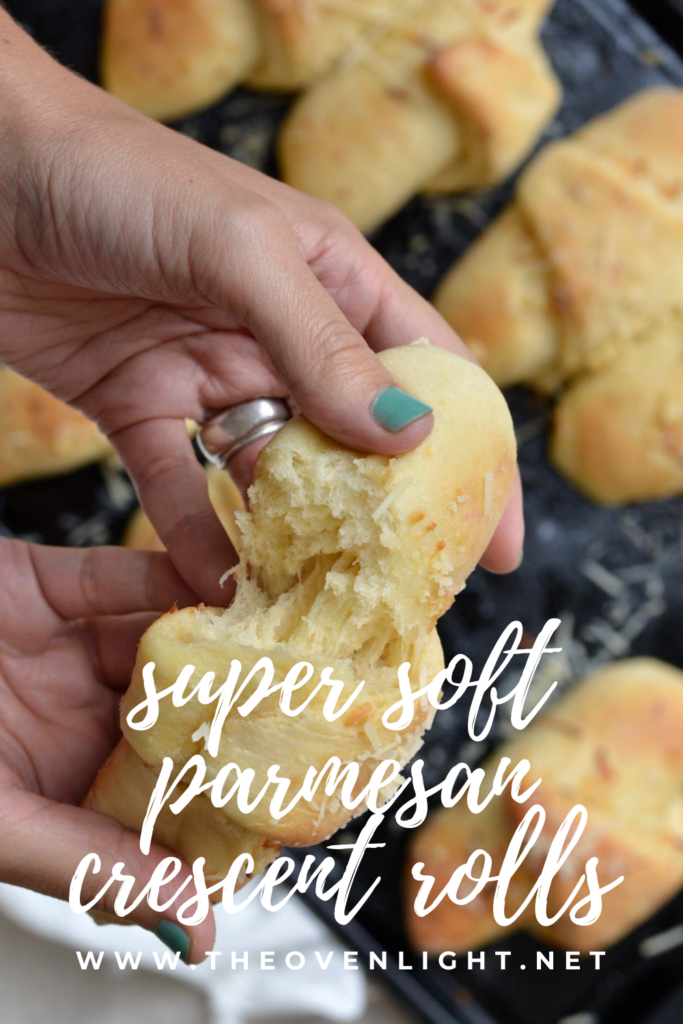 Parma, Italy
You may not know this but Parmesan (Parmigiano) cheese was invented by Benedictine monks in Italy in the region of Parma some 900 years ago. My husband and I went through the town of Parma on a recent trip to Italy, where we had the most amazing "car picnic" (it's a thing) from a deli in Parma.
One thing you should know about driving in Italy is the ZTL (zona a traffico limitato). If you drive through a ZTL area, you will incur some crazy fines. Apparently they took a picture of our license plate while we were looking for a parking spot. When we got home from our romantic and amazing trip, we had a $320 bill waiting for us. BUT we both say that the meat and cheese was totally worth it! The things my husband and I will do for some fresh meat and cheese is astounding...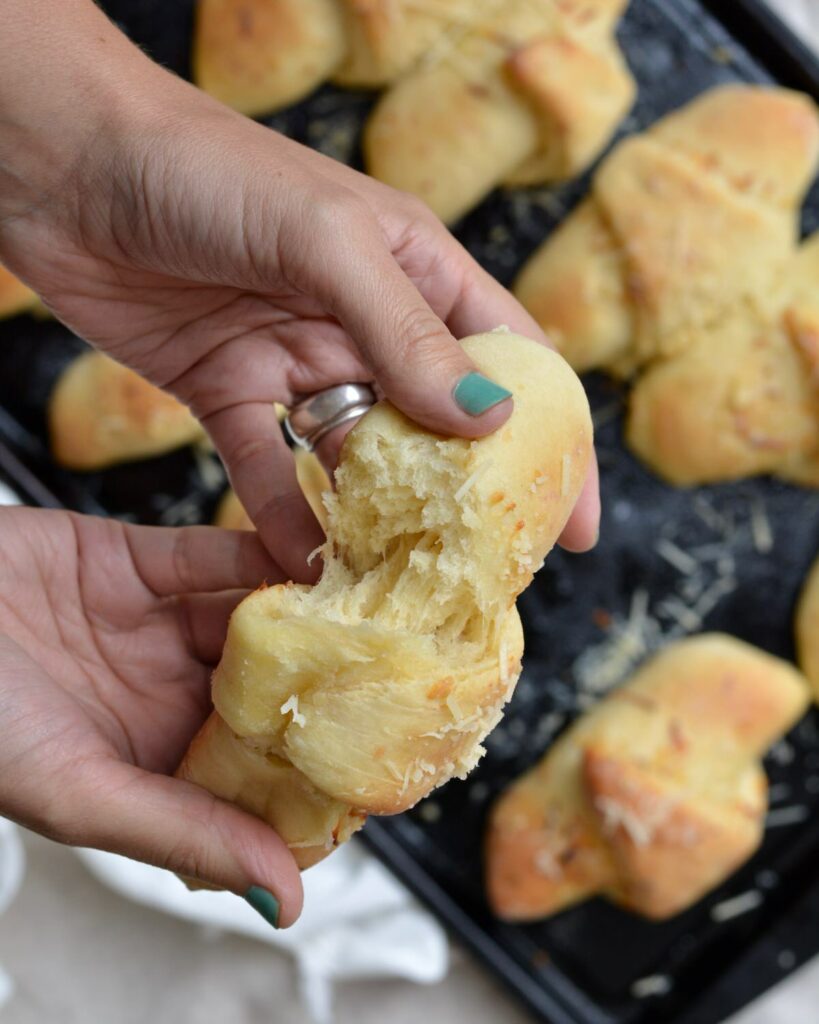 Ingredients for perfect Parmesan Crescent Rolls...
Parmesan - For this recipe, fresh tastes amazing, however, you can get away with using the grated stuff in a plastic bottle too. You just won't get those really cheesy, stringy bites.
Liquid - In this recipe milk and water lend plenty of moisture. Any percentage of milk is ok, but 2% is optimal.
Granulated White Sugar - While it may seem odd to include sugar in a crescent roll recipe, it's creates a perfect balance between the saltiness of the cheese and the sweetness of the dough.
Egg - If you're curious, eggs add structure, height, color and flavor to baked goods. In this recipe, the egg definitely adds to the softness of the dough and the flaky structure to the interior of each Parmesan Crescent Roll.
Instant Yeast - Keeping a jar of instant yeast around makes it possible to make bread any time. But did you know you should always store your yeast in the fridge once it has been opened? It should be good for about 4 months in there. Beware of yeast that is no longer working. If you add it to this recipe and it does not "bloom", it's time to pick up a new jar.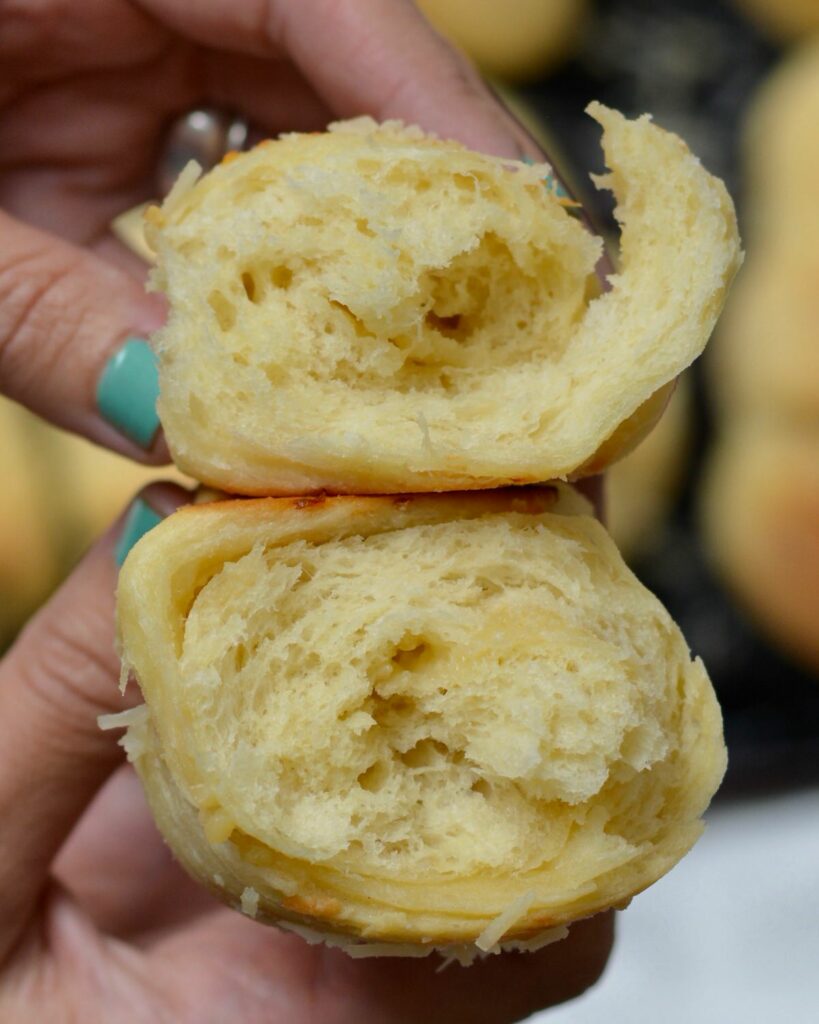 To make these Parmesan Crescent Rolls, simply...
FIRST, LET'S PREP—line a baking sheet with parchment paper and set aside. You'll need a stand mixer fitted with the dough hook, 2 small bowls and a small saucepan. Now you're all ready. Pull out your egg so it comes to room temperature.
To create an activator for the yeast, place milk, water, sugar, 4 tablespoon butter and salt into a small sauce pan and HEAT over medium. Warm until steaming, but not boiling (about 100°F—optimal temp is 95°, but you'll lose a little heat while transferring).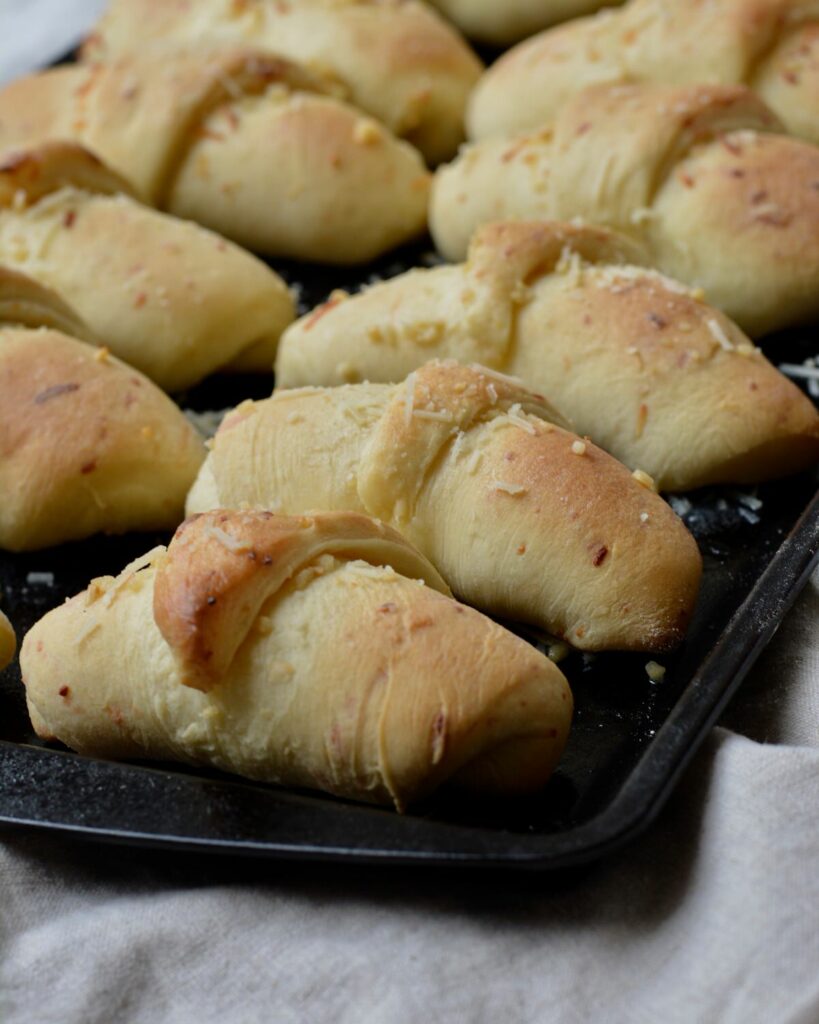 POUR the milk mixture into the bowl of a stand mixer. WHISK the egg in a small separate bowl and then slowly whisk it into the milk mixture. It's best if your egg is room temperature and you add it nice and slow so the egg doesn't scramble.
NEXT, it's time to add the yeast! I love watching yeast foam and bubble. I like to sprinkle my yeast right on top and then give it a gentle stir. Then leave it alone for 5 minutes and allow it to "bloom" (this seems like such a perfect metaphor for motherhood, right? You leave me alone for 5 minutes and I'll be so much nicer next time you ask me to reattach your mermaid's arm).
You should see lots of foamy bubbles on top and it should smell "yeasty".
Now things start getting really delicious. Attach the dough hook to your mixer and ADD 2 cups of the grated Parmesan cheese and give it a quick stir. Then ADD the flour, 1 cup at a time, mixing until each addition has no more streaks of flour.
COVER the bowl with a damp towel and let it do its rising thing while you have a dance party, take a nap, or go play soccer outside with the kids. That's the great thing about bread, it likes to be left alone.
Once the dough doubles in size (should take about an hour), remove and place on a lightly floured surface. Separate dough into 3 even balls.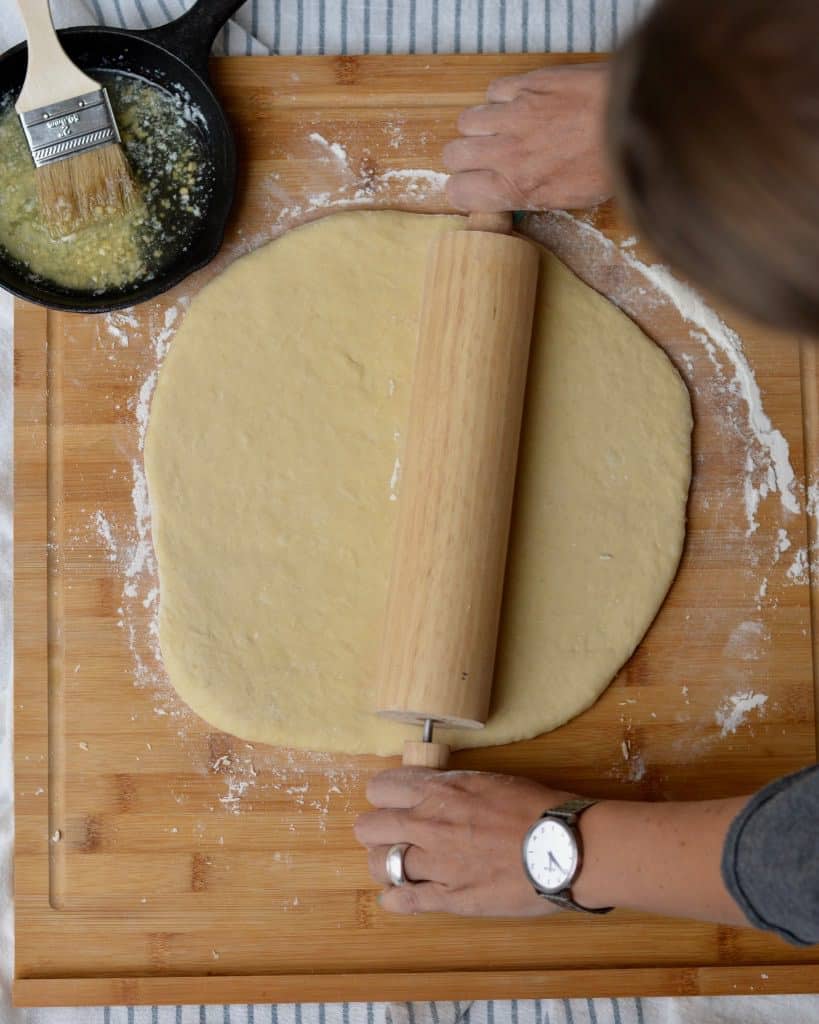 Starting with one dough ball, roll it into a 10" circle.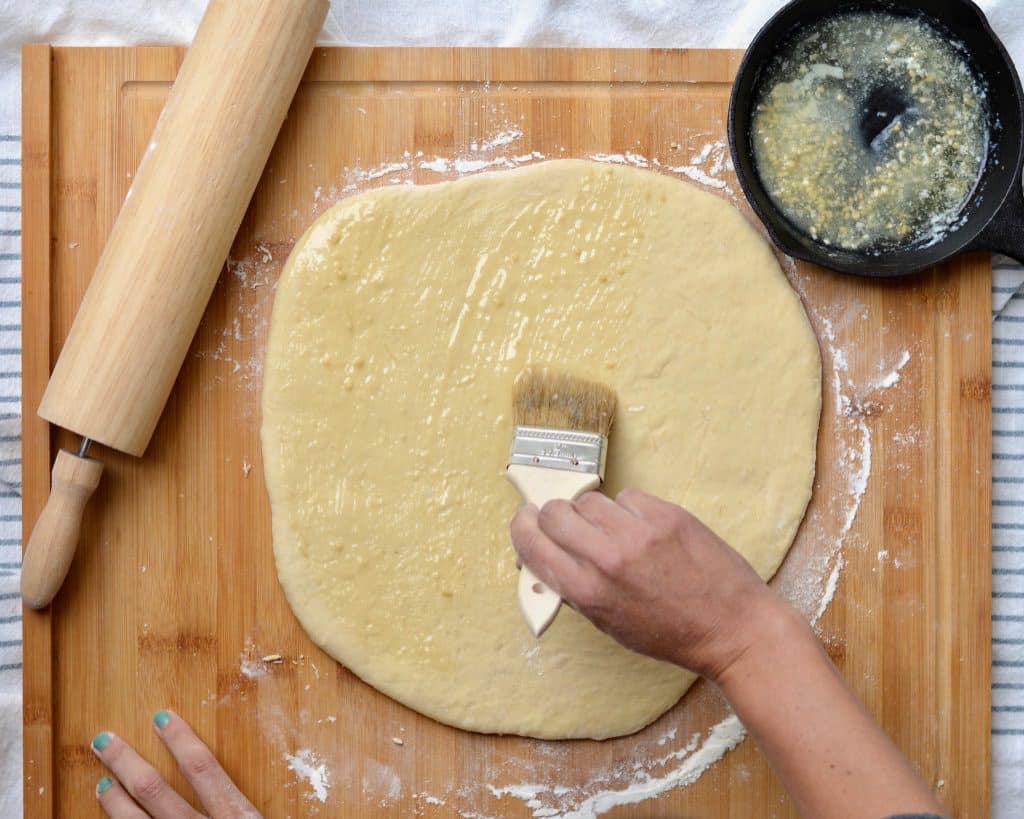 Brush lightly with melted butter (we added garlic to our butter, optional, but totally yum!).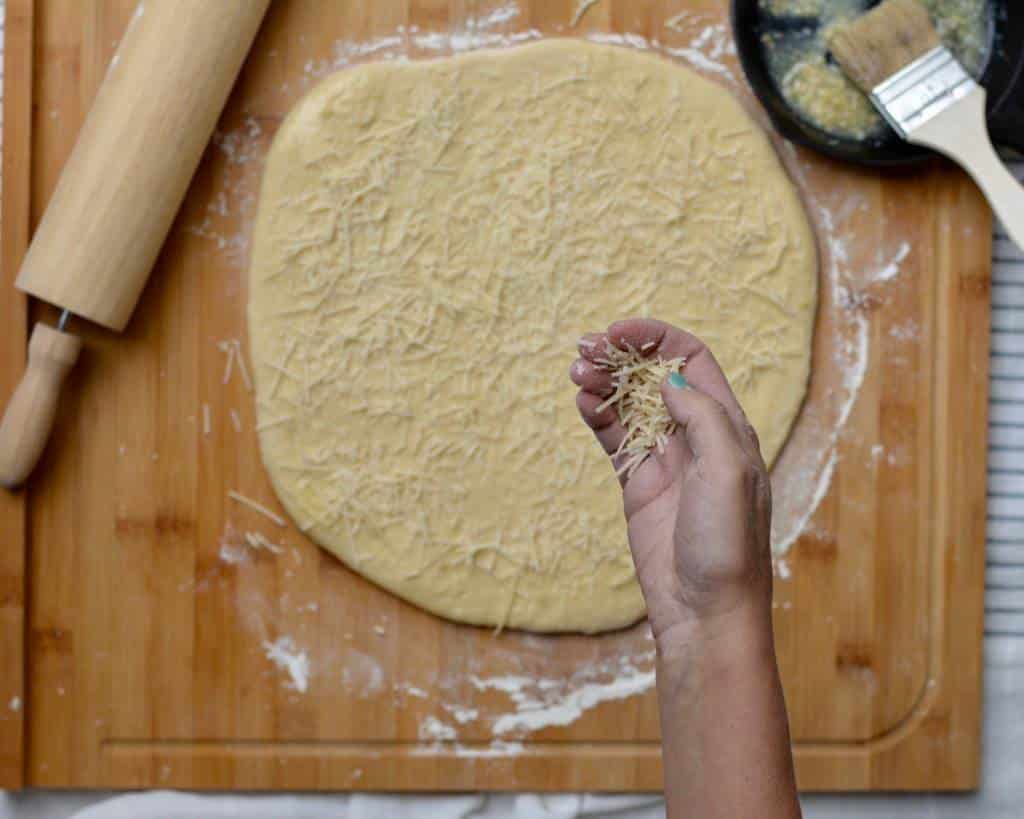 Sprinkle ⅓ cup of parmesan over dough.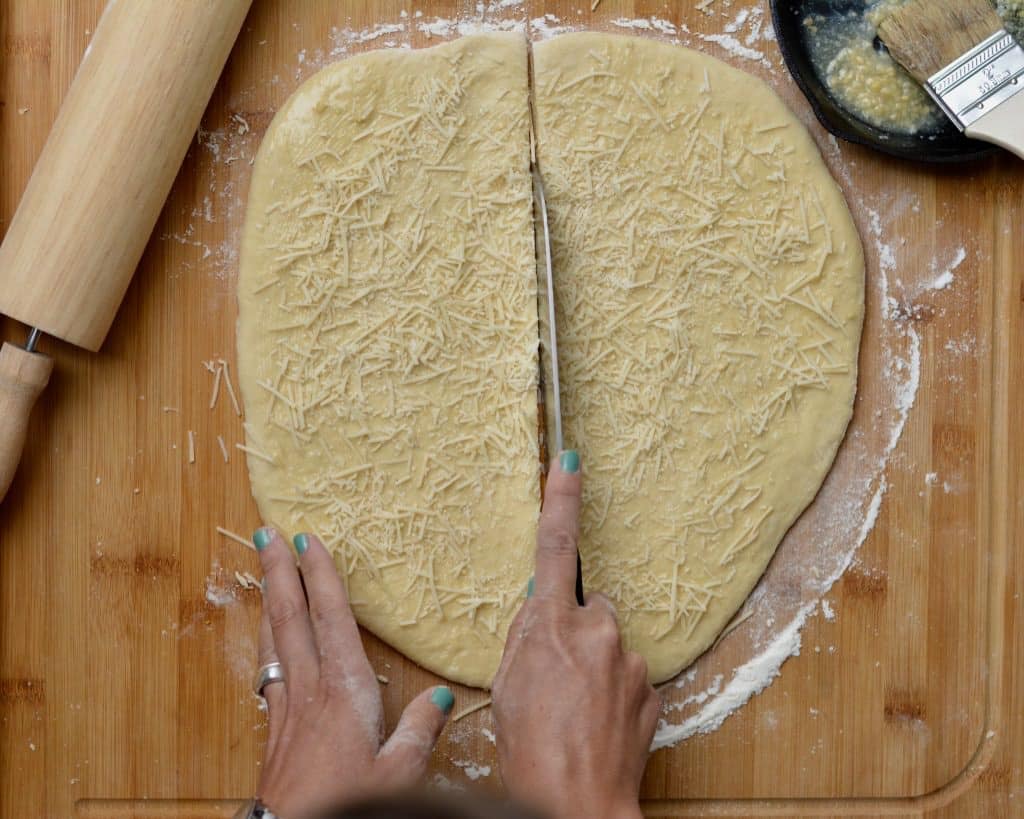 Slice it up like a pizza into 8 even triangles.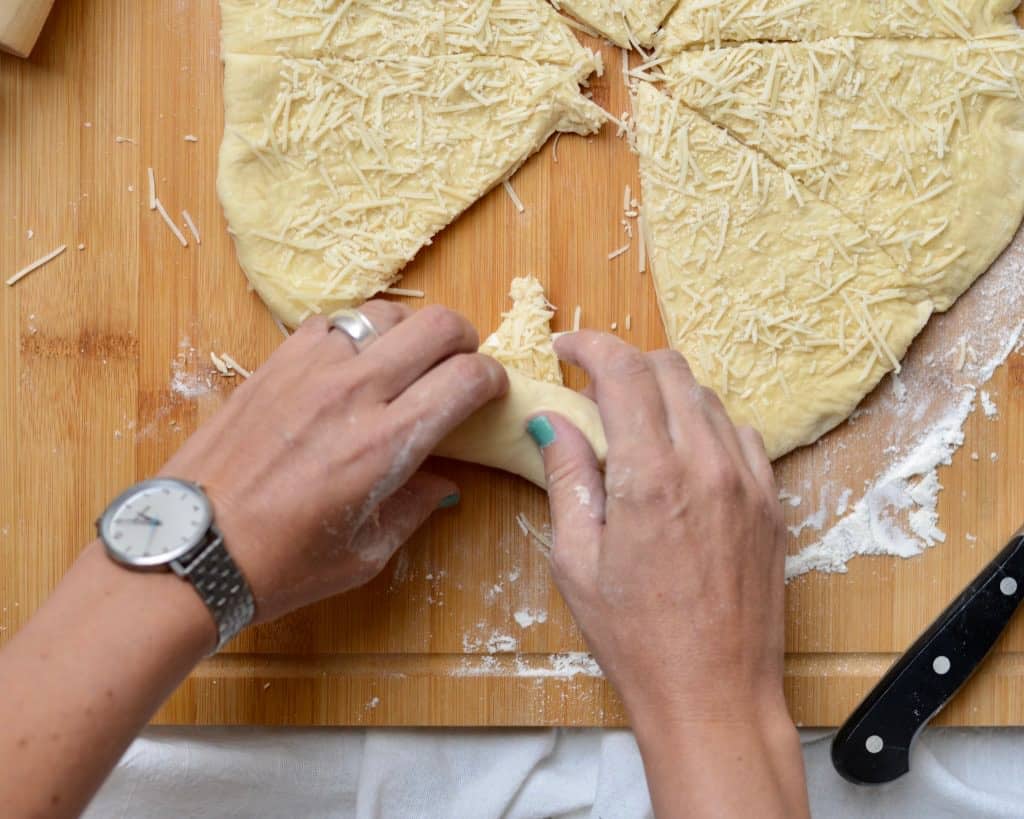 Now roll from the outside in to get that classic crescent roll look. Give it a little pinch at the tip of the triangle to close it up.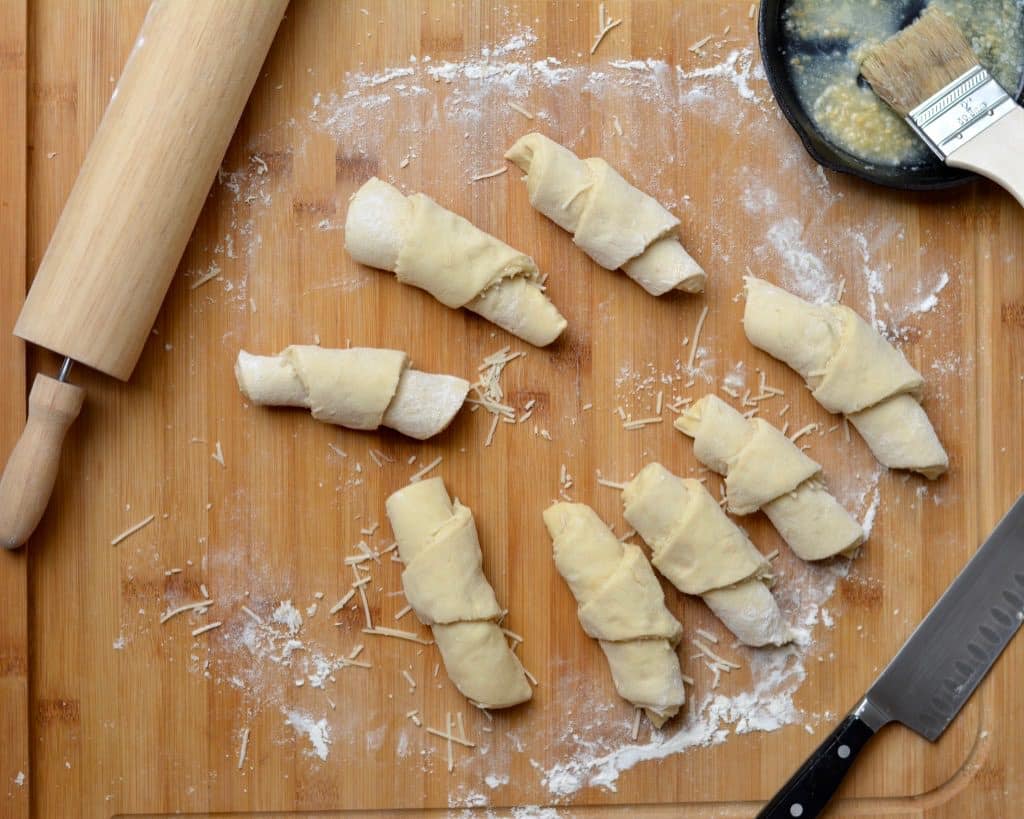 Look how cute they are! Repeat the previous steps with the other 2 dough balls.
Place Parmesan Crescent Rolls onto lined baking sheets leaving a few inches around each to allow to expand. Now, this second rise is technically optional. We've done it without the second rise and they still look and taste amazing. But to keep Paul Hollywood happy, give it a second rise for about 30 minutes or until doubled in size if you have time. Just cover the rolls with that same moist towel and go learn how to cha cha.
Turn the oven on to 350°F. Melt butter and brush the top of each crescent roll. BAKE for 26-32 minutes or until tops are golden brown.
Once out of the oven, you can give each roll another brush with butter and a sprinkle of more parmesan, but this is optional, it's really just for looks.
Side note: we baked some of ours with Parmesan on top, but it tends to burn a bit while being baked. Even though we love the taste of crispy cheese (who doesn't?) we decided it didn't look as pretty, so we don't recommend doing it that way.
And there you have, amazing, fresh Parmesan Crescent Rolls! Ours may look a little more rustic than the ones from the tube, but there is absolutely no comparison for taste!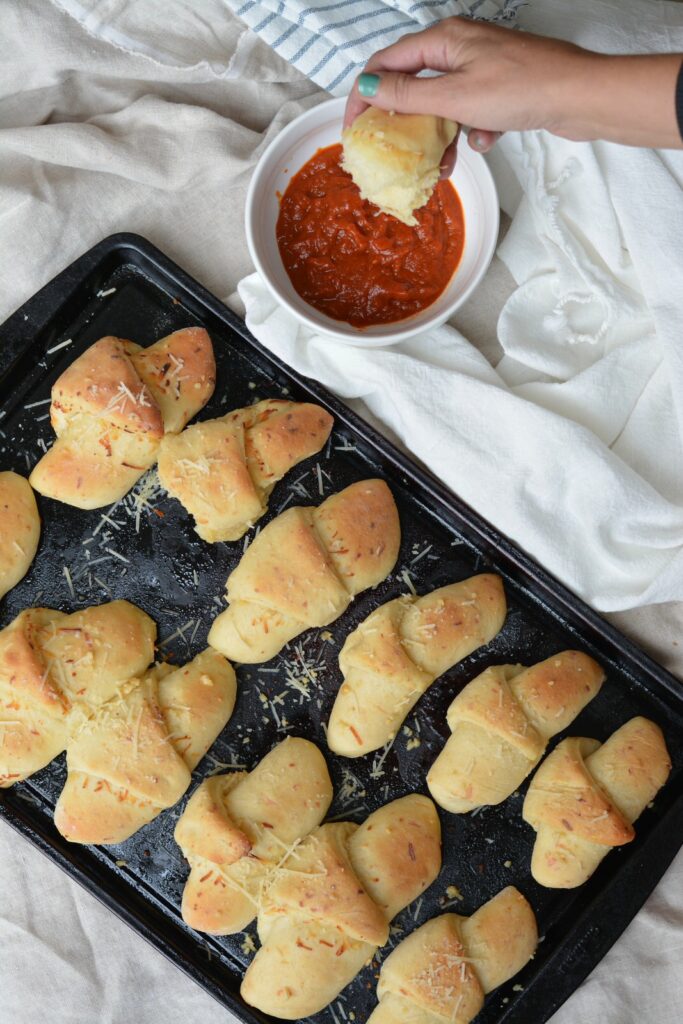 Love these Parmesan Crescent Rolls? Try these other amazing bread recipes!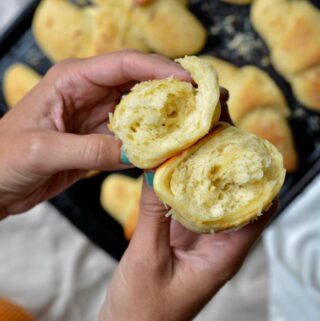 Parmesan Crescent Rolls
Perfectly soft and fluffy homemade crescent rolls for the ultimate dinner bread or snack.
Print
Pin
Rate
Ingredients
3

C

parmesan blend

divided

1

C

milk

1

C

water

⅓

C

granulated white sugar

½

C

butter

divided

3

teaspoon

salt

1

egg beaten

2

tablespoon

instant yeast

6

C

all-purpose flour
Instructions
Preheat oven to 350°F. Line a baking sheet with parchment paper, set aside.

In a sauce pan combine milk, water, sugar, 4Tbsp butter and salt over medium heat. Heat until warm (not hot or boiling).

Pour into the large mixing bowl of a stand mixer.

Slowly whisk in egg (adding slowly stops it from scrambling the egg)

Add yeast. Allow to sit and "bloom" for about 5 minutes until foamy and smells "yeasty".

Add 2 cups cheese.

Using a bread hook, mix in flour on low speed 1 cup at a time

Cover with a damp towel and let rise until doubled (about 1 hour).

Remove dough and divide into 3 separate balls.

Roll out first dough into approximate 10 inch circle. Cut into 8 slices, just like slicing a pizza. In fact, we like to use a pizza cutter for this step.

Melt 4 tablespoon butter in a small bowl. Brush the whole circle with melted butter. Sprinkle with ⅓ cup of the remaining Parmesan cheese.

Starting at the outside of the circle, roll up to the tip of the dough to get the classic crescent shape.

Place on a lined cookie sheet, repeat with remaining dough balls.

Once all the crescents are rolled, allow for a second rise for about 1 hour.

side note: If you are in a rush you can skip the second rise.

Brush tops with remaining butter and sprinkle with parmesan.

Bake for 26-32 minutes or until tops are lightly browned.

Eat hot right away, but tastes just as great at room temp.

Will keep covered in the fridge for 5 days.