When you want that soft, buttery dinner bread with the least amount of effort possible, this pull apart bread is the recipe you should grab, for sure. It's so stinkin' cute, it makes an edible centerpiece AND it's super delicious. We like it served warm with salted butter (or a herb-y butter). Goes great with just about any meal and comes together with very little effort. Plus, it acts as another piece of cutlery—perfect for soaking up sauces, juices and gravies. OH MY!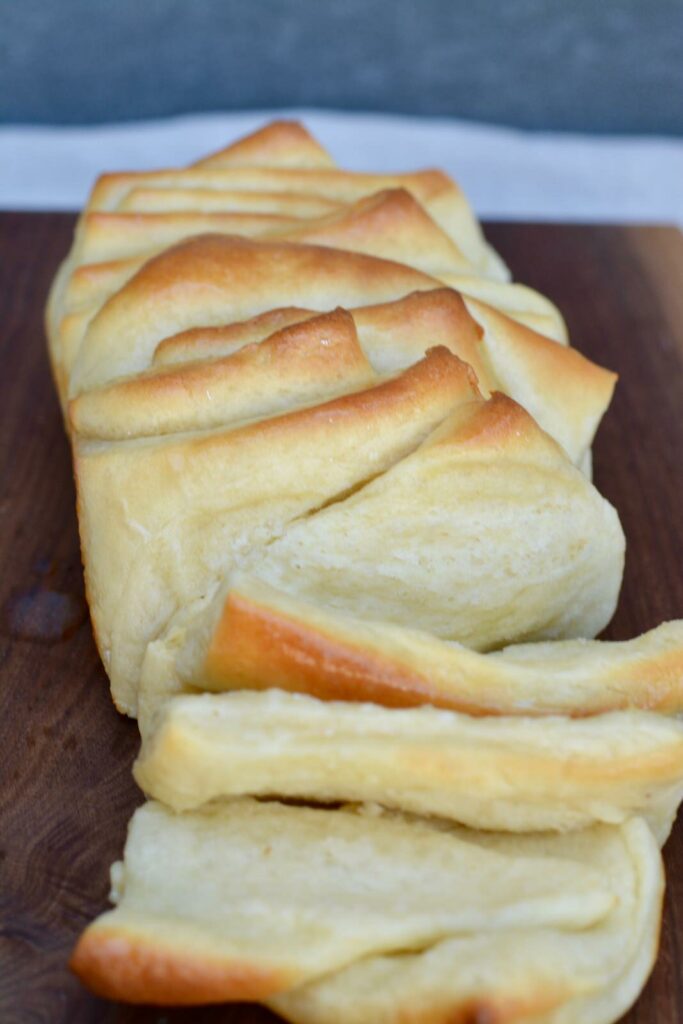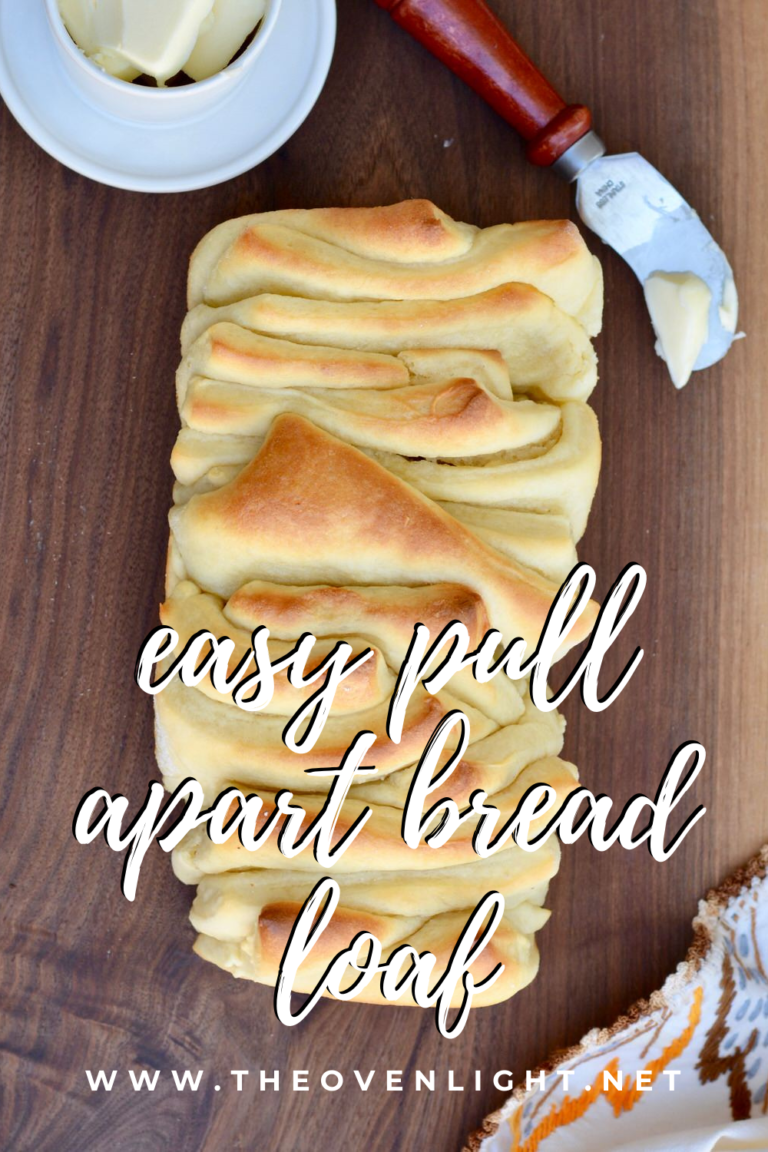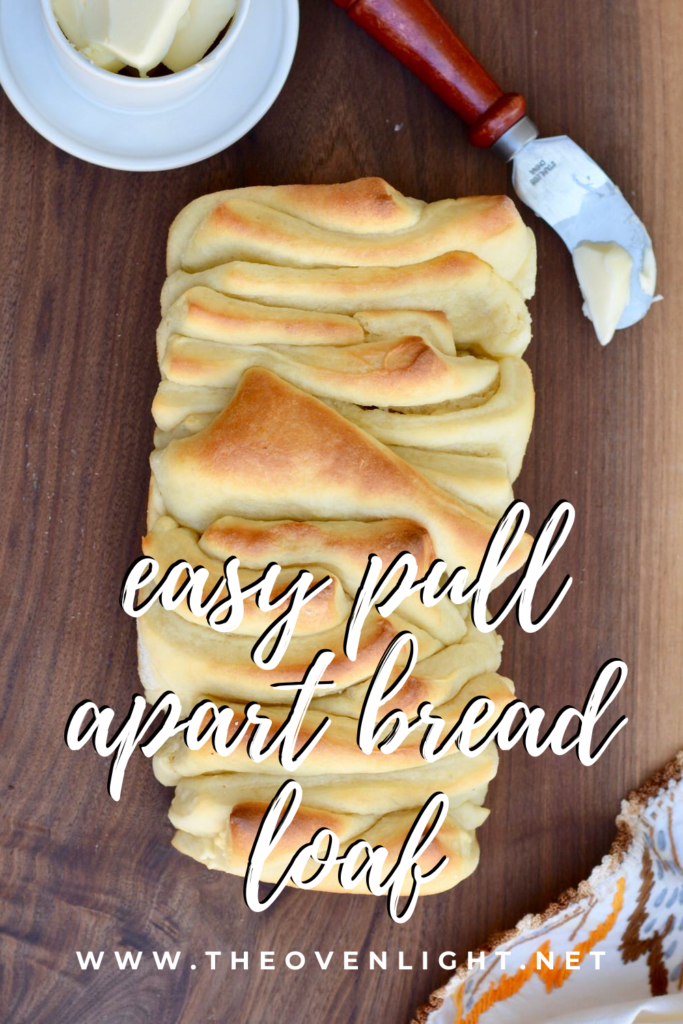 Ingredients to make this rustic dinner bread
Milk - Using milk in bread recipes give a soft and fluffy texture, a fine crumb and helps the bread keep fresh longer.
Sugar- The sugar acts as "food" for the yeast, helping it to activate. It also gives bread a great flavor and makes it turn that beautiful golden brown.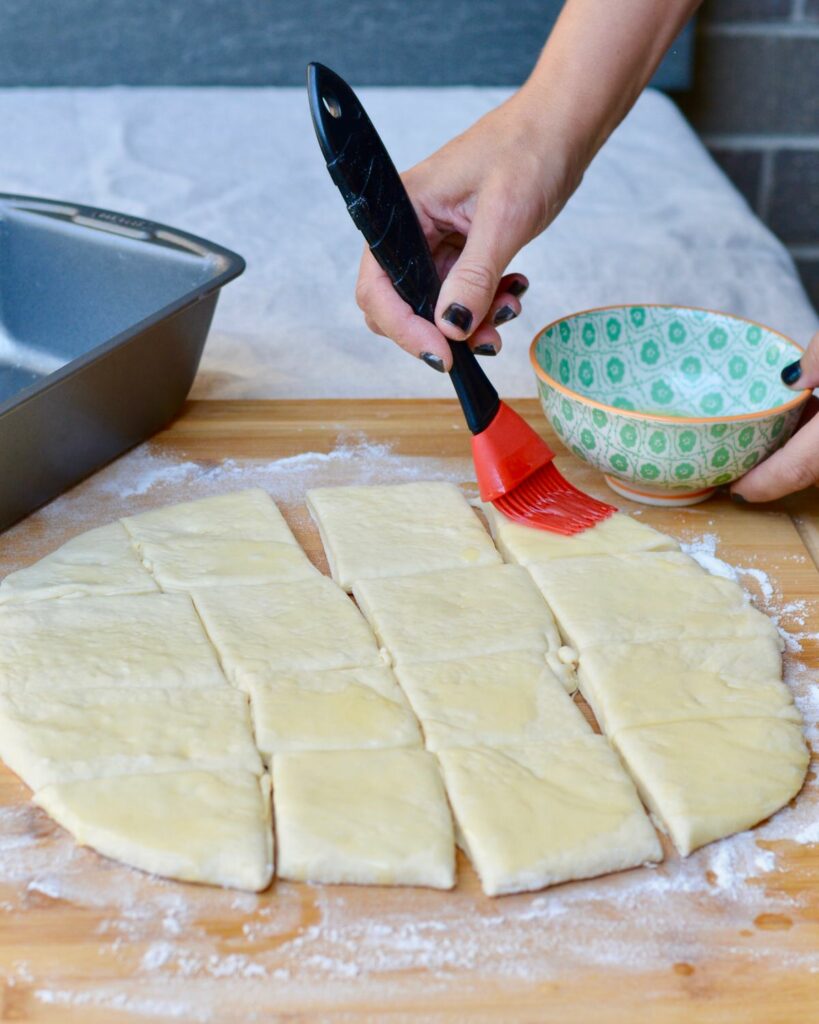 All-Purpose Flour (or Bread Flour) - "The main difference between bread flour and all-purpose flour is a matter of protein. Bread flour, which comes in white and whole wheat varieties, has a higher protein content than all-purpose, usually 11-13%. It's called "bread flour" because most bread requires higher amounts of protein to produce lots of gluten."
-BonAppetit.com
Flour Side Note: We tend to use all-purpose flour because it's what we have on hand and it still works great. No need to make a special purchase for this recipe, but if you have bread flour on hand, it will give this recipe an extra gluten boost.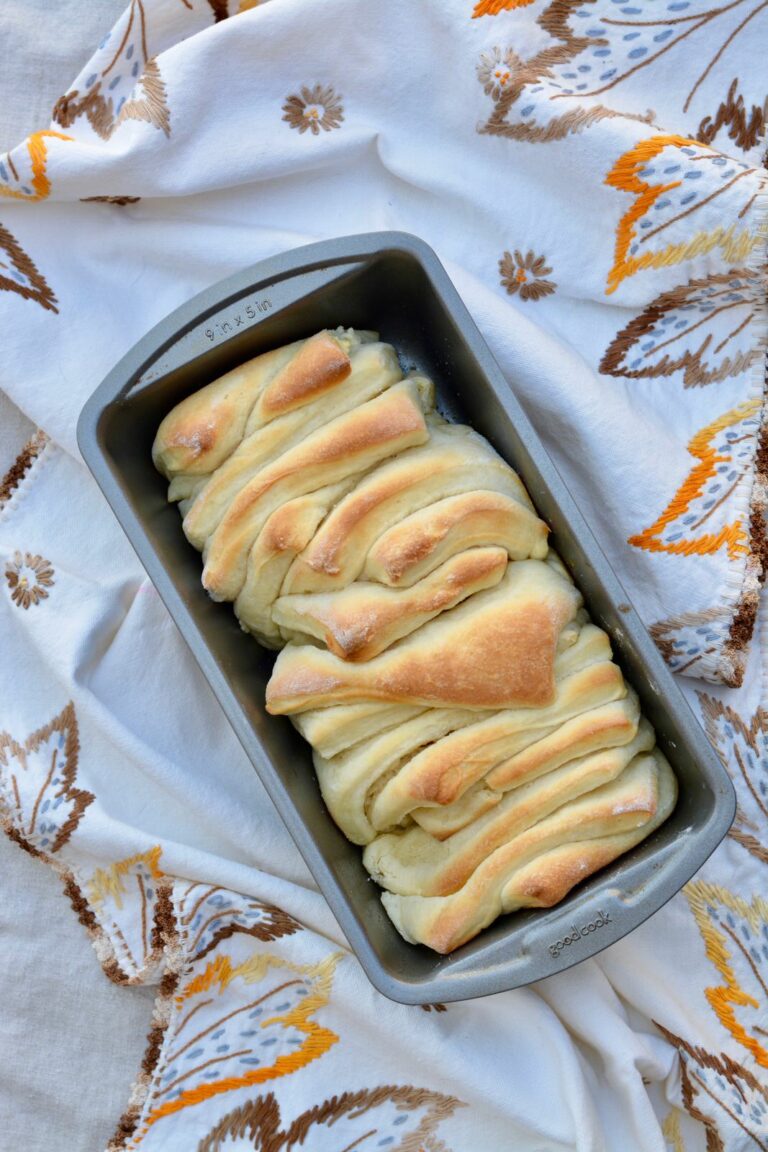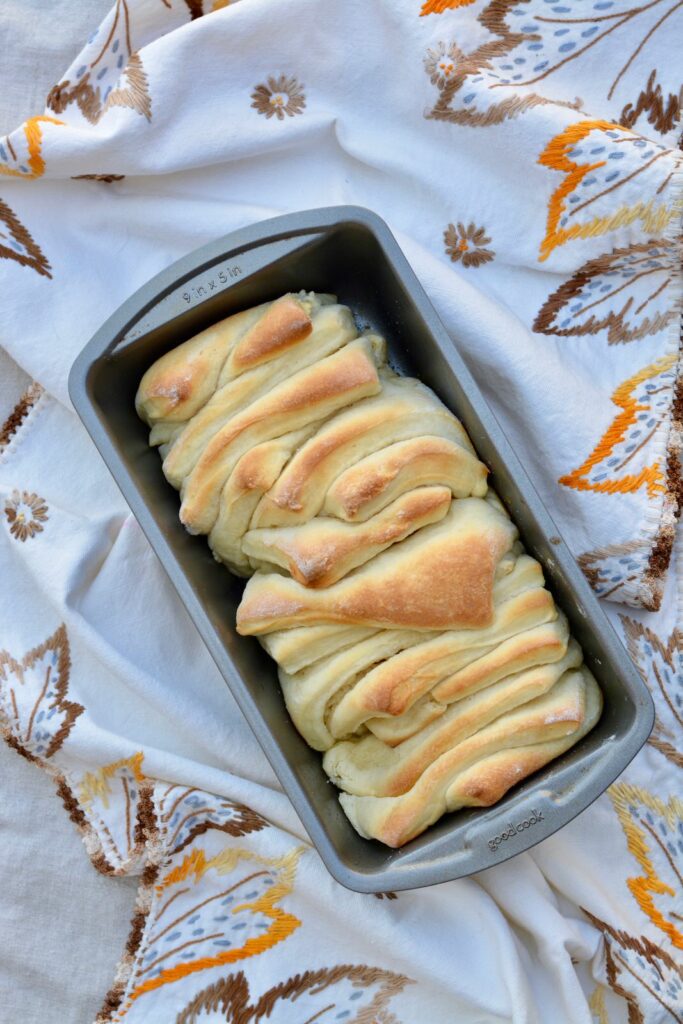 To make this pull apart bread, simply...
To make this bread, you'll need a mixer fitted with the dough attachment, mixing bowl, a saucepan, loaf pan, small bowl for melted butter and non-stick spray. Grab those items as well as your ingredients and let's get started!
FIRST, warm up the milk, water and 2 tablespoon of butter in a small saucepan until about 110°F or until warm but not hot. Remove and pour into a mixing bowl.
NEXT, add the salt, sugar and active dry yeast. Allow to sit for 10 minutes until the yeast has "bloomed" and is foamy and smells so deliciously yeast-y.
Turn the mixer on low, slowly ADD flour. MIX until dough starts to pull away from the edges, or about 5 minutes. If the dough is still sticky, add flour, 1 tablespoon at a time until dough pulls away and begins looking smooth.
Cover bowl and allow to RISE until doubled, about 1 hour.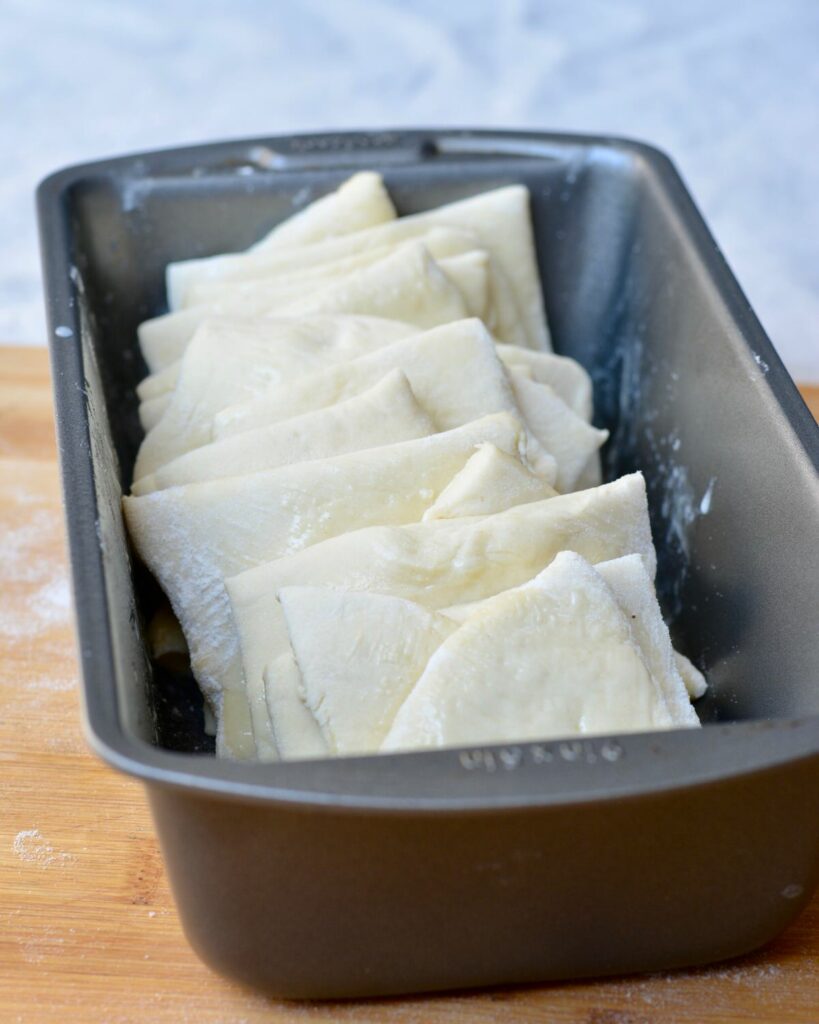 Bread Rising Tip: If your house is really cold, turn the oven on to 150°F. Once it reaches temperature, turn it off and then place the bowl with the dough in the oven to prove. This will ensure a rise time in one hour or less.
Once dough has doubled, remove onto a floured surface. ROLL out to a square close to 12 x 12 inches. CUT into 16 squares (we like to use a pizza cutter to make this really easy).
Spray a loaf tin with non-stick cooking spray. MELT the other 2 tablespoon butter.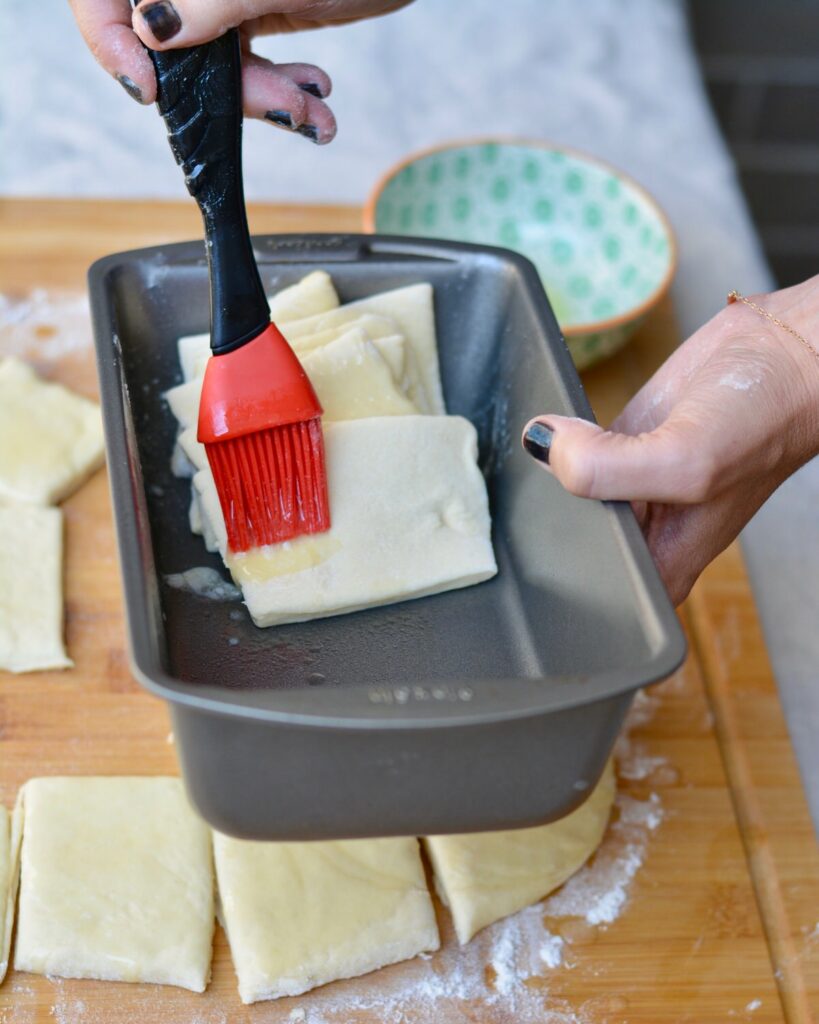 One at a time, place a square of dough into the loaf pan (we l-o-v-e this loaf pan from Williams Sonoma), and butter each side. See picture above for a visual. Once all the dough is in the pan, it's time for the second rise! COVER and allow to rise for another hour or until doubled in size.
While pull apart bread dough is rising, preheat the oven to 375°F. BAKE for 30 minutes or until the tops are a deep golden brown and bread sounds hollow when tapped.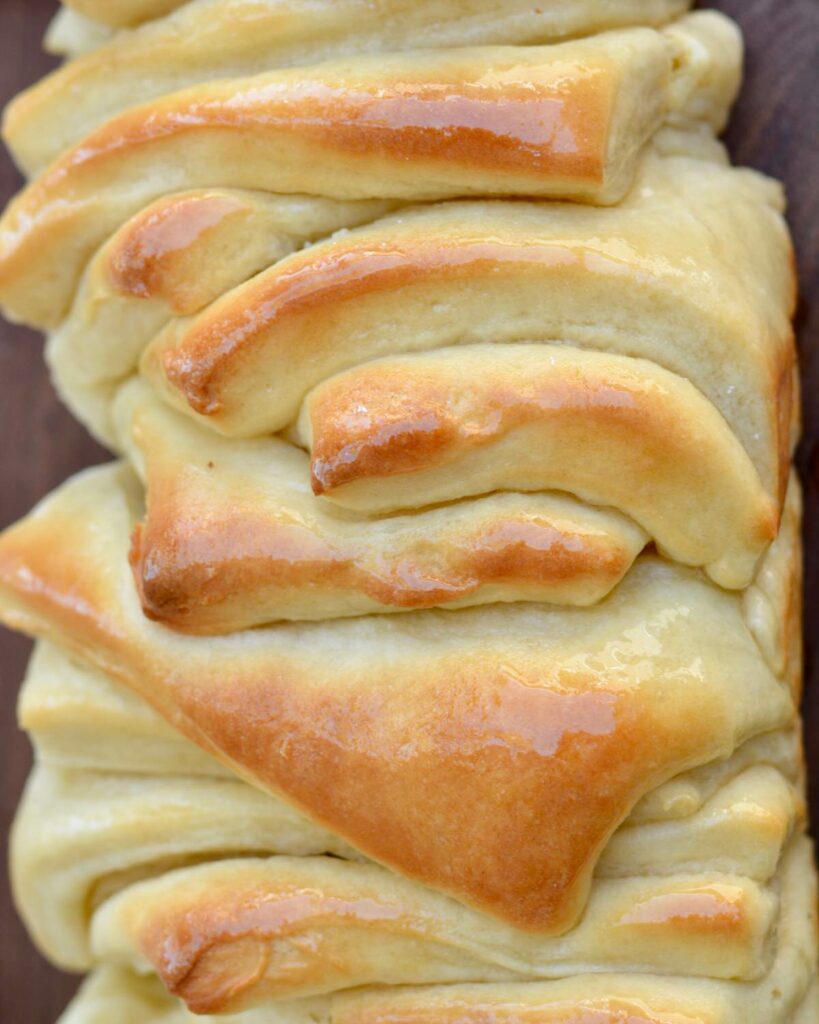 And you're DONE!!! Serve this pull apart bread while warm with some butter, or if you feel fancy, make some herb butter. This makes a really cute, rustic centerpiece that encourages sharing and has become a staple to our dinner time routine.
If you're on the hunt for other simple dinner breads, try out one of these recipes tonight:
Homemade Parmesan Crescent Rolls
Super Simple Focaccia
Cheddar Muffins
Love this pull apart bread loaf recipe? Try these other simple bread recipes!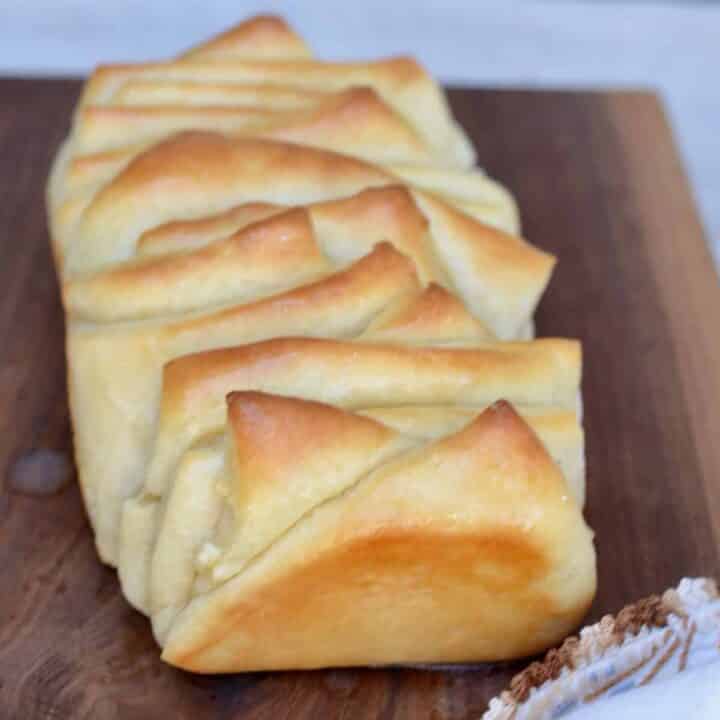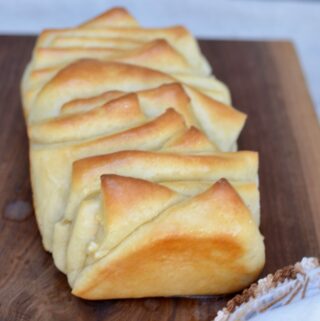 Ingredients
½

C

milk

-

2% or whole works best

½

C

water

2

tablespoon

sugar

½

teaspoon

salt

4

tablespoon

unsalted butter

-

divided

2 ¼

teaspoon

active dry yeast

-

or 1 packet

2-2 ½

C

all-purpose flour
Instructions
Heat milk, water, and 2 tablespoon butter to 110°F (or to warm but not hot)

Pour into stand mixer. Add sugar, salt, and yeast. Allow yeast to sit and "bloom" for 10 minutes or until foamy and smells yeasty.

Turn mixer on low. Slowly add flour.

Dough should pull away from the sides of the bowl and no longer be sticky to the touch.

Cover and allow to rise until doubled, about 1 hour.

Roll dough out on floured surface into a 12 x 12 inch square (no need for perfection just approximate)

Cut dough into 16 equal(ish) squares.

Melt remaining 2 tablespoon butter, and brush dough with melted butter.

Grease loaf pan with cooking spray.

Placing one piece of dough in pan with buttered side towards the edge of the pan.

Then butter the dry side of the dough in the pan (see pictures). Repeat with remaining pieces of dough.

Cover and allow to rise 1 more hour or until doubled in size.

Bake at 375° for 30 minutes or until deep golden brown (if top gets too dark before the inside is done, cover with foil and continue baking until cooked through).

Remove from loaf pan and serve hot or wrap in plastic wrap, refrigerate and reheat before serving.