I have loved this Summer Salad combination for as long as I can remember. Only recently did I decide to take this salad to the next level and make my own Poppy Seed Dressing and Spiced Sugar Pecans. And goodness gracious, this is now the ultimate lunch or dinner side. I think you'll agree with me after the very first bite.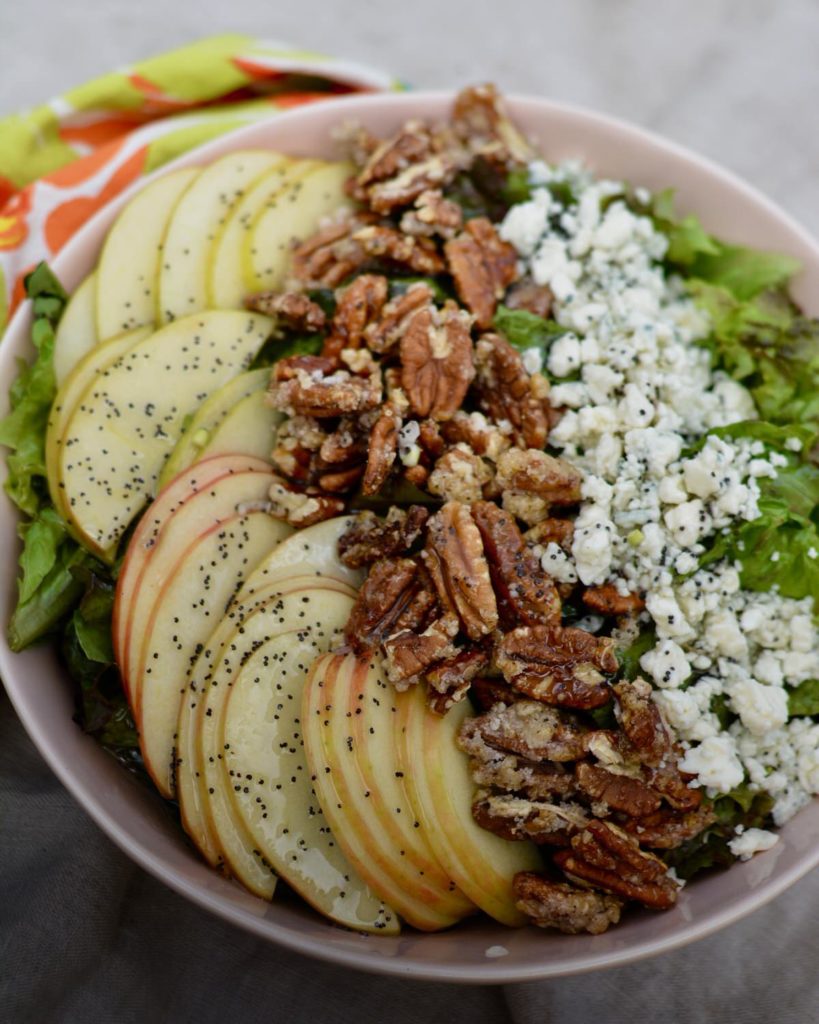 Sign up for our FREE 7 Day Simple Meal Plan!

Ingredients for the ultimate summer salad
Fresh Salad Mix – I really love a baby spring mix, but use any fresh salad mix or lettuce you like.
Spiced Sugar Pecans – These are my ultimate snacking nuts as well as my favorite salad topping. They add that perfect crunch, sweetness and hint of spice from the pepper.
Blue Cheese – I recently bought a container of blue cheese that weighs in at 1.5 pounds. Is that too much? I'm completely confident I'll use it up before it goes bad. I LOVE blue cheese. But you can also use feta or soft goat cheese if you prefer.
Fresh Apples – Gala, Fuji, Granny, Delicious, Jazz, whatever your favorite, it'll be amazing on this Summer Salad.
Poppy Seed Dressing – Quickly shake up this sweet and tangy salad dressing, full of crunchy little poppy seeds. So delicious and fresh! It really puts this salad over the top.
To make this amazing salad, simply…
FIRST, make these Candied Pecans. They are simply delicious—a bit spicy with lots of sweet sugar. And so simple to make.
NEXT, mix up the Poppy Seed Dressing. Again, super simple, and totally makes this salad something really special.
Now, its just a simple "throw it all together". Slice or dice up the apples and place on top of lettuce along with the pecans and blue cheese. I like to keep toppings in "stripes" or "sections" if I'm presenting it to others; it looks so pretty this way. Top it all off with the Poppy Seed Dressing. And now yo've go the perfect Summer Salad. YUM!
I love making enough of the pecans and dressing so I can snack on this recipe all week long. Such a perfect lunch or a great side along grilled chicken, steak or pork.
Love this Summer Salad recipe? Try these other amazing and healthy recipes!
If you decide to give this recipe a try, be sure to snap a photo to share, tagging @theovenlight and #theovenlight on Instagram or Facebook!