When Chipotle is too far a drive, make an even better carnitas burrito at home! Such an amazingly simple recipe, and perfect for weekday lunch meal prep! Chock full of homemade carnitas, jalapeño pinto beans, cilantro lime rice, Monterey jack queso and plenty of fresh, healthy toppings! Also, side note: I'm terrible at wrapping burritos. It took me at least 3 tries to get it to stay together! Seems so simple, but apparently takes practice!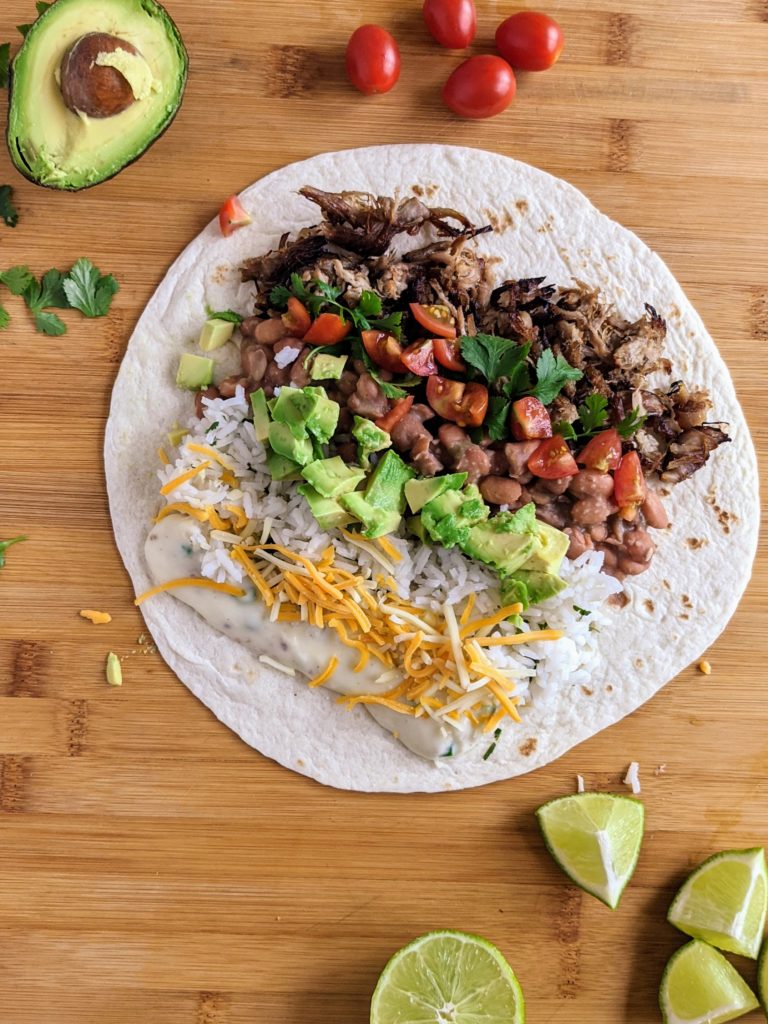 Sign up for our FREE 7 Day Simple Meal Plan!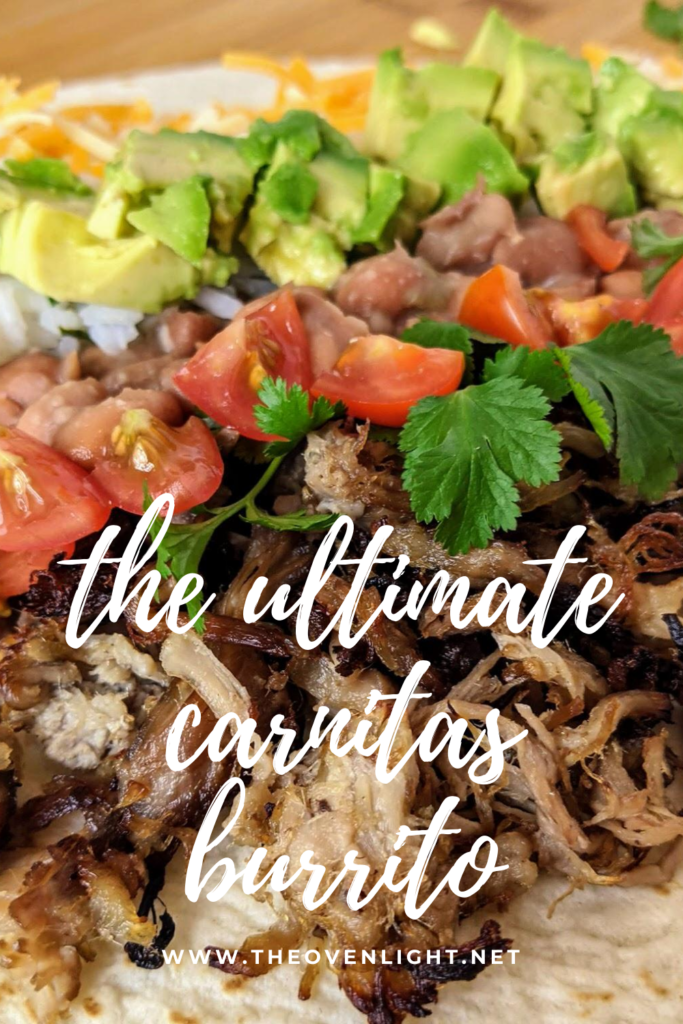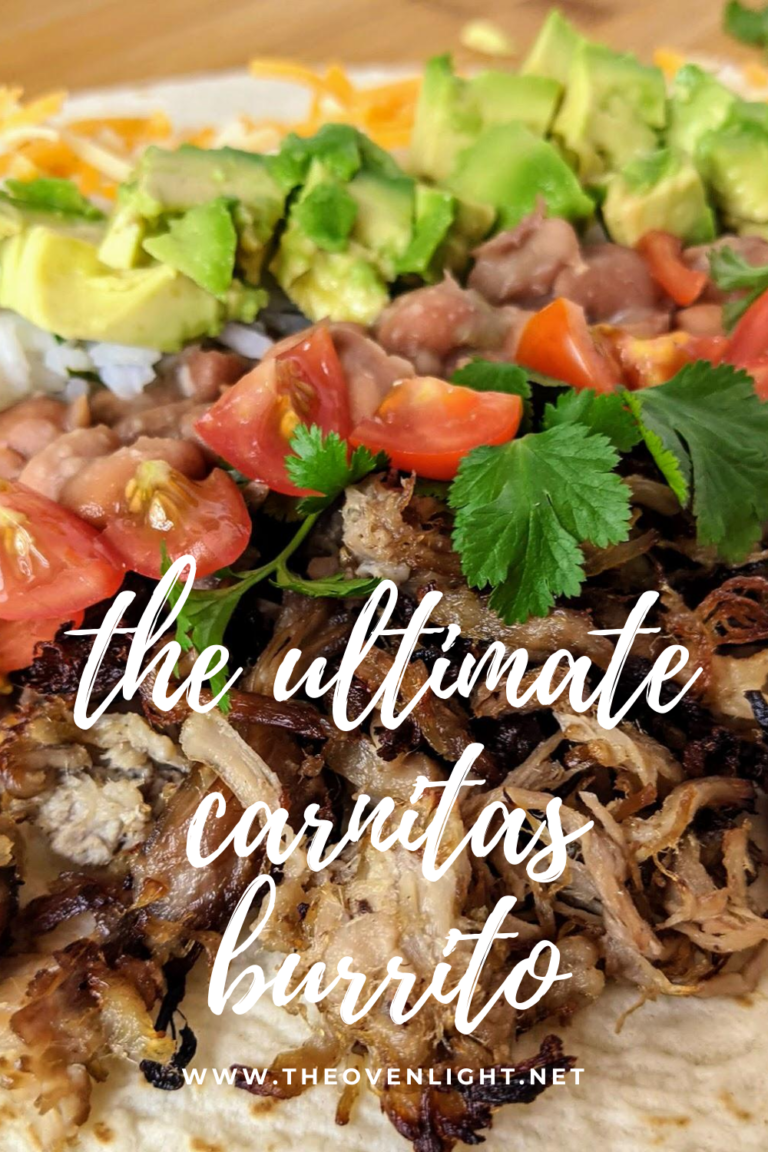 Carnitas Burrito Ingredients…
Carnitas – Grab a pork shoulder/butt and throw it in the crockpot using our popular Best Carnitas Recipe. This recipe will go really far. You can make burritos, nachos, tacos, enchiladas, Mexican casserole…and the list goes on. I like to use half and freeze half for later.
Rice – Our Cilantro Lime Rice recipe is hard to beat. Creamy, tangy and full of Cilantro flavor. It's not just boring, bland rice—this is a flavor you want in your burrito.
Beans – Here we go again. These Jalapeño Garlic Pinto Beans have revolutionized taco night at our house. These are now a must side dish. Perfectly spiced and super healthy.
Queso – Monterey Jack Queso might be the second star of this burrito. It pays a perfect supporting role to the carnitas. Super creamy to make every bite full of moisture and flavor.
Toppings – Once you've got the above flavors in place, add on your favorite toppings. Ours are avocado, tomato, more cilantro and cheese. I also like some pickled jalapeño slices and tapatio if I want to keep things caliente.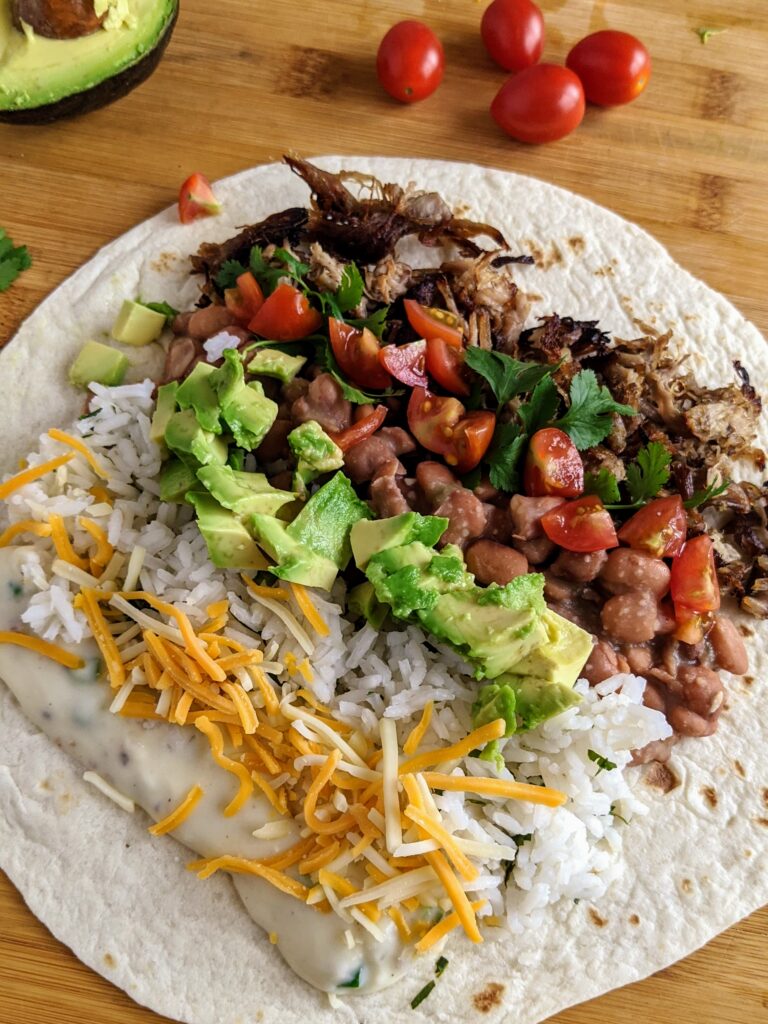 Make it easy…
Lunch is hard enough, that's why I like to have a recipe like this on hand. The carnitas, beans and queso can all be made ahead of time and kept in the refrigerator for up to 5 days. The rice will taste best kept in the fridge for 3 days (the sticky/dry ratio changes and it gets a little hard in some places and soggy in others).
But my favorite way to eat this burrito is to assemble the 4 main ingredients and then freeze them, wrapped in a layer of parchment paper and then foil. Remove the foil and microwave until hot all the way through (about 3 minutes). You can keep fresh ingredients on hand if you want to add those in after warming. Goodbye boring lunch time!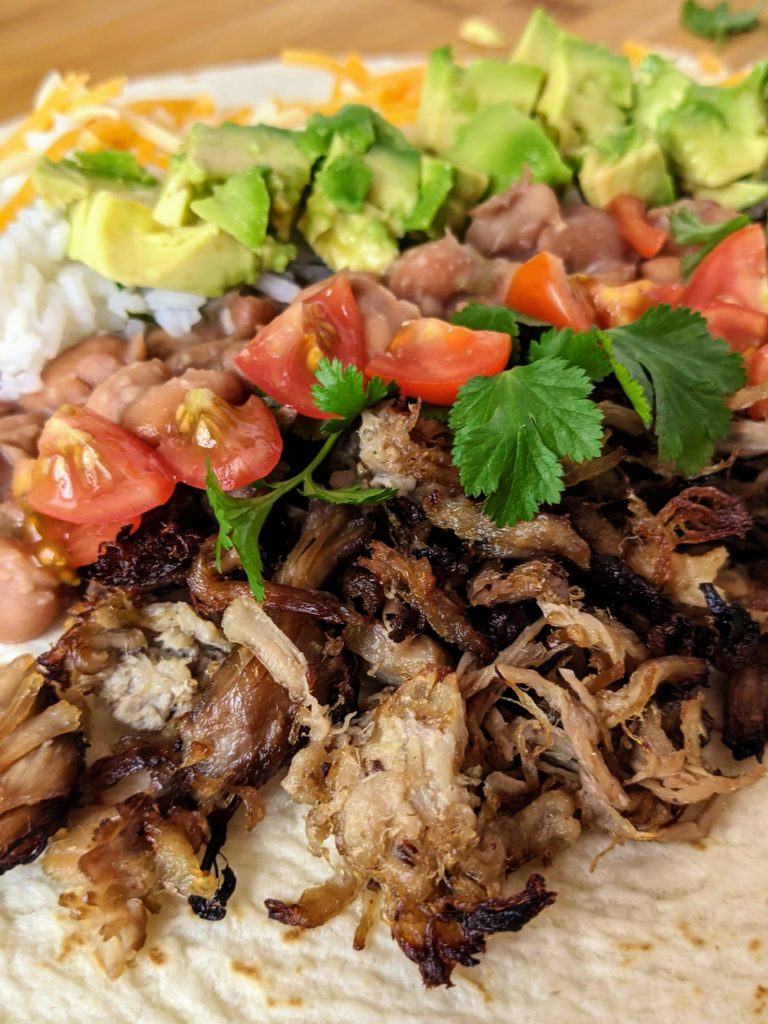 Loving this Carnitas Burrito Recipe? See below for links to all our favorite burrito fillings!