This spiced Gingerbread Pudding Cake is here to welcome you into the holiday season. A piece of this warm cake topped with vanilla bean ice cream or a healthy-sized dollop of whip cream will immediately remind your tastebuds of why you really do love the holidays. Simple to put together and tastes best when served warm. Whip this up in no time for your next family Christmas movie night.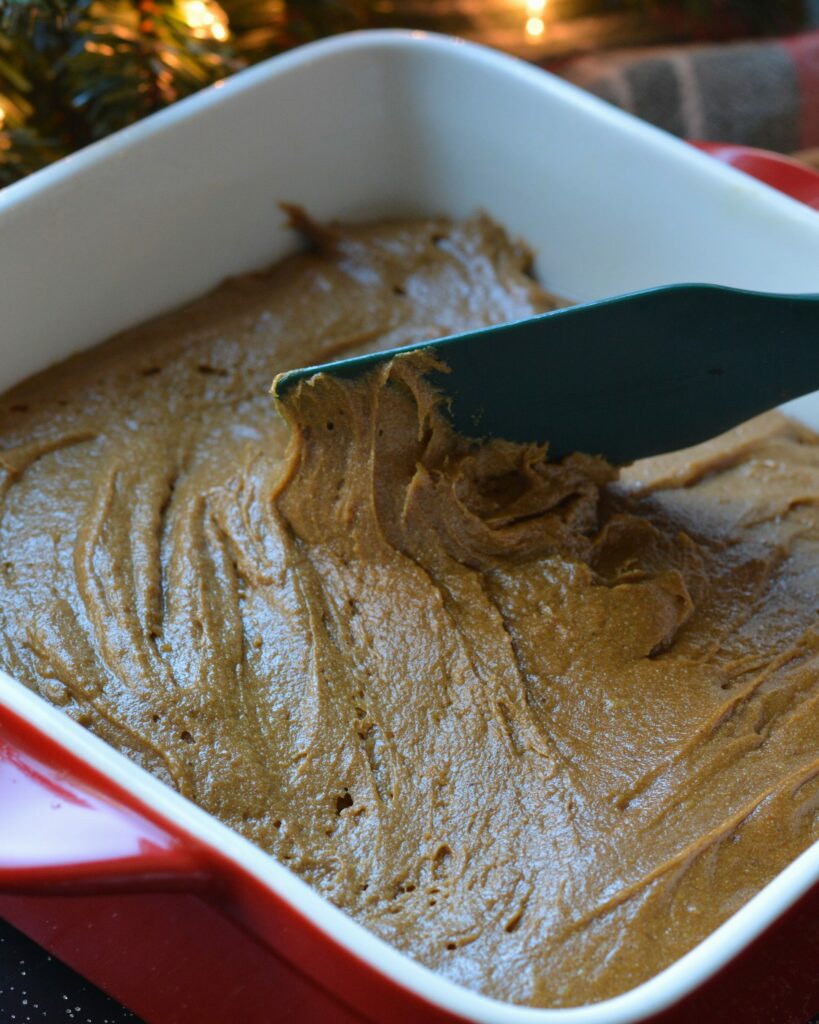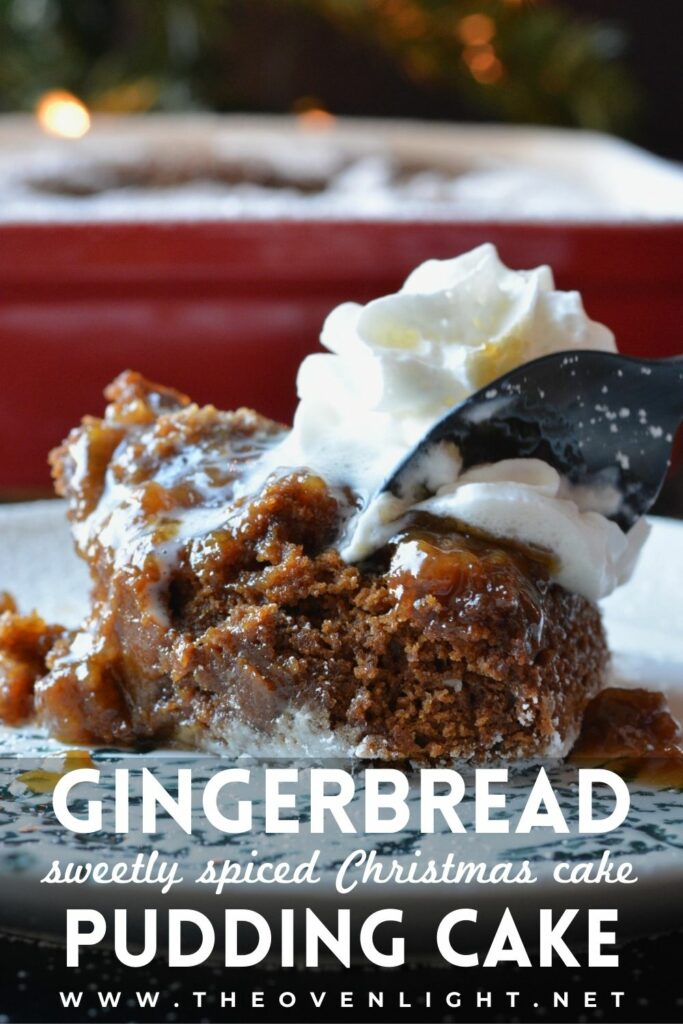 What is a pudding cake?
Here in the U.S. we don't use the word "pudding" to refer to anything other than actual pudding, like in those cups. And don't be mistaken, there is no pudding mix in this cake. In this case, the pudding is referring to the sweet, gooey sauce that magically appears on the bottom of the moist cake.
When the hot water/sugar mixture is poured over the top of the cake, it looks a little like something your kids may have made in the backyard. But never fear! Once baked, the sauce melts to the bottom and the cake sits on top. I like to serve it with the sweet pudding side up, but you can do it however you want.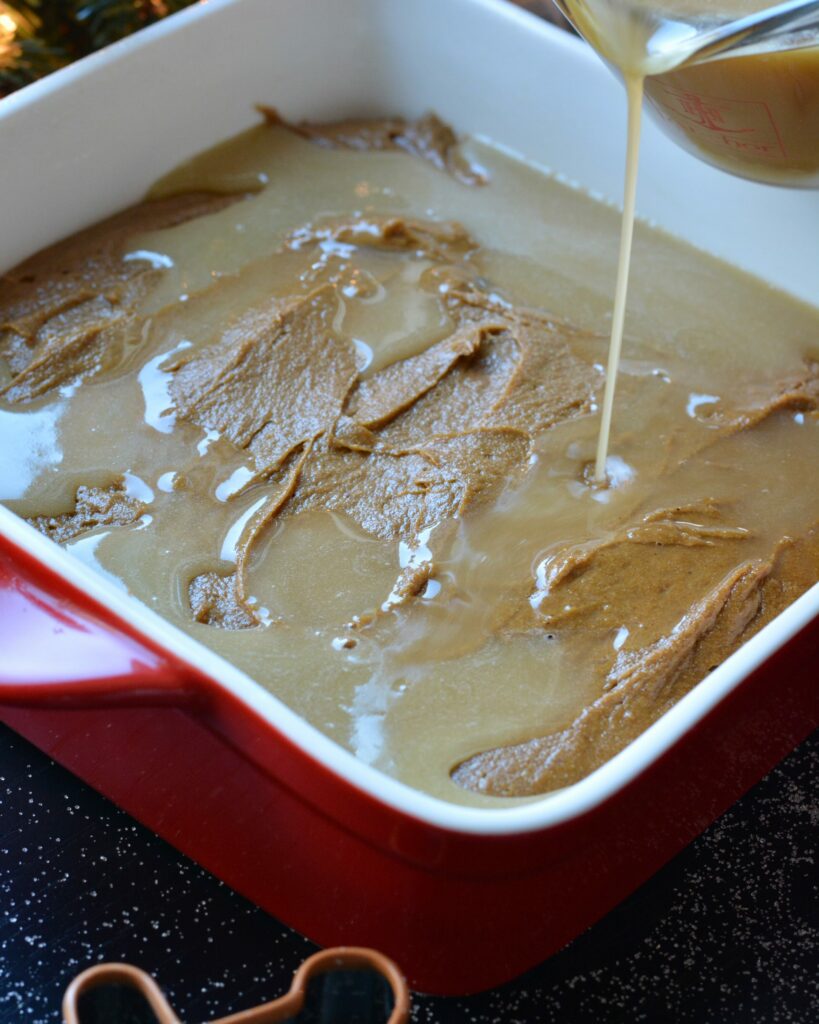 Can I make this cake gluten free?
Yes! In fact, the cake in the pictures is made with the Namaste brand of gluten free flour from Costco. No one can tell it's gluten free, and it's so delicious, no one will complain anyways. Be sure your baking powder is gluten free too.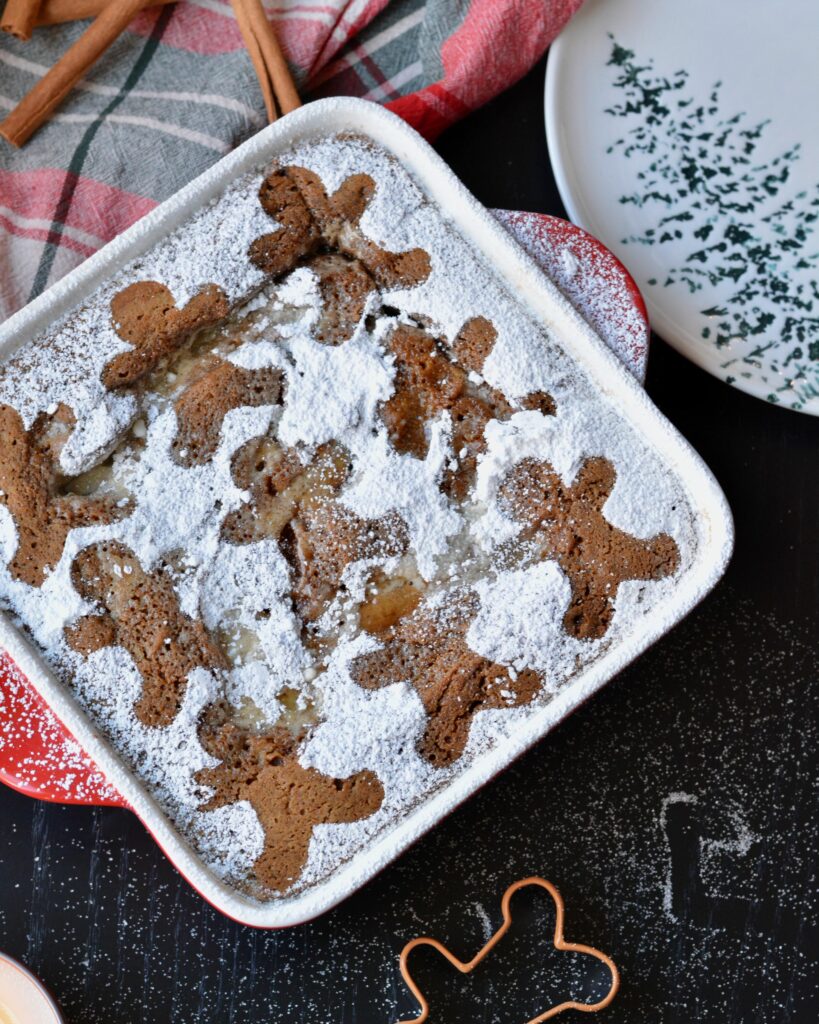 How to Make Gingerbread Pudding Cake
Start by measuring and combining dry ingredients in a medium bowl. All-purpose flour (or gluten-free flour blend), baking soda, ginger, cinnamon, nutmeg and salt. These spices are where you get most of the flavor, so measure carefully and don't leave anything out!
Next, grab a small bowl and mix together the molasses, milk and egg. Be sure your egg and milk are room temperature. I often give my milk about 10 seconds in the microwave, rather then leave it out and take a chance of it going bad before I use it.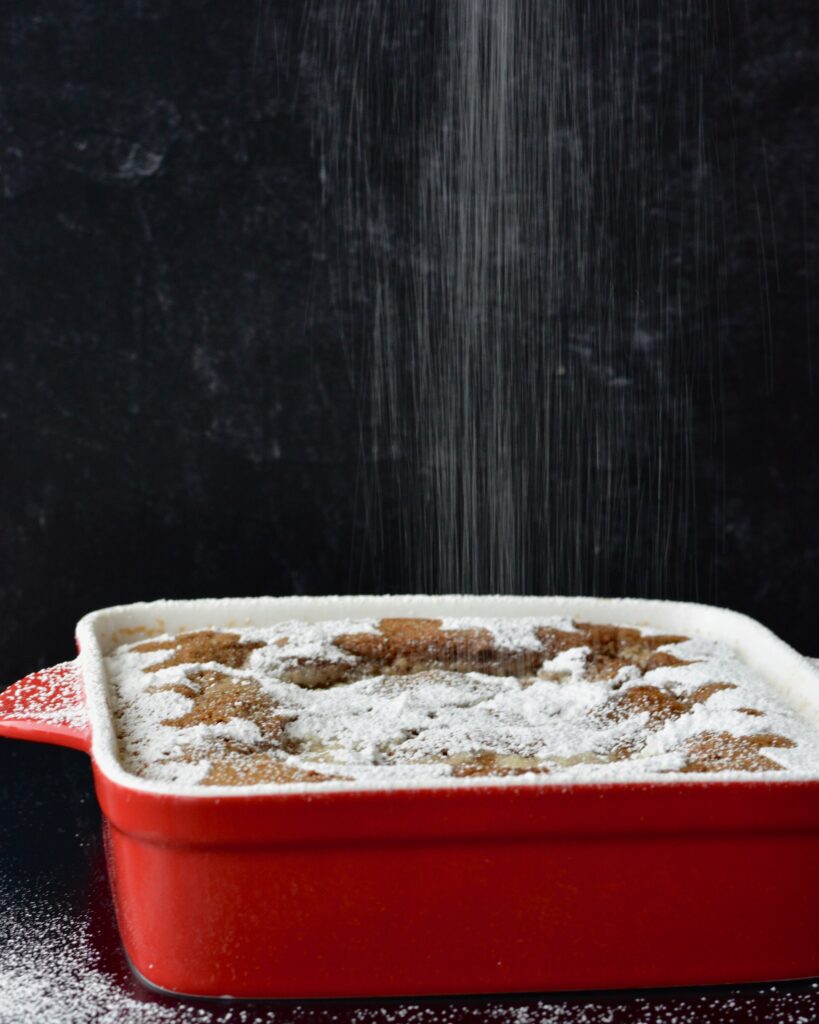 Now you're ready to put the gingerbread pudding cake batter together. Start by creaming together the butter and sugar in the bowl of a stand mixer. Be sure to beat it until it looks light and fluffy. This takes about 3-5 minutes. Be patient, this is an important step to the texture of the cake and the way it rises.
Next, you're going to add the flour mixtures and the wet mixture in 3 turns. While you do this, the batter tends to split and come back together each time. By the end though, you will have a beautifully smooth cake batter that looks good enough to eat! (But don't, obviously.)
Before pouring into an 8" or 9" square pan, be sure to scrape the sides and bottom of the bowl. Pockets of moisture often hide in the bottom of the bowl, and butter can stay pressed against the sides.
Now pour your gorgeous gingerbread mixture into a lightly greased baking pan. Don't bake yet!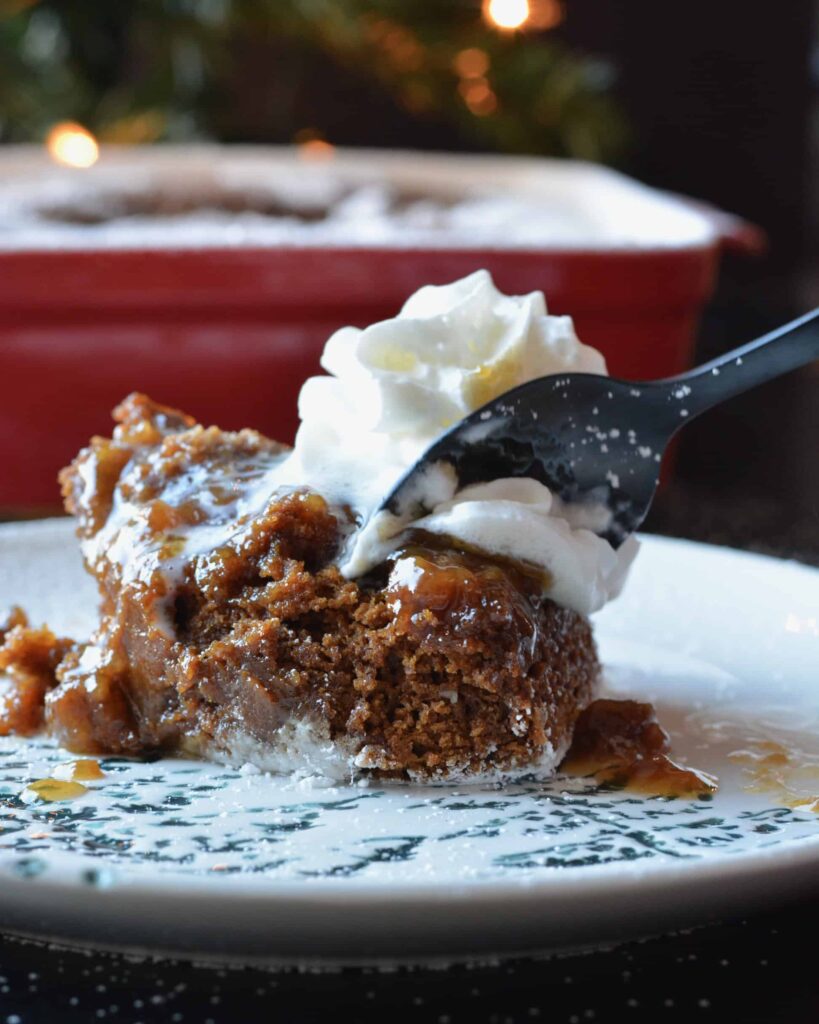 Making the Pudding Mix
In a small bowl, combine brown sugar and cornstarch. Set aside. In another small bowl or a pyrex measuring cup, combine hot water and butter. Stir it up until the butter melts. Pour water mix over the brown sugar mix and stir until combined. Now gently pour the hot water/sugar mixture over the cake.
Without spilling, gently place the cake on the center rack of a 350°F preheated oven. Bake for 35 minutes or until set around the edges and a toothpick inserted halfway down in the center come out clean. If you poke to the bottom it will seem like its not set, since you'll get some of the pudding.
And there you go! You just made the most delicious Gingerbread Pudding Cake around. Serve it warm with a scoop of vanilla bean ice cream or a generous amount of whip cream. This may sound crazy, but I enjoy this just as much the next morning for breakfast or a late-morning snack with my coffee. I prefer a cake with no rules, don't you?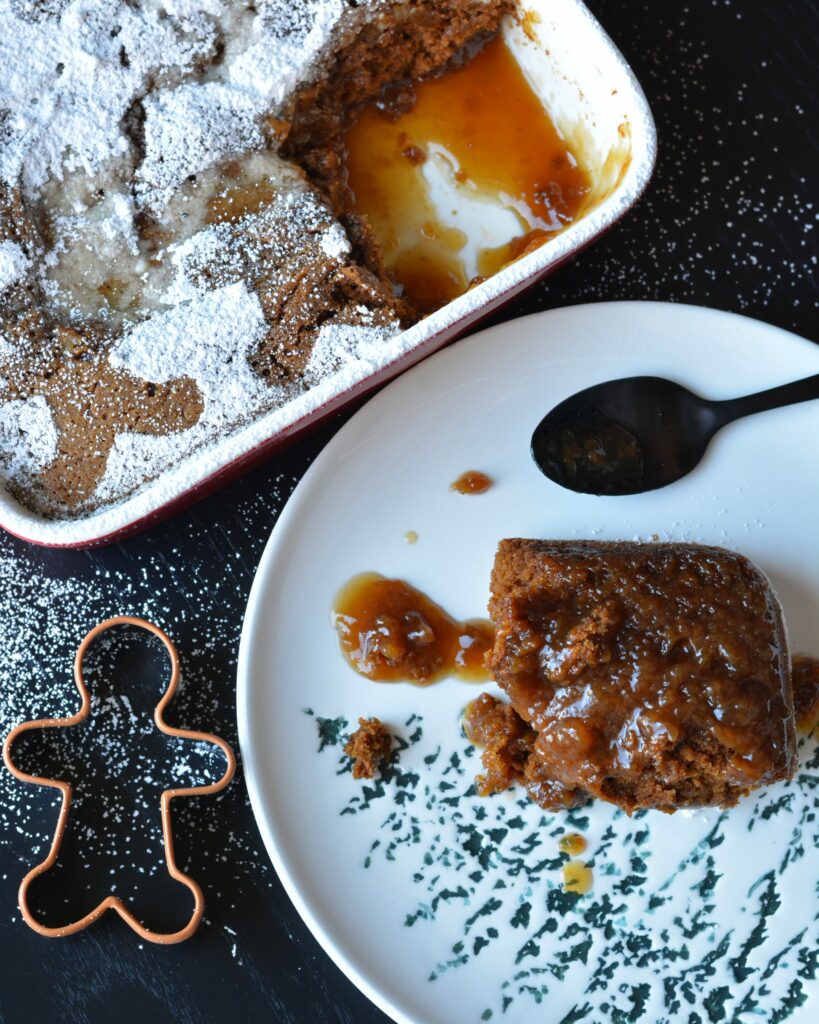 Got any other amazing holiday recipes?
Check out these amazing recipes to try this holiday season! P.S. They can all be made gluten free!
Love this Gingerbread Pudding Cake recipe? Try these other amazing holiday recipes to get your tastebuds in the holiday spirit!