This perfectly spiced soft Gingerbread Cake is here to welcome you into the holiday season. A piece of this warm cake topped with vanilla bean ice cream or a healthy-sized dollop of whip cream will immediately remind your tastebuds of why you really do love the holidays. Simple to put together and tastes best when served warm. Whip this up in no time for your next family Christmas movie night.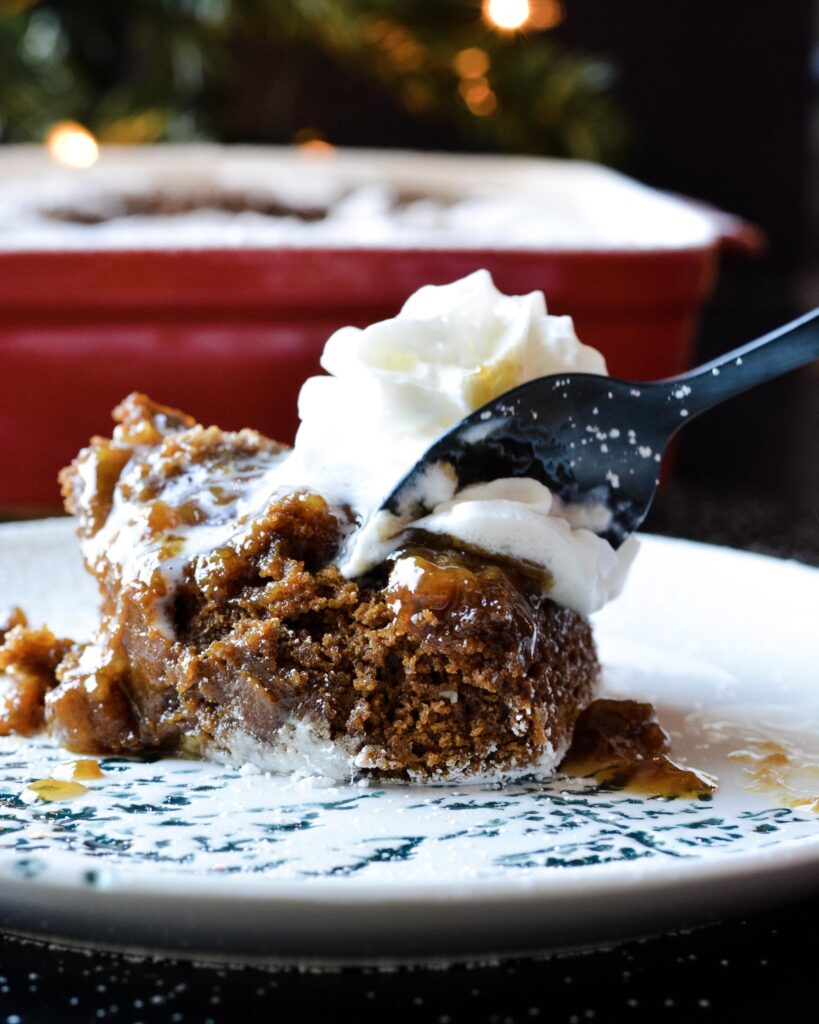 Gingerbread "pudding" cake
Here in the U.S. we don't use the word "pudding" to refer to anything other than actual pudding, like in those cups. And don't be mistaken, there is no pudding mix in this cake.
In this case, the pudding is referring to the sweet, gooey sauce that magically appears on the bottom of this moist spiced cake.
When the hot water/sugar mixture is poured over the top of the cake, it looks a little like something your kids may have made in the backyard. But never fear!
Once baked, the sauce melts to the bottom and the cake sits on top. I like to serve it with the sweet pudding side up, but you can do it however you want.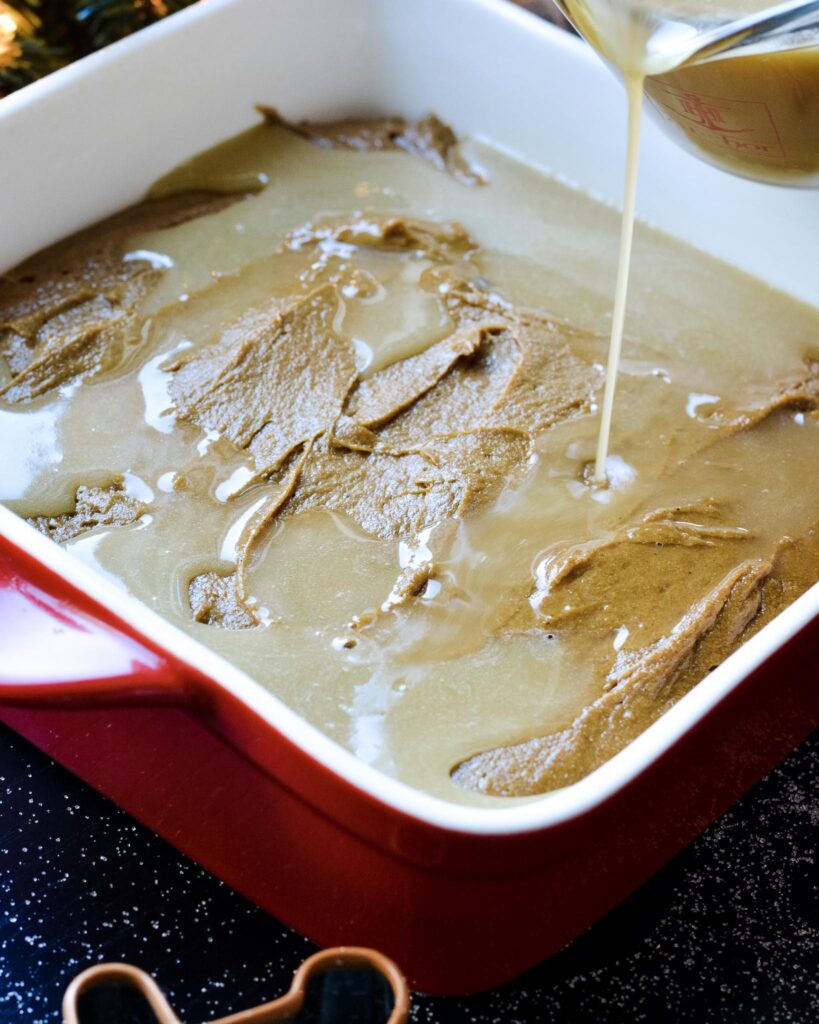 How to make a gluten free gingerbread cake
The cake in the pictures is made with the Namaste brand of gluten free flour from Costco (however, my all-time favorite is King Arthur Measure for Measure). No one can tell it's gluten free, and it's so delicious, no one will complain anyways. Be sure your baking powder is gluten free too.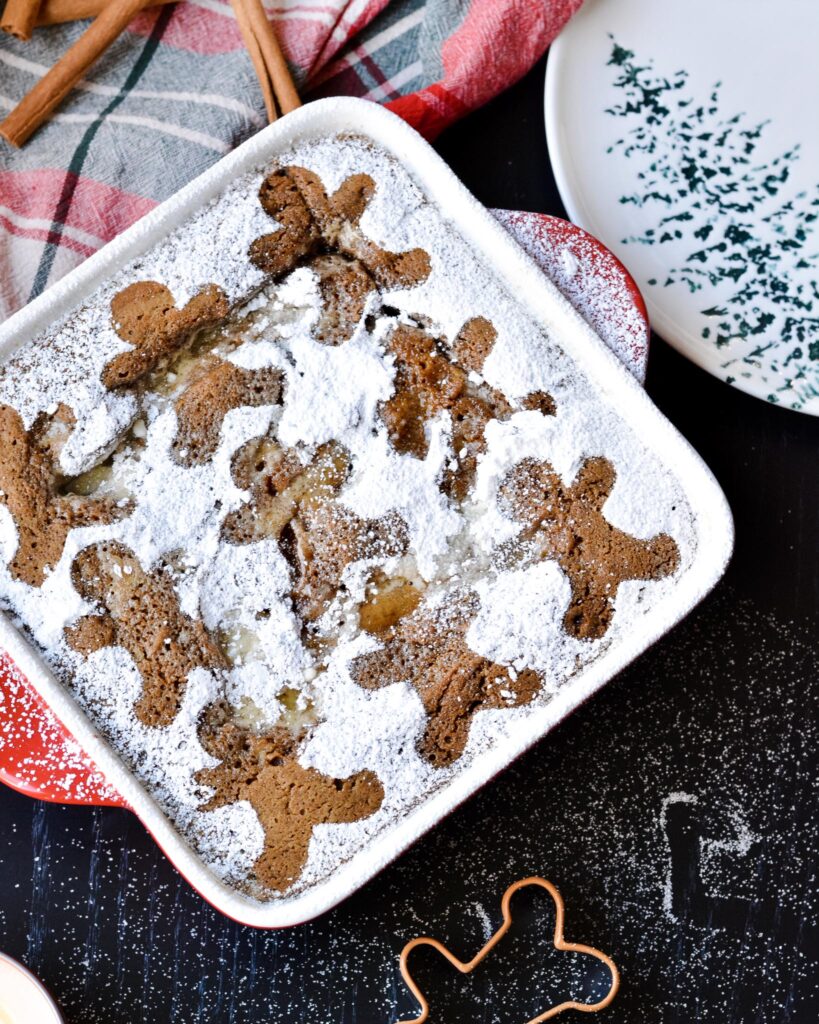 How to Make Gingerbread Pudding Cake
Start by measuring and combining dry ingredients in a medium bowl. All-purpose flour (or gluten-free flour blend), baking soda, ginger, cinnamon, nutmeg and salt. These spices are where you get most of the flavor, so measure carefully and don't leave anything out!
Next, grab a small bowl and mix together the molasses, milk and egg. Be sure your egg and milk are room temperature. I often give my milk about 10 seconds in the microwave, rather then leave it out and take a chance of it going bad before I use it.
how to get room temperature ingredients — fast!
Eggs — speed up the process of getting eggs to room temperature by dropping them gently into a bowl or cup full of hot water (not boiling) and let sit 5 minutes. Done!

Yogurt or Milk — To get yogurt to room temperature quickly, simple place in a microwave safe bowl and microwave at 50% power in 15 second intervals, stirring each time.

Butter — the best way to soften butter to room temperature is to get a tall glass and fill with hot water. Let it sit for 2-3 minutes until the glass is hot. Empty the water and turn the glass upside down over the wrapped butter. Allow to sit for 5 minutes. this will gently warm the butter through to the center.
How to make a vegan gingerbread cake
Turning this cake into a vegan gingerbread cake is really easy! Make the swaps listed below.
Milk — substitute regular milk for almond, oat or coconut milk.
Egg — To substitute the egg, mix together 1 tablespoon of flaxseed and 3 tablespoons of water and whisk. See the table here for more easy options for substituting eggs.
Butter — Typically, the best butter substitute is a butter substitute (I know, shocking) from the grocery store, such as Mykonos or other vegan substitute. However, shortening or coconut oil can work as well. Simply swap cup for cup or tablespoon for tablespoon in the cake and pudding mix.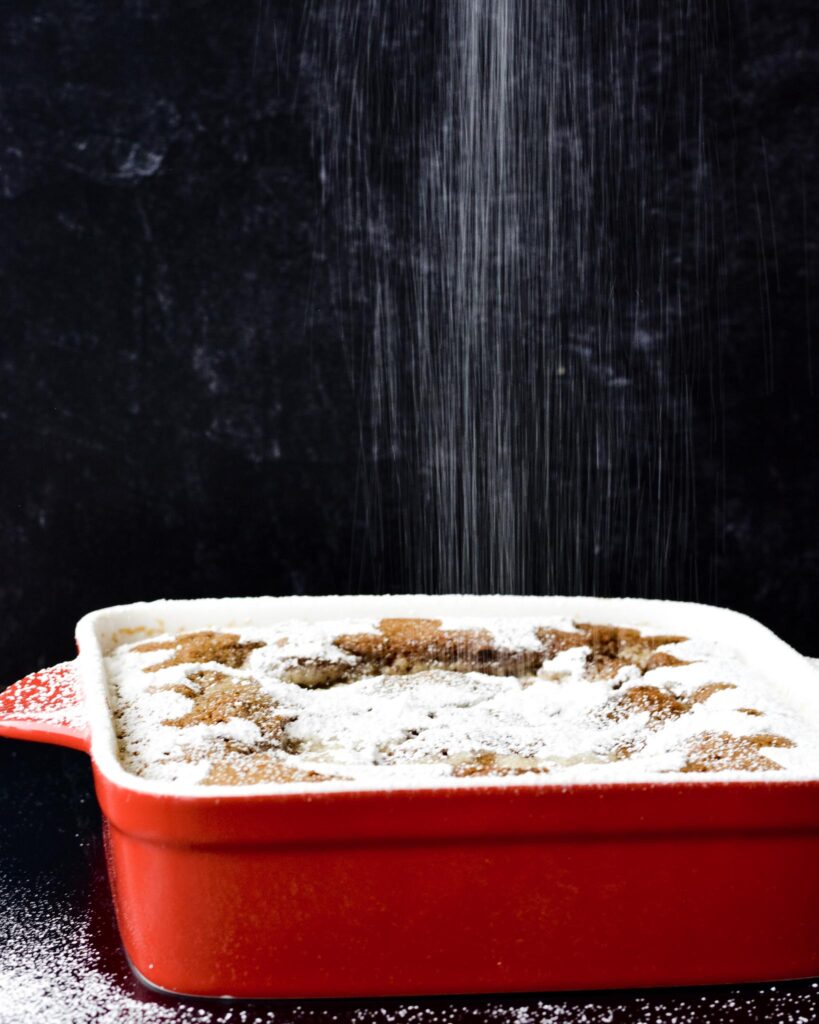 Now you're ready to put the gingerbread pudding cake batter together. Start by creaming together the butter and sugar in the bowl of a stand mixer. Be sure to beat it until it looks light and fluffy. This takes about 3-5 minutes. Be patient, this is an important step to the texture of the cake and the way it rises.
Next, you're going to add the flour mixture and the wet mixture in 3 turns. While you do this, the batter tends to split and come back together each time. By the end, you will have a beautifully smooth cake batter that looks good enough to eat! (But don't, obviously.)
Before pouring into an 8" or 9" square pan, be sure to scrape the sides and bottom of the bowl. Pockets of moisture often hide in the bottom of the bowl, and butter can stay pressed against the sides.
Now pour your gorgeous gingerbread mixture into a lightly greased baking pan. Don't bake yet!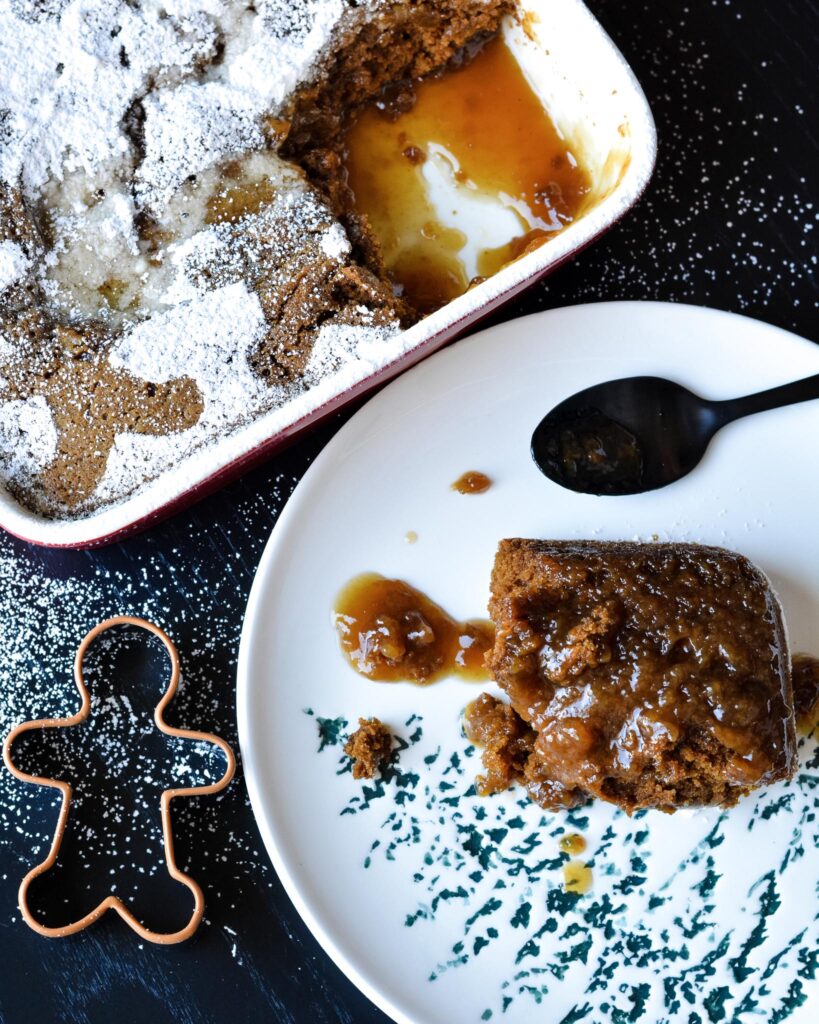 Making the Pudding Mix
In a small bowl, combine brown sugar and cornstarch. Set aside. In another small bowl or a pyrex measuring cup, combine hot water and butter. Stir it up until the butter melts. Pour water mix over the brown sugar mix and stir until combined. Now gently pour the hot water/sugar mixture over the cake.
Without spilling, gently place the cake on the center rack of a 350°F preheated oven. Bake for 35 minutes or until set around the edges and a toothpick inserted halfway down in the center come out clean. If you poke to the bottom it will seem like its not set, since you'll get some of the pudding.
And there you go! You just made the most delicious Gingerbread Pudding Cake around. Serve it warm with a scoop of vanilla bean ice cream or a generous amount of whip cream. This may sound crazy, but I enjoy this just as much the next morning for breakfast or a late-morning snack with my coffee. I prefer a cake with no rules, don't you?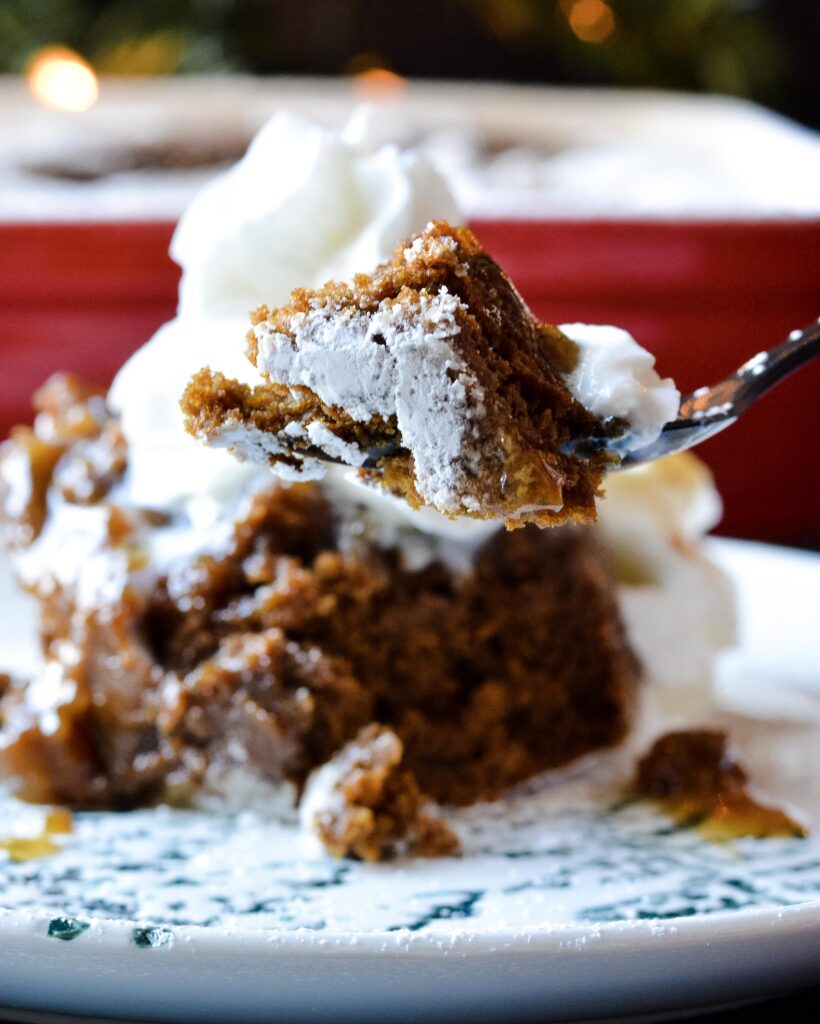 Got any other holiday inspired recipes?
Check out these amazing recipes to try this holiday season! P.S. They can all be made gluten free!
The Best Gluten Free Flour for Cake
I've tried and tested many different gluten free flour blends and the clear winner is King Arthur Measure for Measure (always cheapest on Amazon). It can be used as a direct replacement in almost any recipe and it will taste just as good as the original. You can read about my gluten free flour blends experiment here.
How to store gingerbread cake
The simplest way to store cake is in the pan it was baked in. This protects most sides of the cake from air. The top is protected by the icing. Simply cover the entire pan with foil and leave at room temperature for up to 5 days.
Gingerbread Cake can also be stored in the refrigerator to help it stay fresh longer. Simply cover entire cake top with foil and place in the refrigerator for up to 10 days.
I have not tried to freeze this cake recipe, however, there is no reason it cannot be stored in an airtight container and frozen for up to 4 months and then reheated.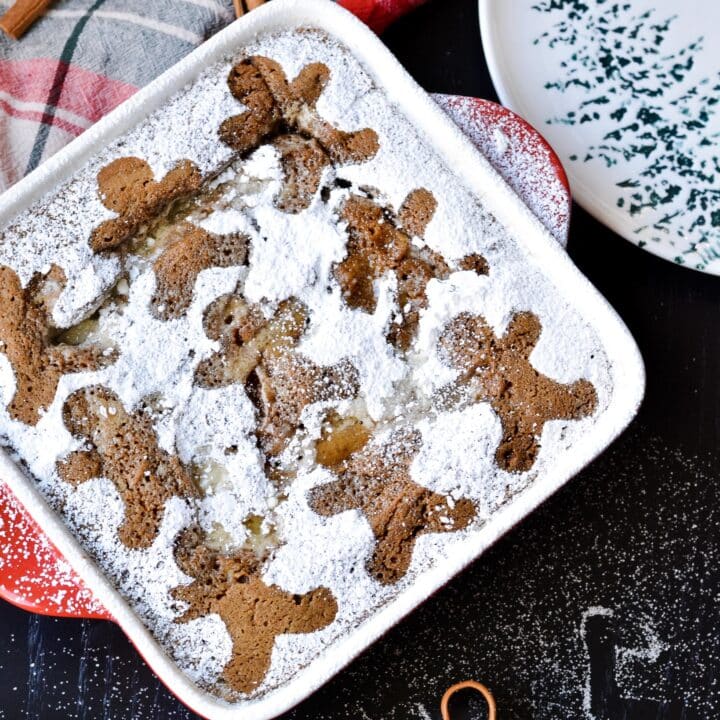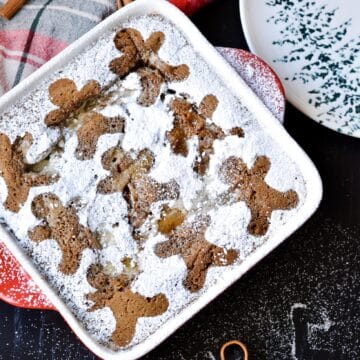 Gingerbread Pudding Cake
The ultimate Christmas dessert! Soft, tender cake sitting atop a gooey gingerbread sauce. Simple ingredients with a special twist to get that caramelized ginger-y sauce. Serve with a scoop of vanilla bean ice cream or whip cream.
PRINT RECIPE
PIN RECIPE
Ingredients
1 ½

cups

all-purpose flour

or gluten free flour blend

1

teaspoon

baking soda

2

teaspoons

ground ginger

1

teaspoon

ground cinnamon

¼

teaspoon

ground nutmeg

¼

teaspoon

ground cloves

½

teaspoon

kosher salt

½

cup

milk*

room temperature

½

cup

molasses

1

large egg

4

tablespoons

unsalted butter

⅓

cup

granulated sugar
Pudding
½

cup

light brown sugar

1

tablespoon

cornstarch

¾

cup

hot water

3

tablespoons

unsalted butter
Instructions
Preheat the oven to 350 degrees F. Butter an 8" or 9" square pan.

For the cake: Combine the flour, baking soda, ginger, cinnamon, nutmeg, and salt in a medium bowl. Set aside.

In a small bowl mix the molasses, milk, and egg. Set aside.

In a mixing bowl, cream the butter and sugar together. Add the flour and molasses mixtures by turns, beating on low speed, just until blended. Scrape the sides and bottom of the bowl as needed.

Pour the batter into the prepared pan. If using ramekins, place them on a parchment-lined baking sheet and portion a heaping ¼-cup of batter into each one.

For the pudding: Mix the brown sugar and cornstarch together. Heat the water and butter together just until the butter melts; gradually stir this into the brown sugar mixture.

Pour the pudding mixture slowly over the batter in the 8" pan. If using ramekins, scoop a scant ¼ cup of the pudding mixture over each of the filled ramekins.

Bake for 38-42 minutes for either size, or until a toothpick inserted in the center of the cake on top comes out clean (do not poke all the way to the bottom). Remove from the oven and serve warm.
Nutrition
Calories:
304
kcal
|
Carbohydrates:
51
g
|
Protein:
3
g
|
Fat:
10
g
|
Saturated Fat:
6
g
|
Polyunsaturated Fat:
1
g
|
Monounsaturated Fat:
3
g
|
Trans Fat:
1
g
|
Cholesterol:
43
mg
|
Sodium:
276
mg
|
Potassium:
348
mg
|
Fiber:
1
g
|
Sugar:
34
g
|
Vitamin A:
321
IU
|
Vitamin C:
1
mg
|
Calcium:
76
mg
|
Iron:
2
mg