I am a warm blooded human, so of course I crave a Pumpkin Spice Latte the moment there's a chill in the air or even a single leaf falls of the tree in my front yard. As much as I love a good PSL, my stomach does not agree with the quantity in which I'd like to consume them.
So I came up with this healthier Pumpkin Spice Milk. Made with almond milk, no coffee and no sugary syrups. Now I can have that pumpkin spice flavor as often as I want at a fraction of the price and calories.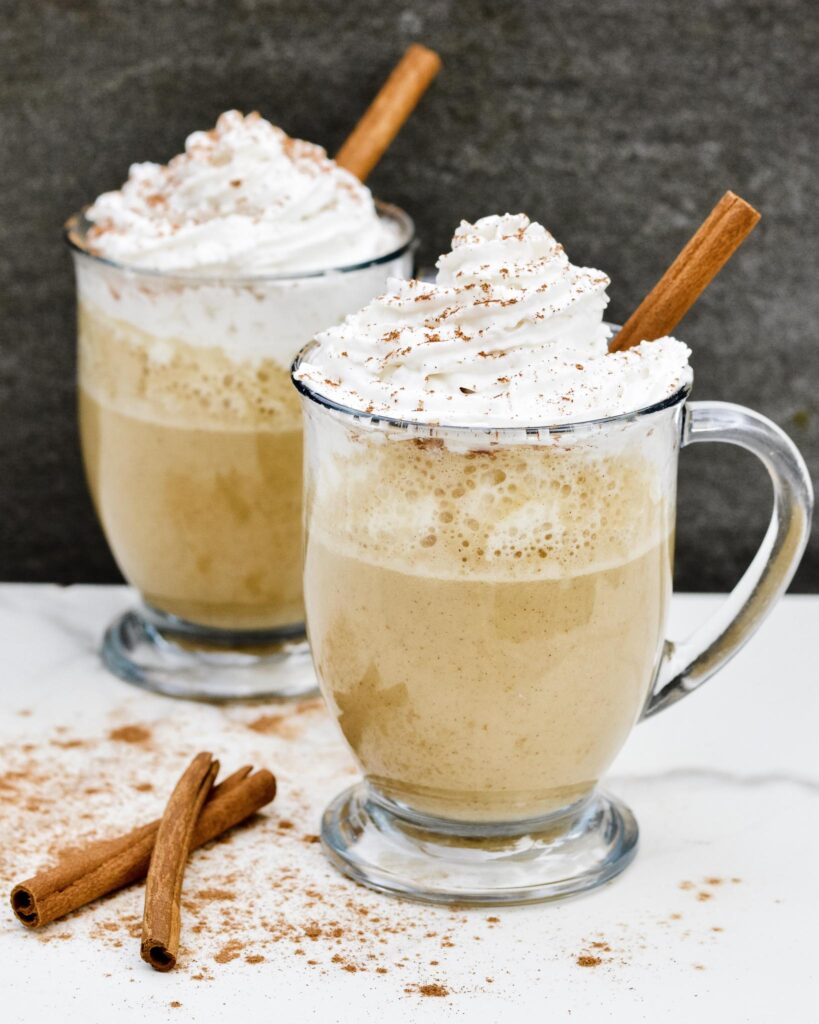 Simple ingredients for homemade pumpkin spice milk
Milk or Dairy Substitute — I usually make this with my trusty Blue Diamond almond milk, or my new favorite, Oatly Oat Milk, but my friends who are not lactose-challenged love it with 2% milk.
Pumpkin Purée — Be sure to grab regular purée, not pumpkin pie filling (the cans look so similar and I've been fooled before). I always find myself reaching for Libby's brand. After a little research, I found there's good reason for that. Check out this article about the best canned pumpkin from Epicurious.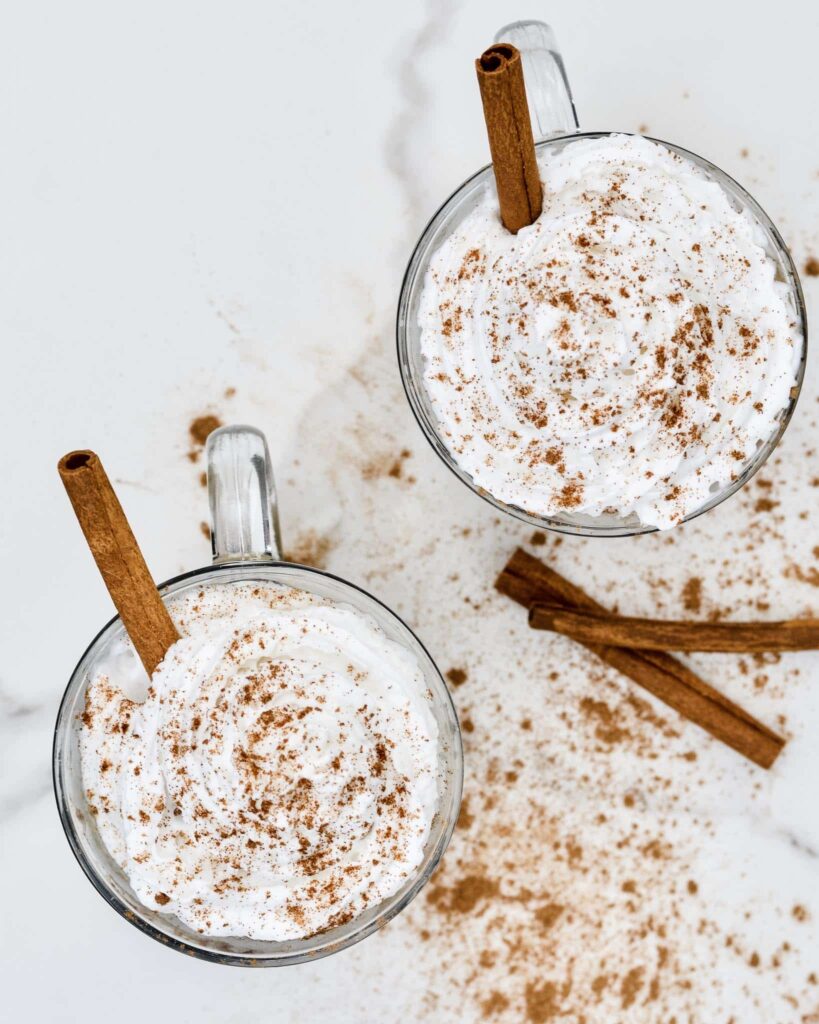 Brown Sugar — This is where the magic happens. I use dark brown sugar almost exclusively because I like the deeper molasses flavor. If you want to go really dark and flavorful, try Billingtons Natural Dark Brown Molasses Sugar (also called Muscovado Sugar on the Great British Baking Show). This has not gone through the process of being refined and then molasses put back in, like regular brown sugar.
Pumpkin Pie Spice — I prefer McCormick's because of the flavor AND I love that they are a socially responsible company that has been recognized for their diversity and sustainability. Whenever possible, I like to support companies that have more than one bottom line.
Vanilla Extract — Enhance all the fall flavors and give your pumpkin milk that extra little kick of flavor.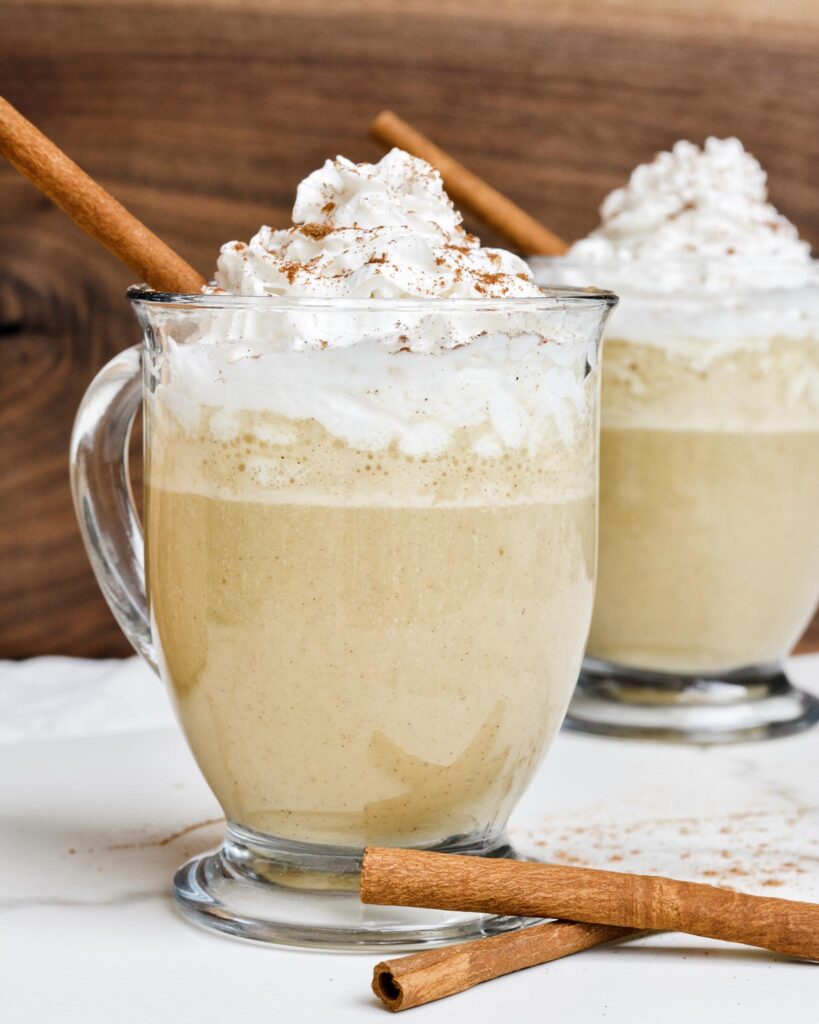 Simple Steps to Make Pumpkin Spice Milk
COMBINE all ingredients in a blender. BLEND really well to make lots of foam. I run mine for about 90 seconds.
POUR mixture into a saucepan and heat until steaming, not boiling.
Side Note: The reason you almost never boil milk or almond milk is because it basically burns it and creates a sharp "burny" flavor. This is especially true with almond milk, which tastes like burnt almonds when boiled. Blech! So keep an eye on your hot drink.
LAST, I love to top off my Pumpkin Spice Steamer with coconut whipped cream and a sprinkle of cinnamon. TOTAL YUM!!! Feel free to use whichever whipped cream you prefer.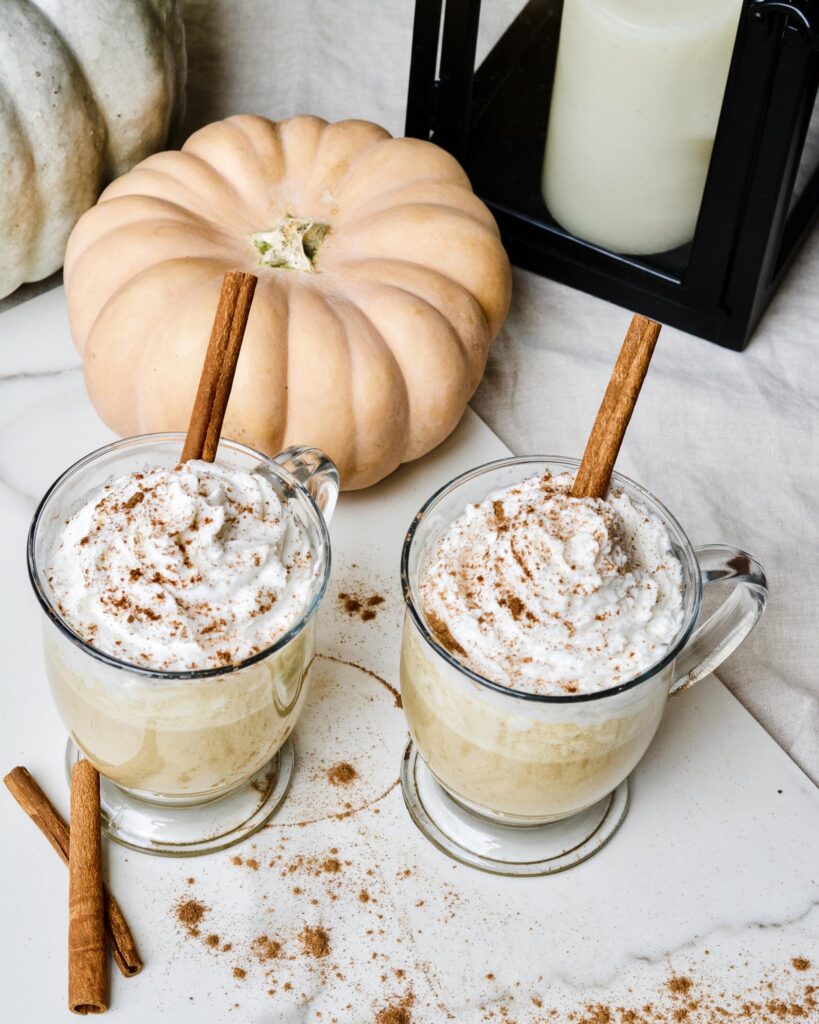 How to Make a Large Batch of Pumpkin Milk?
I like to double my recipe and save ½ in the fridge for later in the day or the next morning. Simply pour into a saucepan and heat it up when you're ready. You may lose some foam, so you can re-blend if you'd like to.
Or feel free to quadruple the recipe and keep warm in a crockpot or slow-cooker on low. Be sure to stir frequently to keep it mixed well. Alternately, use a handheld milk frother to quickly mix and keep the milk frothy.
How long will this drink last in the fridge?
It depends on the freshness of your pumpkin purée and milk, but if everything is fresh, it will keep up to 5 days in a covered container. So feel free to make a big batch and just heat when you've got a PSL hankering.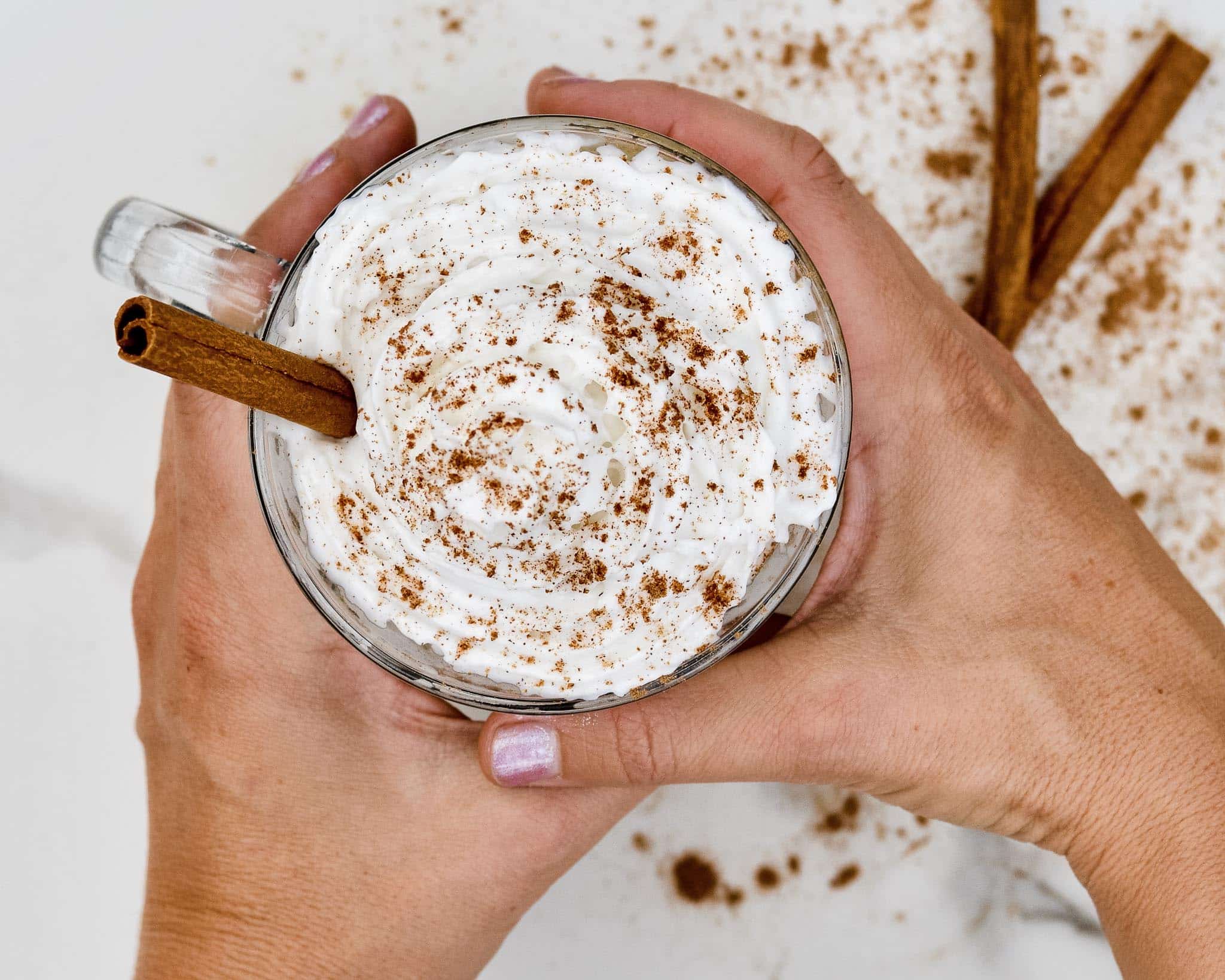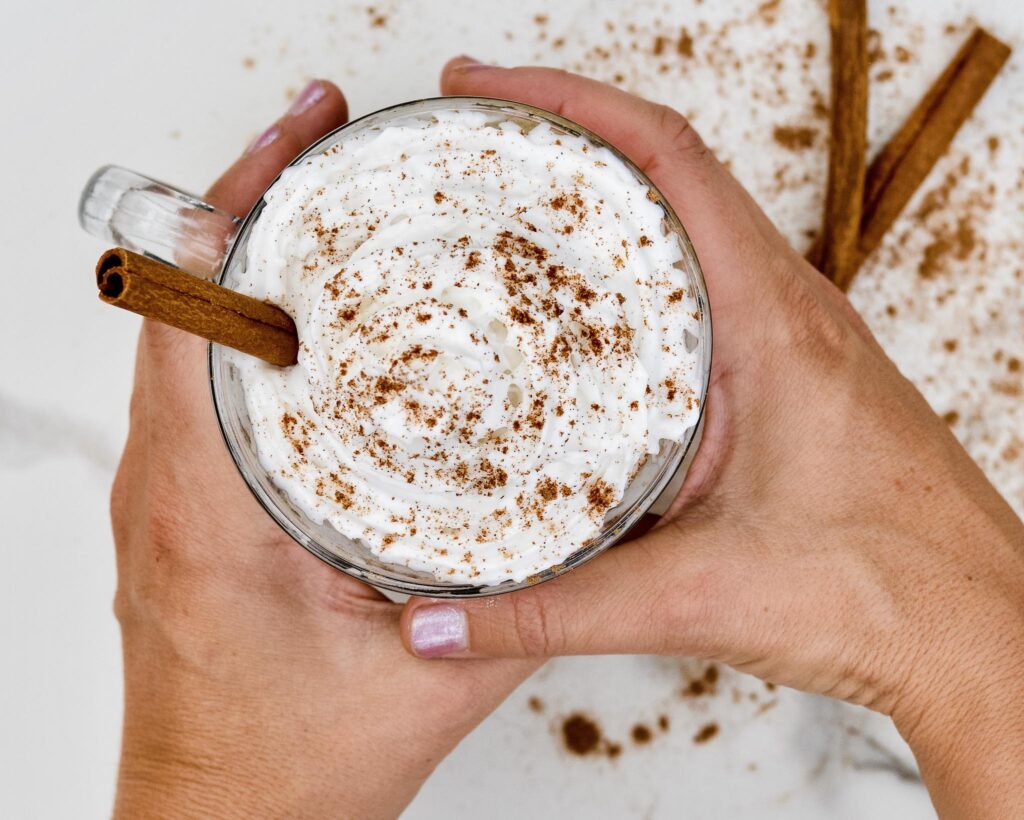 How to make your own pumpkin pie spice
Ingredients
Combine:
3 tablespoons ground cinnamon
2 teaspoons ground ginger
2 teaspoons nutmeg
1 ½ teaspoons ground allspice
1 ½ teaspoons ground cloves
Simply combine spices and save your leftovers for your next batch of pumpkin milk.
Serve hot or cold
Once blended, this pumpkin spice milk can be served hot or cold. I bet kids would love it as a morning treat along with a Healthy Banana Muffin!
Recipe modifications
Substitute the dark brown sugar for maple syrup or date syrup for a natural sugar option.
Milk options can include; coconut milk, oat milk, soy milk, goat milk, or regular dairy milk (whole will taste best). Oat milk will make the best foam and gives a very creamy feel. It's my favorite when I feel like indulging, however, for a healthier version, I stick with unsweetened vanilla almond milk.
To make milk without a blender, simply combine all ingredients into a small saucepan and whisk constantly with a metal whisk until mixture is steaming and is well blended.
More hot drink recipes
London Fog — Hot tea latte
Dirty Iced Chai Latte
White Chocolate Mocha — Starbucks copycat recipe
Baileys Irish Cream Mocha — A boozy coffee drink
Espresso Double Shot — Starbucks copycat iced drink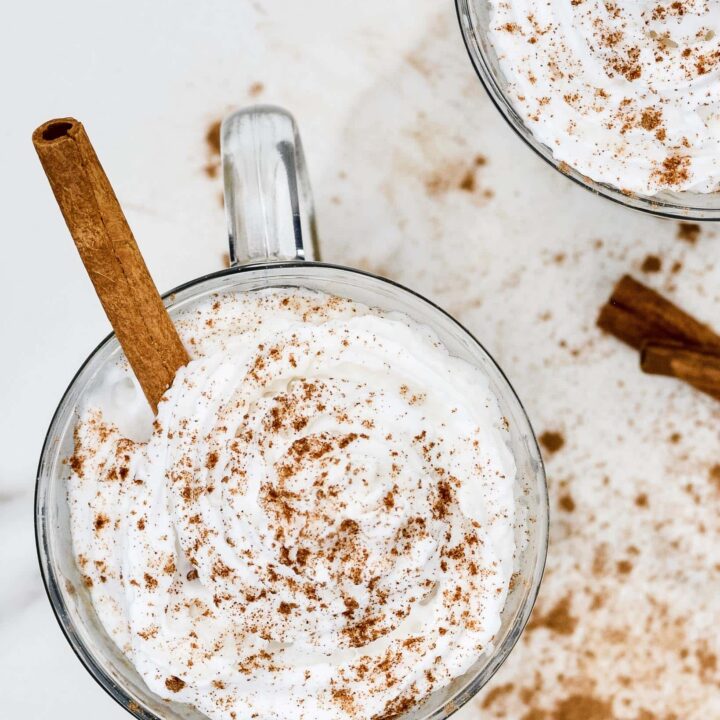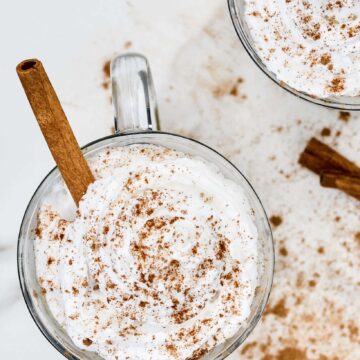 Pumpkin Spice Milk
A fresher, more delicious (cheaper) version than the Starbucks Pumpkin Spice Steamer.
PRINT RECIPE
PIN RECIPE
Ingredients
1

cup

almond milk

or your milk of choice

2

tablespoons

pumpkin purée

2

tablespoons

dark brown sugar

or light brown is ok too

½

teaspoon

pumpkin pie spice

¼

teaspoon

vanilla extract

dash

salt
Instructions
Combine all ingredients in a blender. Blend well (about 90 seconds) to get lots of foam.

Warm mixture in a saucepan over medium heat until steaming, not boiling.

Pour into your favorite mug and top it off with coconut whip cream (or regular) and a sprinkle of cinnamon. Enjoy!
Nutrition
Calories:
143
kcal
|
Carbohydrates:
28
g
|
Protein:
2
g
|
Fat:
3
g
|
Saturated Fat:
0.1
g
|
Polyunsaturated Fat:
2
g
|
Monounsaturated Fat:
2
g
|
Sodium:
334
mg
|
Potassium:
102
mg
|
Fiber:
2
g
|
Sugar:
25
g
|
Vitamin A:
4672
IU
|
Vitamin C:
1
mg
|
Calcium:
335
mg
|
Iron:
1
mg