Give that classic summer shortcake a twist with peaches and cream! With only a handful of ingredients and 30 minutes, you can make these sweet fluffy shortcake drop biscuits. Top them off with a simple Breckenridge Gin peach sauce and homemade whipped cream. Go ahead, put your feet up, grab a fork and make this summer unforgettable!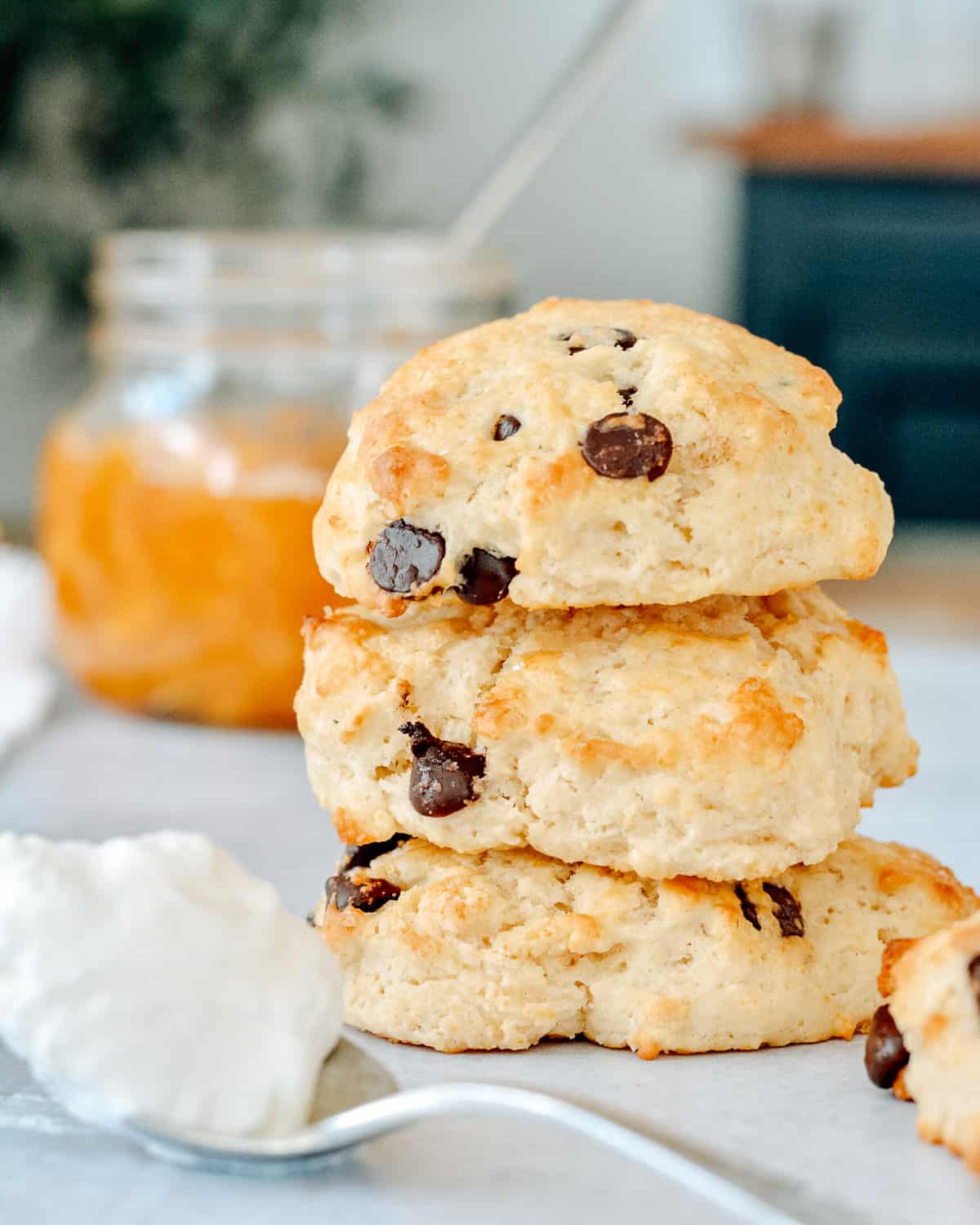 "This post was created for a partnership with Breckenridge
Distillery. All reviews and opinions expressed in this post are based on our personal views."
TELL ME ALL ABOUT This Peaches and Cream Shortcake
Flavor
Shortcake & Sauce - Ok, let's start with the biscuit (shortcake). Lightly sweetened with a touch of sugar and optional (but highly recommended) chocolate chips makes the perfect base for the warm, buttery sweet flavor of the peach sauce.
The Gin in the sauce is optional as well, but we really love the way it complements the peaches and makes this recipe a little different.
If you're worried about the alcohol, that will burn off while the sauce simmers (making it safe for kiddos), leaving behind the deliciously light and iconic summer flavors of Breckenridge Gin.
Whipped Cream - Top off your peaches and cream shortcake with light and fluffy homemade whipped cream. Typically, I'll tell you that shortcuts are fine and you can just buy whipped cream. And you can.
However, in this sweet summer peaches and cream recipe, the smooth, thick creaminess that is only achieved from homemade whipped cream makes this recipe utter perfection.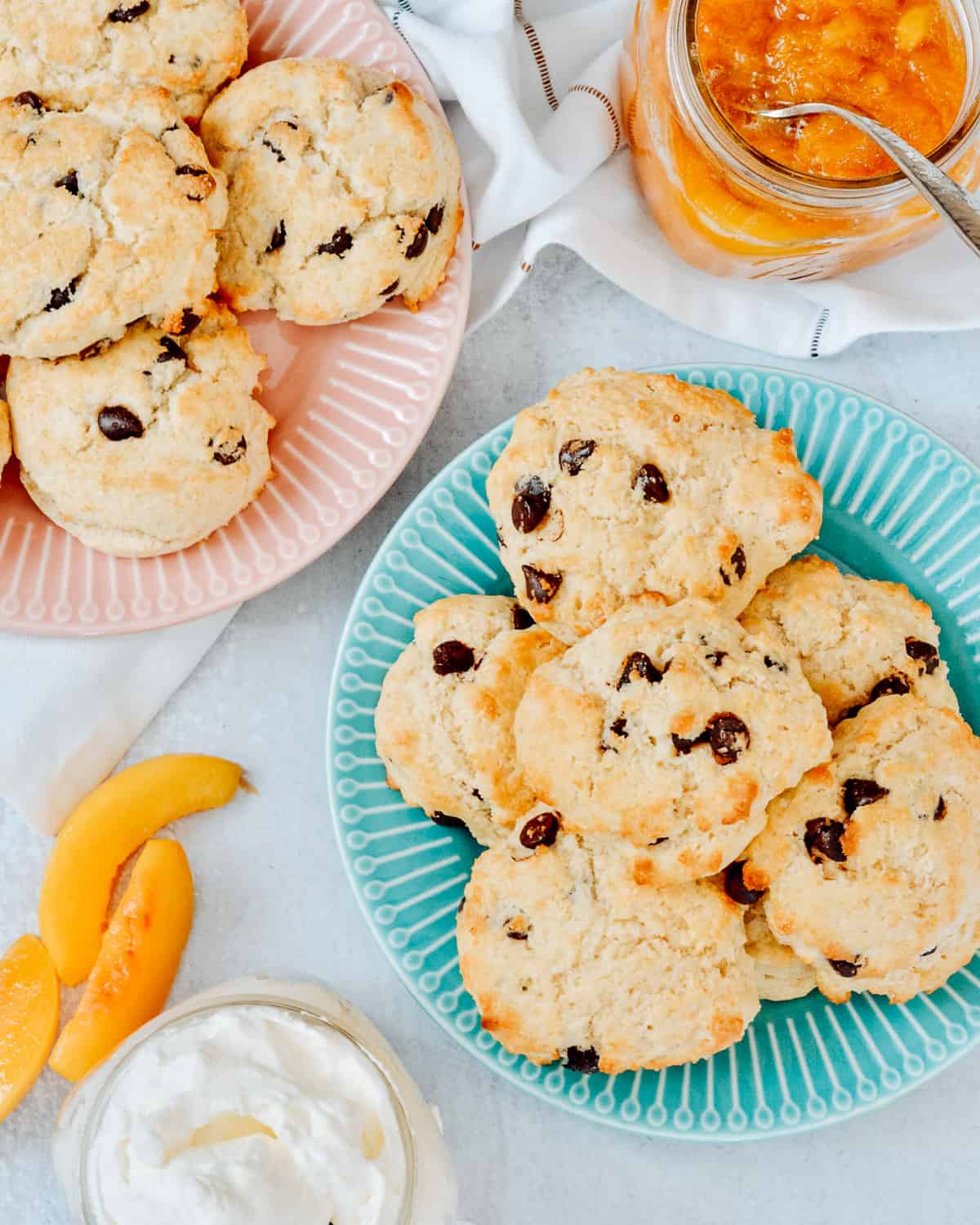 Texture
Texture - These drop biscuits are not only super simple to make, but the texture is divine. Buttery, soft and strong enough to hold all your toppings. This is or shortcake recipe is a great go-to for savory or sweet.
Simply omit the sugar and chocolate chips for a great basic biscuit. Drop them on top of soup, add cheddar to go along with your summer BBQ, or add even more sugar and serve them on their own as the perfect run-around-naked-summer-snack (for the kids, of course).
Peach Sauce Texture - Here's where preference plays a big role. Some like it chunky, some like it smooth. Personally, I like it in-between. I like a few larger pieces of sweet peaches, but I want it saucy enough to run down my chin when I take a big bite.
Plus, the whipped cream is smooth, so texture variation makes for a great "mouth feel".
Time & Difficulty
Time - How long should it take to make this Peaches and Cream Shortcake? The drop biscuits take about 30 minutes start to finish and the peach sauce and whipped cream can be made at the same time.
So if you're a focused baker, the whole thing will take about half an hour. Sweet!
Difficulty - Nice and low. Drop biscuits make shortcake easier and skip any of the trickier steps that come in other shortcakes.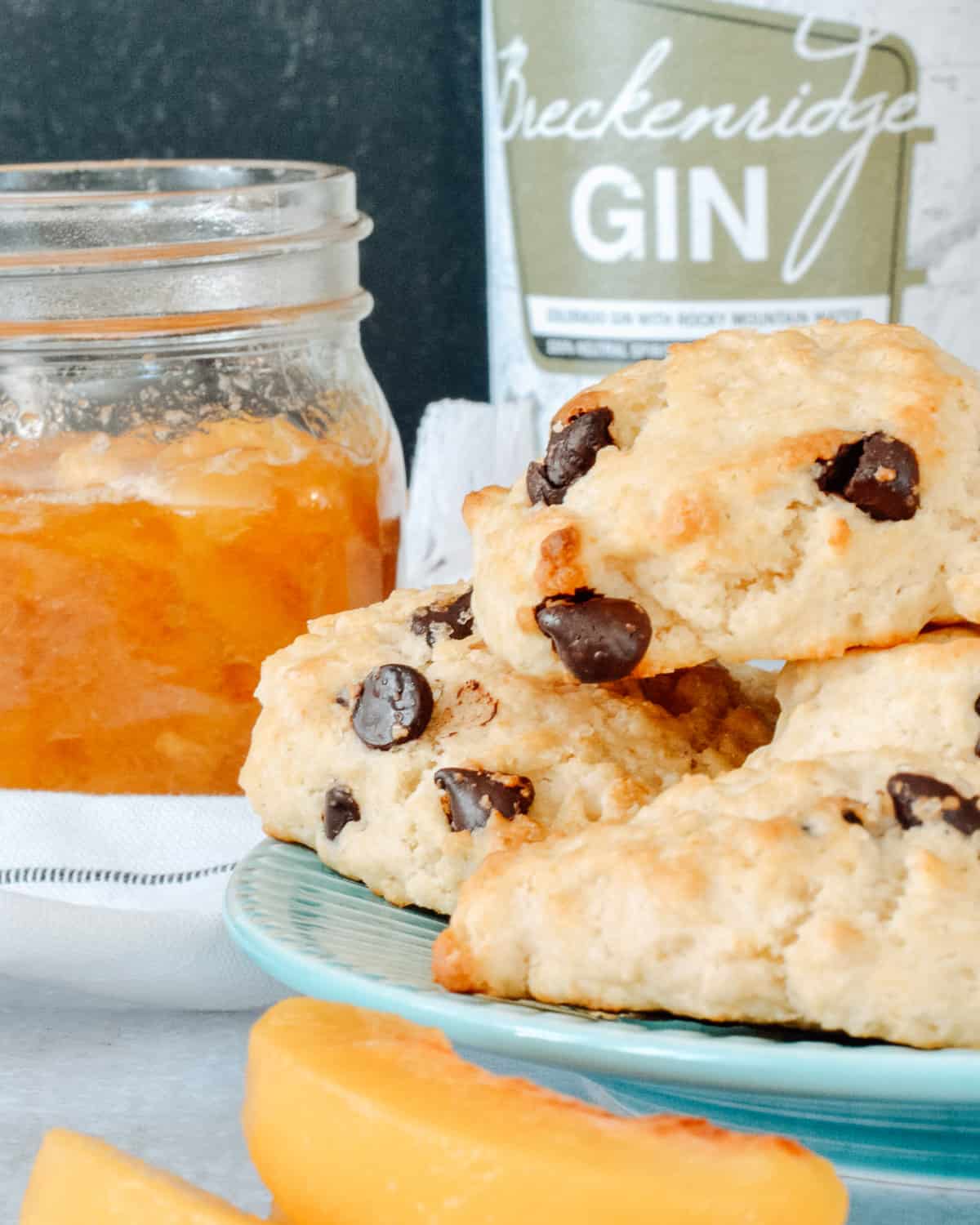 Can I make this dessert ahead of time?
You betcha! The sauce and whipped cream can be made and stored in airtight containers in the refrigerator for up to 1 week. You can store the biscuit dough in the refrigerator in a covered container for up to 2 days, or the fully baked biscuits can be stored in an air-tight container at room temperature for up to 3 days (after that, they get a little dry).
Can I make the biscuits gluten free?
Of course! In fact, the biscuits on the pink plate in the picture above are made with a gluten free flour. The blue plate biscuits are made with regular all-purpose flour. They both tasted great and those who can have gluten could hardly tell the difference.
My favorite gluten free flour blend is King Arthur Flour Measure for Measure. You can read all about my gluten free flour comparison here.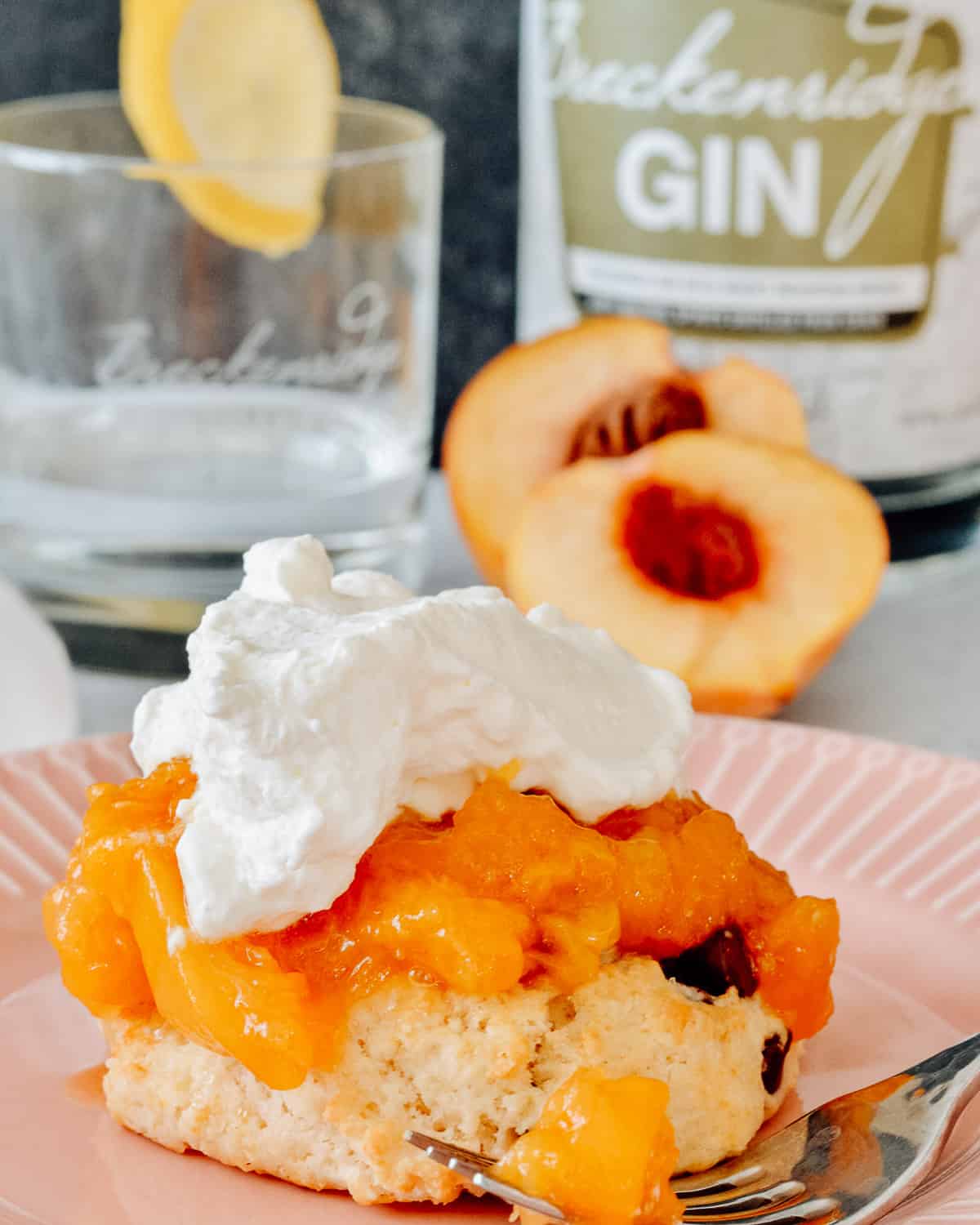 Let's talk about why this amazing Gin tastes great in this Peach Shortcake
Straight from the mouths of the talented makers at our favorite local distillery: This fragrant American-style Gin stays true to the Breckenridge ideals of mouthfeel and flavor, through maceration and botanical basket distillation.
A delicate harmony of 11 botanicals layer the Gin throughout the spirit; a full-body juniper lies at the forefront, bright citrus and complementary undertones of spice give a nod to the beauty that's created when flowery aromas meet comforting spices.
If that doesn't make you want to drink and bake with this gin this summer, I don't know what will! We couldn't wait to experiment in the kitchen with this flavorful Gin.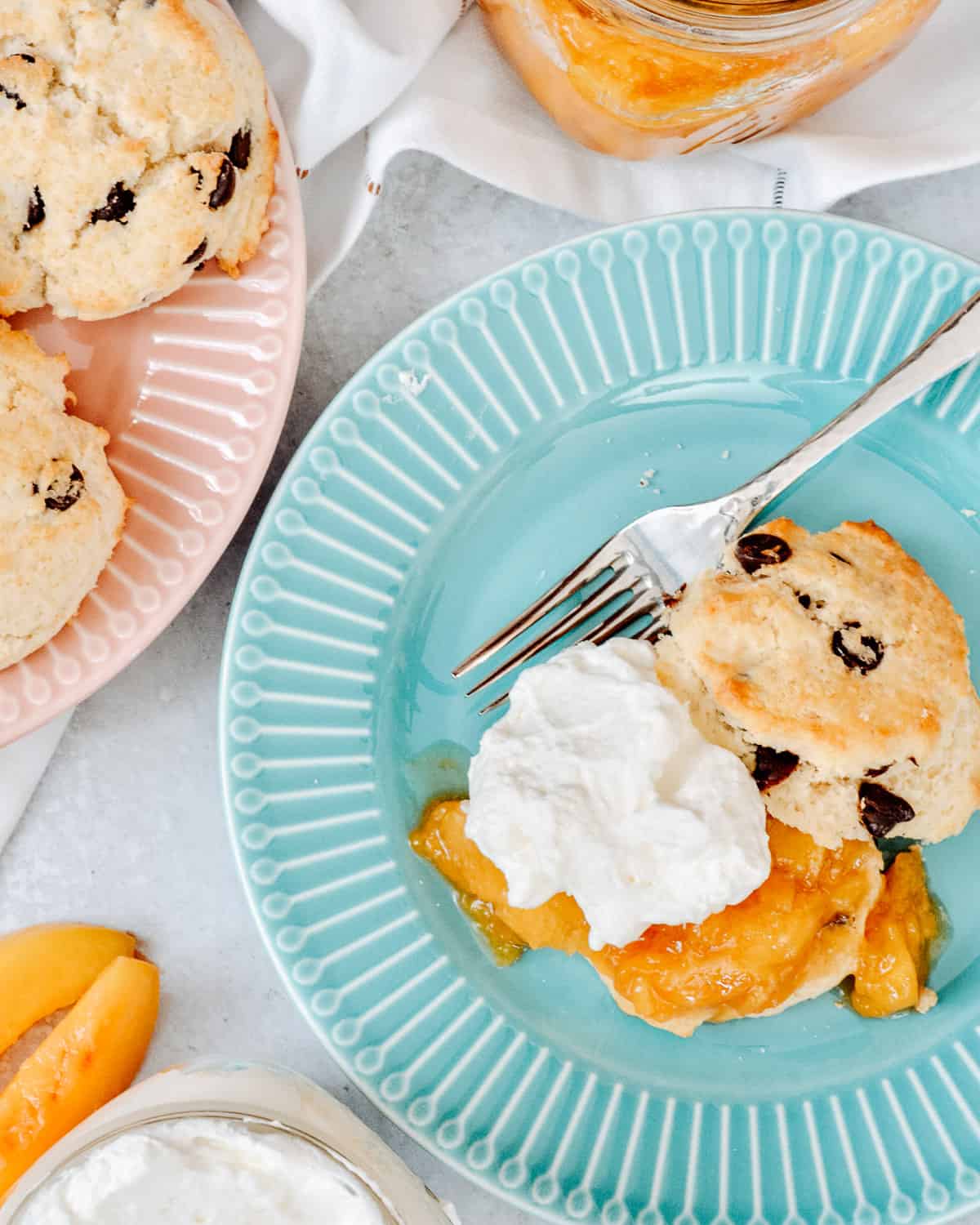 LOOKING FOR OTHER AMAZING SUMMER DESSERT RECIPES? TRY THESE FAN FAVORITES!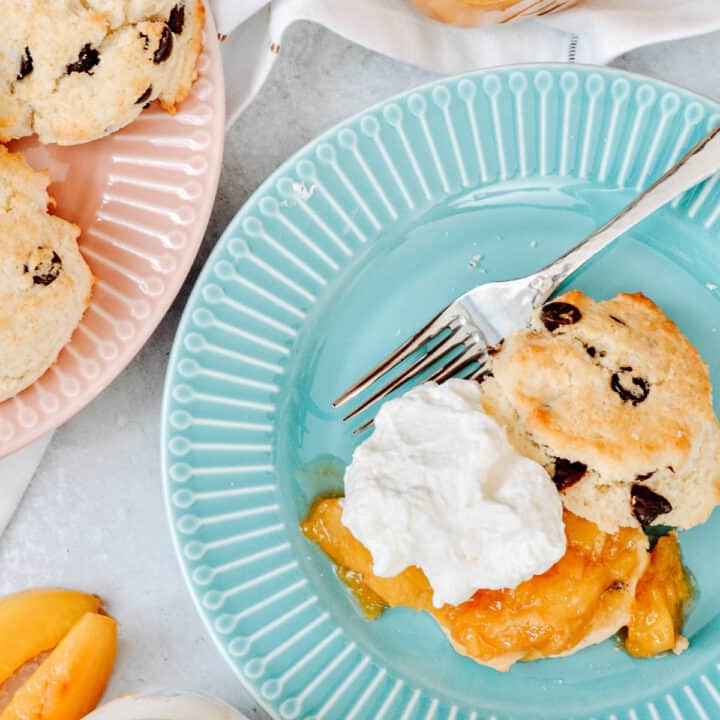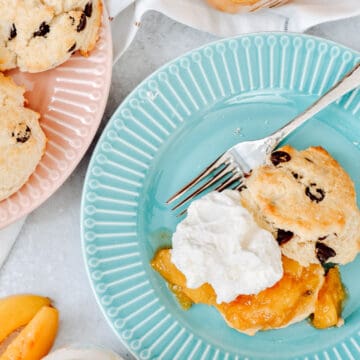 Peaches and Cream Shortcake
A splash of gin makes this peach sauce unforgettable.
Print
Pin
Rate
Ingredients
Peach Sauce
2

C

peach slices

-

fresh or frozen

¼

C

brown sugar

1

tablespoon

Breckenridge Gin

splash lemon juice
Sweet Biscuit
1

C

all-purpose flour

-

or GF flour substitute

1

teaspoon

baking powder

½

teaspoon

salt

1

tablespoon

granulated white sugar

3

tablespoon

unsalted butter

-

cold

½

C

milk

-

plus extra for brushing

1

C

chocolate chips

-

optional

raw sugar

-

optional
Whipped Cream
1

C

heavy whipping cream

1

tablespoon

granulated white sugar

½

teaspoon

vanilla extract
Instructions
For the Whipped Cream
In a stand mixer combine heavy cream, sugar, and vanilla extract. Beat on high for 4 minutes or until fluffy and light. Store in an airtight container in the refrigerator for later.
For the Gin Peach Sauce
In a medium pot heat peaches, sugar, and lemon juice over medium low heat. Allow to simmer while making the biscuits.
For the Biscuits
Preheat oven to 425°F and line a baking sheet with parchment paper (or spray with non stick spray). Set aside.

In a food processor, combine flour, baking powder, salt, and sugar. Pulse to combine.

Add cold butter and pulse until it is the texture of wet sand.

Pour sandy mix into a medium mixing bowl and add milk.

Using a spatula or wooden spoon mix until it is the consistency of very sticky dough.

Add chocolate chips if desired.

Using a cookie/ice cream scoop (or a spoon) drop biscuits onto the baking sheet about 2 inches apart. It should make between 6-8 biscuits depending on your scoop size.

Brush with milk and sprinkle raw sugar over each.

Bake on center rack for 15 - 20 minutes or until lightly browned.

While biscuits are baking return to the peach sauce.

The fruit should have softened by now (fresh peaches may take longer).*

Lightly mash peaches to desired consistency ( I prefer lighty smashed with hunks, while my husband likes the texture of apple sauce)**

Add in Breckenridge Gin and turn heat down to a simmer. Allow to simmer until biscuits are ready (or about 5 -10 minutes).

Remove biscuits from the oven and allow to cool for 5 minutes.

Cut biscuits in half and top with warm peach sauce and cool whipped cream. Enjoy!
Notes
To make ahead - Completely make each element and reheat biscuit and peach sauce. Or make the biscuit dough and store in the refrigerator in an air tight container until ready to bake fresh.
*Fresh peaches, if not completely ripe, will take longer to cook. If using fresh, peel the peaches and start the peach sauce first allowing the fruit to soften and cook for an extra 30 minutes.
**If you prefer applesauce consistency, make the sauce and allow it to cool slightly, then pulse in a food processor to get rid of any large hunks.
Nutrition
Calories:
353
kcal
|
Carbohydrates:
36
g
|
Protein:
4
g
|
Fat:
21
g
|
Saturated Fat:
13
g
|
Trans Fat:
1
g
|
Cholesterol:
71
mg
|
Sodium:
292
mg
|
Potassium:
191
mg
|
Fiber:
1
g
|
Sugar:
18
g
|
Vitamin A:
958
IU
|
Vitamin C:
4
mg
|
Calcium:
104
mg
|
Iron:
1
mg