This Bourbon Chocolate Salted Caramel Cake recipe is perfectly portioned for two. A simple moist cake topped with a salted caramel and a touch of sweet Breckenridge Distillery Rum Cask Finish Bourbon. The salt and bourbon come together to create a uniquely delicious smoky caramel flavor that makes this chocolate cake a dessert you'll remember.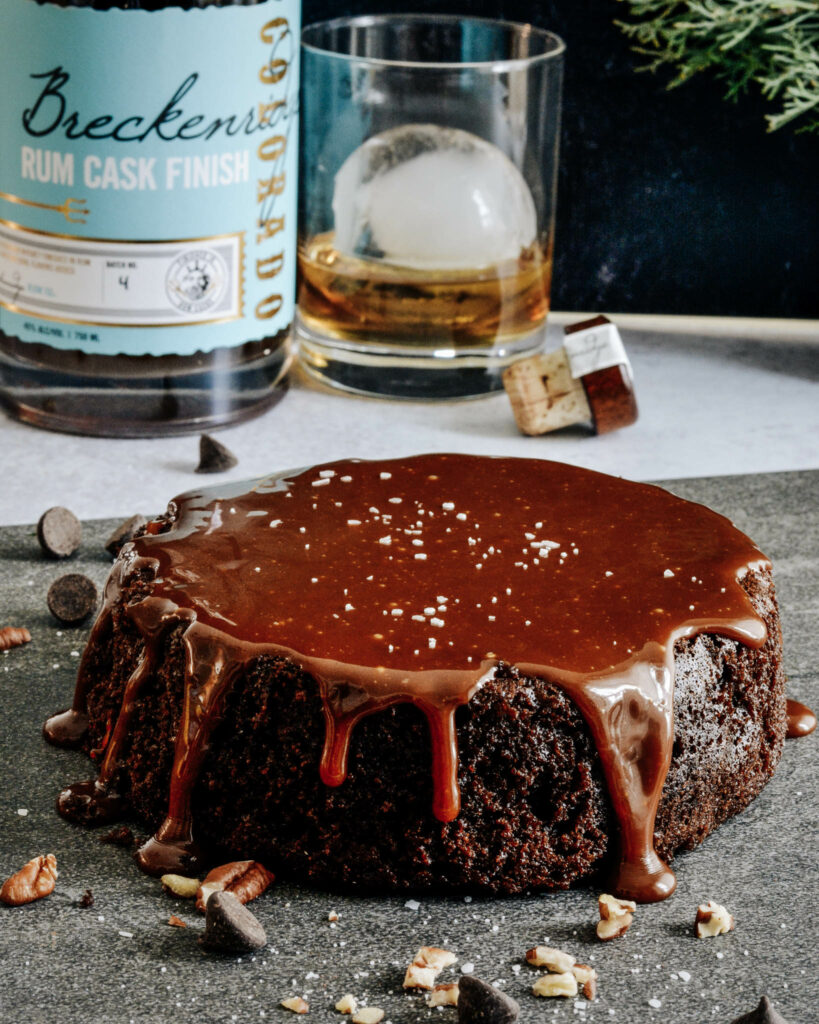 "This post was created for a partnership with Breckenridge
Distillery. All reviews and opinions expressed in this post are based on our personal views."
TELL ME ALL ABOUT THIS BOURBON Chocolate Salted Caramel Cake
Flavor - This chocolate cake is not overly sweet, but creates the perfect chocolate base to pair with the caramel. The decadent sauce covers the entire 6 inch cake and is lightly salted and has that surprise hit of bourbon that lingers. Top it off with toasted pecans and chocolate chips to add crunch and you've got yourself a distinctive dessert.
Texture - The cake is moist, but still fluffy and vibrant. Smooth and sweet, the caramel makes the ultimate gooey, oozy, boozy topping. It holds up really well on top of the cake while just barely cascading down the sides. It's the just right consistency so it doesn't stick in your teeth and it doesn't soak into the cake.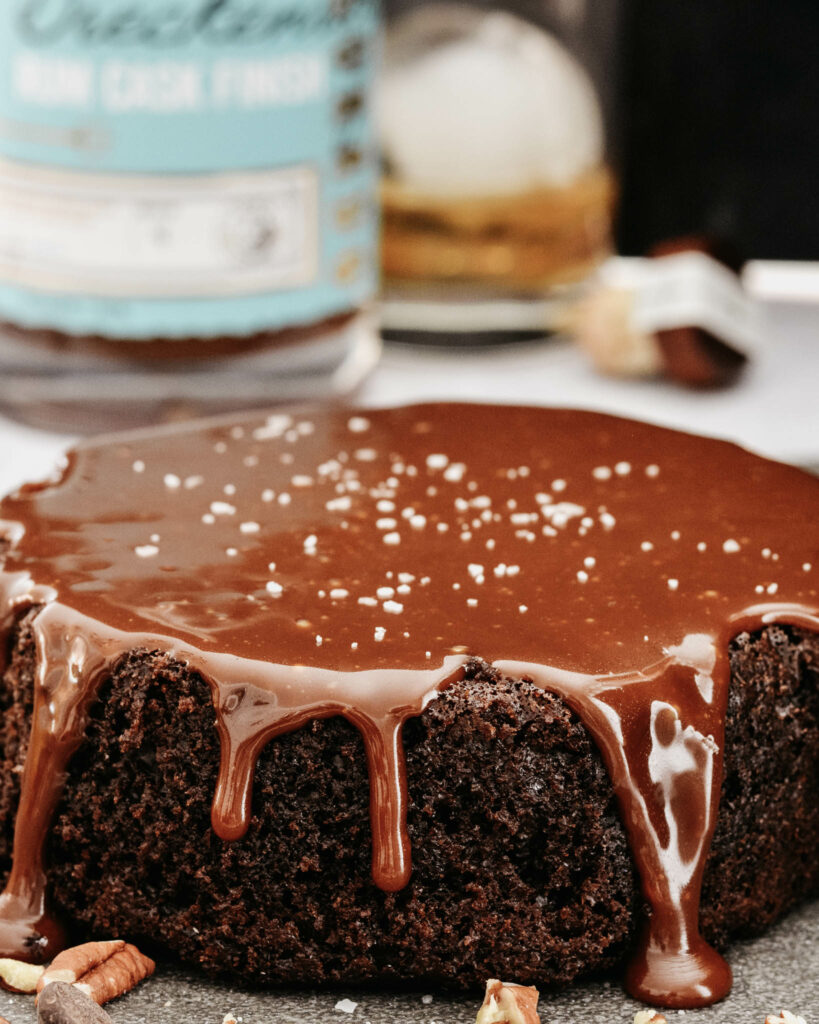 Time - Under one hour. Making caramel can take about 25-30 minutes depending on the temperature and humidity in your home, but our recipe keeps it simple and fairly quick, while still preserving an ideal flavor profile. The cake is a basic mix and bake situation, so you'll likely be able to go from start to finish in under 45 minutes and can make the caramel at the same time.
Difficulty - Due to the caramel, we'd place this recipe at a mid-level difficulty. It's truly not hard, but takes a bit of patience and attention. And it's totally worth it! Scouts honor.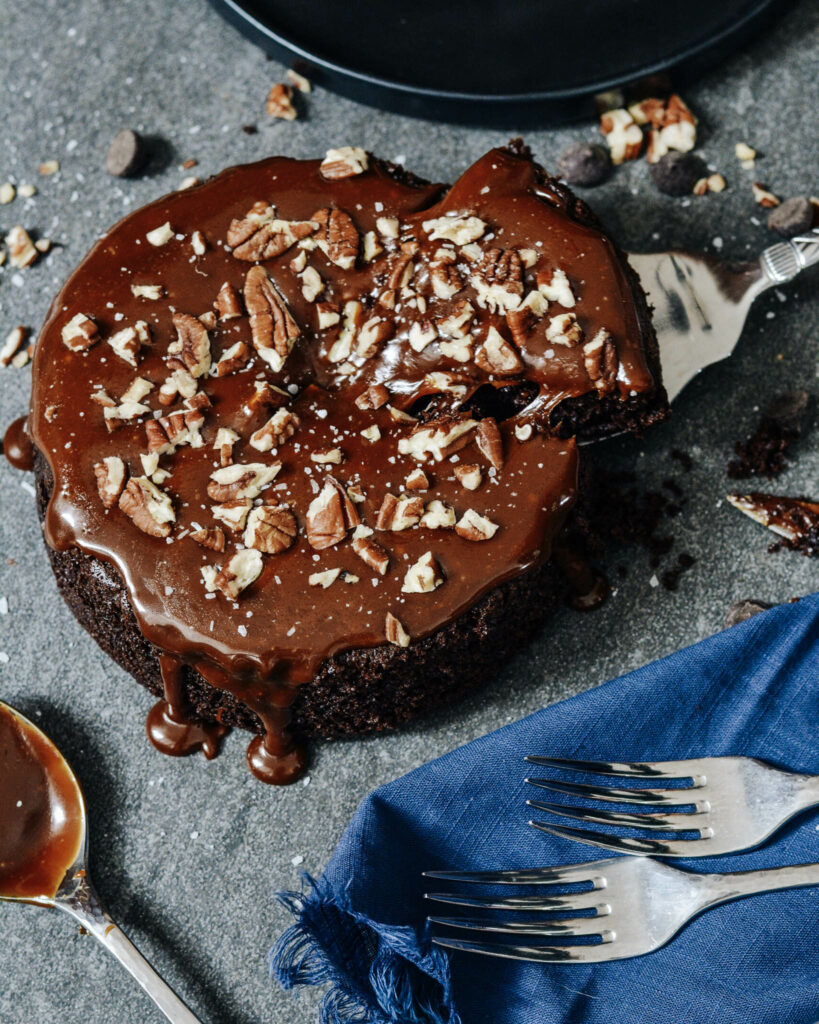 SIMPLE SPECIAL INGREDIENTS TO MAKE THIS Chocolate Salted Caramel Cake
For the cake:
All-Purpose or Pastry Flour - Pastry flour is ground finer, making a tender cake. However, all-purpose flour also works great!
Espresso Powder or Finely Ground Coffee - Coffee enhances the flavor of chocolate. When used in small amounts, you won't even taste it.
Plain Yogurt - Yogurt gives cakes so much moisture and at the same time, it helps create a lightness and airiness, by activating the baking soda.
For the Caramel
Granulated White Sugar - Sugar becomes something really magical when you melt it and basically let it burn. That's where the gorgeous golden color of caramel comes from.
Salted Butter and Heavy Cream - These fatty milks add a beautiful creamy finish and a lovely "mouth feel".
Salt - I like sweet caramel just as much as the next person, but salted caramel brings together the classic salty/sweet combo in the best way.
Breckenridge Distillery Bourbon Rum Cask Finish - And here comes our special ingredient—it adds surprise and the complete inability to put your fork down. Bite after bite will give you that slightly smoky sweet flavor from this unique Colorado Mountain Bourbon.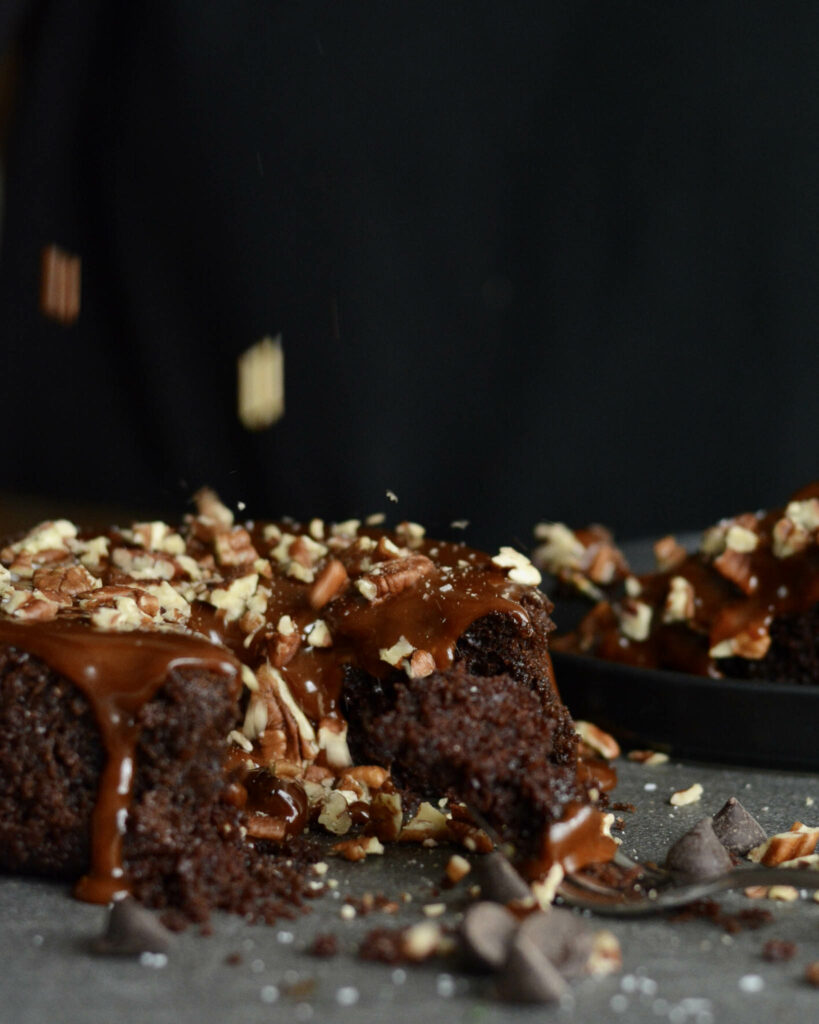 Straight from the mouths of these talented makers: This award-winning Breckenridge Bourbon soaks up the charm of aged Colorado Rum casks, creating an unstoppable wave of flavor. Candied apple and cinnamon enfold, as dark chocolate and cacao follow. Lingering allspice captivates the senses, gratifying in just one sip, but mysterious enough to leave you wanting another.
If that doesn't make you want to drink and bake with this bourbon, I don't know what will! The notes of dark chocolate and cocoa make it a perfect pairing to go with our chocolate cake.
Optional Toppings
Toasted Pecans - Honestly, we think everything tastes better with toasted pecans, but especially the way it gives this sweet and smooth caramel a little crunch.
Dark Chocolate Chips - Another hit of chocolate is always a good idea.
Kosher Salt - Taste first, and the sprinkle with more salt if you've got a salty streak like we do.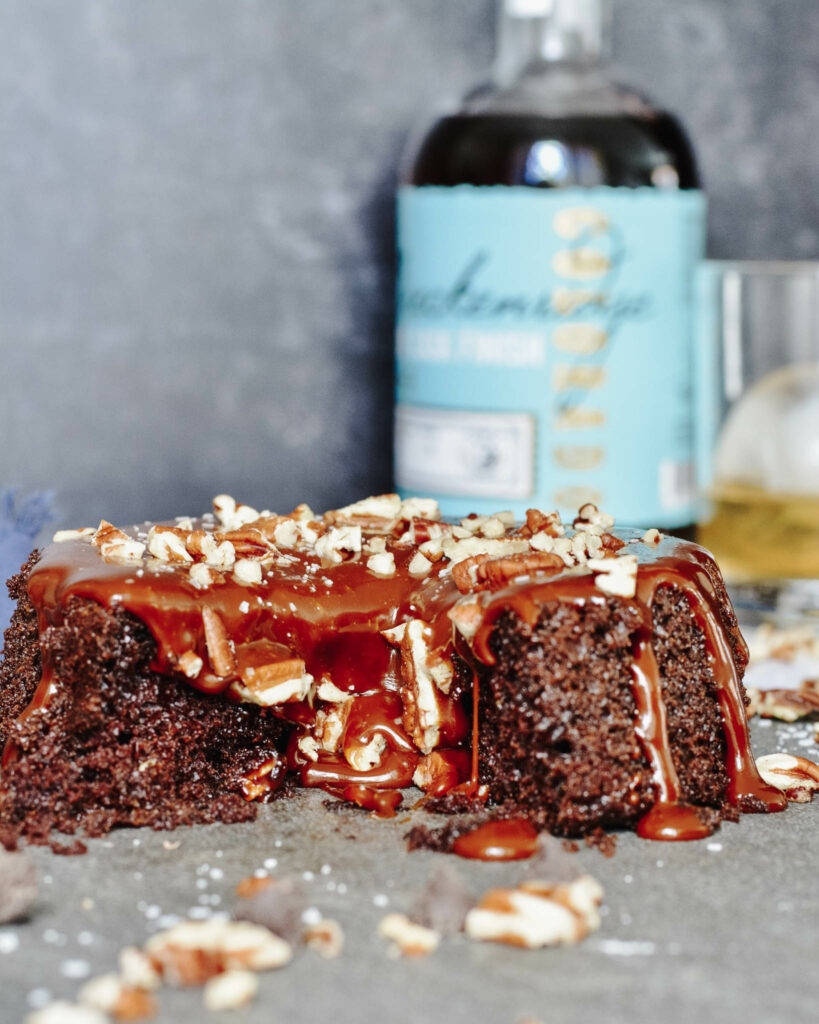 LOOKING FOR OTHER AMAZING CHOCOLATE RECIPES? TRY THESE FAN FAVORITES!
Gluten Free & Dairy Free Chocolate Pound Cake
Healthier Cranberry Granola Chocolate Bark
Toasted Pecan Dark Chocolate Chip Cookies
Unbelievable Black Forest Cake
Bailey's Irish Cream Mocha
Incredibly Dense German Chocolate Cake (our most commented-on cake recipe)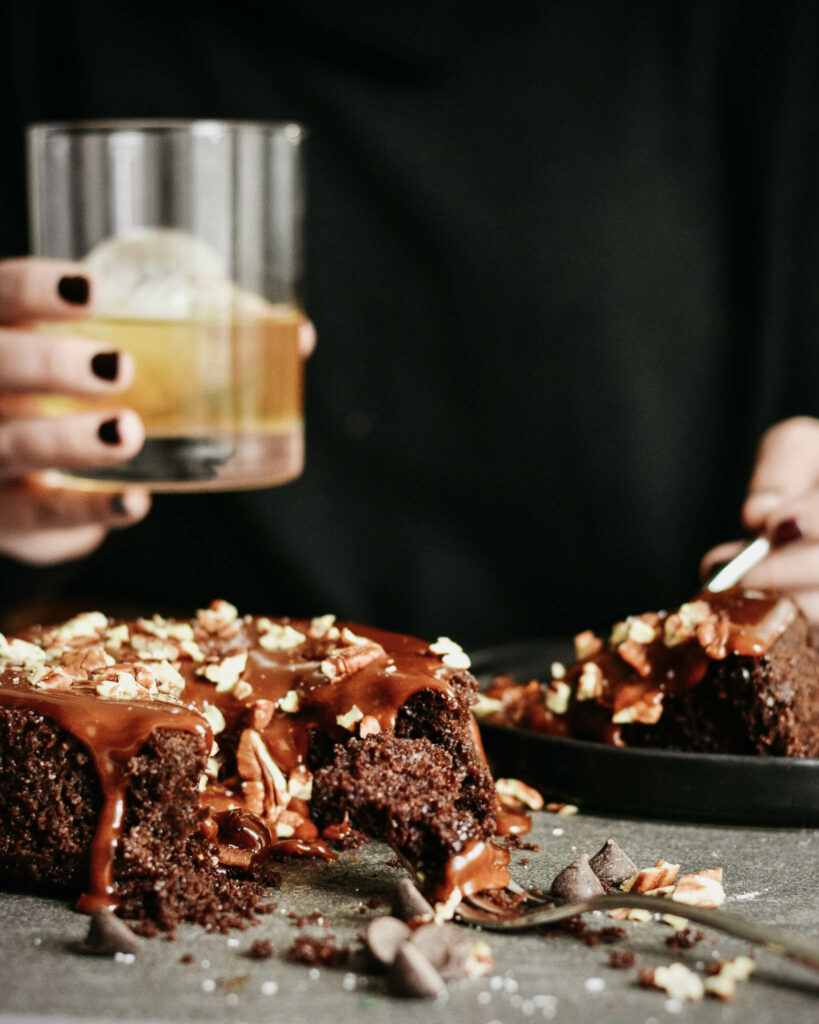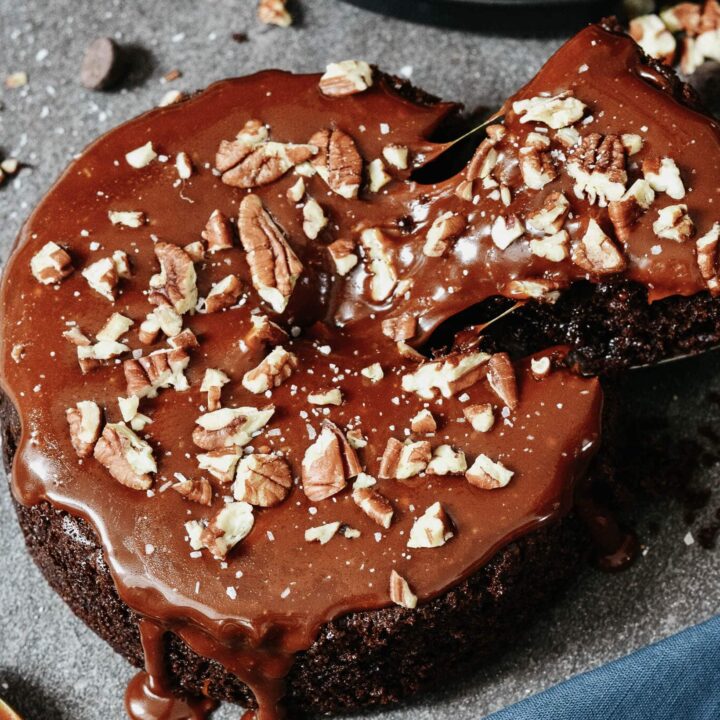 Bourbon Salted Caramel Chocolate Cake
Moist chocolate cake topped with salted bourbon caramel.
PRINT RECIPE
PIN RECIPE
Ingredients
For the Cake
½

C

flour

I prefer pastry flour

¼

C

unsweetened baking cocoa

½

teaspoon

espresso powder

or very finely ground coffee

½

teaspoon

baking soda

⅓

C

granulated white sugar

⅓

C

vegetable oil

or canola

⅓

C

plain yogurt

1

large egg

1

teaspoon

vanilla extract
For the Bourbon Salted Caramel
1

C

granulated white sugar

6

tablespoon

salted butter

room temperature

½

C

heavy cream

slightly warmed*

1

teaspoon

kosher salt

2

tablespoon

Breckenridge Distillery Bourbon

Rum Cask Finish
Optional Toppings
½

C

chopped pecans

toasted

½

C

dark chocolate chips

Kosher salt

to taste
Instructions
Preheat oven to 350°F. Line a 6 inch cake pan with parchment paper or grease really well. Set aside.

In a large bowl or stand mixer with whisk attachment add all dry ingredients and combine.

Making a well in the middle add yogurt, egg, oil and vanilla.

Stir until no lumps remain.

Pour cake batter into prepared pan.

Bake on center rack for 25 minutes or until a toothpick comes out clean.

While cake is baking make the caramel sauce.

In a heavy bottom pan or cast iron skillet cook sugar over medium heat (stirring constantly to avoid burning) until it melts into a thick brown liquid. About 10 minutes.**

Once melted stir in butter. Be careful it will boil quickly.***

Allow to cook for 1 minute without stirring.

Slowly pour warmed heavy cream in while whisking.*

Allow to boil for 1 minute and remove from heat.

Whisk in the salt and bourbon. Set aside

Allow cake to cool for 5 minutes and flip out onto a plate or serving dish.

Spread warm caramel over the top allowing to drip down the sides.

Top with kosher salt, chocolate chips and pecans. (optional)

Pour a glass of Breckenridge Distillery Rum Cask Finish to sip while enjoying.
Notes
*you don't want to add cold milk to warm sauce or it will curdle
**If ever in doubt while making the caramel remember "low and slow", better for it to take a few extra minutes than for it to burn.
**If at any point the butter and sugar begin to separate whisk vigorously even if it takes a few minutes it will come back together.
Nutrition
Calories:
1001
kcal
|
Carbohydrates:
98
g
|
Protein:
9
g
|
Fat:
66
g
|
Saturated Fat:
41
g
|
Trans Fat:
1
g
|
Cholesterol:
130
mg
|
Sodium:
931
mg
|
Potassium:
379
mg
|
Fiber:
4
g
|
Sugar:
76
g
|
Vitamin A:
1052
IU
|
Vitamin C:
1
mg
|
Calcium:
143
mg
|
Iron:
2
mg