Looking for the perfect simple Enchilada Sauce Recipe? Here it is! Full of delicious sweet spice and ready to go in under 15 minutes, with just 1 pan and simple pantry staple ingredients. Make a double batch and store the leftovers for your future self. We like to use leftovers to spice up burrito bowls, Mexican rice or even pulled pork. YUM!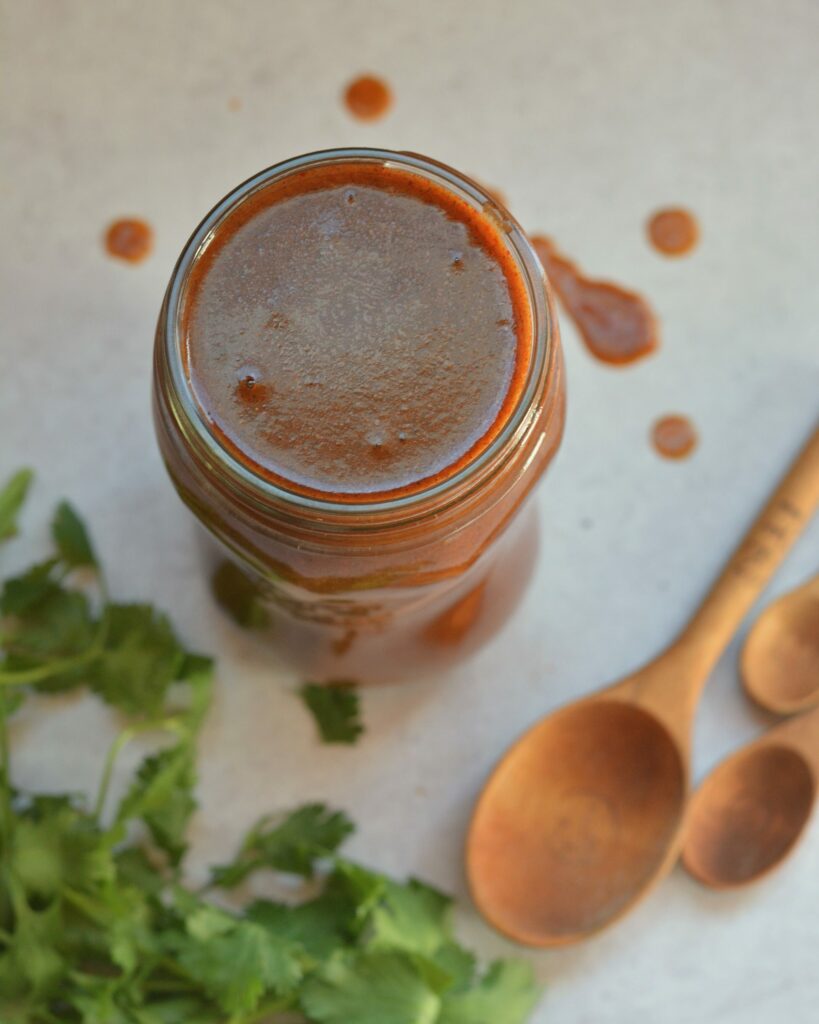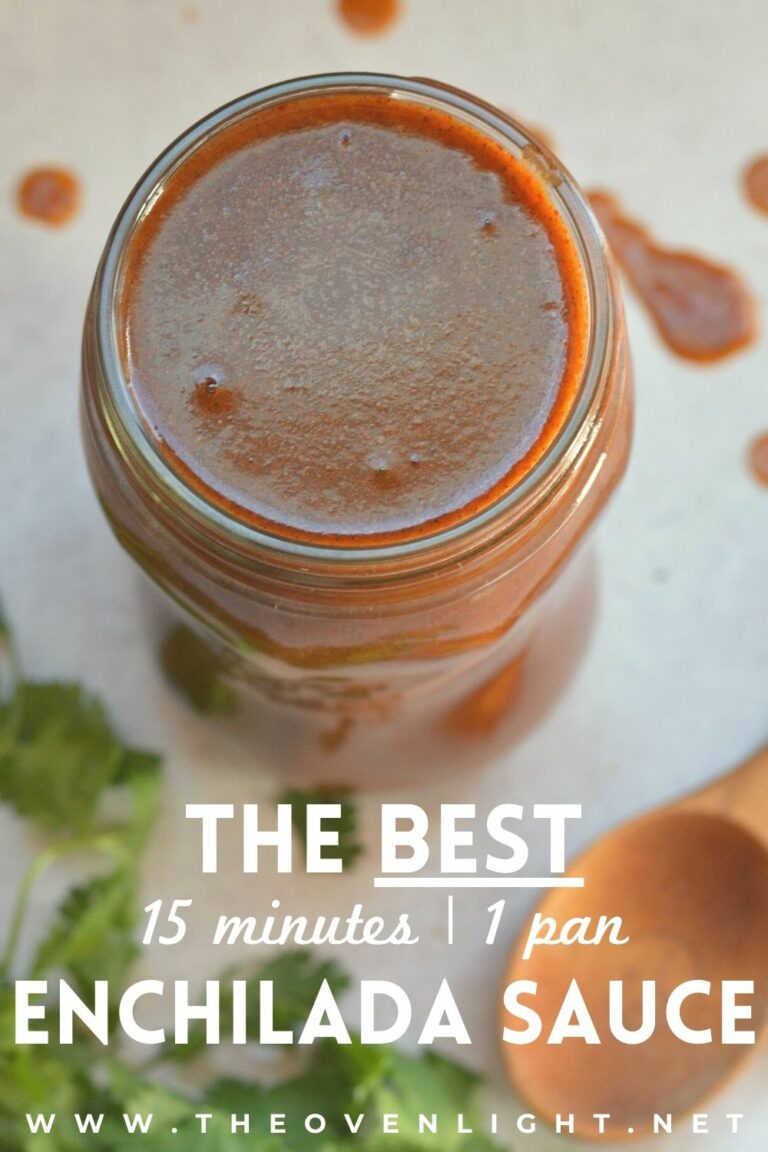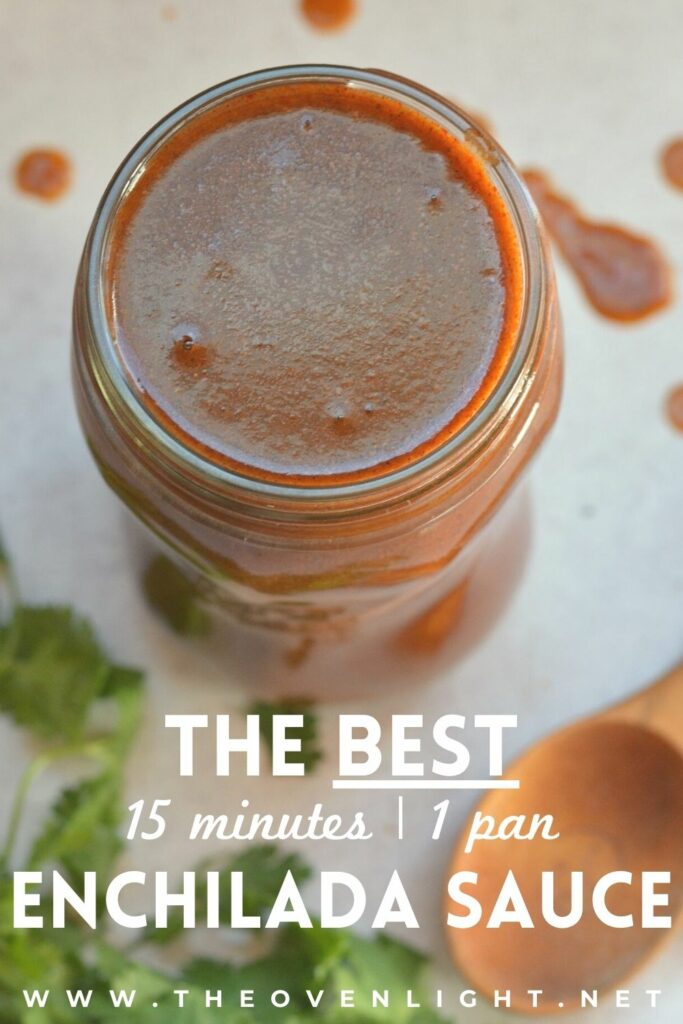 How to make this delicious sauce in a hurry
The best part of this deliciously sweet and spicy enchilada sauce is that you just need one drawer (we keep our spices in a drawer) and a couple measuring spoons to get all that good flavor. I love a recipe that makes great use of all those delicious spices!
To whip up this sauce, you're going to start by essentially making a roux. This is what helps sauce thicken and keeps dry ingredients from clumping. To make a roux, heat oil in a large pan and whisk in flour. We used King Arthur's Measure for Measure Gluten Free Flour and it worked great! No difference in taste or texture. The flour is just there to thicken the sauce.
Next, add all the spices to the roux. Did you know that dry spices get more flavor and intensity when they are heated? That's right folks. To make the most of your spice drawer, heat up those spices in a pan for a minute to bring out the most amount of flavor.
Next, pour in the low-sodium chicken or vegetable stock. Always use low sodium stocks so that you can control the saltiness of your recipe. Whisk constantly until there are no lumps. Then reduce the heat to low and allow sauce to simmer and thicken for about 10 minutes. The flavor will continue to intensify and all those spices will come together to create one smooth, slightly sweet, lightly spiced, amazing enchilada sauce! I absolutely LOVE how easy this recipe is and truly so much better than canned enchilada sauce.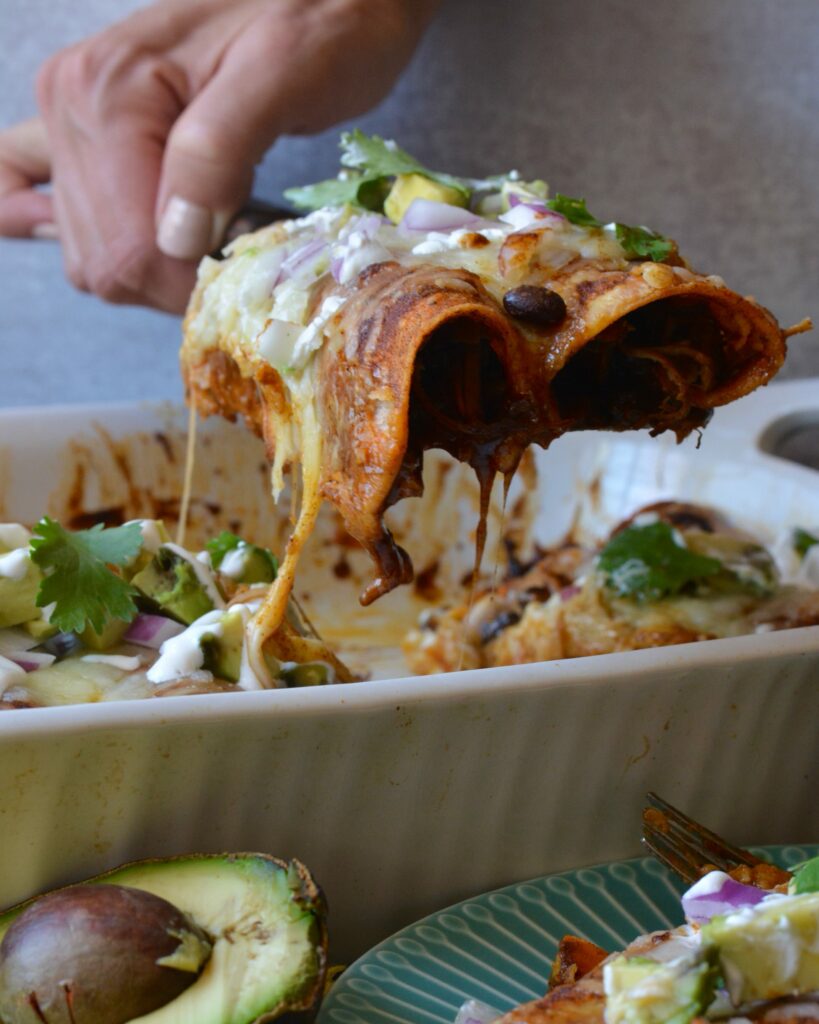 How to make Whole 30 Enchilada Sauce
This recipe is already so healthy and so close to being Whole 30 compliant. The only necessary substitute would be the flour. So a great Whole 30 substitute to thicken sauce is Arrowroot Starch, sometimes called Arrowroot Flour. Use the same amount of Arrowroot as flour in this recipe, just replacing it and using it in the same way. This will still thicken the enchilada sauce slightly and keep you on track!
Also be sure to check the label on your spices to ensure that each spice has only whole ingredients and does not contain any off-limits ingredients for the Whole 30 diet. Most spices are fine, but it never hurts to double-check!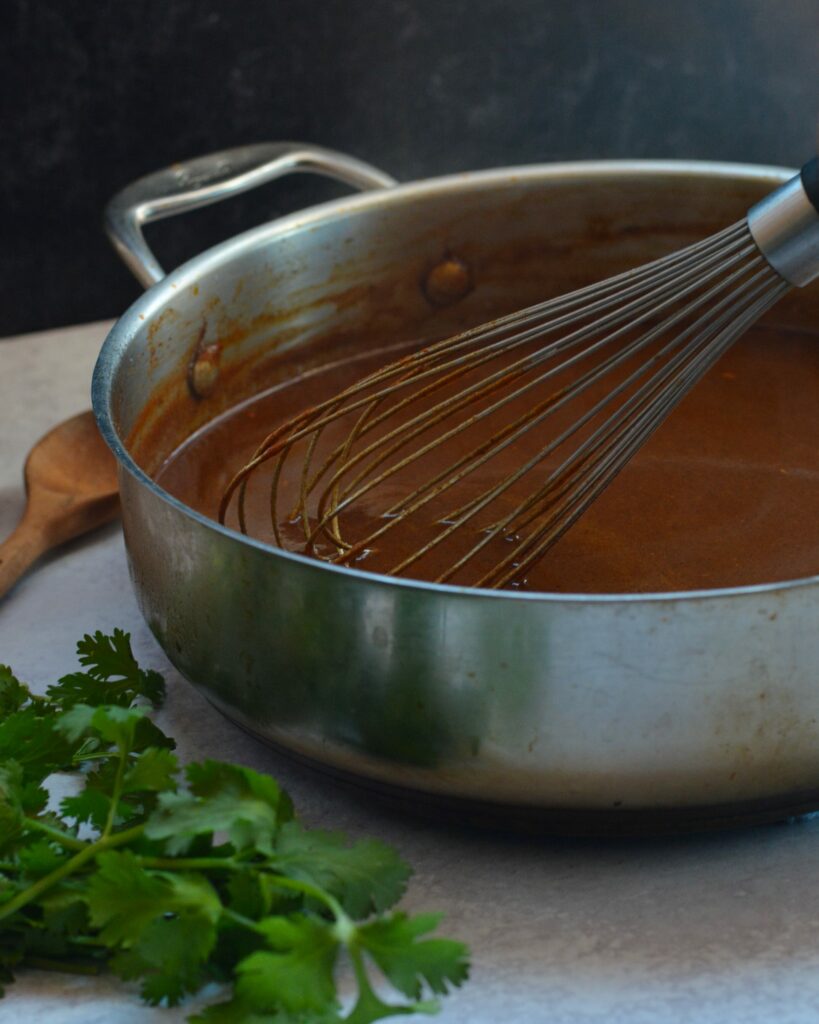 Can I make this sauce Keto-friendly?
Sure thing! Again, you'll need to replace the flour. But this time, we'll use Xantham Gum. It sounds exotic and strange, but it's becoming a fairly common ingredient and is cost effective as well. I pick up a bag of Bob's Red Mill Xantham Gum at the grocery store and it lasts me months and months! For this easy enchilada sauce recipe, start with 1 Tablespoon of xantham gum and then increase after simmering if it has not thickened enough.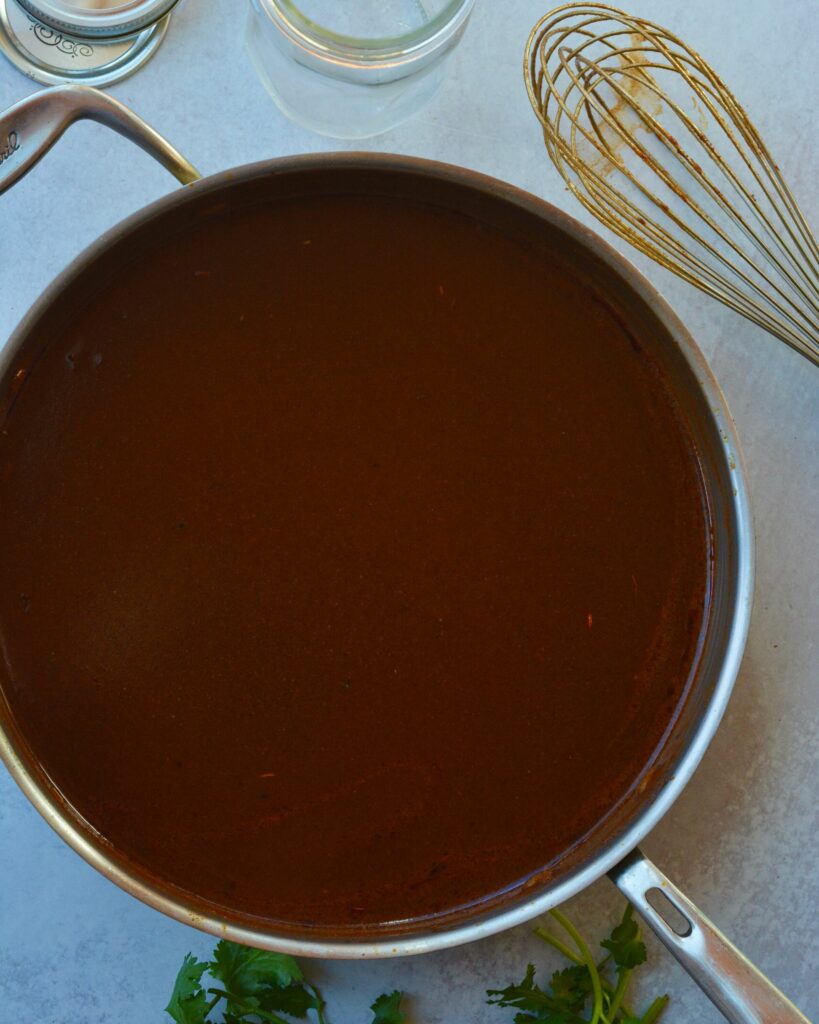 How to make low sodium enchilada sauce
To keep this enchilada sauce low in sodium is really simple. There are options for completely unsalted chicken stock so you can completely control the amount of sodium. Or use a low-sodium stock and omit the extra teaspoon of salt in the recipe. Either way, if you are on a low sodium diet, this will still taste so flavorful and delicious without the extra salt.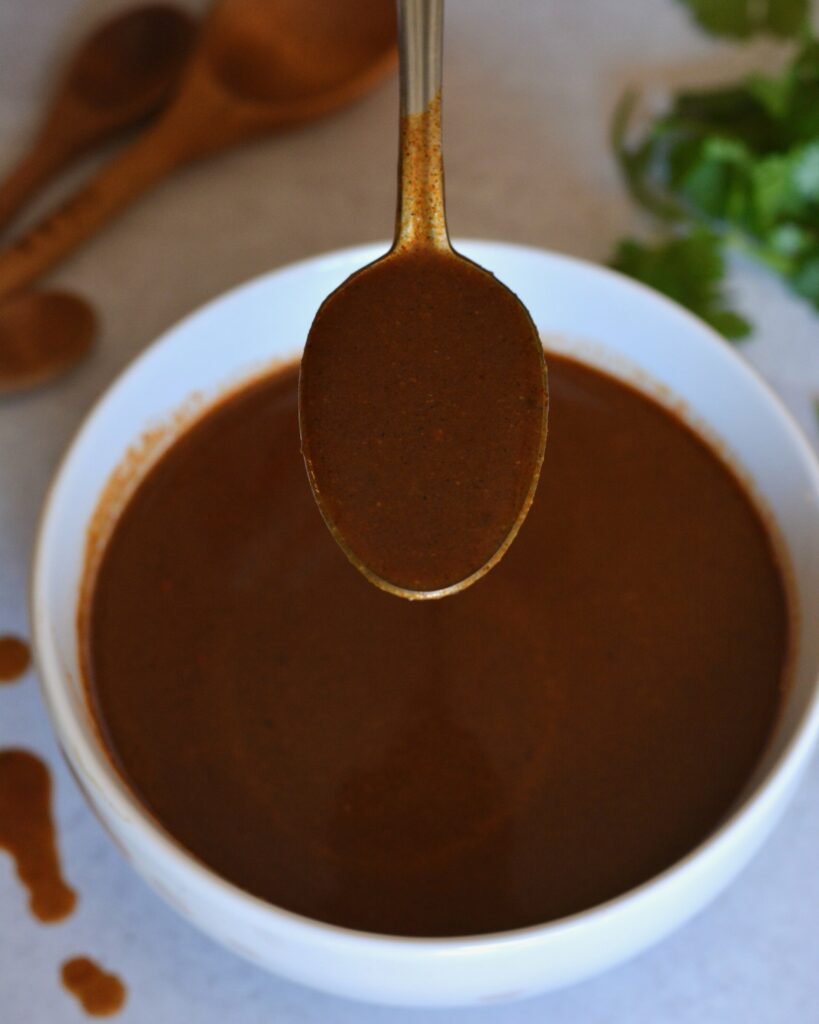 Recipes to use this sweet and smoky enchilada sauce (other than enchiladas)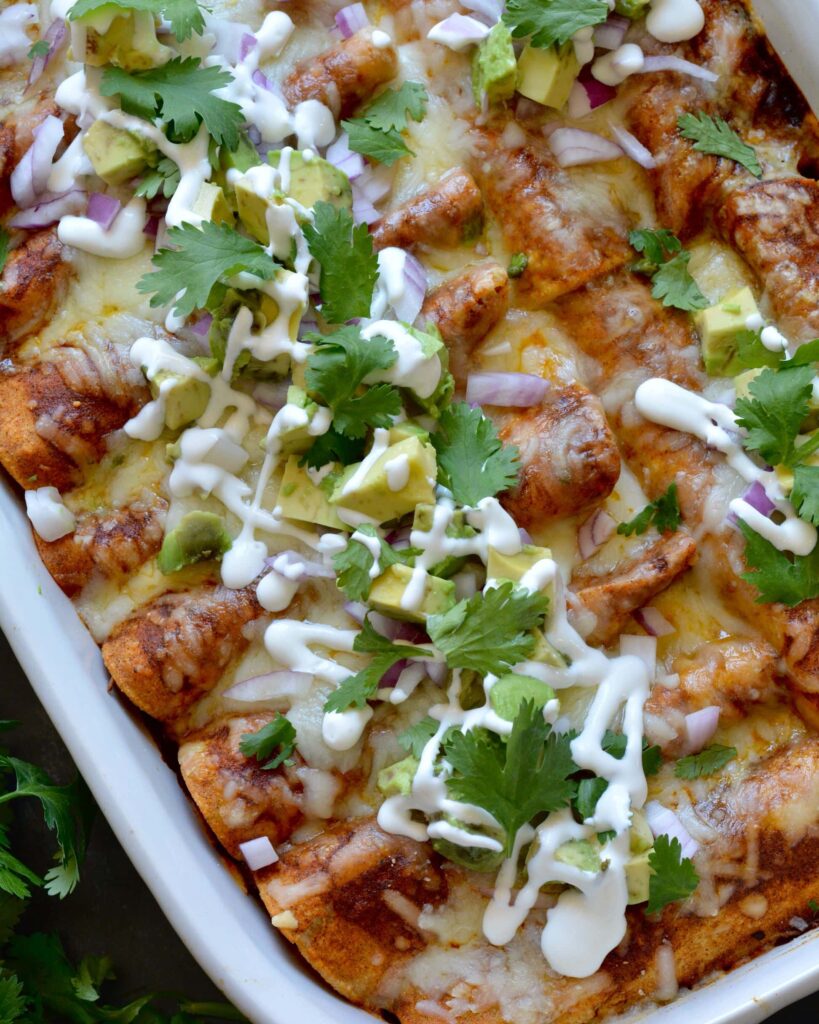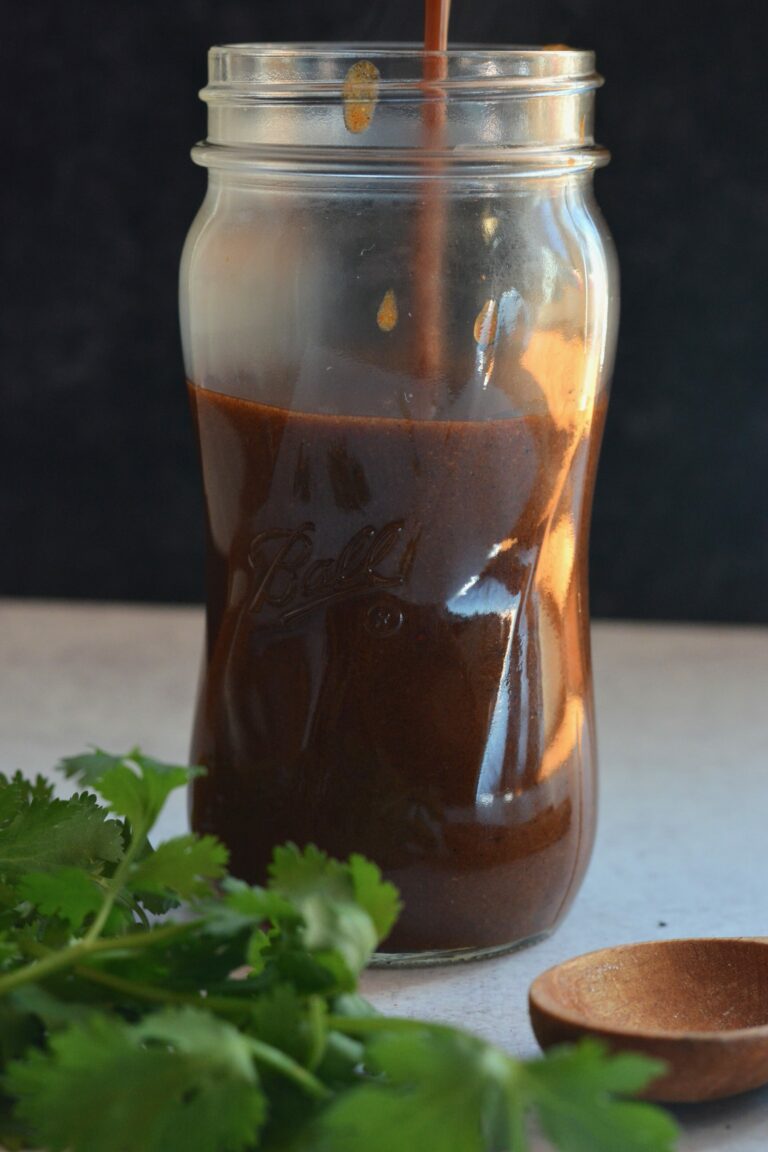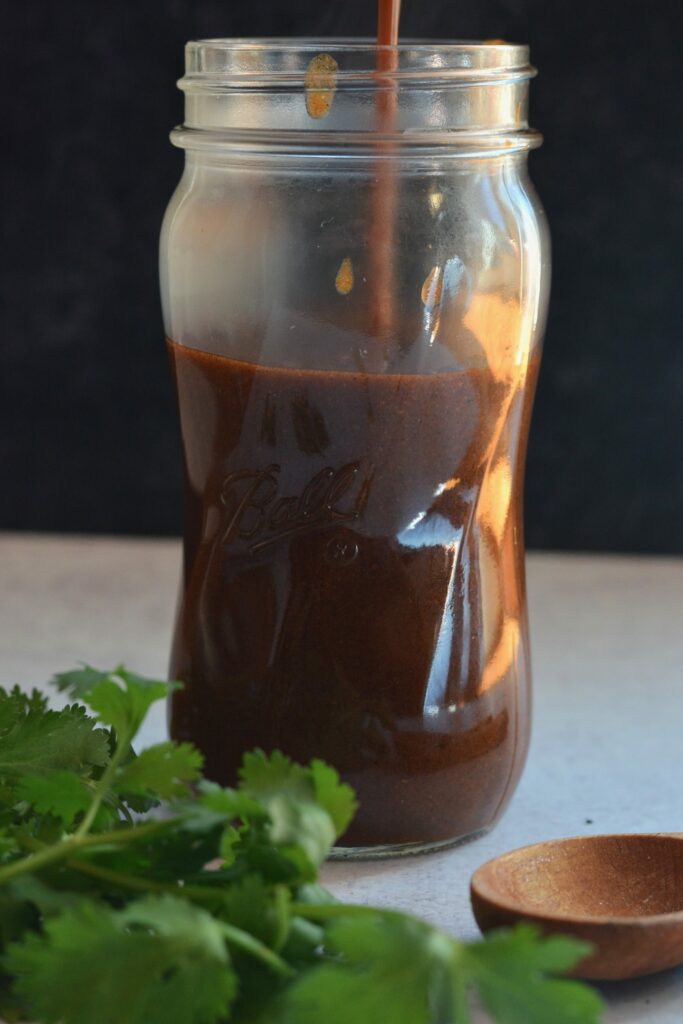 Love this easy homemade Enchilada Sauce Recipe? Try these other delicious Mexican recipes!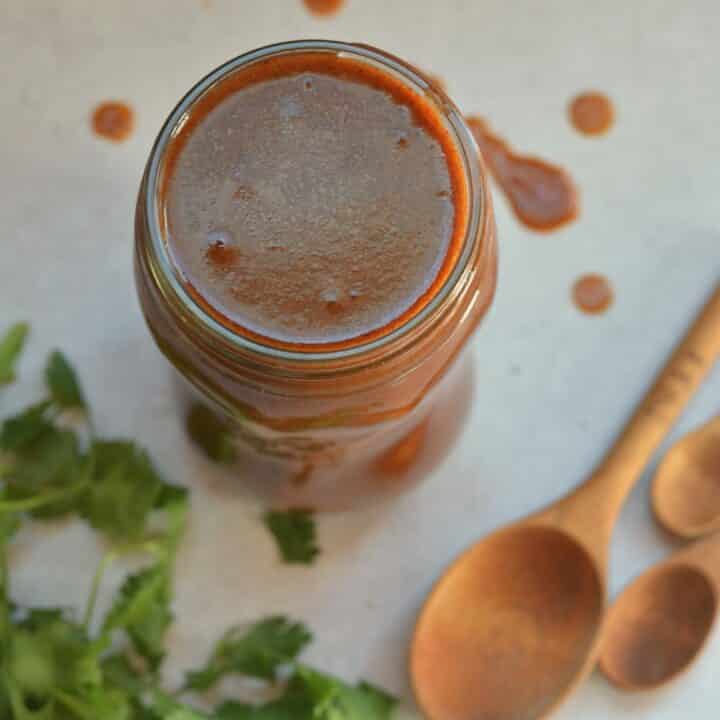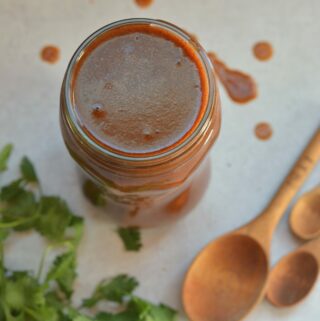 Enchilada Sauce
Super simple and full of sweet spice! Makes the perfect amount for a 9"x13" pan of enchiladas.
PRINT RECIPE
PIN RECIPE
Ingredients
2

tablespoon

vegetable oil

or canola

2

tablespoon

all-purpose flour

or GF flour blend

¼

C

chili powder

1

teaspoon

garlic powder

1

teaspoon

salt

½

teaspoon

cumin

½

teaspoon

onion powder

½

teaspoon

Italian seasoning

or oregano

2

C

chicken stock

or vegetable stock
Instructions
In a large pan over medium heat add oil and allow to heat for 1 minute.

Add in flour and whisk.

Add all seasonings and whisk again.

Slowly pour in the chicken or vegetable stock and whisk until no lumps remain.

Lower heat and allow sauce to simmer for 10 minutes until slightly thickened. Stir occasionally to keep from burning.

Add hot sauce onto enchiladas or put in an airtight container in the refrigerator for up to two weeks.
Notes
Often I make a double batch of this amazing enchilada sauce and keep half in the freezer for future use.
Nutrition
Calories:
655
kcal
|
Carbohydrates:
62
g
|
Protein:
22
g
|
Fat:
43
g
|
Saturated Fat:
26
g
|
Cholesterol:
14
mg
|
Sodium:
3987
mg
|
Potassium:
1750
mg
|
Fiber:
22
g
|
Sugar:
12
g
|
Vitamin A:
17581
IU
|
Vitamin C:
2
mg
|
Calcium:
245
mg
|
Iron:
13
mg