Have you ever had Sweet Potato Black Bean Enchiladas? I know it may sound a bit odd, but potatoes are a common ingredient in many Mexican recipes. And sweet potatoes with enchilada sauce are one of my favorite flavor combinations. Sweet, smoky and lightly spiced, total YUM!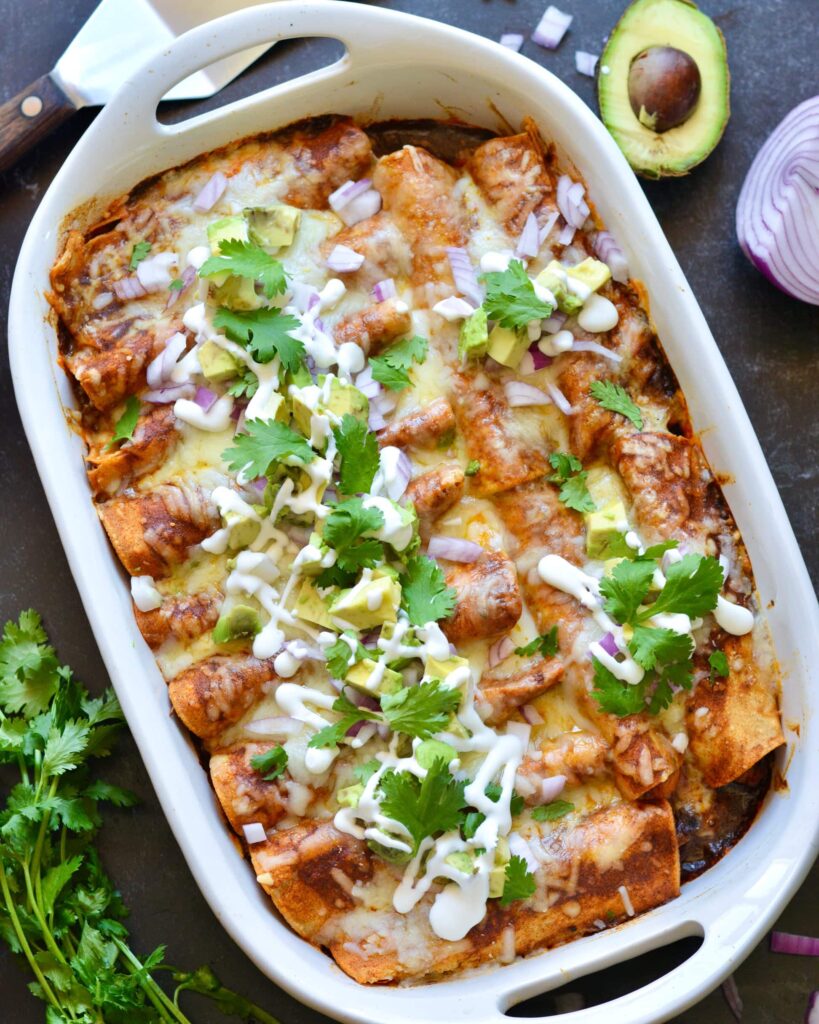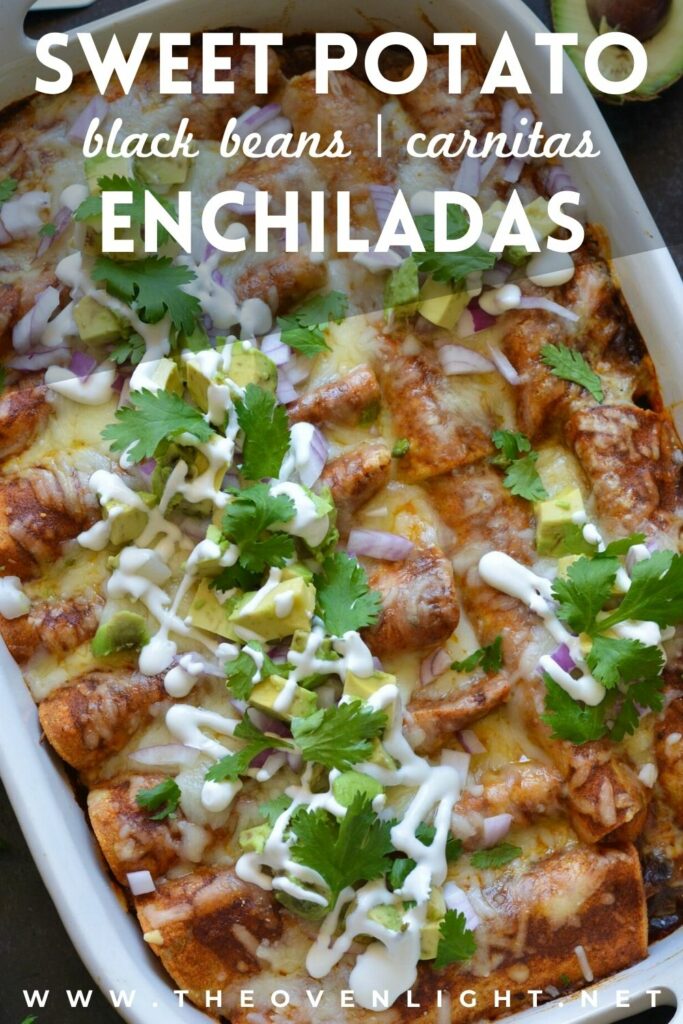 How to make enchiladas ahead of time
Follow the recipe all the way through to making the enchiladas in a 9"x13" baking dish. Cover with foil and refrigerate until ready. They can be refrigerated for up to 2 days (as long as your meat was fresh when you assembled). You can also freeze these for up to 3 months! Be sure to cover tightly with plastic wrap and then foil or use a freezer friendly baking dish with a lid like this one.
To bake enchiladas from the refrigerator, remove plastic wrap, if using. Bake 20 minutes with the lid or foil on, remove lid, bake an additional 15-20 minutes until hot all the way through and the cheese is bubbling and fully melted. I like to spread apart the middle enchiladas and check if that part is hot hot hot.
To bake enchiladas from frozen, bake with lid on for 30 minutes, remove lid, then bake an additional 20 minutes until hot all the way through and cheese is fully melted and piping hot.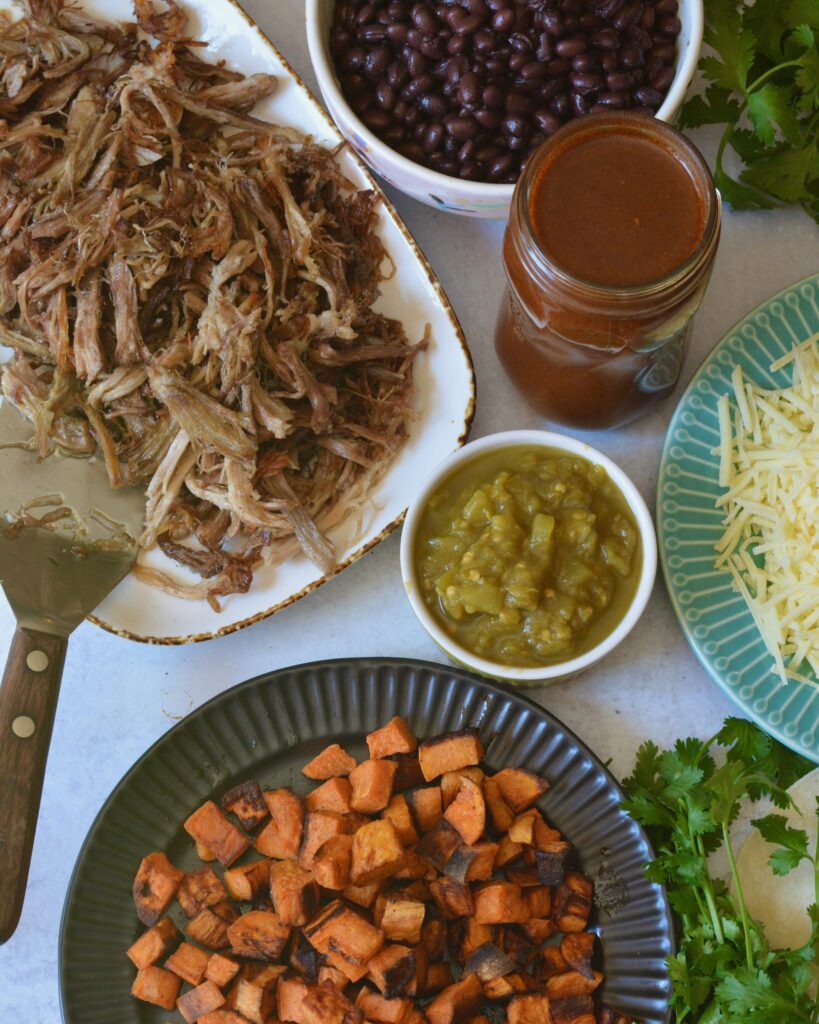 Tell me all about these sweet potato enchiladas
Flavor - Smoky sauce poured over sweet potatoes, green chiles, carnitas and tortillas. I cannot even describe the amazing flavor of these enchiladas. They're a major step up from basic beef and cheese for sure and it will have your whole family oohing and aahing through the whole meal.

Texture - My favorite part of enchiladas is the slightly crunchy edge of the tortilla mixed with the soft center and the many layers of different textures coming from the filling. Such a great combination so you never get bored, even though it's as simple as a casserole (gasp!).

Difficulty Level - Normal. There is some prep work for the carnitas and the sweet potatoes, but assembly and baking is very simple. Our carnitas recipe is truly outstanding, but if you want to save time, feel free to pick up pre-made carnitas from Costco or the grocery store.

Time - About 1 hour, including making homemade sauce, roasting sweet potatoes assembly and baking. Not counting cooking the carnitas.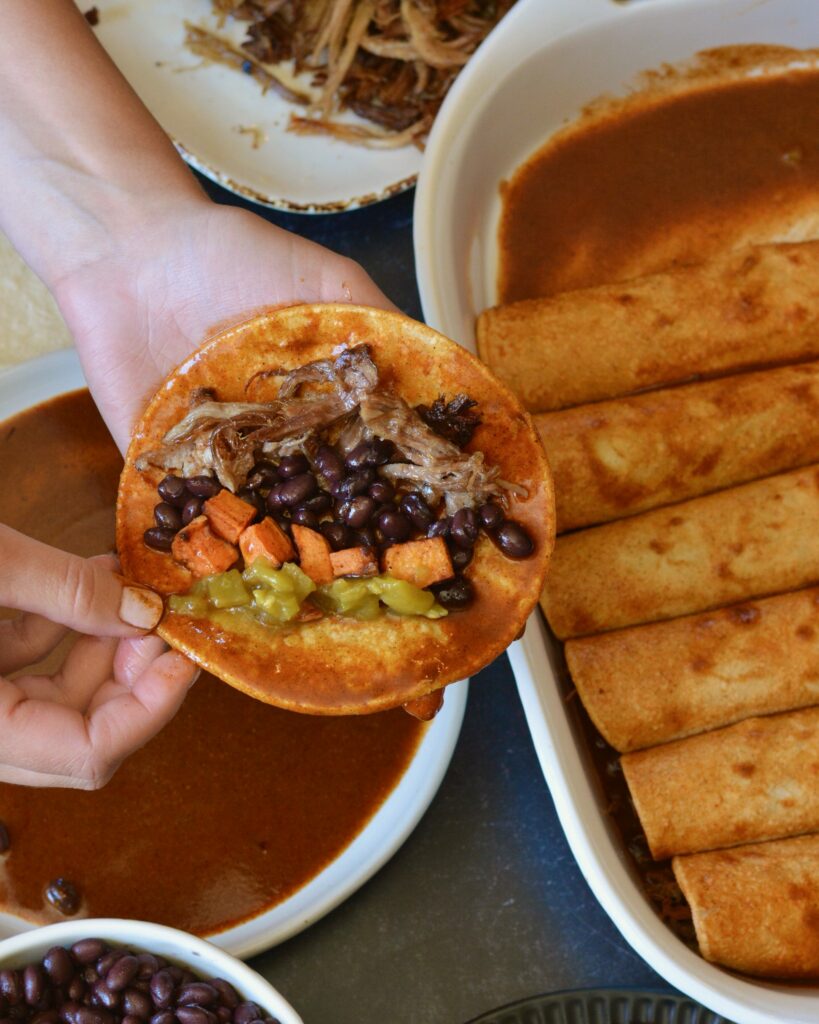 Easy Enchilada Assembly
I like to go in this order to assemble enchiladas (but feel free to do what makes sense for you).
Pour about ½ cup enchilada sauce onto a plate.
Cover bottom of a 9"x13" baking dish with a thin layer of enchilada sauce as well.
Place one tortilla on the plate with sauce and flip so it's fully covered in sauce. (This gets messy, but it's definitely the easiest and quickest way!)
Add carnitas, sweet potatoes, black beans, green chiles and any other toppings you want.
Roll up and place seam side down in the 9"x13" baking dish.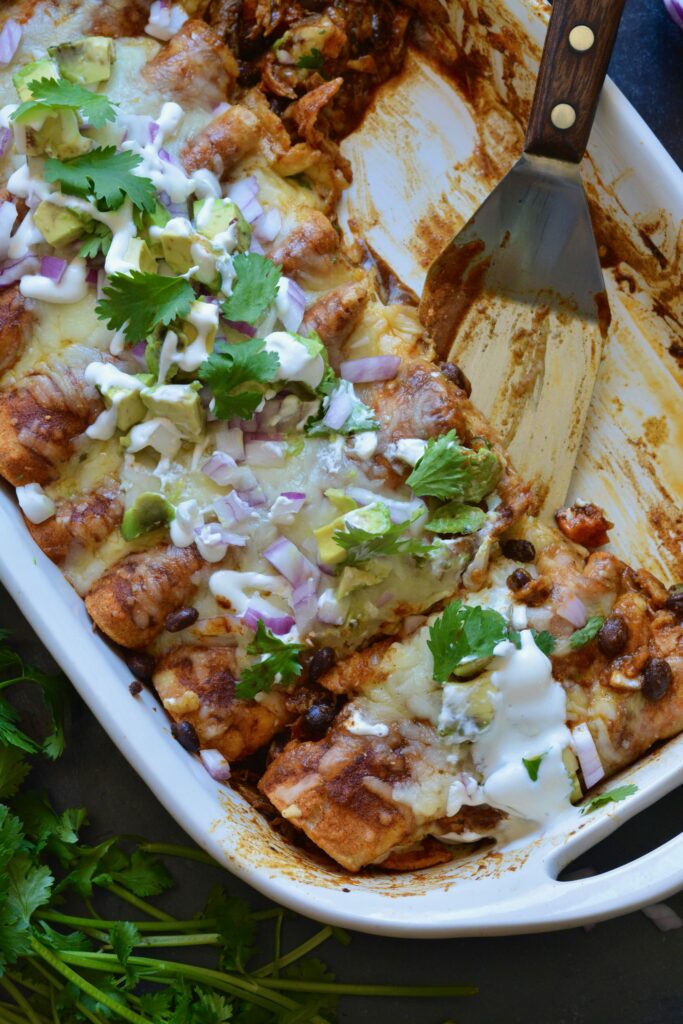 How to make gluten free enchiladas
The best part about this recipe is how easily it can be turned gluten free! Starting with the sauce, use a gluten free flour blend as the thickener, and omit the regular flour.
For the tortillas, use corn (my favorite option) or find a good flour tortilla substitute. I haven't found one I really love yet, so I stick with corn tortillas. Rolling the tortillas in enchilada sauce helps to keep them from breaking when they're rolled up. Also, make sure they're fresh!
There is no gluten found in any other part of the recipe! Phew, that was easy!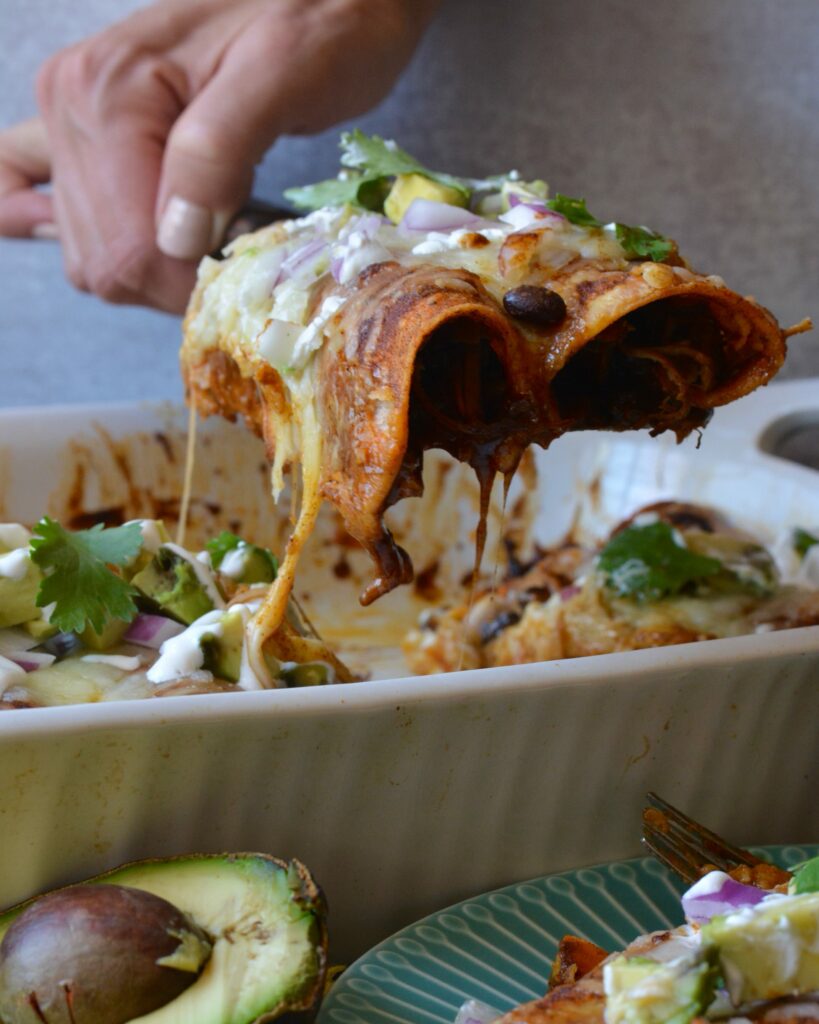 We've got lots more amazing Mexican inspired recipes too!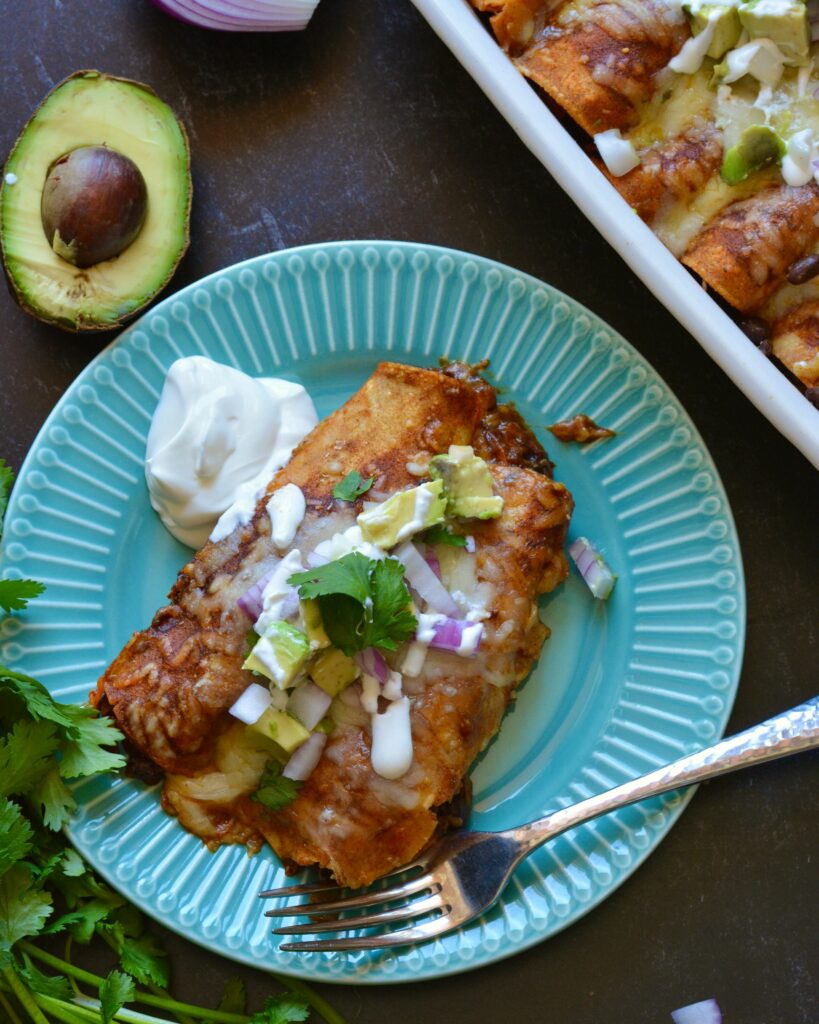 Love these Sweet Potato Black Bean Enchiladas? Check out these similar fan favorite recipes.