Hello chocolate! (Our best friend these days, right?) These individual chocolate lava cakes are the ultimate ode to chocolate. Each little cake contains tender cake and gooey chocolate centers. Not overly sweet, but just the right mixture to make chocolate the star. Top them off with berries, whip cream, ice cream, powdered sugar, or all of the above! You'll love how easy it is to make and serve these adorable cakes. So special and yet so simple!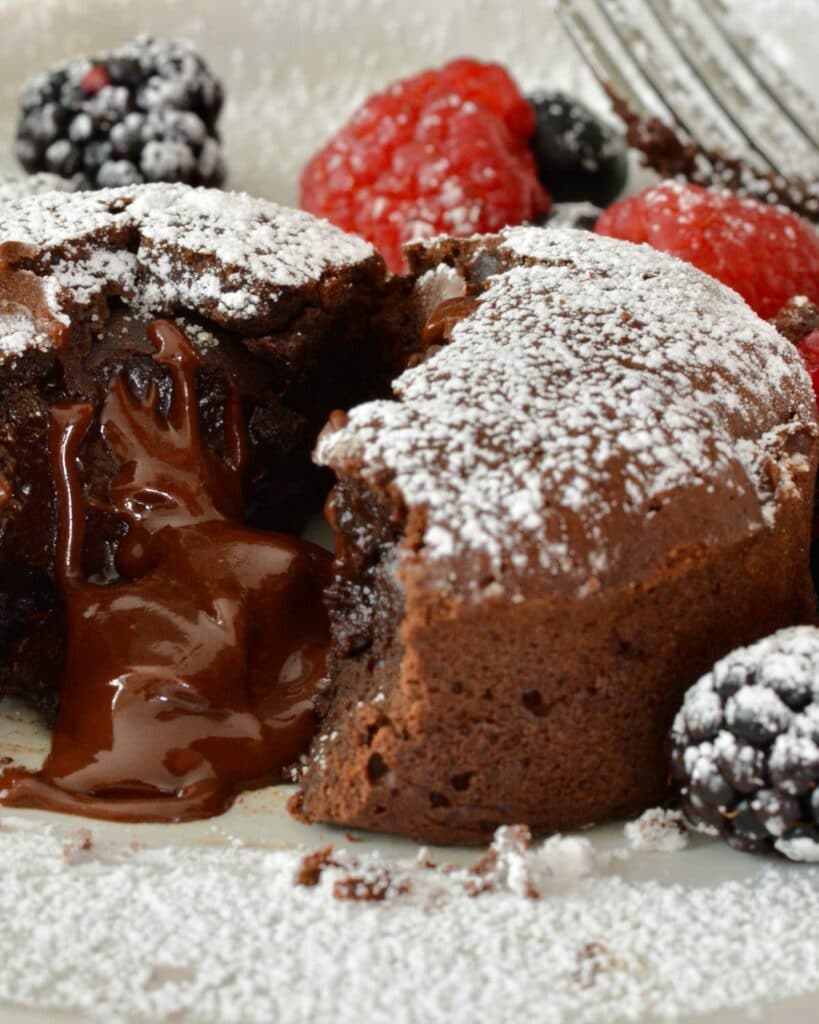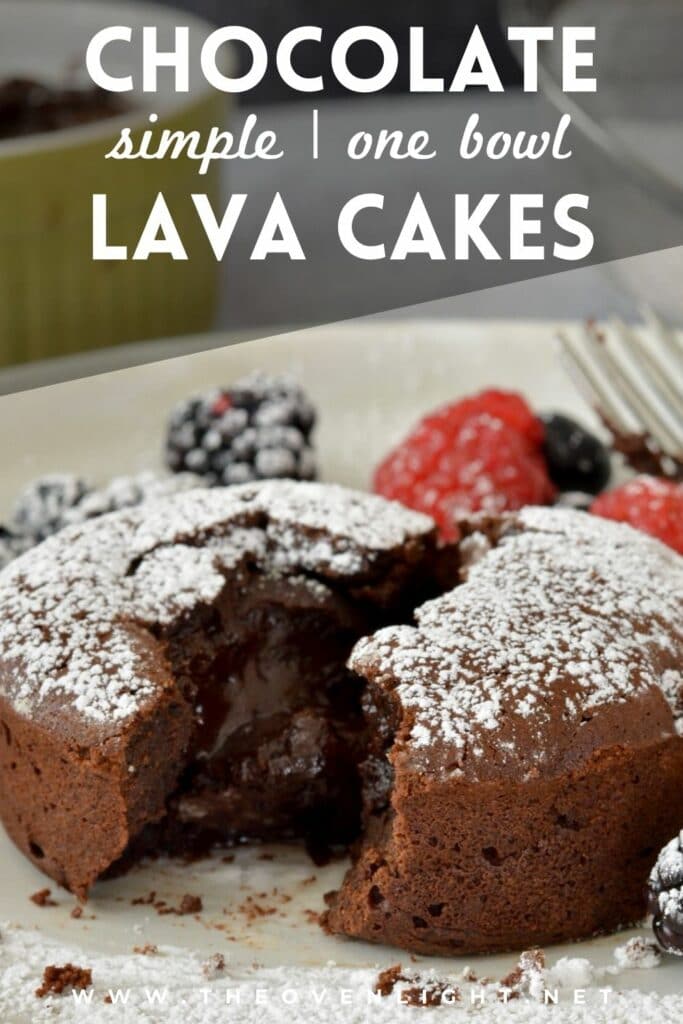 Tell me all about these individual lava cakes
Flavor – Chocolate. Chocolate. Chocolate. These little cakes are an ode to all that makes chocolate so delicious. Sweet, creamy, soft, tender and rich. These are not overly sweet though, the balance is perfect especially when paired with whip cream, ice cream or fruit.

Texture – The outer edges are baked to soft and tender perfection. The center has that classic lava cake gooey sweetness. You definitely don't want to over bake your cakes so that the centers spill out when you cut into it.

Time – Mixing the batter takes just minutes. We like the centers very soft, so we bake for just 11 minutes, although if you like the center to be firm, bake for as much as 15 minutes.

Difficulty – Very simple. The batter is straightforward, but keep in mind the cakes will continue to bake in the ramekin after you take them out of the oven. So remove while still plenty soft in the center.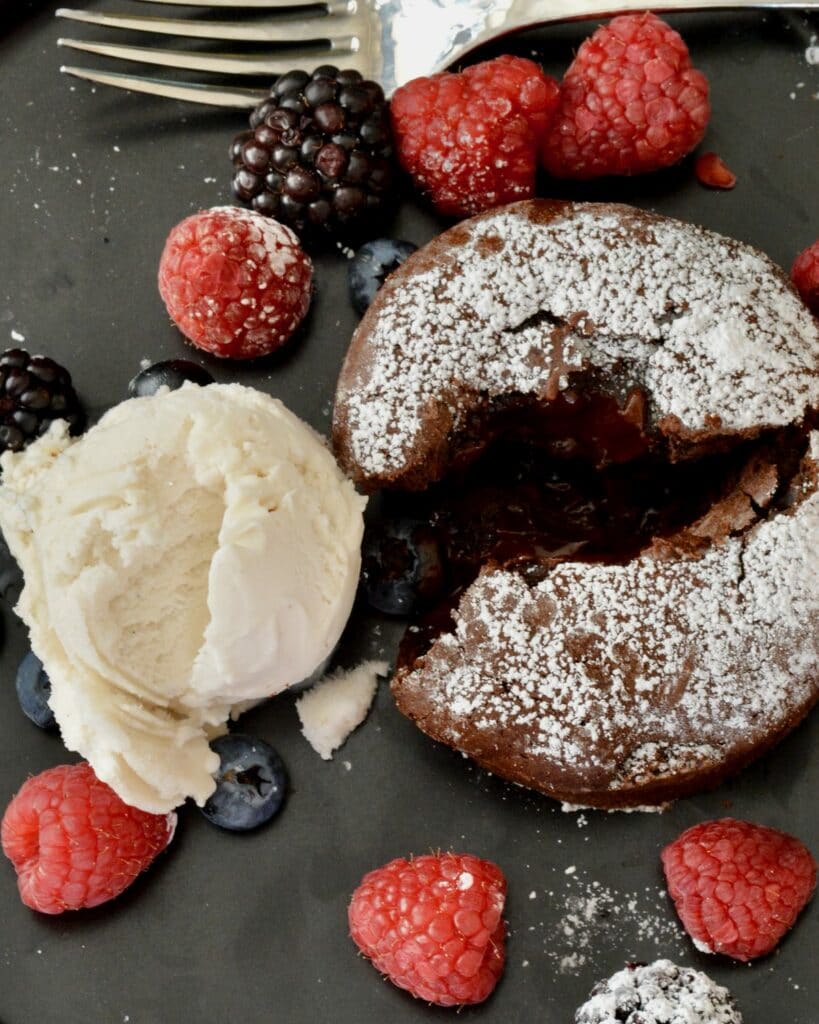 Can I make this as one large lava cake?
A large cake pan doesn't work the same. Because of the nature of the soft center of this cake, it should be baked in a small baking dish and served as individual servings. Our favorite ramekins are these from Amazon or these from World Market.
Can I make these gluten free?
Yes you can! In fact, the one's pictured here are gluten free. We've made these both ways, and since there is not that much flour in the recipe, it hardly makes a difference. Our favorite flour blend is King Arthur Measure for Measure. You can see our gluten free cookie experiment here and why that flour blend comes out on top.
What goes best with lava cake?
Berries! Our favorites are raspberries and strawberries.
Whip cream. If you like to cut back on the dairy, we love coconut milk whip cream.
Vanilla ice cream. Duh.
Powdered Sugar
Caramel syrup (if you like it extra sweet)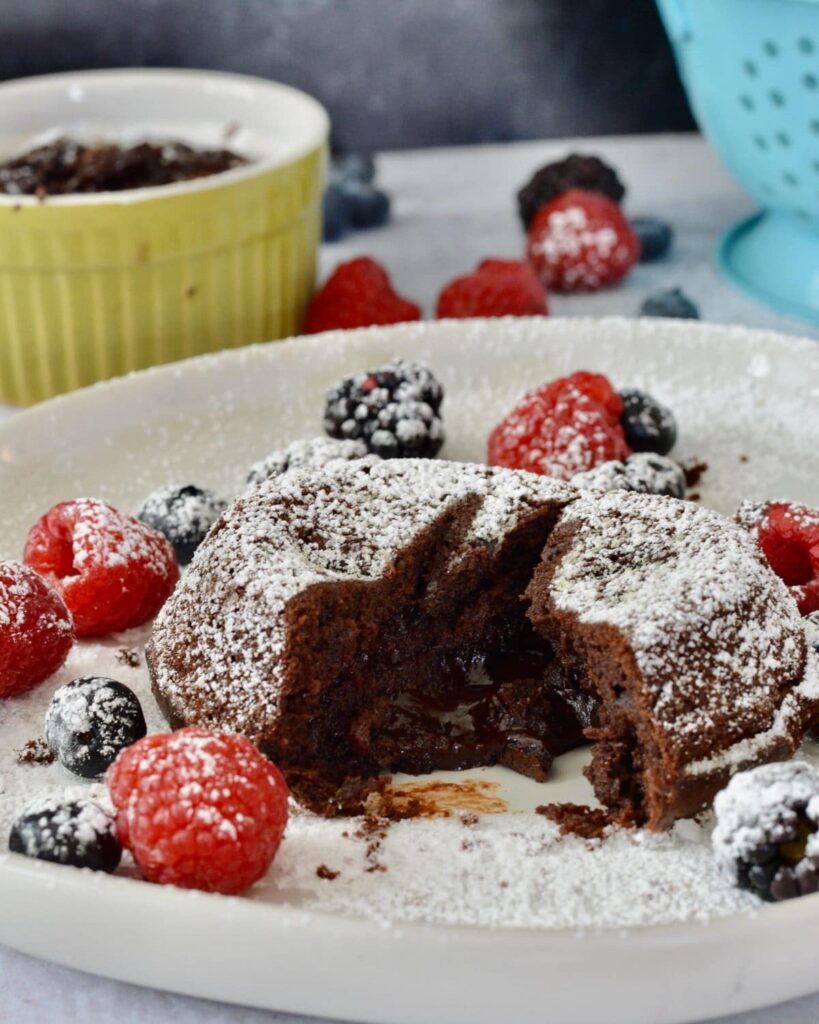 Got any other decadent chocolate recipes? So glad you asked! Check out these delicious popular recipes.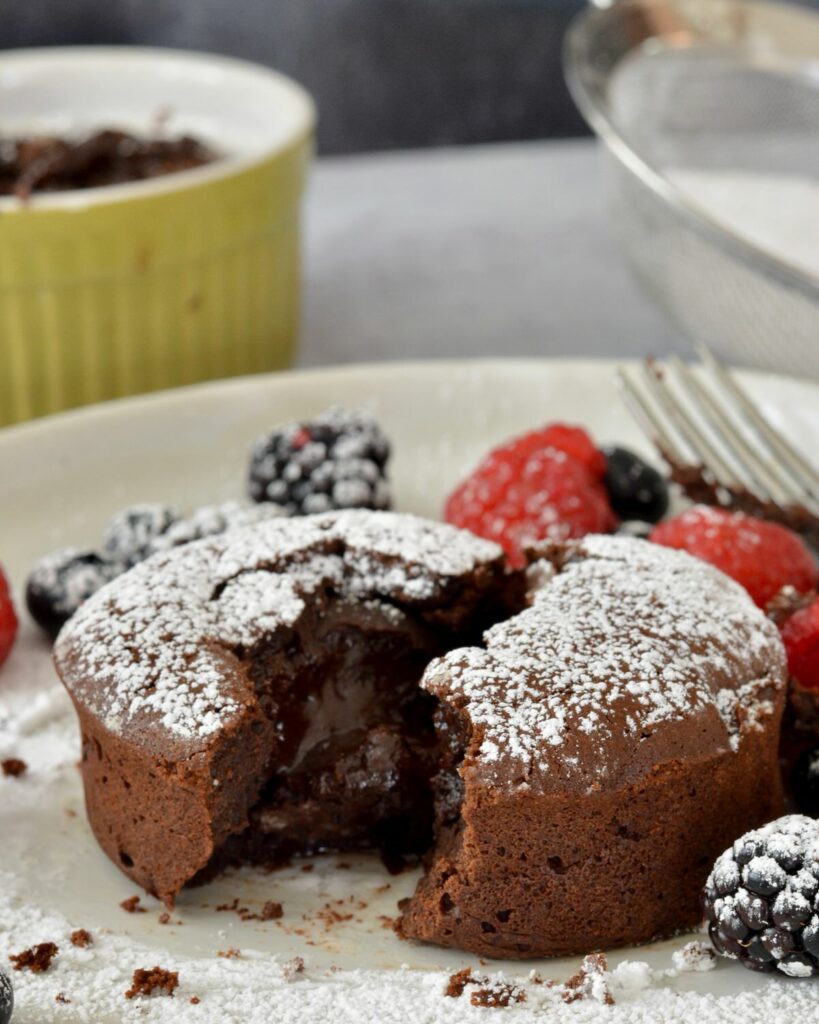 Can I prepare these little cakes ahead of time?
Yes! Since these are best enjoyed while hot, we've made it easy to make these ahead of time and still serve warm. Make the batter and pour into the ramekins. Cover with plastic wrap or foil and refrigerate until ready to bake. Then just pop in the oven and bake as instructed.
How do I store Lava Cakes?
If for some reason you have lava cakes leftover (that's never happened here) they can easily be stored and reheated. Simply cover with foil and store in the refrigerator for up to 5 days. To reheat, bring to room temperature and warm in the microwave for 10-15 seconds. Don't be tempted to make it too hot or else you'll bake the center and ruin the "lava".
Love this Chocolate Lava Cake Recipe? Try these other amazing cake recipes!